I think we all have this preconceived notion of the "Freelance Writer," capitalizations intentional.
They sit at a coffee shop, ordering one drink every six to eight hours. They have a full beard even in the middle of summer. And while no one has officially picked up their screenplay yet, they know someone who knows Steven Spielberg's aunt, so something is certainly going to happen.
What is freelance writing?
Freelance writing is a full-time or part-time career choice for individuals who wish to make money with their writing abilities. Freelance writers reach out to, or pitch, story or article ideas to existing publications. Freelance writing can be supplemental income, but many fashion it into a full-time position.
In reality, being a freelance writer, or any freelancer, is hard work done by professionals who are responsible enough to be their own accountability partner. (For important background information, see: What Is Freelance?)
Freelance writers have to hone their own craft, find their own clients, do their own work, submit their own invoices, and, when necessary, be their own advocates in moments of workplace injustice.
What else does it take to be a freelance writer? Let's dig into it.
What is freelance writing?
A freelance writer is a self-employed individual who makes a living by writing articles for various publications. The specifics of who a freelance writer works for is entirely up to them.
They can write blog posts for companies or ghostwrite blog posts for individuals, they can pitch and submit articles to magazines or newspapers, they can copy write web content for an organization, or they can write pages or chapters for eBooks.
Freelancers are typically responsible for finding their own clientele. If you have a resume that fits the bill, or an impressive digital presence, it's possible people will reach out to you and scout you out as a freelance writer.
Those who are just starting out as freelancers, however, will have to spend a significant amount of time scouting out publications, pitching article ideas, creating and/or sending writing samples, and waiting for approval to begin writing.
Type of freelance writers
In order to find the right work for you, you need to determine what type of freelance writer you are. This will help you market yourself in the right way so as to network with and pitch to the appropriate people.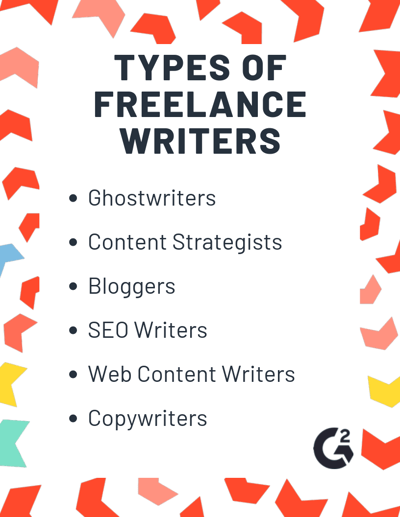 Let's go over some types of freelance writers.
Ghostwriters
Ghostwriters are writers who pen articles or other types of content that are not published under their own name. For example, many political speeches are ghostwritten for candidates or politicians who then deliver those speeches as their own.
Ghostwriting can be done for almost any person or publication, including but not limited to: blog posts, email newsletters or emails, eBooks, etc.
Content strategists
Content strategists are more focused on organizations that have or wish to create a content strategy. For example, a content strategist might want to work for a restaurant whose owner wishes to build up their digital presence with a bustling blog.
The content strategist would be in charge of developing blog ideas, pitching them to a an authority figure, and mapping out the dates and times those blogs would be published.
Blogger
A blogger's main work is in blog writing and, as such, freelance bloggers aim to find blogs that are accepting submissions. Blog sites often pay per post, but might keep you on a shortlist of preferred bloggers if you prove to be an efficient writer who turns assignments in on time.
Guest-blogging is also a great way to build up work samples and grow your following on social media platforms.
SEO writer
An SEO writer is different from the aforementioned writers in that they have to have a working knowledge of search engines, keyword strategy, and how to write content that accrues traffic. This is difficult as search engines such as Google keep their algorithms private, and change standards pretty regularly. SEO writers will often write for product websites, or brands that are trying to expand their reach.
Web content writer
Web content writers create the copy for webpages. This can include a company's "about" page, among others. Web content writers have to know how to appeal to that website's or brand's target audience. These writers should also have a working knowledge of SEO that can help the website rank well among its competitors.
Copywriter
A copywriter is mostly responsible for creating advertising copy that appeals to the target audience and encourages actions, such as "sign up for our newsletter" or, "buy our product."
Freelance copywriters are typically contracted by organizations either for one-off campaigns, or the relationship can be maintained over time. Copywriters often find their work through agents, although an advanced copywriter might have a portfolio of loyal clientele.
How to become a freelance writer
Even if you don't have a background or education in freelance writing, the industry is open to pretty much anyone who can successfully communicate with an audience. If you're interested in becoming a freelance writer of any kind, follow the tips below to get a decent start.
Know your strengths
One mistake a lot of beginner freelancers make is trying to take it all on too soon. Instead, know where your strengths lie. Go for topics with which you are familiar, and branch out slowly as you gain more experience.
Some say it's smart to go a step further and pick out a specific niche. Are you a lifelong gardener? Then pitch your wealth of knowledge to gardening and outdoor publications. Following your strengths will usually lead to great content, and a healthy freelancer/publisher relationship.
Pick a type of freelancing and really run toward that. You'll find yourself overwhelmed if you start off trying to be a jack-of-all-trades.
Have work to show
If you're new to freelancing, it's possible you don't have a portfolio of articles and ghostwritten pieces yet. That's okay.
What's not okay is trying to apply for freelance positions without any samples to show for yourself. If you have no professional experience in the game, draft up some samples. This shows not only your competence as a writer, but also that you're willing to put in some thankless work in order to meet your career goals.
See the highest-rated project and portfolio management software to help you build out your collection of work.
Once you've written pieces for existing publications, you can remove the samples from your resume and just show off the stuff you've been paid to do.
Be active online
Whether you create a website that you update regularly, or have a professionally curated Twitter presence, make sure you show publications that you're skilled at connecting with an audience by having a built-out digital presence.
This doesn't mean you have to be an Instagram influencer, but publications are often motivated by what's current. You want to show how you stay in-the-know and how your particular creativity will grow readership. That's hard to do without any online presence.
Get out there and pitch
Like I said, the beginning of a freelancer's career consists of finding a lot of their own work. Ideally, relationships will grow over time and you'll be asked to write additional pieces for a site.
At first, however, you have to get out there and lay your own groundwork. Search for companies that are looking for freelance writers or paid contributors. You can either write a pitch yourself and your samples, or make a specific pitch for the type of content they're looking for.
You would likely have luck finding work on a freelance job board.
When pitching, be sure to include any and all information necessary for them to make a decision on you. Your social media pages, your website (if applicable), and your sample should all be easily accessible to someone reviewing your application. Put your best foot forward so editors and hiring teams will preference you over other candidates.
The rest is still unwritten
You now know what freelance writing is, the different types of freelance writers, and you know where to begin in your freelance writing career. Take this article as a push in the right direction, and then go out there and make it happen for yourself!
Remember that being a freelance writer is not about being a Pulitzer-prize winning journalist or author. It's about being knowledgeable on your topics and/or strategy, and being able to communicate with an audience. If you can do that, you've got the world.
To learn more about freelancing, check out my piece on independent contractors vs. employees.