The method of getting your podcast out to the world might not be the way you think.
Unlike most popular forms of online content, podcasts utilize a form of forbidden arcane knowledge; an ancient method of internet distribution discussed in hushed tones and under furtive glances as "really simple syndication" or RSS for short.
Learning how to make your own podcast-only RSS feed is a crucial element for any successful show. Feel free to jump to a section of your choosing if you're looking for something in particular:
Creating an RSS feed for podcasts: what are they and why you need them
First of all, we need to draw a critical distinction between traditional RSS feeds and podcast-only RSS feeds. An RSS feed is a format of internet file that can contain any sort of content, while the podcast-only variety is, unsurprisingly restricted to only podcasts.
What is a podcast-only RSS feed?
A podcast-only RSS feed is a subtype of the internet file type known as RSS. This file can be easily distributed to a variety of different directories that updates the displayed content in real time alongside changes made by the creator.
This format restriction is what allows podcast directories to so easily display and showcase new content; everything that's submitted is, from a technical standpoint, completely identical!
Why you need a podcast-only RSS feed
You cannot use a traditional RSS feed to host a podcast on the major directories. It has to be done through a dedicated podcast RSS feed or not at all.
Almost every podcast directory (usually referred to as podcatchers by content creators) need this type of RSS feed in order to host your episode on their platform. All you need to do is submit your podcast's RSS feed to the desired podcatcher — such as iTunes or Spotify — and the platform will automatically update with the newest episodes, show notes, or other content that you publish.
It's because of these RSS feeds that podcasts have found such an easy niche to fill in the hectic medley of modern life. The beauty of this technology is that it allows for episodes to be automatically cast to anyone with a subscription without them having to take time out their day to check or manually update their library.
How to craft a podcast-only RSS feed
If you're just starting out with podcasting and want to make sure you have everything properly set up for when it comes time to share your ideas with your clamoring listener-base, then you'll need to consider all the options at your disposal for making and distributing a podcast-only RSS feed. Look below for some of the best options on the web:
This is one of the most widely used methods for generating an RSS feed for podcasts. It's a plugin for WordPress that can be used to quickly and easily put your podcast into the world as well as automatically sharing any episode you enter into the widget of a post you might happen to make.
This is another easy — if somewhat more obscure — method of creating a podcast RSS feed. Simply create an account and add your podcast's audio files to the dashboard. The website will automatically generate a feed for you to use for whatever platform you desire.
Although these examples are some of the most popular on the web, don't mistake these for your only options. There are numerous ways to make a podcast-only RSS feed; in fact, most podcast hosting platforms such as Anchor or Podbean will provide you with a feed without having to worry about making one for yourself. Make sure you've considered all the options before you invest your precious time (or hard-earned money) in a particular method.
How to switch to a podcast-only RSS feed
There's a lot that goes into making your first podcast. It's not uncommon for people to accidentally launch their show using a standard RSS feed.
If this is you, not to worry. There's an easy fix for this.
While you won't be able to add all the directories like you could if you had started with a podcast-only RSS feed, you can add it to iTunes. "But wait!" You cry, panic closing its iron fist over your heart, "That's just one platform!" Well, yes. But the iTunes ecosystem accounts for almost 22% of all podcast listeners, making it the single largest platform from which people get their shows.
The first thing you need to do is to add the iTunes news feed URL to your normal RSS, which could look a little something like this:
<itunes:news-feed-url>http://example.com/example.rss</itunes:news-feed-url>
Adding this tag to your RSS feed will allow for iTunes to pick up on the RSS feed of your podcast. After you've updated the feed URL, you'll need to submit it to iTunes using these steps below: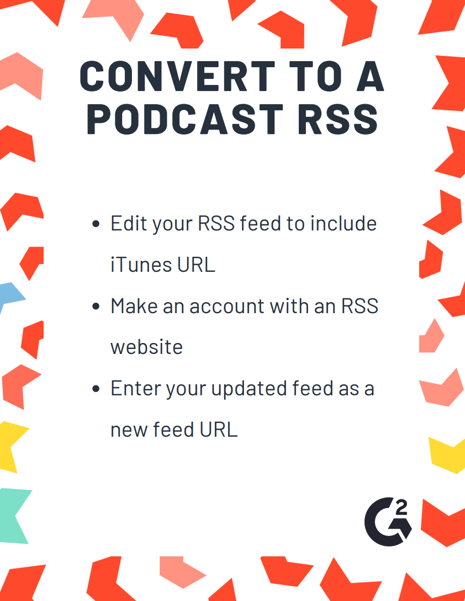 And just like that, you've put your show on one of the most heavily trafficked platforms on the internet!
Feed your soul
Podcast-only RSS feeds might seem strange and complicated at first glance, but they actually make the process of distribution a breeze for show hosts. Listeners, too, rely on this form of content distribution as it creates the easy subscription model that has come to define podcasting. All in all, it's an essential component of the content creation puzzle.
Looking for more excellent content distribution software? G2's organic user reviews provide frank insights into everything you need to know: