Content marketing can be powerful.
It's simple to produce and execute a content marketing campaign, but to truly stand out is difficult. If you're a content marketer yourself, you've probably experienced the frantic feeling of not knowing how to best keep your content at the forefront of your audience's mind while simultaneously separating yourself from the masses.
Content marketing is becoming one of the most popular ways to engage your audience without trying to sell them anything. By serving them high-quality content (such as a video series, useful graphics, a pop-up shop, etc.) you can turn a regular consumer into a brand evangelist. This is especially easy to do if your content is consistent, on-brand, and brings value to the buyer.
According to a study by
LYFE Marketing
,
78%
of consumers prefer getting to know a company via articles rather than ads and
70%
believe that organizations providing custom content are interested in building good relationships with them.
We've compiled a list of 10 content marketing examples that caught the eyes of consumers worldwide and boosted a brand's reputation. Hopefully you'll find a few campaigns that inspire you to start developing your brand's next move today.
Blogs that nail content marketing
HubSpot
Buffer
Headspace
Innovative content marketing campaigns
IKEA Place app
Birchbox magazine
Cheerios recipes
#ShareaCoke campaign
Airbnb Guidebooks
Spotify Wrapped
McDonald's: Our Food, Your Questions
Content marketing examples
To start the list off, we'll focus on a few blogs that are producing incredible content. When people think about content marketing, blogging is probably one of the first examples that come to mind. It's one of the most accessible formats across the web and tons of companies make the decision to develop a blog early in their conception. The following examples are some of the best places on the internet to consume content.
Using content marketing software can help you stay organized and on-track. Browse some of the most highly-rated software tools and try one out for yourself.
Blogs that nail content marketing
1. HubSpot blog
If you're searching for a blog that encompasses a wide array of business topics, HubSpot is the spot for you. With articles that discuss social media, sales, marketing, news, trends, and software, HubSpot is well loved among content marketers.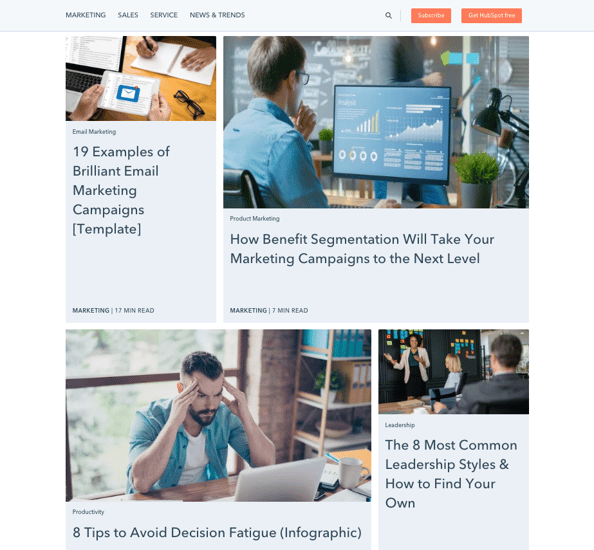 HubSpot's blog works because while the content is adjacent to their product, it doesn't try too hard to sell you anything. It brings value to their customers and provides them with relevant information that they care about. Within the content, there are links to the HubSpot tool itself which is a platform of marketing, sales, customer service, and CRM software.
Because the content is based in these industries, it's likely that the reader is interested in trying HubSpot out for themselves. This is the perfect content marketing sell and the HubSpot blog executes it with ease.
2. Buffer blog
Buffer's blog is another impressive example of high-quality content marketing. Similar to HubSpot, Buffer covers a variety of topics in the business world such as video, social media, and e-commerce.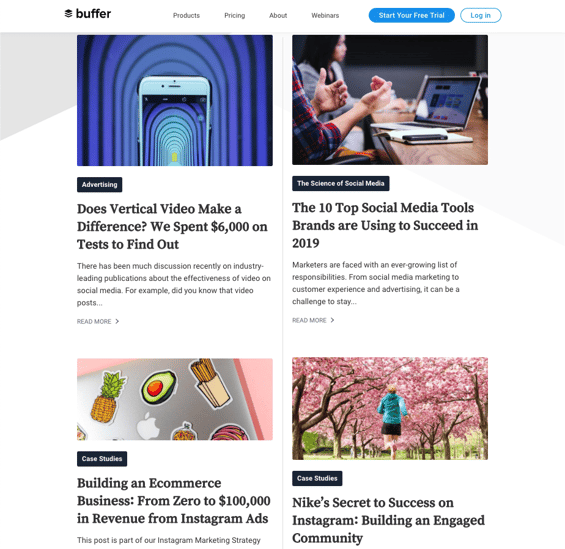 In the content marketing realm, Buffer is a highly recognized brand. The Buffer tool is a software application that assists in managing social accounts, scheduling posts to Twitter, Facebook, Instagram, and LinkedIn, and analyzing data that single users and enterprises alike can use.
Because Buffer's audience cares about social media, analytics, and business management, they're likely to appreciate the articles on the Buffer blog. It is valuable to the audience and is a phenomenal example of excellent content marketing.
3. Headspace blog
Let's talk about a blog that doesn't have to do with business, social media, or analytics in the slightest. Headspace's blog (known as The Orange Dot) harbors an abundance of information on mental health, meditation, sport, work, and even birth + death.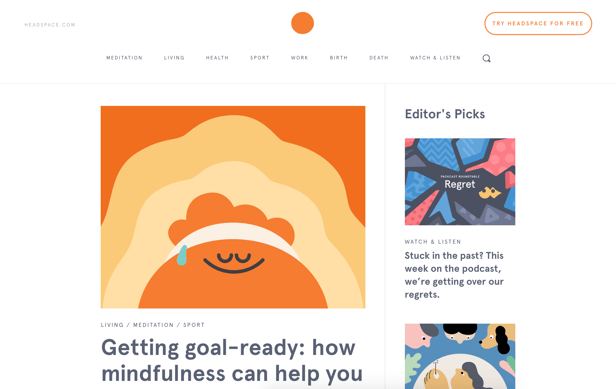 If someone uses the Headspace app on a regular basis and/or pays for the full version of the app, it's a safe assumption that they're interested in these topics. Just like the blogs before, Headspace is offering their users extra content that correlates with their brand's mission.
The articles available to the public are incredibly informative and useful, especially if the reader is stressed or anxious. Headspace demonstrates another way a brand can use content marketing to bring additional value to its product.
Not to mention how adorable the Headspace characters are.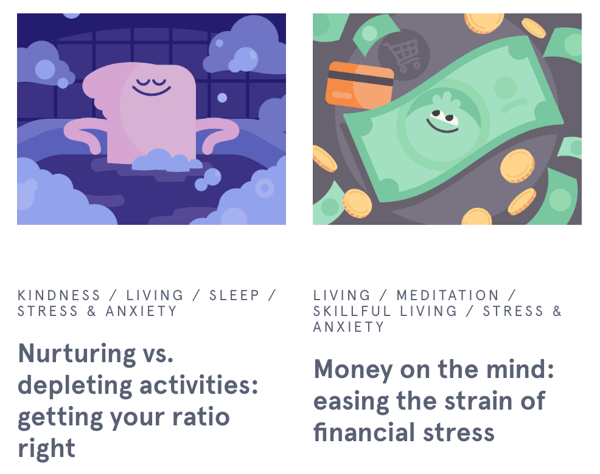 Innovative content marketing campaigns
4. IKEA Place app
In September of 2017, IKEA developed and released an app that let their customers see what certain pieces of furniture would look like in their homes without having to purchase anything at all. It was essentially a virtual "try before you buy" concept.
If someone wants to buy a new couch, the IKEA Place app is a great way to see if it'll fit in the room, if the color is right, and if it's worth investing in. It is valuable to the customer and helps them make a purchasing decision without worrying about physically placing it in their home.
The app fits perfectly with IKEA's main mission and discreetly encourages the customer to buy their product(s). Because it's a fun and interesting way to see a piece of AI furniture in your home, the customer enjoys the experience and appreciates IKEA thinking of new ways to help them with interior decorating. It's a win-win.
5. Birchbox magazine
Birchbox is a subscription box that's delivered right to your door on a monthly basis. Inside your box, you can expect anything from hairspray and mascara to skincare and self-care products. Because Birchbox subscribers are interested in hair, beauty, skincare, etc., the company developed a magazine that discusses all of these topics in one place.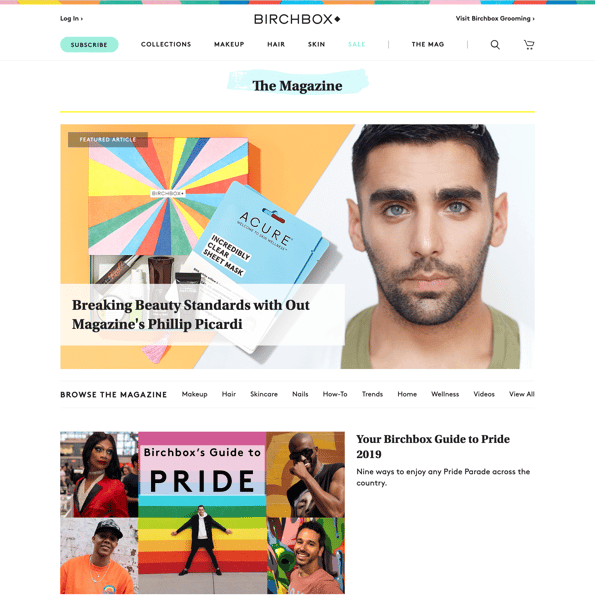 The magazine can be accessed from Birchbox's website and mimics a blog format. Subscribers will find dozens of articles in the magazine that cover topics that are adjacent to their service.
(This may sound redundant but…) the magazine brings extra value to the consumer. They have the choice to read the content or just stick with receiving the box. No matter what, Birchbox will still write interesting and insightful articles that can help a regular beauty consumer make buying decisions.
6. Cheerios recipes
You know when you pick up a box or bag of food and see a recipe on the back that incorporates said food? Yeah, Cheerios does that.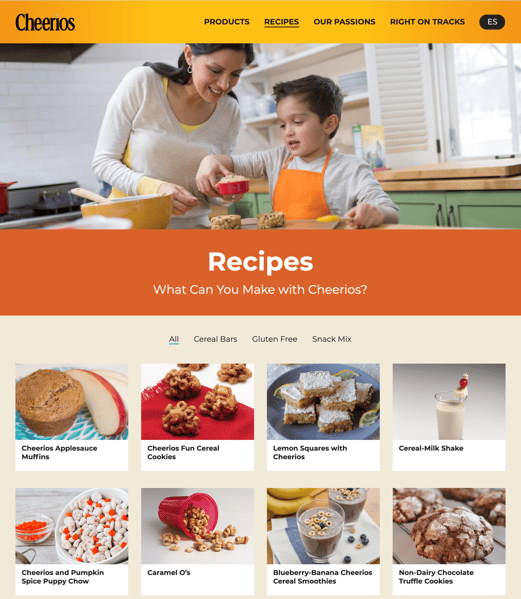 When you buy a box of Cheerios, you're buying it to eat the cereal, but you're also secretly buying their content. Cheerios goes one step further when it comes to their content marketing: they have a specific part of their website where dozens of Cheerios-themed recipes live.
Cheerios is one of the most beloved cereal brands in the world, and giving their customers free recipes they can incorporate the cereal into is content marketing genius.
7. #ShareaCoke campaign
This list wouldn't be complete without the famous #ShareaCoke campaign that began back in 2011. Coke had the brilliant idea to wrap some names around their bottles and cans across supermarket shelves in Australia. It was an instant hit and people loved searching for their names each time they'd grab a Coke from the fridge of a grocery store.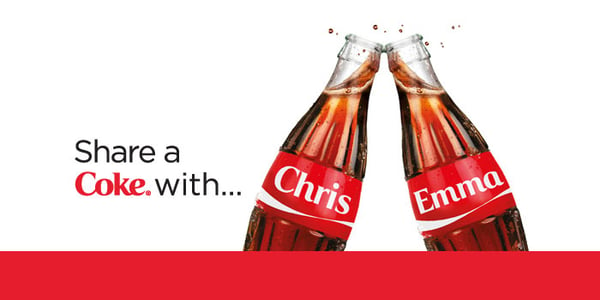 The campaign encouraged people to share a Coke with friends and family and was soon rolled out to a handful of other locations. Coke also began wrapping their bottles and cans with familiar terms of endearment such as "Friend", "Bestie", and "Dude".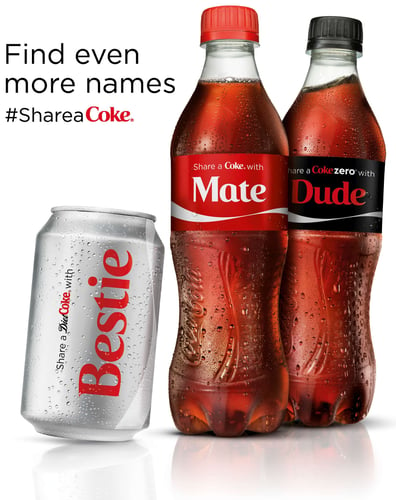 When people #ShareaCoke, they're sharing a memory and being given the opportunity to start a conversation. This campaign didn't just make people look for their names, it encouraged people to connect.
8. Airbnb Guidebooks
Airbnb is known for helping people find the best and most interesting places to stay all around the world. Since their launch, the company skyrocketed to success and has since become a household name.
The travel and booking company created an online resource they refer to as their Guidebooks.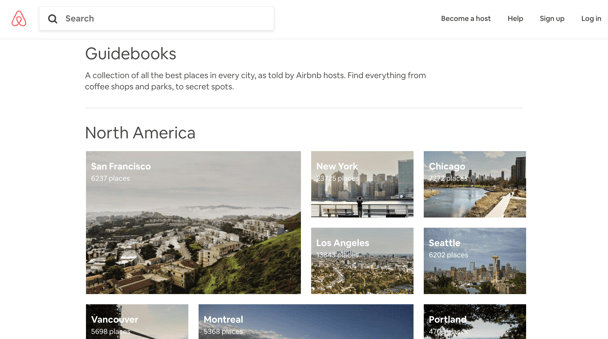 Each Guidebook details a city in the world and lays out the "best things to do" in it. This is divided into categories like food, drinks & nightlife, sightseeing, arts & culture, shopping, and parks & nature.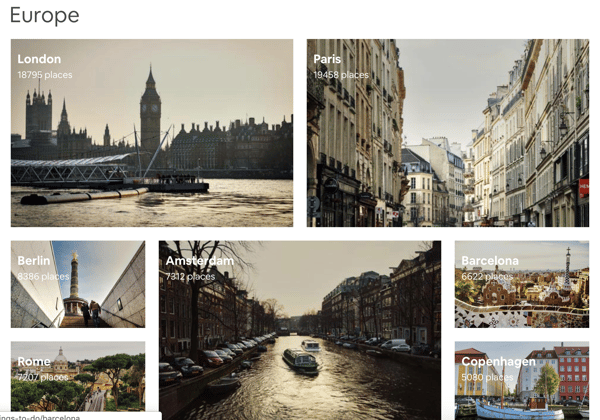 The best part? There are sections based on continent. You can research the best bars in Stockholm or the best museums in Melbourne.
This isn't just "extra" content the company is giving out to their audience, it's endlessly useful information that can be used by anyone, whether they use Airbnb or not. It's helpful, and at the end of the day, that's the point of content marketing.
9. Spotify Wrapped
If you're a Spotify user, you've probably heard of Spotify Wrapped. Every year, you're served a personalized playlist that details your most listened to songs as well as a playlist of "taste breakers". These songs and artists are stark opposites to your usual listening behaviors.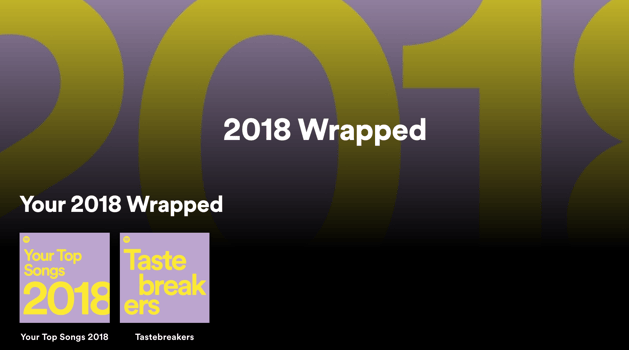 Although Spotify shares these playlists with each of their users (premium or not), they give users something to look forward to at the end of the year. On top of your personalized playlists, a handful of playlists that break down categories such as "Top Female Artists" and "Top Latin Tracks" are shared with the entire community. These playlists are an extra perk of using the streaming service and although it's not mandatory to pay for a subscription to receive them, they encourage consumers to join the Spotify community.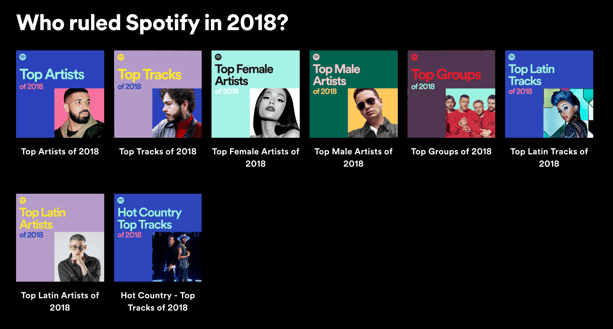 With an already massive following, Spotify nails content marketing and provides its listeners with a unique experience they can't get anywhere else.
10. McDonald's: Our Food, Your Questions
Over the years, people began to question the quality of McDonald's food. The company is no stranger to controversy when it comes to food preparation and health standards. In 2014, McDonald's launched a new marketing campaign called "Our Food, Your Questions".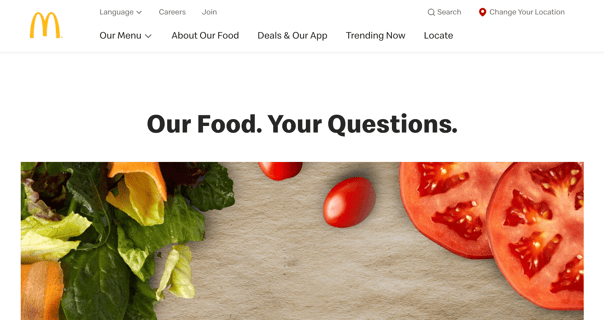 When visiting the website, you'll see categories like "Burgers", "Breakfast", and "Snacks & Sides". Clicking on one will redirect you to a page of questions like "What kind of beef do you use in your burgers?" and "How much salt do you add to your fries?"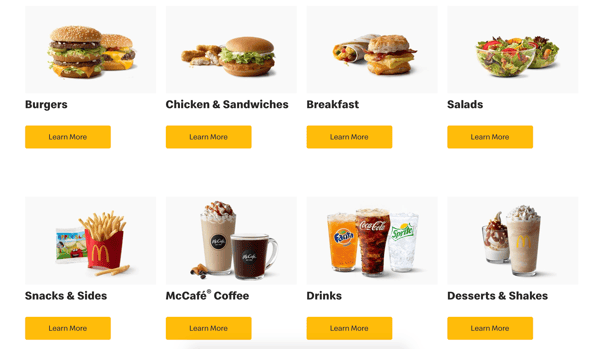 Not only is this campaign informative, it's transparent. McDonald's embraced the scrutiny from the public and took the opportunity to be transparent with their customers. Want to follow suit, listen to your own customers, and create content with what they have to say?
Brainstorm away
Now that you've read through a list of innovative content marketing campaigns, we hope you're inspired. Always keep your audience in mind when creating your brand's campaigns. Think of ways you can provide them with content they can't find anywhere else. Although we've said it a handful of times already, make it valuable. Create an experience they won't forget.
Eager to learn more? Read up on how to develop a solid content marketing strategy.
Impactful marketing tips delivered daily to Facebook Messenger.
Don't worry, we will only send you the good stuff.