The first thing you need to know is that YouTube Red doesn't exist anymore.
In May of 2018, Google renamed YouTube Red as YouTube Premium and tweaked the service just a tad. YouTube Premium has the same features as Red, just with an added music streaming service called YouTube Music Premium. Creative, right?
So now that we've clarified that, we can start dissecting YouTube Premium: what it is, what it offers, and what it costs.
What is YouTube Premium?
YouTube Premium is a paid subscription service that was originally introduced as Music Key and then YouTube Red before landing on its current name. YouTube Premium offers additional features to the ordinary YouTube experience, such as ad-free streaming across the platform, YouTube Original content, and more.
Although Google rebranded YouTube Red to Premium last year, there is still confusion regarding what the service offers and how it's changed. In this article, we'll talk about what features come with a YouTube Premium subscription, how much it costs, and YouTube Music.
Feel free to jump ahead if you want to read something in particular:
How much YouTube Premium costs
What comes with YouTube Premium?
YouTube Music
Where is YouTube Premium available?
YouTube Premium (formerly YouTube Red)
When YouTube first launched its paid subscription service back in 2015, it promised an improved and more exciting YouTube experience than what already existed. YouTube Red was created and for $10 a month, users could watch ad-free videos, have access to original shows, and more.
Although the changes made to the subscription service may not sound all that different, there are a few features that have since been added. But first, let's talk about the change in price.
How much YouTube Premium costs
When YouTube Red upgraded to YouTube Premium, there were a few changes users took note of. Firstly, Premium charges $12 a month instead of Red's $10 and comes with a few more features to entice potential subscribers.
Additionally, there are YouTube Premium family and student plans available. The family subscription allows up to five family members to join the plan for $17.99 a month and offers a 1-month free trial. The student subscription is only eligible for students and costs $6.99 a month, offering a generous 3-month free trial.

What comes with YouTube Premium?
To understand the additions that were made to the service, we'll go over the features that were offered with a YouTube Red subscription.
YouTube Red offered:
- Watching all videos ad-free
- Access to all of the YouTube Originals
- Ability to play videos in the background
- The option to download videos for offline use
In addition to these features, YouTube Premium also includes full access to YouTube's music streaming service YouTube Music.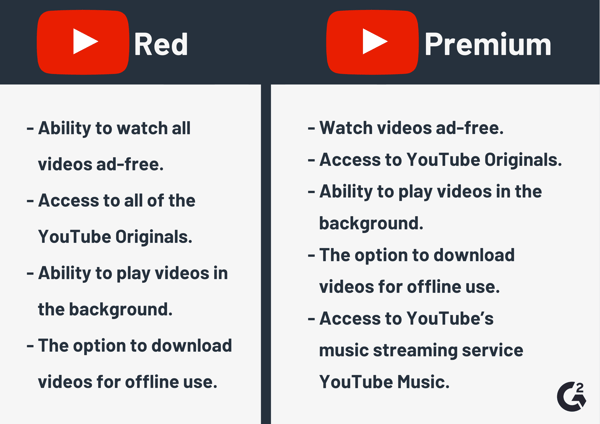 YouTube Music
What is YouTube Music you may ask? Created to compete with popular music streaming services like Spotify and Google Play, YouTube Music lets you listen to music without ads, download songs and playlists for offline listening, and gives you the ability to play your music in the background without the app open.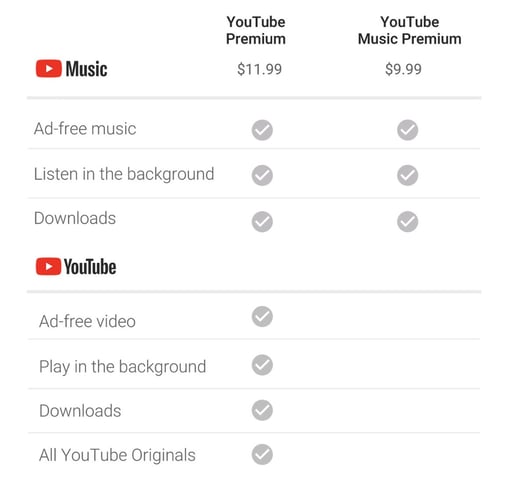 Maybe you're just interested in using YouTube Music. You can choose to solely subscribe to the service without the perks of Premium for just $10 a month. If you're not sure yet, feel free to try it out for a free 1-month trial before you take the plunge and subscribe.
Just like YouTube Premium, there's also the option to sign up for a student or family plan.

What makes YouTube Music unique
The feature that makes YouTube Music stand out from other streaming platforms is that the service allows you to discover songs you may not know the names of. Some examples include typing "One taught me love, one taught me patience" and YouTube pulling up Ariana Grande's "Thank U, Next" video. You can also search by description like typing "that whistling song" and landing on Peter Bjorn and John's "Young Folks".
YouTube Music also recommends music based on your location and the time of day. For example, if you're at work, you may find mellow and focused songs in your suggested videos, and when the app realizes you're at the gym, it'll suggest up-tempo songs to get you going.
Are you an avid YouTube user? Share your expert insights with us and leave a review on G2:
Where is YouTube Premium available?
As of now, YouTube Premium subscriptions are available in the following countries: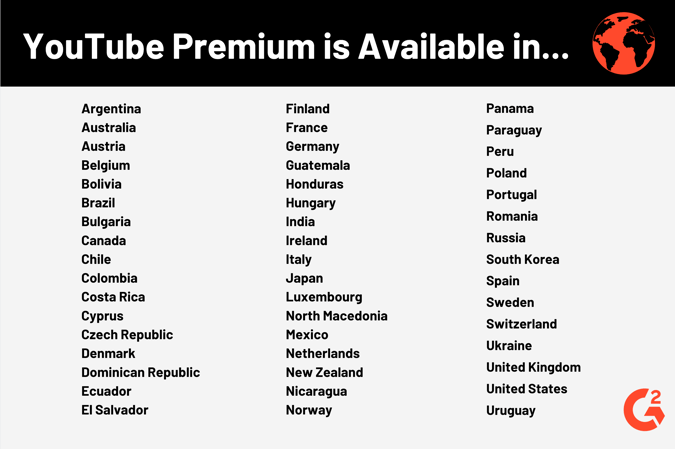 Dreaming of streaming
It's up to you to decide if YouTube Premium is worth subscribing to. If you don't mind watching a few ads or already pay for a separate music streaming service, Premium may not be your thing. On the other hand, if you're using YouTube on a daily basis and you're a big music fan, it could be a great option for you. It's your call.
Do you love YouTube? Check out our articles on how to create a YouTube channel or read up on the state of YouTube demonetization.