Artificial intelligence (AI) is increasingly leveraged across a variety of industries, programs, systems and machines to improve performance. This technology has the potential to automate and streamline many business applications, but these systems vary greatly in their abilities.

Narrow AI is built to complete a simple task whereas strong AI is built to be self-aware. Narrow AI systems, also called weak AI systems, are built by humans and can thus be limited by our own biases and shortsightedness. And while there are many benefits to implementing AI to streamline workforce management processes, there are some major issues to keep in mind as well.
Amazon recently made headlines for its use of AI in employee tracking and termination. A document obtained by The Verge illustrates how the company uses AI to track fulfillment center employees and manage firings. This automated system tracks employees' "time off task" (TOT) and can generate warnings and terminations without seeking the approval or opinion of a supervisor (read: "human").
This system tracks "gaps in scanning" and uses that data to generate reports. Supervisors take these reports back to the employee to discuss any TOTs. If the employee has a "reasonable excuse" such as taking a bathroom break, the supervisor can remove the warning. TOT warnings accrue accordingly:
30 minutes to one hour results in a first written warning.
One to two hours results in a final written warning.
Two or more TOTs results in termination.
Although managers have no say in the rates that result in warnings, they can override the automatically generated notices. Amazon claims that a human supervisor can override the determination for the automated system or an employee can appeal the automatic firing.
This isn't the first time Amazon has found itself in hot water around misguided attempts at incorporating AI into its HR processes. In 2017, Amazon reportedly stopped using an AI recruitment tool for its apparent discrimination against female candidates. In an attempt to program an AI-powered system to scan resumes for top talent, Amazon wrote into this system a decade's worth of candidates' resumes. Unfortunately, the system became inherently biased because the majority of the candidates' resumes included male names, thus it began to favor men over women. Furthermore, it downgraded resumes with the word "women" in them and assigned lower scores to graduates from women-only colleges.
---
Automating workforce management solutions
AI-based technologies are undoubtedly at the height of 2019 HR trends. Although these solutions are sure to transform HR processes, productivity and work as we know it, they cannot replace the human touch when it comes to workforce management solutions if not used properly. When AI is programmed to treat people as robots, well, then we have a problem.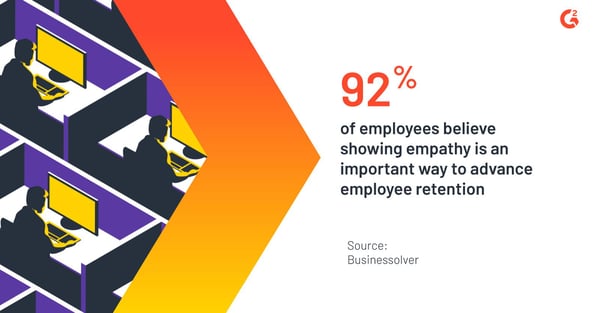 Automating workforce management solutions does not have to result in a lack of care, empathy, and consideration for the workforce it manages. As highlighted recently in our collection of HR statistics, 92 percent of employees believe showing empathy is an important way to advance employee retention. There are over 20 types of HR software that help HR departments focus on their workforce by engaging employees, improving corporate wellness, and managing employees in a considerate manner.
Workforce management software can help organizations, management and HR departments focus on their people, so their employees have the resources, support and tools they need to be successful.
How can workforce management software help?
Organizations in sectors like retail, hospitality, health care, banking, insurance and transportation rely on workforce management software. These solutions help employers, HR departments and managers oversee hourly employees who conduct time-sensitive tasks.

Workforce management software helps businesses forecast labor demands, manage employee schedules, track employee attendance and optimize workforce competencies. These tools often integrate with core HR, time tracking and benefits administration solutions and provide the following features.
Workforce management features:
Schedules
Time clocks
Time and attendance management
HR analytics
These solutions often provide self-service options so employees can manage time off requests without having to go through their company's HR department. This eases the workload for HR team members (allowing them to focus on other tasks), reduces paperwork, and provides transparency across all departments including HR, payroll and scheduling, to name a few.
Companies have been using automated workforce management solutions for decades. But only recently has artificial intelligence been integrated for complete monitoring in an effort to improve employee productivity, effectiveness and efficiency. Only perhaps putting checks and balances in the hands of robots is shortsighted and, well, not pro-human.
Benefits of workforce management software
The original benefit of workforce management software was to provide employees with self-service options that offer them the freedom to bid on or swap shifts, request time off and maintain their schedule eligibility. This enables companies to determine the number of employees they need per shift, while also empowering employees to select the shifts they desire.
Benefits of workforce management software
Transparency
Automation
Scheduling
Real-time assessment
Beyond availability, another benefit of employing workforce management software is in incentivizing productivity through motivation and competition. When productivity data is made available to employees and a bar is set for achievement and success, a monetary incentive in the form of a gift card can inspire healthy competition among coworkers. Unfortunately, Amazon's use of AI in workforce management technology is all stick and no carrot.
---
Workforce management software
Workforce management products have well over 2,000 validated user reviews on G2 as of May 1, 2019, and only represent a small portion of the 300-plus workforce management software offerings listed on our platform. The products must have at least 10 reviews and are ranked by user Satisfaction score, which is calculated by a proprietary algorithm that factors in real-user satisfaction ratings from review data.

For each product we provide:
User satisfaction
G2 star rating
An overview
Reviews highlighting what users like
---
1. Deputy
Product Name: Deputy
User Satisfaction: 96%
G2 Star Rating: 4.7 out of 5.0 stars
Overview
Deputy is a cloud-based solution that provides employee time and performance management solutions. Features include a drag-and-drop schedule builder, auto-scheduling, digital time clock, task visibility, team messaging, facial recognition clock in and out, performance management, shift swapping and more.

---
2. BambooHR
Product Name: BambooHR
User Satisfaction: 95%
G2 Star Rating: 4.3 out of 5.0 stars
Overview
BambooHR is a flexible core human resources information system (HRIS), also known as core HR. Features include job board posting, candidate filtering, employee onboarding, time off management, employee database and records, performance reviews, HR reporting, customized workflows, electronic signatures and more.

---
3. Paycom
Product Name: Paycom
User Satisfaction: 91%
G2 Star Rating: 4.1 out of 5.0 stars
Overview
Paycom is a cloud-based human capital management software that helps businesses manage the employment lifecycle from recruitment through retirement. Features include candidate tracking, ATS, background checks, onboarding, time and labor management, expense management, payroll and tax management, performance management, benefits administration, analytics and more.

---
4. Humanity
Product Name: Humanity
User Satisfaction: 90%
G2 Star Rating: 4.2 out of 5.0 stars
Overview
Humanity is a workforce management software that provides solutions for a variety of industries including health care, education, restaurants, retail and call centers. Features include employee scheduling, attendance tracking, staff leave management, data-driven scheduler, staff communication, employee budgeting, onboarding and training, and data analysis.

---
5. APS Core HR Solutions
Product Name: APS Core HR Solutions
User Satisfaction: 89%
G2 Star Rating: 4.5 out of 5.0 stars
Overview
APS Core HR Solution provides small- and mid-size businesses with HR solutions. Features include benefits, performance reviews, employee event and activity tracking, HR analytics and more.

---
6. Ceridian Dayforce
Product Name: Ceridian Dayforce
User Satisfaction: 87%
G2 Star Rating: 4.2 out of 5.0 stars
Overview
Dayforce is a human capital management (HCM) solution that provides a single platform for a variety of employee management solutions. Features include HR, payroll, talent and workforce management, benefits and more.

---
7. UltiPRo
Product Name: UltiPro
User Satisfaction: 86%
G2 Star Rating: 4.2 out of 5.0 stars
Overview
UltiPro is Ultimate Software's cloud-based human capital management (HCM) solution. Features include employee information and history, payroll administration, tax management and compliance, recruiting, employee onboarding and training, AI and machine learning, employee surveys, career development, compensation management and more.

---
8. Zenefits
Product Name: Zenefits
User Satisfaction: 84%
G2 Star Rating: 4.0 out of 5.0 stars
Overview
Zenefits People Platform provides small- to mid-sized companies with HR solutions, with a specialty in health care. Features include payroll, time and attendance, self-service benefits administration, hiring and onboarding, performance management, ACA compliance, mobile app and more.

---
9. Jibble
Product Name: Jibble
User Satisfaction: 83%
G2 Star Rating: 4.6 out of 5.0 stars
Overview
Jibble is a productivity solution that provides a variety of industries including construction, hospitality, startups, education, legal, and more. Features include time and attendance, time tracking, and time sheets, and the Jibble app provides connections across Slack, Microsoft Teams, iPad, iPhone, Android and Chrome.

---
10. Kronos Workforce Ready
Product Name: Kronos Workforce Ready
User Satisfaction: 78%
G2 Star Rating: 3.9 out of 5.0 stars
Overview
Kronos Workforce Ready combines workforce management and human capital management (HCM) solutions in one cloud platform. This solution helps companies manage salaried, hourly, full-time, or part-time employees. Features include scheduling, leave management, time keeping, compensation management, performance management, talent acquisition and more.

---
Next steps for workforce management
Workforce management is an essential part of any successful business. There are a variety of workforce management solutions that can provide HR departments, management, and employees the insight they need to maintain productivity.
For free solutions to keep your employees organized and on track, be sure to check out the 21 Best Free Project Management Software Solutions for 2019.