Imagine you wake up one morning to find the website you've worked so hard to create, manage, and market has been taken over by hackers.
Sounds like something out of your nightmares, right? Unfortunately, it's more common than you think. Especially when you consider that cyberattacks are the fastest-growing crime in the U.S.
So, how do you protect your website on one of the most popular CMS for website building? Luckily, WordPress is flexible when it comes to increasing the security measures on your website. However, it takes some time and effort to strengthen. Let's not waste any more time as your WordPress site could be at risk.
Ways to increase WordPress security
Use two-factor authentication
Install a WordPress security plugin
Invest in an SSL certificate
How to increase WordPress security
You didn't create your WordPress website overnight. You pored over it to make sure it was the best that it can possibly be. You did your research on the perfect WordPress theme, implemented a marketing strategy, chose a fitting domain name, and countless other elements to make your website shine.
Now, let's learn how to make sure your hard work doesn't fall into the wrong hands.
Why is WordPress security important?
Since there are over 172 million active websites powered by WordPress, there's no denying that WordPress is a software giant in the world of blogging and website creation. With so many websites and daily active users (DAUs), there are bound to be some security issues that fall through the cracks.
Did you know? Companies like NBC, CNN, TechCrunch, People Magazine, and the NFL all have websites powered by WordPress.
Unfortunately, this makes WordPress a target for attacks. As the popularity of this CMS continues to grow, it becomes increasingly favored by online hackers. All they have to do is find a weak spot in a theme or plugin, and they will have access to thousands of websites, and all of their information.
If you are running an e-commerce site on WordPress, it is especially important that you implement ways to keep user information, like credit card numbers and addresses, out of reach from hackers.
Ways to secure your WordPress site
Beyond staying up-to-date with the latest version of WordPress, monitoring your plugins, and using a well-coded theme, there are other ways you can go about ensuring your website is secure.
Use two-factor authentication software
The most common and successful WordPress hacking attempts use a stolen password. Not only should you use a strong password, but also a two-factor authentication (2FA) system.
While most websites simply need a username and password to log in, 2FA takes security up a notch by asking you to enter a one-time code sent to your email or smartphone to be able to gain access to the WordPress site. To do this, you'll need to install a plugin that allows for 2FA. Just type in two-factor authentication into the plugin search bar and install the plugin of your choice.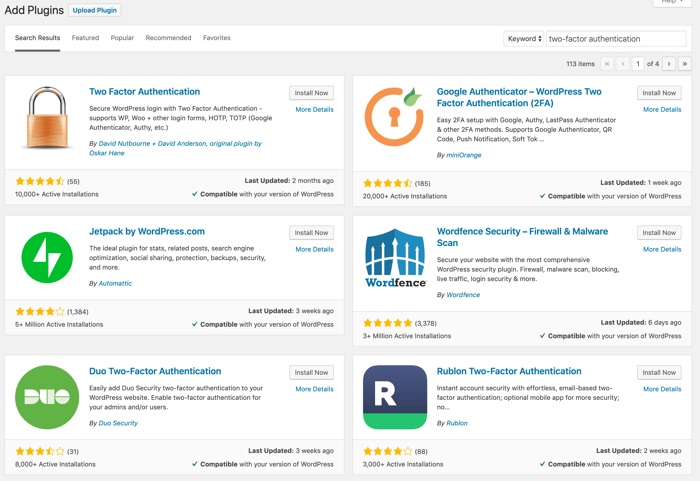 Install a WordPress security plugin
In addition to WordPress plugins that allow for 2FA, there are others you can install that heighten the security measures for your website.
For instance, the All In One WP Security and Firewall plugin not only offers a range of features, but it's also easy to use. Some of its features include a password strength calculation tool, the ability to create a list of locked out users, can lockout IP addresses that attempt to login with an invalid username, and more.
Another great plugin is Sucuri Security, which is an auditing and monitoring system that tracks everything that happens on your WordPress site, including failed login attempts.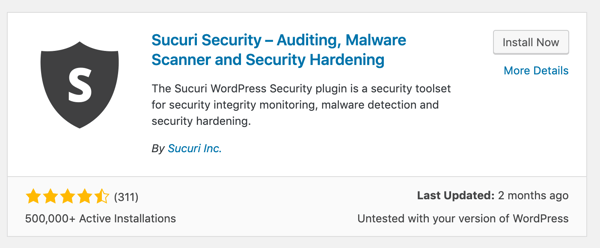 Plus, one of the best features Sucuri offers is malware cleanup and blacklist removal guarantee. This means that if you were to be hacked with their plugin installed, they will fix your website for you, no matter how many pages you have.
Invest in an SSL certificate
Have you ever noticed that when you log into your WordPress dashboard, the URL states that it's not secure? To change this, you'll need to have an SSL (Secure Sockets Layer) certificate, which will allow encrypted data transfer between your website and the browser of the website visitor.
Having this encryption makes it more difficult for a hacker to access any sensitive information. Once enabled, your website will move from HTTP to HTTPS. You'll also notice a padlock symbol next to your web address in a browser. These two together give the visitor of your website added peace of mind that your website is one they can trust.
Hackers not welcome here
67 percent of organizations reported being breached at some point in the past.
Don't let your WordPress site be attacked by hackers. Instead, take some time and invest in the website you've worked so hard to build, and make sure it doesn't fall prey to hackers and prying eyes.
Now that your site is safe and secure, find out how to post a WordPress blog and create a WordPress contact form. You can also check out the WordPress maintenance plan from WP Buffs.