Sometimes it's the little things in life that make all the difference.
Like say, finding the perfect WordPress plugin that does exactly what you've been looking for.
With so many WordPress plugins to choose from, it can feel overwhelming to have to sift through and find the ones that make the most sense in your website building process. Similar to the Apple slogan from 2009, "there's an app for that," the WordPress community likes to say, "there's a plugin for that." And they're right. No matter what you're looking for, there is bound to be a plugin that you can install to solve all of your problems.
Need a plugin for something specific? Jump ahead to:
What plugins should I use for WordPress?
Whether you're looking to add new features, enhance WordPress security, or add a contact form, it can all be done with just a few clicks. A WordPress plugin is a piece of software that can be added to a WordPress site. It contains a group of functions, written in PHP, that seamlessly integrate with WordPress.
Are WordPress plugins free?
WordPress offers a variety of plugin options ranging from free to paid plugins. Paid WordPress plugins often comes with extra perks, such as ongoing customer support and regular updates from the plugin creator.
Before you can start downloading plugins, you need to know if you have a WordPress account that supports the installation of plugins. Only websites using WordPress.org and the Business version of WordPress.com can install plugins.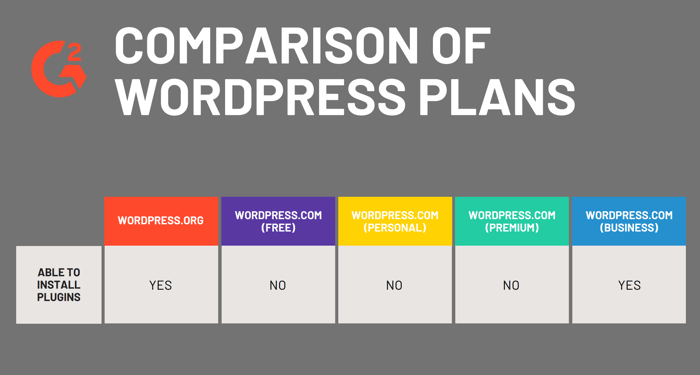 If you're able to install and use WordPress plugins, it's easy to feel overwhelmed by all of the options. After all, there are over 55,000 to choose from.
We asked industry professionals to tell us about their favorite WordPress plugins. Find out which plugins the experts use and if they'll be useful to install on your WordPress site:
Best WordPress plugin for SEO
"The all-time best Wordpress plugin, hands down, is Yoast. I consider this SEO plugin to be essential for any website that publishes written content and wants to improve their search rankings. It's simple to use, has an intuitive interface, and will drastically improve your site's SEO and overall writing quality."
- Bryce Welker, CEO of Crush Empire
Best WordPress plugin for tracking data
"I love HubSpot's WordPress plugin. Clearly, I'm biased since I work at HubSpot, but I also use the tool on my own personal WordPress site. I like that I can simply install the plugin and have most of my marketing needs taken care of (pop-ups, forms, etc.). The data all traces back to HubSpot's CRM and analytics dashboards, so, in addition to using Google Analytics, I can get a really nice picture of my website's performance in terms of lead generation."
- Alex Birkett, Senior Growth Marketing Manager at HubSpot
Best WordPress plugins that work for all websites and businesses
"In terms of Wordpress plugins, the type of website and online business you're managing is going to determine your most useful plugins (for the most part). Having said that, there are a few that all WordPress sites should use, like the MailChimp plugin for email subscribers and easy email integration, Google XML Sitemaps for better search engine navigation and indexing, and the Sumo Share Plugin, which allows for easy social sharing of articles, as well as on-site tracking/display of share count (which can help with social proof and compounding shares as well). Regardless of what type of business you're running, it's safe to say that your website can benefit from any of the above plugins."
- Johnathan Dane, Founder/CEO of KlientBoost
Best WordPress plugin for website building
"The set of plugins from the Thrive Themes team is something every serious marketer should take a look at. Thrive Architect, the page builder is a great drag-and drop-tool for constructing the perfect landing page or layout. Thrive Leads is a highly capable lightbox or pop-up builder with built-in A/B testing and metrics. While there are several other components that make this suite must have, I will let you check them out for yourself. It's an amazing bundle of WordPress tools."
- Dan Hale, Web Designer at Cloud Inspector
Best WordPress plugin for generating leads
"I can't live without the Gravity Forms contact form plugin for WordPress. From conditional logic to routing notifications to data exports, Gravity Forms does it all. The plugin also does multi-page forms with a status bar at the top. This allows for the creation of interactive lead magnets, like free online quizzes, calculators, and other freemiums perfect for inbound marketing."
- Katie Weedman, Content Strategist at THAT Agency
Best WordPress plugins for cybersecurity
"Wordfence Security - Wordfence is now an essential plugin for all WordPress users because, due to the popularity of WordPress online, there are more attacks and hacks targeting the CMS than any other platform."
- David Alexander, Designer, Developer, and Digital Marketer at Mazepress
Best WordPress plugin for website speed
"WP Rocket is a must. With mobile usage slowly becoming the new default way to build and optimize WordPress, your site speed is now more important than ever. If your site loads slowly on mobile, not only will you lose customers, but Google has also made it clear they will now penalize sites who have poor mobile optimization. We have tested over a dozen speed optimization and caching plugins on our site and the winner was WP Rocket. It allows us to compress our HTML, CSS, Javascript, and strip out all non-critical functions the HEAD section of our WordPress site to optimize site speed. Beyond that, it also allows us to prioritize the loading of elements to lower our screen rendering times to under a second for mobile visitors, which is critical to eCommerce. Can't recommend that plugin enough!"
Seth Kravitz, CEO of PHLEARN
Best WordPress plugin for blocking spam
"One of my favorite plugins is Akismet Anti-Spam. My current blog doesn't have comments. I chose to disable them. However, in the past, I had blogs that did have comments, and the sheer volume of spam comments is mind-blowing. Akismet blocks all that spam and saves you from hours of manually deleting spam comments. I honestly can't imagine running a blog that has comments without using Akismet."
- Vered DeLeeuw, Founder of Healthy Recipes Blog
Best WordPress plugins for eCommerce sites
"Square is an up-and-coming payment processor that integrates directly with WooCommerce, among other eCommerce channels. It offers flat-rate pricing with no hidden fees, as well as deposits within two business days, and there is inventory management that syncs with your store for easy product additions and updates. They also have teams on standby in case of any payment disputes and they will protect sellers."
- Michael-John Lazar, Executive at ReadyCloud
Best WordPress plugins for image optimization
"Smush automatically optimizes any images that are uploaded to WordPress, while still preserving their quality. This is a big deal because having too many large images on a website can slow it down, making the load time longer for users and poorly affecting the website's rating/SEO."
- Kristen Scheven, CMO at AngelHack
Best WordPress plugins for social sharing
"I'm a big fan of Social Warfare, a social media sharing plugin that's fast and looks good. It includes a 'tweet this' feature that allows you to insert sharable twitter messages into a post. All these factor into encouraging social sharing. As someone who relies on Gutenberg Blocks, I appreciate that the plugin works well in this environment. Social Warfare integrates with Bitly link shortening, so visitors don't see unsightly URL's caused by using UTM parameters. Those clean-looking links also help to boost sharing. Social Warfare's support for analytics tracking means I can track this activity in Google Analytics, keeping my traffic analysis centralized on one platform."
- Stephen Jeske, Content Strategist at MarketMuse
Start installing
Now that you have a better idea which WordPress plugins will be most beneficial to you and your site, it's time to head over to the WordPress plugin directory and get installing! The right plugin can make all the difference.
---
Share your knowledge!

Help others within your industry and grow your personal brand by contributing to the G2 Learning Hub! Signing up takes just a few seconds and soon you can be like one of these eight professionals who share their expertise in sales, marketing, or business development with over 1 million monthly readers.