WordPress is without a doubt the biggest name in blogging.
While there are plenty of website builders and web content management software products on the market, WordPress has cemented itself as the powerhouse of the space.
Don't believe me? According to CodeinWP, WordPress accounts for 50 to 60 percent of the global market for content management systems (CMS) over the past seven years. On top of that, WordPress powers 14.7 percent of the top 100 websites in the world.
However, unless you're really paying attention, you won't notice there are actually two different variants of the WordPress platform.
---
How do I choose between the WordPress options?
Anyone who's considered starting a blog or website has inevitably had WordPress suggested to them. But what they may not realize is there are two versions of WordPress available: WordPress.com and WordPress.org.
What is WordPress?
Before getting into the differences between .com and .org, it's important to understand what WordPress is.
WordPress is a free, open-source CMS based on the MySQL database management system and the PHP scripting language. While it can be used for any type of content, it's a popular option for web content management. Web content management systems are used to build out websites, notably ones that frequently post fresh content, such as blogs, news sites and online stores.
WordPress has been so successful because it's easy to use and offers users mobile- and SEO-friendly websites and hundreds of plugins. And since WordPress isn't owned by a company — it's maintained entirely by volunteers — the software is completely free.
WordPress must be installed on a web server, which is where our distinction begins.
WordPress users can either utilize an internet hosting service that hosts the program for them or download the software onto a computer. Here is an article from LearnWoo that will help you understand the process of installing WordPress on a host server.
What is the difference between WordPress.com and WordPress.org?
In short, with WordPress.org, users download the WordPress software and self-host their site. WordPress.com on the other hand is a blogging platform akin to Tumblr or Blogger that runs the WordPress software itself.
WordPress.org requires users to download a software package and then purchase a web hosting service to host their site. This service is typically billed annually or monthly.
WordPress.com provides both the software and hosting — essentially a bundled service.
While these two entities are distinct, they do overlap heavily. The WordPress.com platform was created by Matt Mullenweg, one of the founders of the WordPress software available via WordPress.org. (Mullenweg's company, Automattic, is also a major contributor to the WordPress open-source product, further compounding confusion.)
---
Comparing the features of WordPress.com vs. WordPress.org
While the WordPress software functions the same regardless if it's .com or .org, the user will be faced with different requirements and restrictions.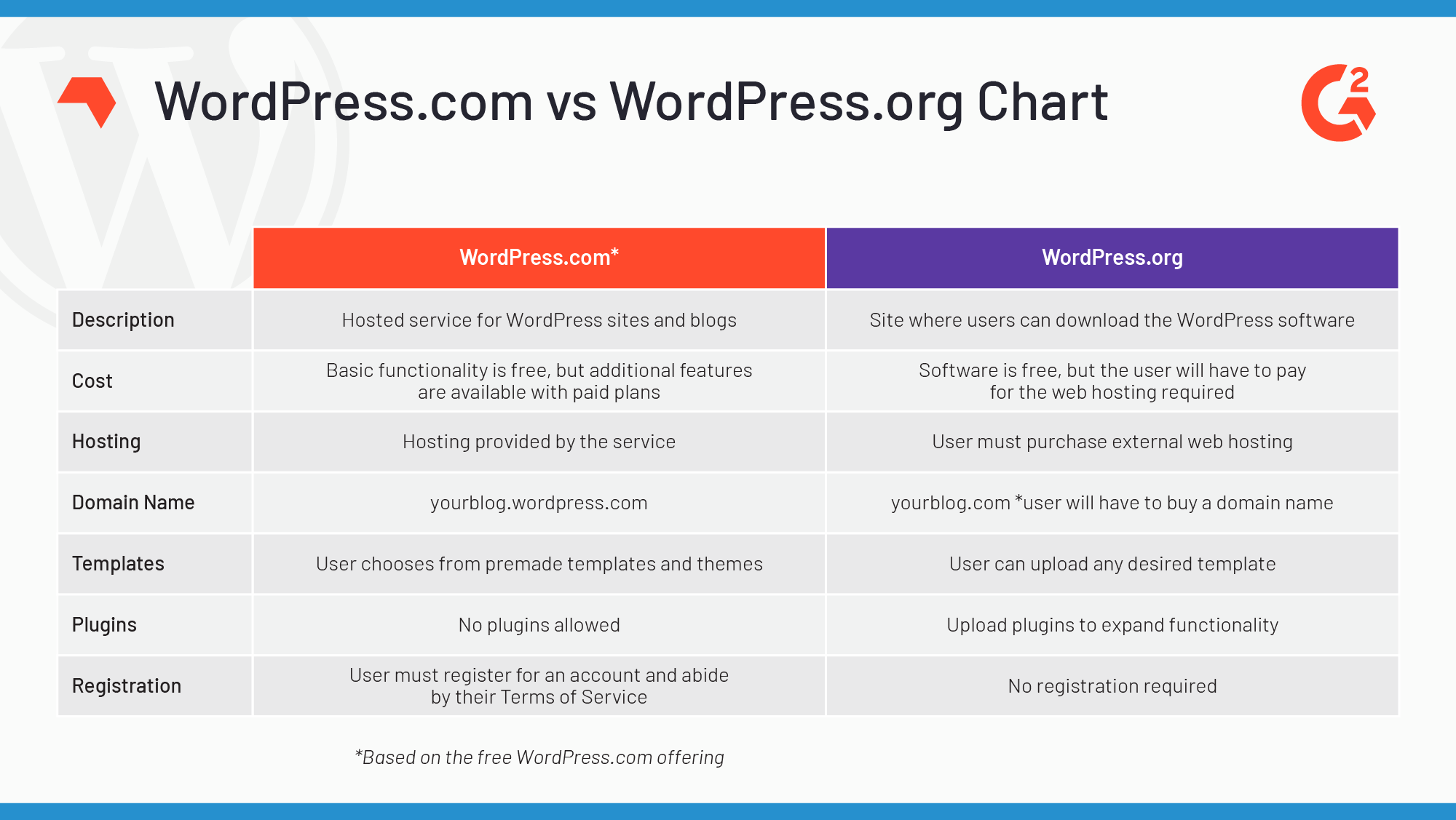 As mentioned earlier, WordPress.com is a service that offers both software and web hosting on its website. This makes it a much more appealing option for new bloggers or small business owners who are too busy to get their hands dirty with backend coding. Its basic plan is free, which is great for casual bloggers or bloggers just starting out.
However, as seen in the above chart, WordPress.com does have some drawbacks. While the basic service is free, extra features like additional template options, WordPress plugins and hosting storage only come with paid plans. These features are all included within the WordPress.org platform, meaning users who want them are going to have to pay one way or another.
A WordPress.org blog requires a bit more effort to get up and running, but that might not be a downside for tech-savvy users or those craving customization without having to pay WordPress.com's premiums.
A writer at wpbeginner makes a great analogy that helps frame the choice between the two offerings:
"The best way to think about the differences between WordPress.com vs WordPress.org is the analogy of renting a house vs. owning a house. WordPress.com is similar to renting a house. You have limited power and control over what you can and cannot do. WordPress.org is like owning a house. Where you have full control, no one can kick you out, and you can do anything that you want."
WordPress.com is essentially a landlord. You don't have to worry about maintenance, but living here comes with rules, limitations and potential fees for extra privileges.
WordPress.org requires a user to host their own site, making them something like a property owner. Even if more personal responsibility and work go along with property ownership, you get to make the rules.
---
The cost difference in WordPress.com and WordPress.org
I mentioned previously that WordPress.com does have paid offerings which provide many of the features available to people who self-host their site. WordPress.com offers three paid plans: Personal, Premium and Business.
The chart below compares the four WordPress.com plans and a self-hosted WordPress site: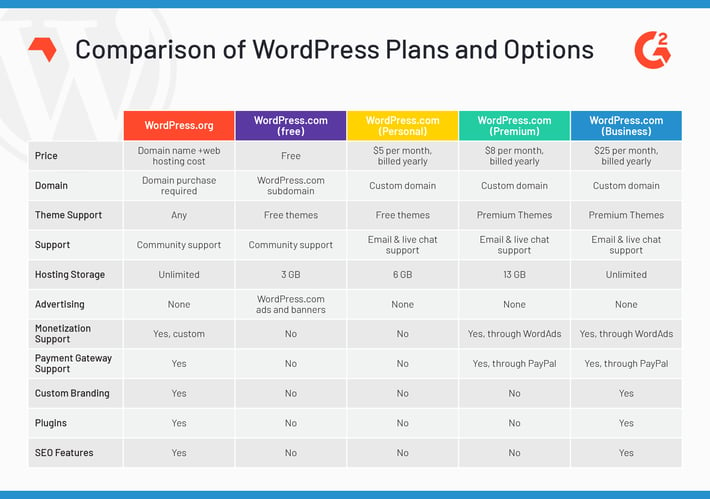 The WordPress.com Business plan packs a punch, offering most of the features available with a self-hosted website. However, considering the low price of many web-hosting options, the Business plan could prove more expensive than a self-hosted site.
Moreover, the Business plan still doesn't offer everything available with a self-hosted site, including custom themes, support for e-commerce stores and full control over monetization.
---
Which type of WordPress site should you use?
You came here looking for answers and honestly, I might have thrown you more options than you thought were available. Sorry not sorry. I do plan to help you narrow down these WordPress options to the best fit for your site.
Below are a few points to consider before users settle on an option:
Type of website — I mentioned WordPress.com does not support e-commerce websites, regardless of the plan, so users looking to start one of those must self-host. Otherwise, users will want to consider what features their website will require. Will you be uploading a lot of videos and pictures? The free WordPress.com plan might not be enough. Are you making a website for a business or company? A self-hosted WordPress site or the WordPress.com Business plan offers the most in terms of branding, monetization and scalability.
Cost — Typically, a user's price point will be their main consideration when choosing an option. A self-hosted WordPress site can cost between $40 and $100 per year. While a self-hosted site requires more capital and effort than a free WordPress.com site, it will probably cost less than a Premium WordPress.com site but offer more features.
Monetization — Money makes the world go round. Plenty of people are looking to make money blogging, but WordPress.com doesn't allow for monetization without using its Premium or Business plans. Even then, WordPress uses its own proprietary monetization system, WordAds, and takes a cut for itself. If monetization freedom is a must for your site, the self-hosted option is definitely the way to go.
Customizability — Many users feel they get the most customization options for a WordPress theme with a self-hosted site. However, not all users require massive amounts of creative functionality and can create absolutely stellar pages using the templates available in a paid or even free WordPress.com site. In fact, the Premium and Business plans offer enhanced design features that allow users to modify the available templates even more.
Desired features — Many of WordPress.com's paid plans offer the same features one would expect from a self-hosted site. The main consideration here is the price versus the features offered. For example, if SEO tools or unlimited storage are musts for you, you'd pay considerably less for them with a WordPress.com plan compared to a self-hosted site. However, if you're just starting out as a blogger and a subdomain name isn't a dealbreaker, you'd save more money in the long run sticking with a free WordPress.com site.
---
Interested in blogging? Learn how to start a blog in 5 steps and how to post a WordPress blog on G2 Crowd's Learning Hub.