There's no denying that the world wide web is - in fact - wide.
If you want a piece of the internet pie for yourself, consider choosing WordPress, the most popular CMS platform, to host your website. With so many exciting features and customization options, you can truly make your website exactly what you need it to be. Whether you're building a travel blog or an eCommerce website, WordPress does it all.
If you're new to the platform and could use some help before you get started, you've come to the right place.
Posting a WordPress blog
Content writing is important for putting your brand on the map and being visible on search engines. You can use each blog as an opportunity to target a new keyword and entice readers to click-through to your WordPress site.
When it comes to publishing on WordPress, the process is simple:
How to post a WordPress blog
Click Add New under the Posts tab.
Add a title and the body of your post.
Add media to break up the text.
Select categories and tags.
Click Publish.
In addition to the actual copy of your blog post, don't forget to come up with an engaging title, add multimedia and a featured image, and select relevant categories and tags. This will enhance your reader experience and help organize your blog.
Also, take time to edit the URL to best match your target keyword. This is one of the most fundamental ways to enhance your on-page SEO.

For adding more than just audio and images to your WordPress blog, consider our next tip on embedding YouTube videos.
Embedding a YouTube video
Pairing your written content with images and video is a great way to drive engagement on your WordPress blog. Best of all, the actual process is short and sweet, and you can do it by using either the WordPress text editor or visual editor in the option tab, whichever you find to be the easiest for you.
For this example, we'll tell you how to embed a video using the text editor.
How to embed a YouTube video
Go to the YouTube video you want to embed and click Share.
Copy the video's embed code.
Open the WordPress text editor.
Paste the video's embed code and publish.
Here's what your YouTube video will look like right before embedding it.
Videos offer visual and interactive context to blog posts, which keeps visitors on page for longer. So, consider finding relevant videos to use in your content, or better yet, create and upload your own!
Installing a WordPress theme
To ensure that your WordPress site properly conveys your brand, you'll need to install a theme. The themes available to you will depend on the type of WordPress account you have. Your options range from a free theme, a premium theme, or a custom theme that you can upload.
How to install a WordPress theme
Go to the WordPress theme directory and click Add New.
Browse for a theme that best suits your brand.
Preview and install the theme.
Click

Activate

to publish your new theme.
As you browse the WordPress theme directory, you can filter your options so you have a better idea of the themes you can choose from.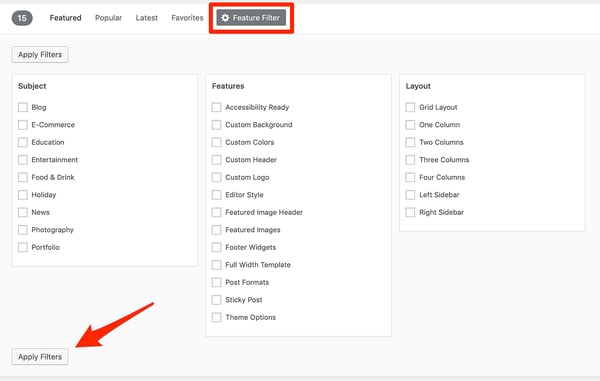 WordPress users also have the option to upload custom themes. To do this, navigate to the theme directory page and click Upload. A custom theme allows bloggers to add their personal branding touch.

Once a theme catches your eye, make sure to view the details and preview how it will look on your site before you make the changes live on your site.
Best WordPress plugins
Similar to WordPress themes, WordPress also offers a large variety of plugins to choose from. So, how do you choose the right one for your site and its needs?
We asked the experts and compiled a list of the best WordPress plugins so you can install the plugin you need for your website. Whether it's for SEO, tracking data, optimizing images, or blocking spam, these experts weighed in on their favorite plugins.
However, keep in mind that not every WordPress plan allows for the installation of plugins, so check to see which plan your website is hosted on before you navigate the world of plugins.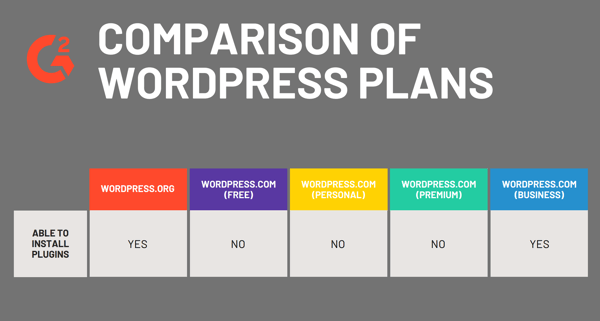 Creating a contact form
Adding a contact form to your website is a great way to connect with your audience. Whether you're asking for their name, email address, or phone number, a contact form will help you collect the essential data for your blog newsletter.
Below is the simple four-step process for creating a seamless contact form:
How to create a WordPress contact form
Install a contact form plugin.
Choose and edit the template.
Set up notifications and confirmations.
Click

Add Form

in the WordPress blog.
Depending on the plugin you choose, you can edit the form to include all the details you're looking to acquire. You can also add custom fields and change the text users will see once they submit the form on its confirmation screen.
Strengthening WordPress security
In a world where cyberattacks are the fastest-growing crime in the United States, don't forget to protect your website from hackers.
There are a few ways you can go about strengthening WordPress security to ensure that the site you worked so hard to create, manage, and market doesn't fall victim to a cyber attack. The three main ways are to use two-factor authentication upon login, install one of the many WordPress security plugins, and take the time to invest in an SSL certificate.
67 percent of organizations reported being breached at some point in the past. Don't let this happen to you.
Common WordPress mistakes
WordPress is the most common CMS you can choose from and it boasts millions of users all embarking on the journey of creating their perfect website. Along the way, people are bound to make mistakes, and it's best to learn from the mistakes of others so you can avoid the most common pitfalls.
There are a lot of mistakes you can make while using WordPress, but some of the most common ones are:
Picking a theme that doesn't fit your brand
Installing too many plugins
Forgetting to back up your site
Using images that aren't optimized
Not considering site security
Test changes on a live site
We all make mistakes, but you'll learn how to avoid these WordPress mistakes and better use the CMS. And, hopefully, save yourself some pain and suffering along the way.
Discover more WordPress tips
Still in need of more advice before you dive into website building? We rounded up nine experts to share their WordPress tips to those interested in learning more about creating the perfect site.
Before you get started, check out what they had to say about choosing the right theme, using widgets, uploading powerful images, learning to code, and so much more.
And if you're looking to speed up your WordPress site, there are more than enough tips out there.
Create the website you've always wanted
Now that you know the ins and outs of WordPress, what this CMS offers, and the must-have features, you're ready to start building the perfect website. It's easier said than done, but hopefully, now you feel both more confident and more knowledgeable about what lies ahead.
Do you use Wordpress? Help your peers, give feedback, and show your thought leadership by writing a WordPress review.