The e-commerce world is filled with opportunities.
You can sell B2C (business to customer), C2C (consumer to consumer), or you can sell B2B (business to business).
Wholesale is an incredibly lucrative part of B2B. In fact, Frost & Sullivan predicts that B2B and e-commerce wholesale transactions will hit $6.7 trillion by 2020.
Wholesale definition
Wholesale is the sale of goods to anyone other than the consumer.
We're covering a lot in this piece, so sit back and absorb all you can. But, if you're here for some specifics, use the links below.
What is wholesale e-commerce?
In simple terms, wholesale e-commerce is selling goods in bulk online to other businesses. The wholesaler is the middleman (or woman of course) in a supply chain.
For example, if I was looking to start an online dog leash company, I would buy leashes from an online wholesaler. Then, I would sell my leashes to a consumer through my company website. This is because I don't have the money or resources to sew together leashes at a sustainable and scalable rate.
Tip: Check out this piece on 5 things marketplace sellers need to know about sales tax.
Benefits of being an e-commerce wholesaler
There are two main benefits of being a wholesaler and these alone should be enough to fuel your desire to get into the industry, that is if the $6.7 trillion in transactions prediction wasn't enough.
Low-cost
Wholesalers are able to buy products in bulk from the manufacturer. The manufacturer's prices are lower because of the volume in which wholesalers buy. A wholesaler is much more likely to reduce the price per good if the goods are bought in high volumes.
The wholesaler makes money off of selling to the business. Wholesalers mark-up the manufacturer's price t and then make a profit.
Running an e-commerce wholesale company is relatively low cost compared to most business ventures. You sell your products on a website where consumers can order the products from you. Once you manage the shipping and logistics system, and build relationships with manufacturers, you'll be on your way to becoming a successful e-commerce wholesaler.
Not to mention, the rapid growth of e-commerce wholesale will keep your sales coming in.
High-reach
This doesn't need much explanation, but once your e-commerce wholesale website is up and running, it can reach anyone across the globe.
The traditional wholesale model used to require wholesalers to be near the manufacturer, but now you can manage relationships all online using e-commerce tools.
There are a wide variety of e-commerce tools that wholesalers use to manage their business. These tools help increase overall functionality.
3 types of wholesalers
So you've probably discovered that being a wholesaler is a pretty good gig. From the ability to reach many, to the rapid growth of the industry, there are not many downsides of going into e-commerce wholesale.
There are a standard three types of wholesalers that businesses work with to fulfill product orders.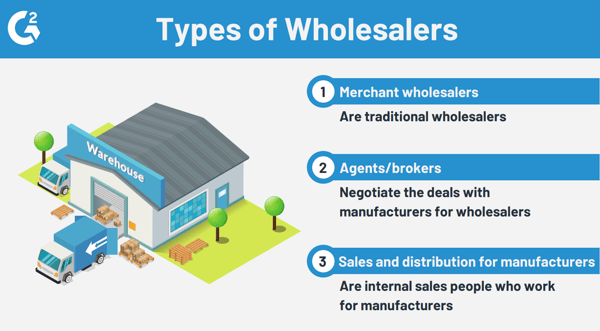 Merchant wholesalers
This traditional type of wholesaler buys large quantities of products from manufacturers to then sell the products in smaller quantities to businesses.
Merchant wholesalers have a very strong knowledge of the market and create those relationships with manufacturers. They know what sells, and the most profitable products. Often times merchant wholesalers focus on one industry, so they become the trusted experts of that particular field.
Agent/brokers
The agent/broker actually negotiates the deals with manufacturers. They can work with the merchant wholesalers or they can work independently on a commission-based salary.
They ensure that wholesalers get the best price possible. They figure out how they can get the right about of product for the lowest price.
Sales and distribution for manufacturers
The sales and distribution for manufacturers team sits in manufacturers' offices and puts together wholesale deals and sells the products for the wholesale value.
They are the internal sales team and often times cut out the need for independent wholesalers because they do the same job as merchant wholesalers, just with the direct connect to the manufacturers.
However, there is less trust in these wholesalers because they do work for the manufacturer. So while they benefit the manufacturer, they don't always work to benefit the business buying the products.
TIP: Learn the best strategies to increase B2B wholesale sales in 2019.
An example of how wholesale works
Going back to my hypothetical (for now) dog leash company.
Say I sell 100 dog leashes a month. I go to the manufacturer and ask to buy 100 leashes, and they'll sell 100 at $10 each. My leashes are $12 each, so I make $2 a leash. Not great. Not horrible.
Now a wholesaler goes to the manufacturer and asks to buy 100,000 dog leashes, the manufacturer is likely to sell for a lower price, let's say $5 a leash. Now the wholesaler sells me the leashes for $8 each and I'm making $4 a leash rather than $2. Double the profits!
This very basic example excludes things like taxes, shipping, and other factors that of course go into the supply chain, but it is to demonstrate the process at a very basic level.
Examples of wholesale e-commerce websites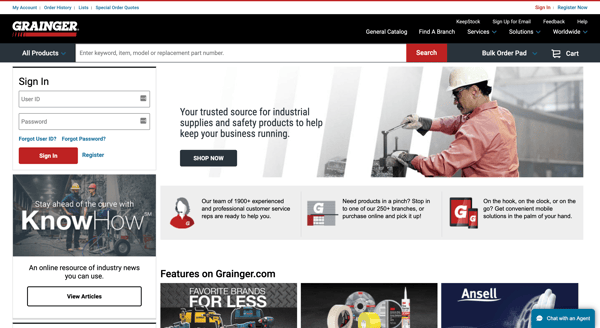 My favorite part of Grainger's website is the "Bulk Order Pad" prominently displayed on their landing page. Once you click on it, you can make your bulk order right there, how cool and user-friendly!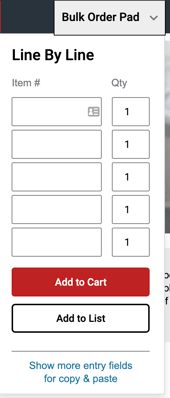 2. BuySwings
This example just goes to show how diverse the wholesale categories can get. You can just buy slides, or swings, really any piece of a swing set in bulk.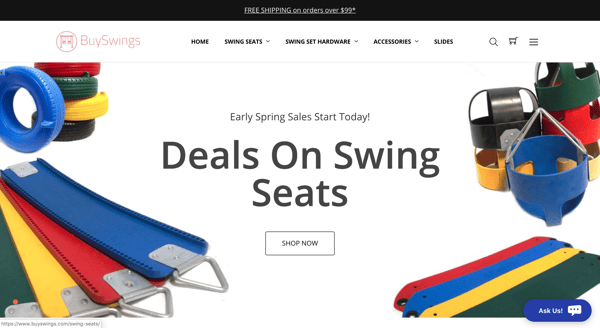 In an effort to be trendy, I pulled a succulent wholesaler who also prominently displays the bulk trays on the landing page.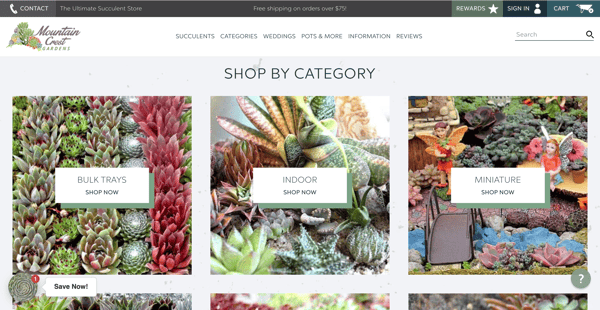 There are many e-commerce platforms that help you to house your wholesale business. These tools help you to manage and maintain your e-commerce wholesale business.
Explore this gold mine
The e-commerce wholesale industry is taking off in a big way. There are many benefits to being a wholesaler, and with the help of e-commerce tools and platforms, you'll be benefitting from the projected transaction value of $6.7 trillion.
Better your business with retail statistics that'll help prove your value in the 2019 e-commerce world.