When people heard that Facebook was willing to pay $19 billion on a tool called WhatsApp, there were some questions.
The main one being, what even is WhatsApp?
What is WhatsApp?
WhatsApp is a messenger app that allows users to send texts, make voice calls, and share media with groups or individuals.
Launched in 2009, WhatsApp has quickly become one of the most popular messaging apps known to the tech world. With 1.5 billion users in 180 countries, WhatsApp is more widespread than any other social networking or messaging tool.
And it's showing no signs of slowing down, either. On average, one million people register for WhatsApp every day, which makes it easier than ever to add your friends for a conversation.
How does WhatsApp work?
So what's all the hype about? Let's take a look at how to set up a WhatsApp account and dive into the features that make it so special.
Setting up your WhatsApp account
If you are looking for an efficient and capable communication tool, WhatsApp might be right for you. Let's go over the steps for setting up an account so you can get started.
1. Download the app
WhatsApp is available for iPhone, Android, and Windows phones. If you prefer to have it on your desktop, no problem. WhatsApp is easy to use on Mac and Windows, as well. For the sake of this example, we are going to check out the steps for setting up WhatsApp on an iPhone.
Head into the App Store and search WhatsApp Messenger. Select the app that looks like this: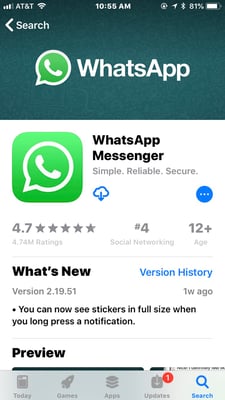 Once the app has successfully been downloaded onto your device, open it up.
2. Create an account
When you open the app, WhatsApp will ask if you want to sync your contacts and allow notifications. Do whatever you prefer here, but know that you cannot reach someone using WhatsApp unless their contact information is synced on the app.
Next, WhatsApp will ask you for your phone number, but not because they want to ask you out for coffee. This is a key identifier in your profile, and your phone number makes it easier for other users to reach you.
Go ahead and enter your phone number and then hit done in the upper right-hand corner. WhatsApp will then ask you to confirm your phone number. Double check that it is correct. Then triple check it.
A verification code will be sent to the number you signed up with. Enter it in the app.
3. Edit your profile
Next, you will be asked to personalize your profile a little bit. Add your name and a favorite selfie that will help your friends and family recognize your profile.
4. Explore
Tada! Your WhatsApp profile is officially set up and ready for use. Pretty easy, right?
However, before you jump right in, you should learn your way around the app. Get to know the settings you can adjust, features you will use, and the overall layout of the program.
WhatsApp features
Do you like the WhatsApp layout and feel ready to get started? If yes, let's go over the features WhatsApp offers so you can quickly become an expert and start using the app.
Messaging
Using your device's internet connection, WhatsApp allows you to send written communication messages, similar to texting. As long as your phone has an internet connection, you can message freely.
To start messaging, select the "Chats" option in the toolbar, and enter the phone number of a friend or select their contact to send them a message.
After selecting the contact you want to reach, you will see this screen: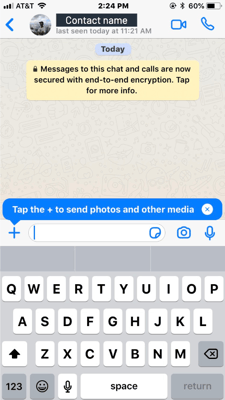 From there, you can type and send your message.
Photo and video sharing
The chats tool also allows you to share photos and videos with other WhatsApp users. You can upload existing content or take a photo and record a video right from the app itself.
In the image above, you can see the option to add "photos and other media." Hit the + icon if you want to upload a photo or video that is already saved on your device.
To take photos and videos within the app, you will need to allow WhatsApp to access your camera. The first time you use the camera, WhatsApp will ask for access, or you can do this later on in your device's settings.
Voice and video calls
WhatsApp also allows users to conduct voice calls and video chats. Again, the voice and video call features use the internet, not your cell phone plan's minutes.
To place a voice or video call, select the "Calls" option in the toolbar. To use this feature, all of your contacts must be synced.
Once they are synced, you can re-enter the "Calls" feature, scroll to the contact you want to speak with, and hit the phone or video camera icons, depending on which one you want to use, to start chatting with them.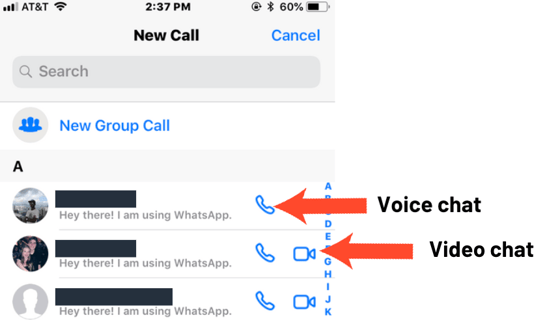 Tip: WhatsApp voice and video calls work even when people are in other countries. Speaking and video chatting on WhatsApp is a good way to avoid long-distance call rates.
Groups
Creating groups with friends, family, and even coworkers is easy with WhatsApp. You can share messages, photos, videos, documents, and voice recordings with up to 256 different people.
To create a group, select the "Chats" or "Calls" option, depending on which one of the offered communication channels you want to use, and at the top, select "New Group."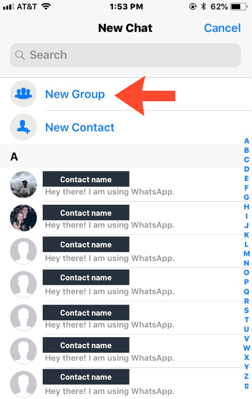 Mobile and desktop
WhatsApp can not only be downloaded on both mobile and desktop devices, but you can sync all of your chats on multiple devices. If you create your WhatsApp account on your computer but want to send messages on the go from your phone, just sync up your account to your mobile device.
To access WhatsApp on your desktop, you will need to download the mobile app. Head over to WhatsApp's website. The directions are also pictured below: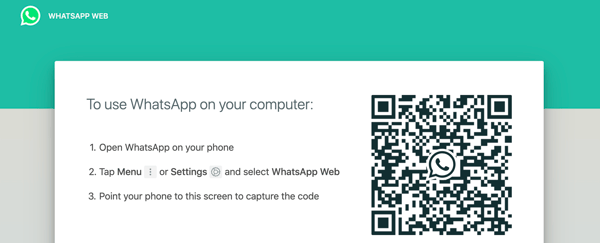 From there, follow the directions on the screen and you should be ready to rock and roll.
Related: Need some help with this step? Check out our resource and learn how to
scan QR code
.
Security
Because the messages you share are personal to the individual or group you are contacting, WhatsApp uses end-to-end encryption to secure them. This way, the messages you send stay between you and those you choose to share them with.
Add another tool to the belt
WhatsApp is a great way to share quick messages, photos, videos, documents, and more. With those capabilities, this tool can be used in both personal and professional settings. A lot of things are possible with the internet, and communicating with WhatsApp is one of them.
Want some tips for sending effective messages on WhatsApp? Check out our resources on the types of communication that includes tips for each one.