Twitter made its internet debut in 2006. Since then, it has quickly become one of the most popular social media networks.
Not only is it a social site, but it's also a marketing tool, a news-sharing platform, and a way to keep up with the thoughts of your favorite celebrities. It has, in effect, made our world smaller by connecting us to people who would otherwise be out of reach.
If you're unfamiliar with the platform, it can feel unapproachable. It has its own language, its own culture. In this article, I aim to break down some of the Twitter-isms that might be standing in the way of you and your first viral video.
Interested in learning about a specific part of Twitter? Use the links below to jump ahead:
What is Twitter?
At its core, Twitter is yet another method of communication. Much like we share our engagements on Facebook and our vacations on Instagram, we share our thoughts on Twitter. They can be funny, or they can be tragic. There is no limit to the range of emotions that can be expressed in a tweet.
Fun fact:
Tweets were previously limited to 140 characters or less.
Twitter slowly rolled out the 280 limit first with a small portion of users, and then to all.
Users can also tweet photographs, videos, or GIFs, either with or without text attached. They can also include polls in these tweets that gauge popular opinion.
What is Twitter and how does it work?
Twitter is a social media and digital news platform that consists of profiles and a newsfeed. Users are able to tweet (post or share) what they want to say, assuming they can fit it all into 280 characters or less.
Twitter is a preferred platform for many due to its reputation of shorter commentary as opposed to drawn-out diatribes. It also has not yet been inundated with many of the problems vexing users on other social media sites: automatic video ads, unwanted fake news profiles, and extreme privacy breaches.
How to use Twitter
Now that you understand what Twitter is, it's time to dive into how to set up your Twitter account and the different parts of the Twitter experience. We'll start with creating a Twitter account and setting up your Twitter profile before diving into the specifics of how to use Twitter.
Right now you may be wondering when you can get started. The answer? Literally anytime. Twitter is a free platform, and all you need to register is an email account.
Take it from some real-life users and browse G2's Twitter reviews.
Setting up Twitter
To start to set up a Twitter account first, go to www.twitter.com to get started. It will give you the option to log in, or sign up. Being that you're a first-time user, you'll need to sign up.
1. Create your account
To create your account, you'll need to provide your name and either a phone number or email address. You can do this either on your desktop or through the Twitter mobile app.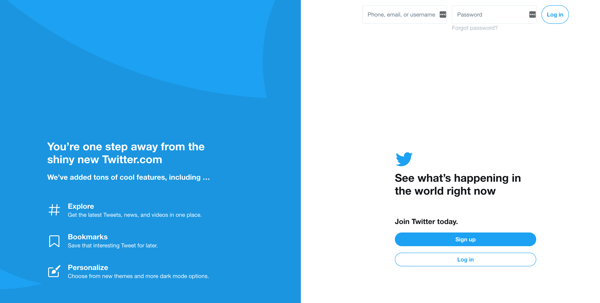 Make sure these are correct. They'll be used to verify your identity, as well as help you reset your password in the future
2. Choose a strong password

Next, create a strong password that will keep your account safe from harm. With the rise of internet hacks, it's more important now more than ever to practice safe password etiquette. You can check out our guide on how to create a strong password if you get stuck on this part.
3. Sync Twitter with your phone number

If you did not already give Twitter your phone number, you will be prompted to do that now. Twitter uses your phone number sparingly (typically to help reset information should you need two-step verification after being locked out of your account). This step is optional, but highly useful should you ever encounter a problem.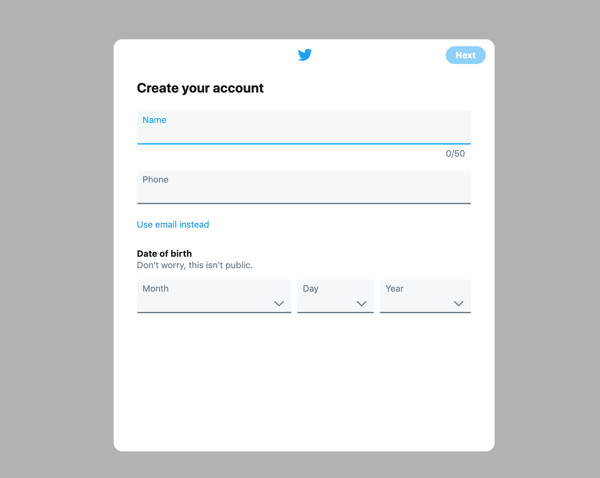 If you choose to give Twitter your phone number, it might call or text you to verify, providing a code for you to enter on the next page to prove you are the person you've told them you are.
4. Select which accounts you want to follow

Twitter doesn't want you to start out with an empty newsfeed, so the next page will take you to a list of interests to choose from. You can click on the various sports, music, entertainment, or news topics that are of interest to you.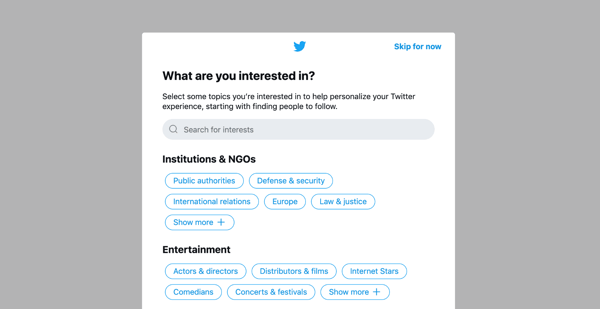 This will help Twitter generate some suggestions of people to follow, lists to join, etc. You can also choose to connect your Twitter to your Facebook account and have it automatically follow any of your Facebook friends who are on Twitter.
5. Create your Twitter username
Twitter users are located through their usernames. You'll need to create one by clicking on the profile icon at the top right corner of your screen and selecting "settings and privacy." There, you can go to the account section and select a new username. Think of a username to be like your screen name.
Some people — namely verified celebrities, politicians, authors — will simply use their names as their usernames. Others will take the opportunity to think up something fun and creative. Your actual name will also appear on your profile, so people have that as an identifier if they're confused as to why @GiveMeaShrek has followed their account.
Advanced Twitter setup
After you create your account and username, there are a variety of other things you can do to optimize your profile. This will help you sprinkle in some personality and encourage people to follow your account!
1. Twitter profile picture
After you set-up your account, consider adding a photo to your profile. Profiles with no profile photos are notoriously viewed as inactive users, or bots. If you want people to think your profile belongs to a real person, give it a visual.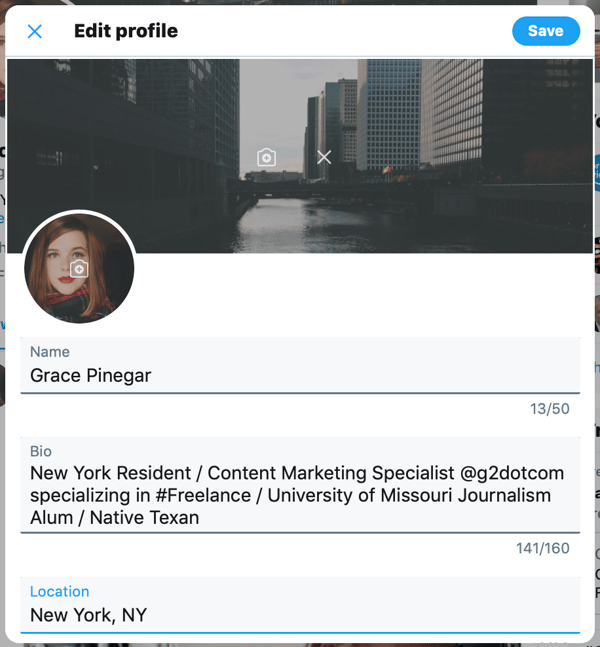 To change your profile picture, go to your profile and click the "edit profile" button. From there, you can upload your profile picture! You can also update your Twitter head image, Twitter bio, and location in this same spot.
2. Header
After you've gone through the aforementioned steps, you'll want to build your profile out even more. Again, the more information on your profile, the more likely people are to follow back and, or interact with your content. Twitter profiles give you the option of having a header image. A header image is similar to a cover photo on Facebook or a banner on YouTube.
If neither of these examples mean anything to you, I'll explain it like this: a header image is a horizontal photo that covers the top of your Twitter profile. The following example is from my personal Twitter profile. The header image is the shot of the Chicago river above my tweets and bio.
A header is a small opportunity to visually express your personality or what is important to you on Twitter. Sometimes actors will use a header image to advertise for an upcoming movie. Authors will do the same to raise awareness for their next book. Use your imagination!
3. Twitter header size
As with any graphic element, a header image will often look better if it's sized properly. As you can see in this article, a vertical image stretched horizontally will result in poor viewing quality on other devices. The recommended size for a Twitter header image is 1500px x 500px. This ensures that the image is optimized for the way Twitter displays profiles.
Related content: Learn more about how to choose the perfect Twitter header
Getting started on Twitter
You're moving so quickly! By now, your profile is set up, your header is the right size for optimal display, and you have a username that is both fun and informative. Now, it's time for the real fun and the reason people come to this site: tweeting.
1. How to tweet
There are two easy ways to send a tweet once you're logged into the platform. The first is by clicking the Tweet button on the lefthand sidebar and then writing your tweet. The second is simply typing your tweet into the box at the top of your newsfeed and then pressing the Tweet button underneath.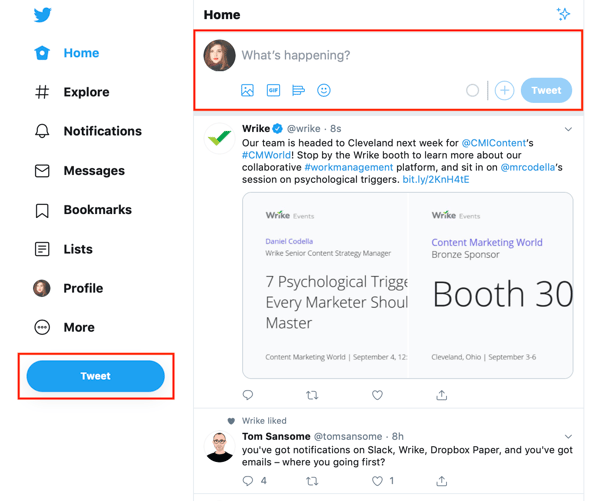 The circle underneath the emoji is a warning of whether you're about to exceed your character limit. Like we mentioned earlier, tweets can only have 280 characters or Twitter won't let you post it.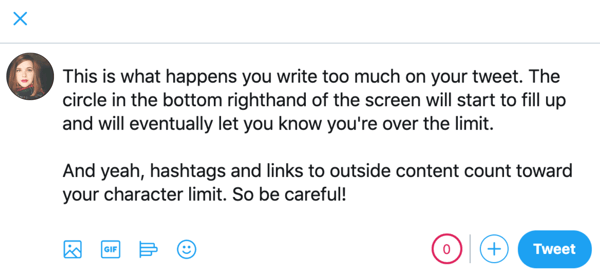 The circle fills up as you write and turns yellow when you're getting close to your character limit and eventually turns red when you're out of characters. If you reach or exceed the limit, it will show you how many characters you'll need to cut out.
Tip:
For Tweets you specifically represents you or that you want to promote, be sure to learn
how to pin a Tweet
for maximum exposure.
2. Following and unfollowing others
Following people is not only a great way to grow your own network, but it's how you develop an interesting newsfeed. As soon as you log in for the first time, you'll find it's no fun to be online alone. Lucky for you, following others is easy. If you're on a desktop, go to other users' profiles and look for the follow button just beneath their header.
How to follow someone on Twitter
Click follow if you're interested in following them. Once you do, the button will change from follow to following. If ever you're having a hard time remembering whether you followed someone, you can go to their profile. It will always tell you the status of your Twitter relationship. It will even say if they follow you back, which can be troublesome in certain friend groups.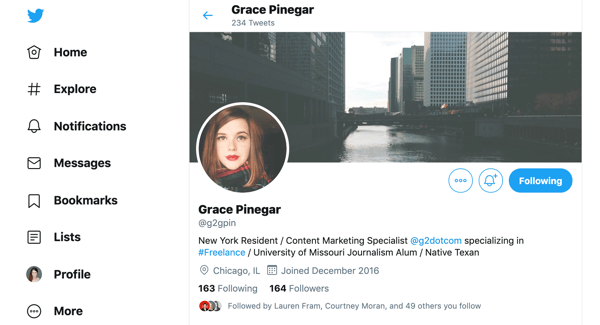 How to unfollow someone on Twitter
If you wish to unfollow someone, you can do that in the same place. Hover over the follow/following button until it says unfollow, then click on it.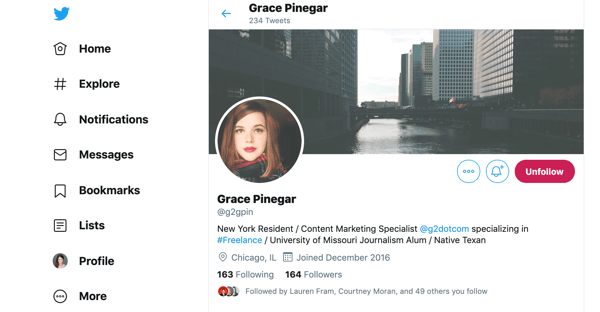 This will not send them a notification, but it will make their posts disappear from your newsfeed. If their profile is private, you will no longer be able to visit their page.
3. Muting and blocking people on Twitter
Sometimes unfollowing someone isn't enough, you don't want to interact with them at all or see their Tweets in your feed. If that's the case, muting and blocking are perfect for you.
How to mute someone on Twitter
If you don't want to see someone's tweets, but you're still interested in seeing their profile, you have the option to mute people. Muting is a gift.
Say your partner has you both on a diet and you'd rather not see dessert recipes from your favorite bakery on your newsfeed right now. You can click the arrow on the top right of the tweet and navigate on the dropdown menu to where it says, "mute @username." Click that!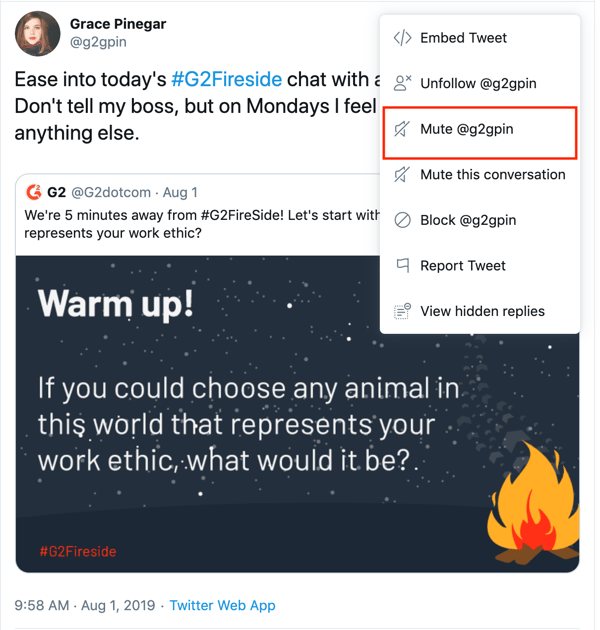 Again, muting someone does not send that user a notification. Muting just means you don't see that person's tweets or retweets unless you go to their profile in search of them. Should you ever wish to unmute them (who wouldn't, that dessert looks amazing), you can go to their profile and find the same arrow on a tweet.
How to unmute someone on Twitter
Scroll down to where it says, "unmute @username." If you're ever wondering how to undo something on Twitter, chances are the process parallels how you did that thing in the first place.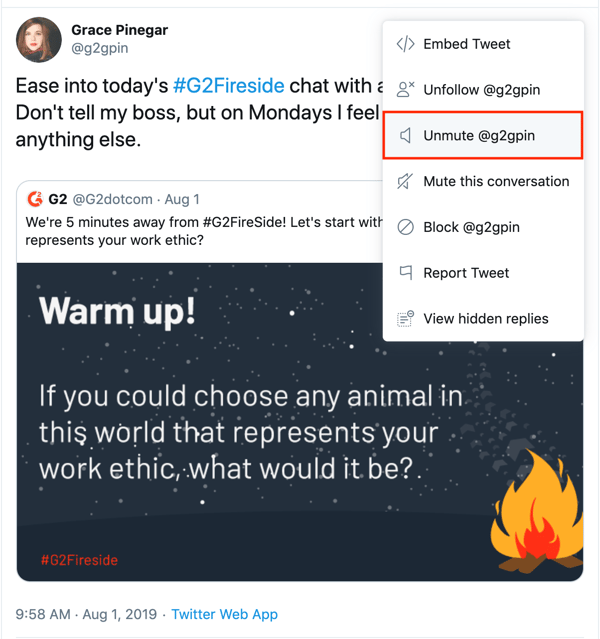 How to block someone on Twitter
This is also where you can go to block users. If an individual is harassing you, or you'd rather not see what they post, blocking is a good option for you. When you block someone, it's like you've erased their presence from your field of vision.
You can either block someone from their profile or from anything they tweet. Either way, you select the drop down arrow on their profile or tweet and select the "block" button.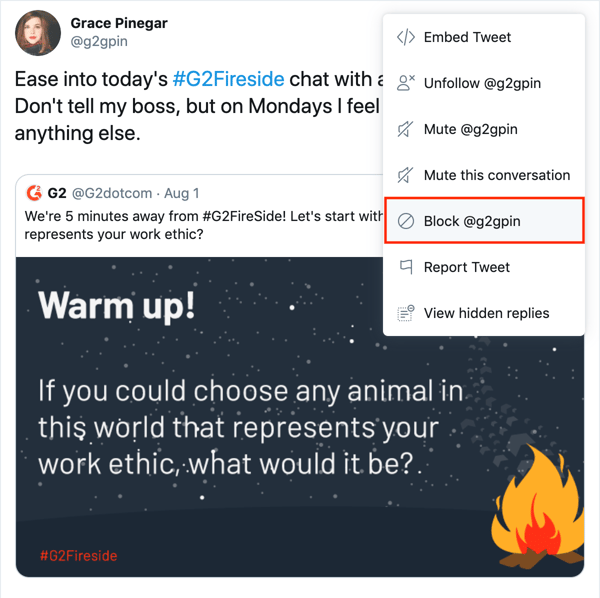 They don't come up in searches, you can't see their tweets, and they can't find you or see anything you post. Blocking can be undone should you ever wish to follow someone again.
How to unblock someone on Twitter
If you decide you want to unblock someone on Twitter, all you need to do is go to that users page and select the block button. It will flip to say "unblock" and from there, you're two clicks away from unblocking that users.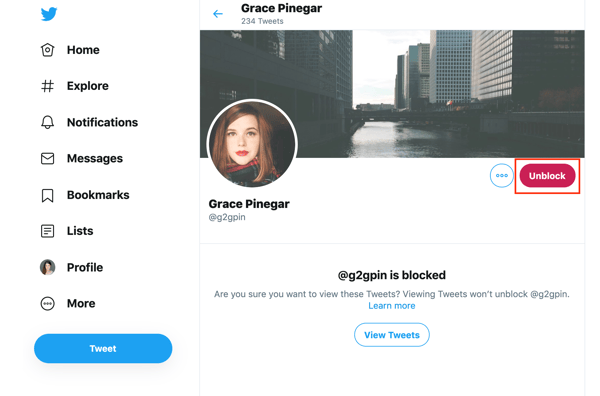 Much like when you block someone, you'll be asked to confirm whether you want to unblock that person or not. Once you confirm, the user is no longer blocked!
Level-up: Twitter can be a great asset for your business. Make sure you're showcasing your new social media skills by embedding a Twitter feed on your company's blog.
Navigating the different parts of Twitter
Now that you know how to create an account and how to interact with other users, it's time to get Tweeting! Check out the following section for more information about how to tweet, how to use Twitter lists, and more!
1. Tweets
Once a user posts, or tweets as its called, it shows up in their followers' feed. Unless your profile is public, only your followers can see your tweets. Following someone is asking to be able to see their content in your newsfeed and view their profile.
It doesn't always mean they'll follow you back, although they do typically get notified of your following them. Private profiles require approval before you can see what they've posted.
2. Twitter Newsfeed
Your newsfeed is a never-ending feed of tweets in chronological order. The feed will consist of tweets from people you follow, as well as anything they've retweeted. The more people you follow, the more diversified and, arguably, interesting your newsfeed will become. Following more people also reduces the odds of you seeing the same tweets every time you log in.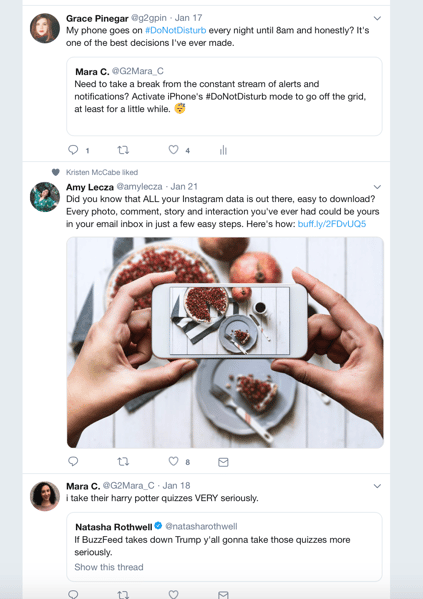 If a tweet from someone you've never heard of shows up in your feed, it's likely because someone you know retweeted, or shared, what that person said. Friends with a private profile cannot be retweeted, as they've chosen for their content to stay private.
Take, for example, the screenshot below from my own Twitter feed, featuring a range of thoughts and emotions. In just a few tweets, you see an album review from the Chicago Sun-Times, an individual remembering Michael Jackson's passing, and entrepreneur Elon Musk engaging in a thread about the new Tesla truck.
Related: Using Twitter as a marketing tool is becoming increasingly popular for brands and individual influencers. Check out these 10 best Twitter ad examples to get an idea of which posts are making a splash.
3. Twitter Threads
Thread is another piece of Twitter vocabulary. It refers to a string of tweets by one person all relating to the same topic. The plus sign on the bottom right allows you to add another tweet to your previous tweet, creating a thread completely before having to post an original tweet.
The original poster creates a thread by continually replying to their previous tweet. Threads are one way to communicate longer thoughts or conversations despite Twitter's character limit.
4. Retweets
Retweets can mean different things. Sometimes a retweet means, "I agree with what this person is saying." Other times, a retweet is an effort to disseminate what one considers to be important information.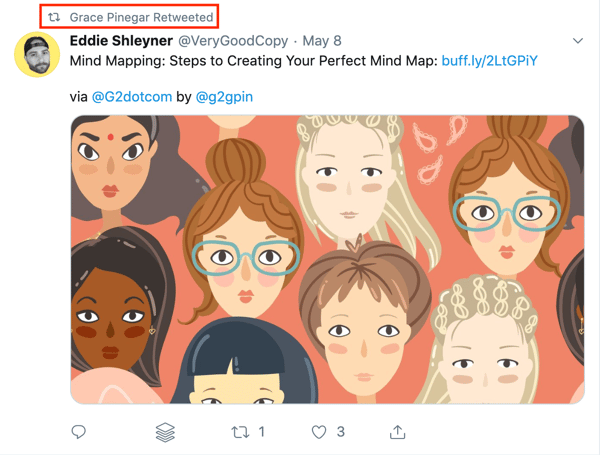 For example, during hurricane season, users would retweet storm updates, as well as cries for help from people stuck in their homes.This mass dissemination of information was able to help more than one family or individual receive aid.
5. Quote retweets
If you want to give context as to why you retweeted someone, you can do what is called a quote tweet. This means you retweet what someone else said with your own commentary attached. Adding your own commentary informs your followers as to why you thought a tweet was funny, meaningful, or important.
Here's an example of what it looks like to post a quote tweet. Instead of simply retweeting the announcement about our #G2Fireside Twitter Chat, I added a fun comment to add humor to the announcement.
6. Twitter trending
In addition to your newsfeed, Twitter offers its explore, or trending, page. When many people tweet or hashtag regarding the same subject, that subject then becomes a trending topic.
For renowned events such as the Oscars or the Super Bowl, Twitter will have an official tag that people can use. Others can then click on the hashtag and see what everyone else is saying about that same topic.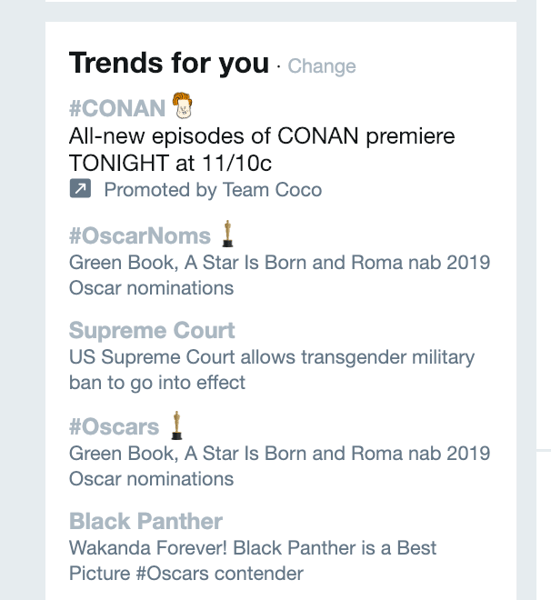 Granted, that doesn't always equate to what's important. There is plenty of Twitter hubbub around what others would consider matters of low importance. That's why Twitter also created an explore tab that tailors trending recommendations to you based on your previous Twitter history and interests.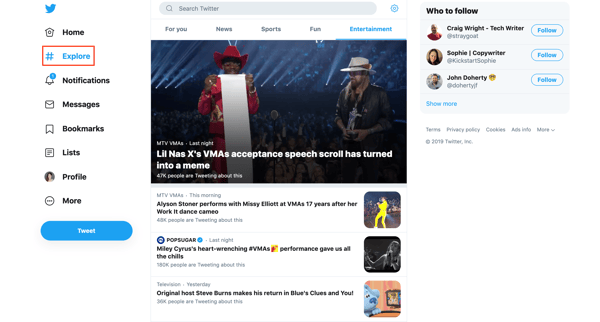 Twitter trends have become a way for many to know what's going on in the world. It's a brief glimpse into what everyone is talking about. If it's trending, you know people are talking about it!
7. Hashtags
A hashtag is any word or phrase with the "#" symbol in front of it. In short, a hashtag is a way to quickly inform others what your post is about. Hashtags also tell Twitter how to categorize your content.
In this post that I made about remote work, I used hashtags like #RemoteEmployee and #WFHWeek to make sure my tweet appeared in the right tags. Hashtags can help content and tweets go viral with trending hashtags.
If you're having trouble understanding why hashtags are important, take it from a different resource. Check out this guide from our friends at Talkwalker to lear more about trending hashtags.
8. Direct message
Users can also direct message, or DM, each other on Twitter. This is a lot like any other private messaging feature on social media. Some users have open inboxes, meaning anyone can message them.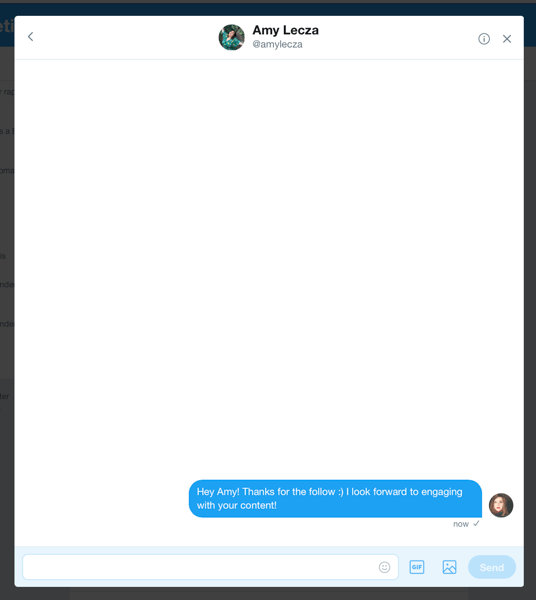 Others have their settings to where incoming messages require their approval. This is largely because, as with many websites, Twitter is home to a lot of users who choose to harass or discriminate against others.
9. Twitter Election Labels
Twitter recently rolled out a new feature that's useful for those planning to vote in US elections. Twitter has created Twitter election labels that appear under the names of politicians running for state governor, the US Senate, or the US House of Representatives.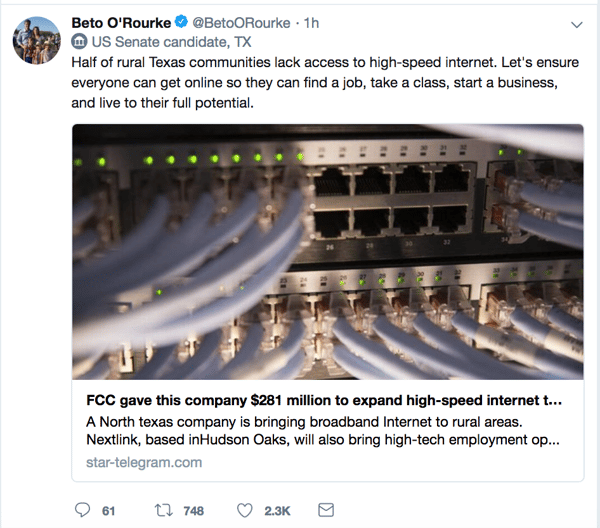 This feature is similar to the verification checkmark that appears on the profiles of celebrities, politicians, journalists and other people of public interest. However, instead of appearing as a blue checkmark next to a user's name, a symbol representing the US Capitol Building appears on their profile, and above any of their tweets.
Features such as these help users understand whether profiles are legitimate. This particular feature might even encourage users to participate in elections or become more politically aware.
Now get Tweeting!
You know the lingo, you know how to create an account and follow friends, and you know how to tweet and hashtag like a verifiable teen. What are you waiting for?
Get out there and make your unique mark on Twitter-topia*. (*No one says this. Do not say this and then say you heard someone say it's cool. I will deny that.)
Ready to learn more about Twitter? Check out our guides on How to Get Verified on Twitter, How to Make and How to Make Twitter Private.