Twitter made its internet debut in 2006. Since then, it has quickly become one of the most popular social media networks on the web.
Not only is it a social site, but it's also a marketing tool, a news-sharing platform, and a way to keep up with the thoughts of your favorite celebrities. It has made our world much smaller by connecting us to people who would otherwise be out of reach.
What is Twitter?
Twitter is a social media and digital news platform that consists of user profiles and a newsfeed. Users are able to tweet (post or share) what they want to say, assuming they can fit it all into 280 characters or less.
Twitter is a preferred platform for many due to its reputation of shorter commentary as opposed to drawn-out diatribes. It also has not yet been inundated with many of the problems vexing users on other social media sites: automatic video ads, unwanted fake news profiles, and extreme privacy breaches.
If you're unfamiliar with the platform, it can feel unapproachable. It has its own language, rules, and culture. In this article, I'll break down everything you need to know about getting started on Twitter - from setting up your account to decoding some of the Twitter lingo you may have heard being used before.
Let's get started.
How to use Twitter
The first thing you need to do is set up an account - head to www.twitter.com to get started. It will give you the option to log in, or sign up. Being that you're a first-time user, you'll need to sign up. All you need to move forward is your basic information since Twitter is entirely free to use.
1. Create a Twitter account
To create your account, you need to provide your name and either a phone number or email address. You can do this either on your desktop or through the Twitter mobile app.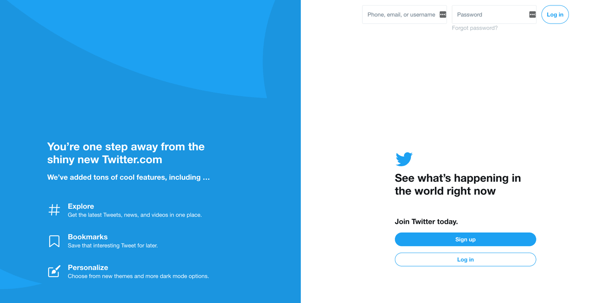 Source: Twitter
Make sure the information you enter in these fields is correct. It will be used to verify your identity, as well as help you reset your password in the future
2. Choose a strong password
Next, create a strong password that will keep your account safe from harm. With the rise of internet security breaches, it's more important now more than ever to practice safe password etiquette.
3. Sync Twitter with your phone number
If you did not already give Twitter your phone number, you will be prompted to do that now. Twitter uses your phone number sparingly (typically to help reset information should you need two-step verification after being locked out of your account). This step is optional, but highly useful should you ever encounter a problem.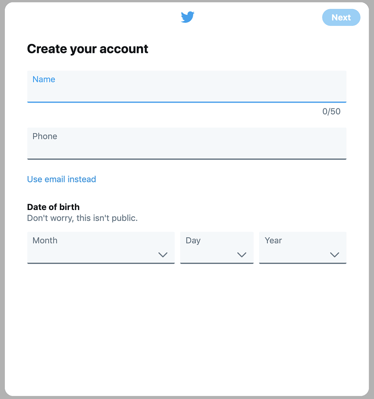 Source: Twitter
If you choose to give Twitter your phone number, it might call or text you to verify, providing a code for you to enter on the next page to prove you are the person you've told them you are.
4. Select which accounts you want to follow
Twitter doesn't want you to start out with an empty newsfeed, so the next page will take you to a list of interests to choose from. You can click on the various sports, music, entertainment, or news topics that are of interest to you.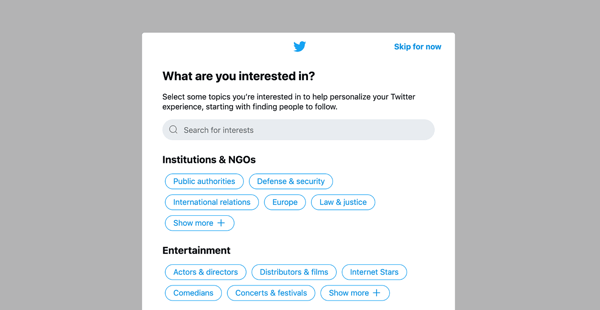 Source: Twitter
This will help Twitter generate some suggestions of people to follow, lists to join, etc. You can also choose to connect your new Twitter account to your Facebook and have it automatically follow any of your Facebook friends who are on Twitter.
5. Create a Twitter handle
Twitter users are identified with a username, also referred to as a Twitter handle. This is the collection of characters that come after the @ symbol. You will be prompted to create one by clicking on the profile icon at the top right corner of your screen and selecting "Settings and privacy." There, you can go to the account section and select a new username. Think of a username to be like your screen name.
Some people — namely verified celebrities, politicians, authors — will simply use their names as their usernames. Others will take the opportunity to think up something fun and creative. It's important to note that you can go back and update or change your chosen Twitter handle at any point in the future.
How to tweet
There are two easy ways to send a tweet once you're logged into Twitter. The first is by clicking the "Tweet" button on the left-hand sidebar and then writing your tweet. The second is simply typing your tweet into the box at the top of your newsfeed and then pressing the blue button underneath.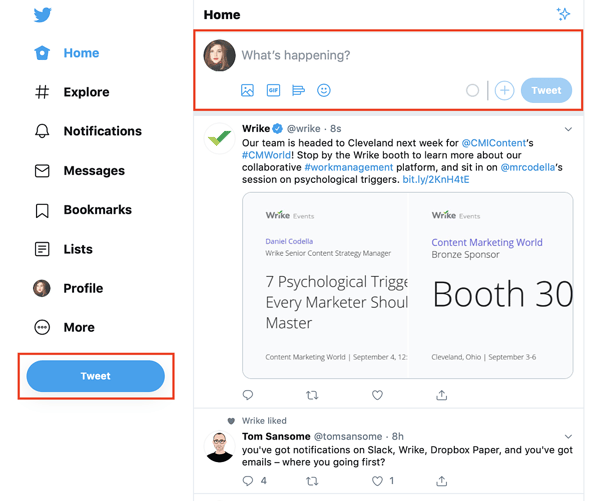 Source: Twitter
Once your tweet is posted, it will show up on your followers' feeds. Unless your profile is public, only followers that you approve can see your tweets. Following someone is asking to be able to see their content on your newsfeed and view their profile. If your page is public, your tweets can be viewed by anyone. I'll discuss private profiles more in detail later on.
What's the Twitter character limit?
Tweets can only have 280 or less characters. If you go over, Twitter won't let you post it. The circle underneath the emoji is a warning of whether you're about to exceed your character limit.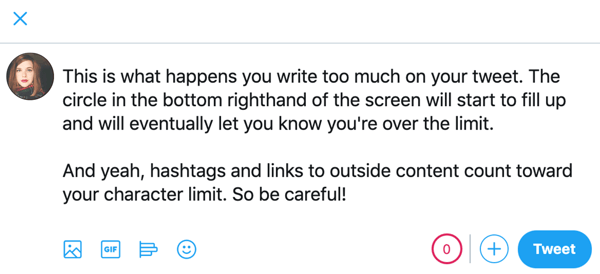 Source: Twitter
The circle fills up as you write and turns yellow when you're getting close to your character limit and eventually turns red when you're out of characters. If you reach or exceed the limit, it will show you how many characters you'll need to cut out.
How to retweet other users
In addition to sharing your own original content, users can retweet, or re-post, tweets shared by others. Retweets can mean different things. Sometimes a retweet means, "I agree with what this person is saying." Other times, a retweet is an effort to disseminate what one considers to be important information.

To retweet, simply find the tweet you like, click on the arrow icon and select "Retweet."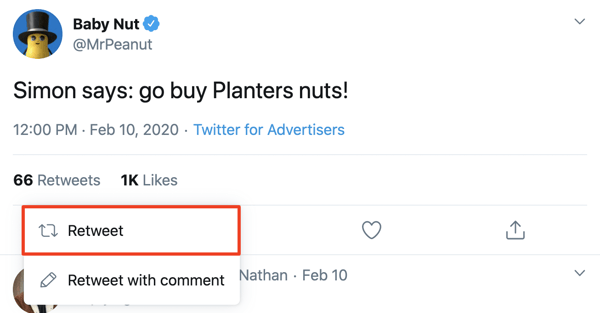 Source: Twitter
Once you click the "Retweet" button, that tweet will now show up on your profile.
Quote retweet
If you want to give context as to why you retweeted someone, you can do what is called a quote tweet. This means you retweet what someone else said with your own commentary attached. Adding your own commentary informs your followers as to why you thought a tweet was funny, meaningful, or important.

Here's an example: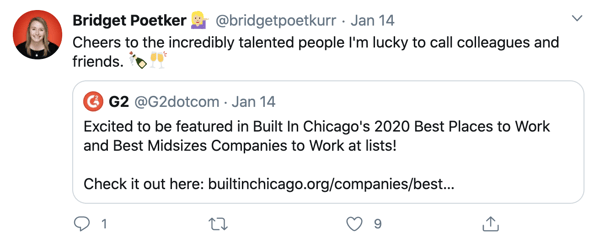 Source: Twitter
To do this, click the retweet button and select "Retweet with comment" instead of "Retweet." You will now be able to add a comment with the retweet.
How to pin a tweet
A pinned tweet is the very first tweet that appears on your profile. The default setting on your profile will organize all of your tweets in chronological order. If you use the "pin" feature, you can choose one tweet (new or old) to be "pinned" at the top of your profile.
Follow these steps to pin one of your tweets:
Go to your profile on Twitter.
Scroll to the tweet you would like to pin.
Click on the arrow symbol, found in the upper-right corner of the tweet.
A drop-down menu will appear. Click Pin to your profile.
The tweet will now stay at the top of your Twitter profile.

Source: Twitter
Now you can make sure your most significant content stays visible at the very top of your page.
How to make your Twitter account private
By default, your Twitter profile is open to public. This means that anyone can see your page and tweets. If you want to restrict your profile so that only followers that you approve can see it, the platform makes it easy to switch to private mode.

Here's how:
On the left side of your homepage, click More followed by Settings and privacy.

In the settings menu, select

Privacy and safety

.

Check the box next to

Protect your Tweets

. Scroll to the bottom and save your changes. Your profile can now only be seen by your followers.
You can always undo this action if you want to switch back to a public profile in the future.
Customize your Twitter feed
Your Twitter feed is what you see on your homepage. It consists of tweets from people you follow, as well as anything they've retweeted or liked. The more people you follow, the more diversified and, arguably, interesting your newsfeed will become. Following more people also reduces the odds of you seeing the same tweets every time you log in.
How to follow someone on Twitter
Following people is not only a great way to grow your own network, but it's how you develop an interesting newsfeed. As soon as you log in for the first time, you'll find it's no fun to be online alone. Lucky for you, following others is easy. If you're on a desktop, go to other users' profiles and look for the follow button just beneath their header.
Click follow if you're interested in following them. Once you do, the button will change from follow to following. If ever you're having a hard time remembering whether you followed someone, you can go to their profile. It will always tell you the status of your Twitter relationship. It will even say if they follow you back.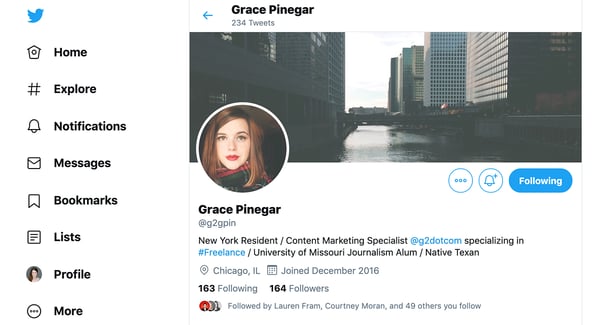 Source: Twitter
How to unfollow someone on Twitter
If you wish to unfollow someone, you can do that in the same place. Hover over the follow/following button until it says unfollow, then click on it.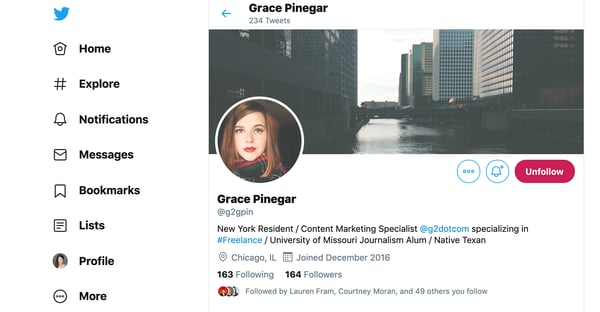 Source: Twitter
This will not send them a notification, but it will make their posts disappear from your newsfeed. If their profile is private, you will no longer be able to visit their page.
How to mute words on Twitter
One of Twitter's more hidden features is called "muted words." The feature allows users to mute specific words or phrases from appearing in tweets on your feed. This is especially useful if you're trying to avoid movie or TV show spoilers.
Click on your profile, then Settings and privacy.
Tap

Notifications.
Tap

Muted.
Tap

Muted words.
Tap the (+)

icon at the very top right.
Input a series of words or phrases you'd like to mute, then click

Save.
For example, if you missed the season finale of The Bachelor and you wan't to avoid seeing tweets about the show, you could mute the terms "The Bachelor" and hashtags such as "#TheBachelorABC."
How to search on Twitter
If you're looking for tweets related to a certain topic, the easiest way to do this is by using Twitter's search functionality. In the top-right corner of your home page, there's a search bar marked with a magnifying glass icon. Input a search query containing a phrase or hashtag relevant to what you're looking for. After entering a word or phrase into the search bar, any tweets containing the exact query will be shown.

Source: Twitter
The default setting on Twitter will display the top results. These top results aren't necessarily in chronological order – they're simply the most interacted with tweets within your search. To filter by most recent tweets, click on "Latest." If you're looking for a specific account, use the "People" selection. Additionally, you can search for photos of videos using those search options.
Using advanced search on Twitter
If you're searching for something very specific, Twitter offers an advanced search feature that allows users to filter by exact phrase, level of engagement, and even specific date ranges.
To access advanced search, simply search for a query as you normally would. Once the results are populated, click on "advanced search" on the right-hand side of your screen. A pop-up will provide you with access to all of the available filters.
Using hashtags on Twitter
A hashtag is any word or phrase with the "#" symbol in front of it. In short, a hashtag is a way to quickly inform others what your post is about. Hashtags also tell Twitter how to categorize your content.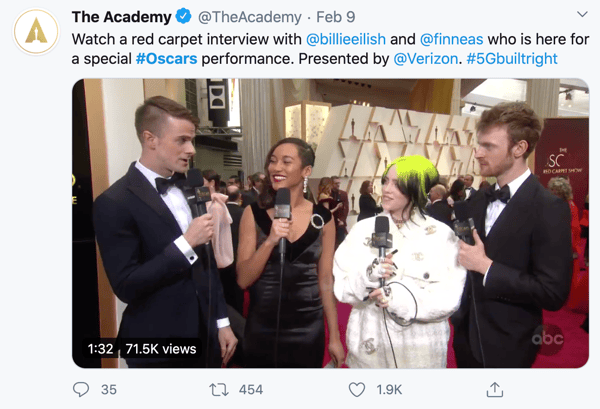 Source:Twitter
In this tweet posted by the Academy, they used hashtags like #Oscars and #5Gbuiltright to make sure the tweet appeared on user's feeds if they searched for those terms. This is an example of how hashtags can help content go viral by capitalizing on trends and posting tweets in real time during big events.
Twitter trends
In addition to your newsfeed, Twitter offers an explore, or trending, page. When many people tweet about the same subject, it becomes a trending topic.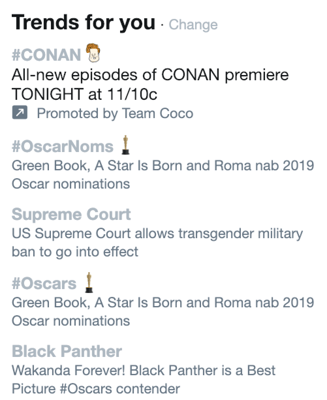 Source: Twitter
For big events such as the Oscars or the Super Bowl, Twitter will have an official hashtag that people can use. Others can then click on the hashtag and see what everyone else is saying about that same topic.

Twitter trends have become a way for many to know what's going on in the world. It's a brief glimpse into what everyone is talking about. If it's trending, you know people are talking about it.
Muting and blocking other Twitter users
Sometimes unfollowing someone isn't enough, you don't want to interact with them at all or see their tweets in your feed. If that's the case, muting and blocking are two other options that are available to you.
How to mute someone on Twitter
If you don't want to see someone's tweets, but you're still interested in seeing their profile, you have the option to mute people.
Say you're on a diet and would prefer not see dessert recipes from your favorite bakery on your newsfeed right now. You can click the arrow on the top right of the tweet and navigate on the dropdown menu to where it says, "mute @username."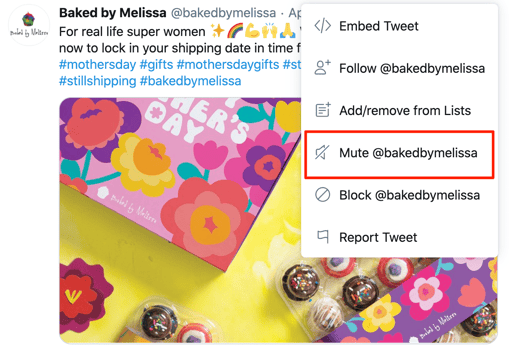 Source: Twitter
Muting someone does not send that user a notification. It just means you don't see that person's tweets or retweets unless you go to their profile in search of them.
How to unmute someone on Twitter
Should you ever wish to unmute someone, you can go to their profile and find the same arrow on a tweet. Scroll down to where it says, "unmute @username." If you're ever wondering how to undo something on Twitter, chances are the process parallels how you did that thing in the first place.
How to block someone on Twitter
This is also where you can go to block users. If an individual is harassing you, or you'd rather not see what they post, blocking is a good option for you. When you block someone, it's like you've erased their presence from your field of vision.
You can either block someone from their profile or from anything they tweet. Either way, you select the drop down arrow on their profile or tweet and select the "block" button. They won't come up in searches, you can't see their tweets, and they can't find you or see anything you post.
How to unblock someone on Twitter
Blocking can be undone should you ever wish to follow someone again. All you need to do is go to that user's page and select the block button. It will flip to say "unblock" and from there, you're two clicks away from unblocking that user.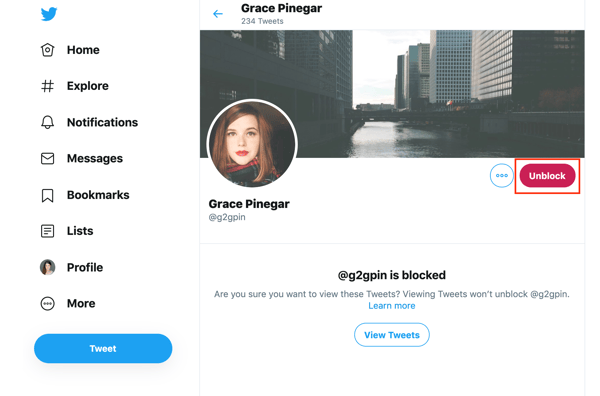 Source: Twitter
Much like when you block someone, you'll be asked to confirm whether you want to unblock that person or not. Once you confirm, the user is no longer blocked.
How to DM on Twitter
Users can also direct message, or DM, each other on Twitter. These messages are private and can only be seen by the users that are sending them to each other. Some users have open inboxes, meaning anyone can message them. Others have their settings to where incoming messages require their approval.

To send a DM on twitter, follow these steps:
Find the Messages tab on the left-hand side of your homepage.
Click the blue button that reads New message.
Select the user or group that you would like to send a DM to.
Type your message and hit "Send."
Unlike a tweet to your profile, a DM does not contain a word count limit. You can also include links, gifs, photos, or videos to send to people.
How to enable Twitter Night Mode
Twitter Night Mode is a popular future for users who want to minimize eye strain. Turning this feature on will change the layout color scheme of your Twitter interface to a black background. Plus, it makes scrolling through your feed in the dark much easier.
To enable Twitter Night Mode, follow these steps:
1. From the Twitter home page, click More, followed by Settings and privacy.
2.Find the section labeled General, then click Display.
3. Select your preferred Night Mode setting. The options are Dim or Lights Out.



Source: Twitter
You can always go back and make changes by following the same steps if you decide you prefer the default background.
Tweet, tweet
Now that you have an account, are familiar with the lingo, and you know how to tweet and hashtag like a verifiable Twitter influencer - what are you waiting for? Get out there and make your unique mark on the Twitterverse.
Using Twitter as a marketing tool is becoming increasingly popular for brands and influencers. Check out these 10 best Twitter ad examples to get an idea of which posts are making an impact.