There are few things in this world that are entirely universal.
In our global capitalist society, you'd be hard-pressed to find someone who has never purchased anything from a store or online retailer. Retail is everywhere, and is the way we feed and clothe ourselves on a daily basis.
TIP: Learn about the biggest retail trends in 2019 and how they impact you.
What is retail?
Retail is the means by which people exchange money for goods and services. Whether within a storefront or an e-commerce site, retail encompasses the sale of items to the public for a profit. So if you've bought anything in your entire life, you've participated in retail.
Examples of Retail Stores
Department stores such as Macy's or Nordstrom
Boutiques and small businesses

Discount stores such as Dollar General and Dollar Tree

Speciality retail stores such as Best Buy and Jockey

Big box stores such as Wal-Mart and Target

E-commerce stores
While retail is easy for customers (except for the legwork required to find the best deal), running a retail business can be complicated and difficult. The rise of e-commerce, otherwise known as online retail, has complicated the overall retail space and is showing no sign of slowing. Today, e-commerce makes up about half of the total retail market share, and that number has been steadily growing year over year. If they haven't already, retailers must seriously consider including e-commerce into their retail strategy.
All this may seem obvious, but the lines of what is and isn't retail are becoming blurred. With so many channels available, the definition of retail has the potential to change before our eyes. A single retail definition is hard to come by because it encompasses so much.
Retail definition
Retail is defined as "the sale of commodities or goods in small quantities to ultimate consumers;
also: the industry of such selling" by Merriam-Webster. So the endpoint of retail is private consumers, and the starting point is typically the manufacturer.
Manufacturers produce items for either retail or resale. Large retailers will often have private manufacturers who create their products exclusively, so the company has ultimate control over the design and manufacture of its products. Smaller retailers typically outsource production to larger manufacturers that may produce a variety of products for all kinds of different retailers.
Resellers will either design and manufacture products or simply purchase items for the sole purpose of being sold to retailers. Resellers do not sell directly to consumers, only to retailers. Retailers can often buy these products at wholesale or bulk prices from resellers and then increase the price of the individual items for consumers to turn a profit. Resellers can do essentially the same thing by buying directly from the manufacturer and then increasing the price for retailers.
Retailers then sell goods directly to the consumer, often at marked-up prices. There are a variety of different types of retailers, much like there are a variety of ways for retailers to obtain their products. In many cases, retailers answer to a larger parent company and receive their products directly from them. Smaller, independent retailers will do their own purchasing and procurement of inventory.
TIP: Learn how an effective retail execution plan can increase your brick-and-mortar store's sells in 2019.
Types of retail stores
Here are a few of the most popular examples of different retail store types in 2019.
Department Stores
These stores stock a large variety of goods separated into separate departments (home goods, toys, furniture). Often, you can find them as the cornerstones of malls or other large facilities that house a variety of retailers. The items are often from different brands, but many department stores have either an in-house brand or brands that are exclusively sold at their locations.
Big-Box Stores
Big box stores, or warehouse retailers, are defined by being large, warehouse-like and often freestanding. Big box chains often specialize in a particular type of product, such as electronics or home goods. These stores are almost never independently owned, nearly always owned by a large store chain.
Speciality Stores
This type of retail store is similar to a department or big box store, but focus on one vertical product. Think Best Buy as an example of a speciality store focusing on electronics, or Jockey for underwear, lingerie, and sleepwear.
Discount Stores
These stores are similar to department stores, but feature items at a discount or brands with lower price points. These items are also sourced from a variety of places and may belong to the store's proprietary brands.
Boutiques and Small Businesses
These stores are often owned by an individual or a few small business owners with a single storefront.
They are not owned by larger companies, so the inventory is either purchased from a variety of producers or resellers or created by the store owners themselves. (Think your local gelato shop where all the gelato is made on-site or clothing boutiques with niche brands not seen in larger stores.)
E-commerce Stores
These stores do not have physical locations for customers to visit. Customers purchase their items online and warehouses ship the items directly to the customer. Some e-commerce sites function like a marketplace, providing smaller or independent retailers the opportunity to sell their items alongside other retailers on the same site.
Items purchased from these retailers are often shipped directly from the individual advertising their goods. Businesses with storefronts may also operate an e-commerce store to reach more customers or offer different inventory.
TIP: Looking to find trending topics from the world's largest retailers? Check out Mention's Retail Industry Tracker 2019 report.
How does retail supply chain work?
The cycle for retail supply chain is the process of how goods are created, connected with stores, and ultimately end up in the hands of a consumer. Here are the four major tenants of the supply chain.

Image from Smartsheet
Manufacturers - This is the producer of the goods, who physically create the items.
Wholesalers - The wholesalers buy the goods from the producer in bulk, and then flip those goods to the retailers.
Retailers - These are the stores that connect with the consumer, and where everyday people such as you and I buy our goods.
End Consumers - Those who are buying the goods or product from the retailer, thus ending the retail supply chain process
Retail software
Retail software is an extremely varied space. Some software can help a retailer run every aspect of their retail business, and some are highly specialized for a specific aspect of business operations. Retail businesses of all sizes can benefit from retail software, but the larger the business, the more crucial software becomes.
Between purchasing inventory, selling inventory, paying employees and managing other financial tasks, retailers are constantly busy (and constantly attempting to keep their heads above water).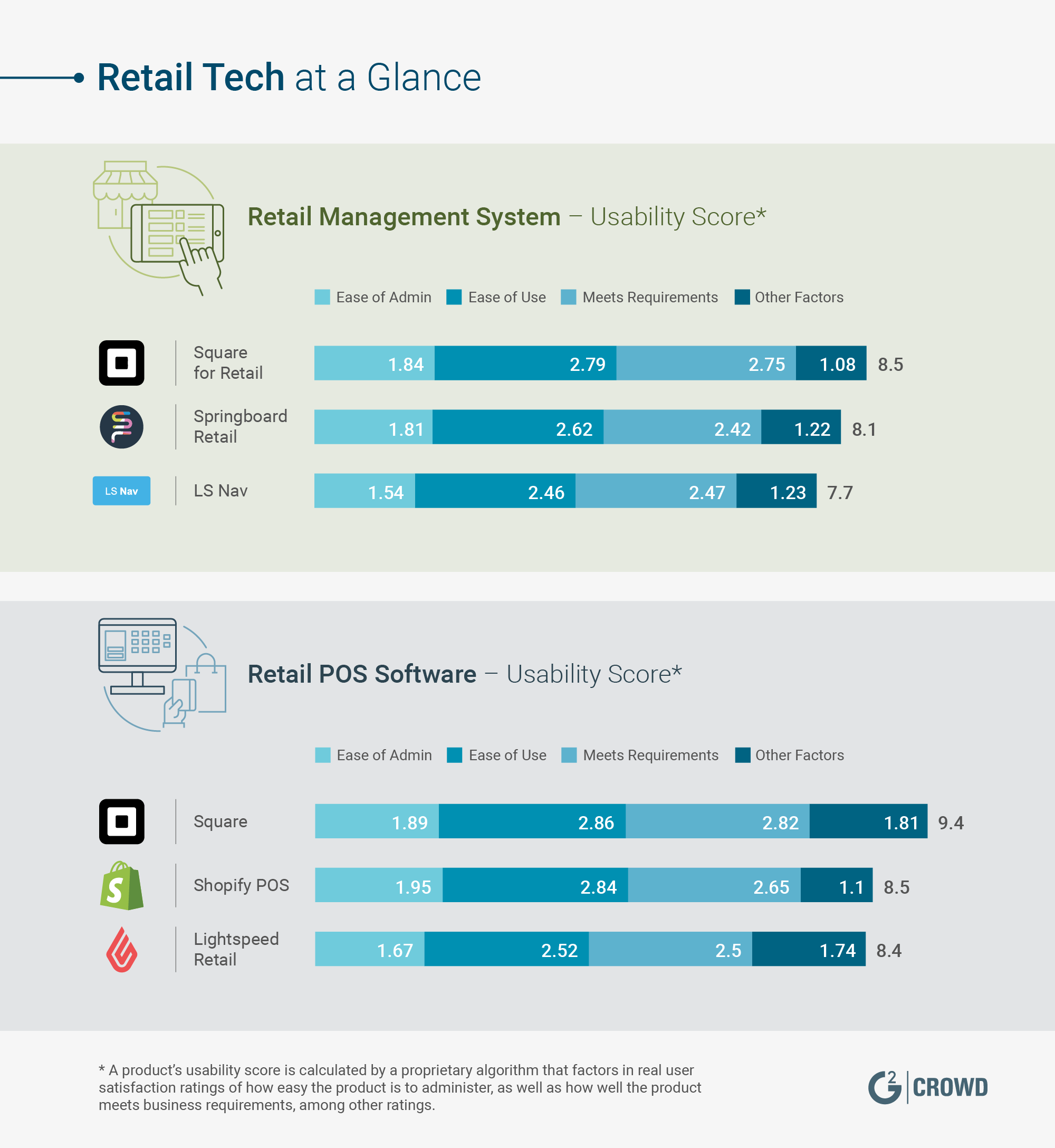 Examples of retail software include:
Industry-specific retail software: Because retail is such an expansive industry, there are hundreds of smaller industries housed beneath the retail umbrella. Small or specialized business owners may find it helpful to use a software tool that is specifically designed for their niche. Florist software, for instance, is designed specifically for the needs of florists. And the needs of a florist are very different from the needs of a jewelry store, which would benefit more from jewelry store management software.
Retail management software: Retail management systems are designed to manage every aspect of a retail business via a single platform. These tools should encompass all of a retailer's needs from point of sale to back-office management. The smaller the business, the easier these tools are to use, since there is less data that needs to be shared among various store locations.
Retail POS software: Retail POS systems are a requirement for any retail business. Retail POS (point of sale) software is how employees ring up customers so they can make their purchase. Without a POS, tracking daily transactions and processing credit and debit cards becomes much more difficult. Some retail POS systems even have back-office features similar to those found in retail management systems. More and more often, POS systems are run on mobile tablets to make setup and training as easy as possible.
Retail task management software: Retail task management software is intended for larger companies with multiple store locations. These tools make it easy for store managers to delegate tasks to their teams and for regional managers to delegate tasks to individual stores. This improved communication and accountability makes it easy to provide a consistent customer experience across stores.
E-commerce platforms: E-commerce platforms provide businesses with a space to create and manage an online store. Retailers can often customize these stores or embed them into their websites. On the back end, these platforms collect and organize customer information and orders so they can be easily fulfilled. Other features these tools help solve (or add-on software can solve) include shopping cart, fraud protection, and payment process, which can be integrated with these platforms to create a customized or more secure experience for shoppers.
What does retail hold in 2019 and the future
Retail is everywhere, and growing every day. As retail technology becomes more sophisticated, customer needs and demands change. Once upon a time, everything was bought in person, but now, a large portion people's shopping is done online. Retail will always be a business staple, but its face is always changing.
Ready to learn more about retail? Learn about the retail apocalypse and how it will impact you in 2019.