The latest version, iOS 12, was first released in September 2018.
That means Apple has released 12 iOS updates, with many minor version rollouts in between.
What is iOS?
iOS is Apple's mobile operating system. Formally called iPhone OS, the operating system runs the iPhone, iPad, and iPod Touch devices. Its features and functionality have changed a lot since the release of iOS 1 with the first iPhone in 2007.
What does iOS stand for?
iOS stands for "operating system" (OS), with Apple's "i" branding that is consistently used across its product and service offerings. Initially with the launch of the iMac in 1998, the "i" stood for "internet." According to Apple co-founder Steve Jobs, the "i" actually carries secondary meanings as well, including "individual," "inspire," "inform," and "instruct."
It makes sense that as the hardware itself changes, the software advances along with it. Better cameras allow for enhanced options such as portrait mode. Implementing biometric measures, like TouchID and FaceID, for security leads to innovations like Apple Pay.
What is an operating system?
An operating system is simply the supporting software for a device's basic functions. In a way, the mobile operating system translates the commands of various software applications to give those apps access features of the hardware. The mobile OS also manages cellular and wireless network connectivity.
iOS 13 isn't available just yet, but Apple recently released a sneak peek.
Latest iOS update: iOS 12
iOS updates typically include new features. According to Apple, "iOS 12 is designed to make your iPhone and iPad experience even faster, more responsive, and more delightful. Let's take a look at some of our favorite new features available with iOS 12, 12.1 and 12.2.
Memoji - Apple released customizable Animoji effects, which you can personalize to look like you. You can use Memoji and other effects in Messages and FaceTime.
Camera Effects - In Messages and FaceTime, you can use stickers, Animoji, Memoji, filters, and more using the in-app camera.
Group FaceTime - Chat with up to 32 people at once. Plus, the new interface makes it easier to switch between front-facing and rear-facing cameras, and users can now capture live photos during FaceTime calls.

Siri

- With the latest update, voice assistant Siri can now answer questions about celebrities and food. There's also a new Shortcuts feature, allowing you to custom build automations using first- and third-party apps.
Screen Time - Just one of many time management and focus tools now available, Screen Time provides weekly activity reports on your iOS device usage. You can see how often you pick up your phone, how long you spend on it, and even how much time you spend in each app. You can also set usage parameters with App Limits.
Do Not Disturb at Bedtime - Turn off all notifications at night, so you can only see the time.
Measure - Apple's new Measure app allows you to use its augmented reality (AR) capabilities to measure objects.
Android vs. iOS
iOS is the second most popular operating system in the country, behind Google's Android OS.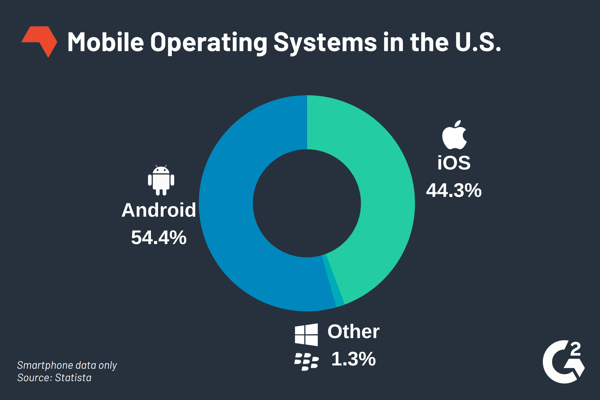 There are more than 2.2 million iOS apps available for download in the Apple App Store. The Google Play Store, Android's official app store, currently has 2.6 million apps for download.
RELATED: Let the numbers speak for themselves! Check out these 35 app statistics to know in 2019.
Other mobile operating systems
There are a few other common mobile operating systems besides Android and Apple iOS. Most operating systems are intended for use only on specific hardware.
BlackBerry OS (Research in Motion)
Symbian (Nokia)
Tizen (Samsung)
webOS (Hewlett-Packard)
Windows Phone OS (Microsoft)
Change is good
Although it seems like Apple offers way too many iOS updates, it's only to make your overall user experience better. As iOS app development continues to grow, the supporting operating system needs to advance as well.
See how real users feel about Apple iOS through verified reviews on G2.