Hospitality means something different to everyone. For some it means hosting fancy dinner parties and cocktail hours. For others it's inviting people over to watch the game with pizza and pretzels. Still others think of it as having people over to do nothing in the same room at the same time.
But in a much bigger sense, hospitality also exists outside our homes. The hospitality industry is a huge, sprawling industry that impacts people all over the world.
What is hospitality in a business context?
The hospitality industry encompasses businesses that house and/or entertain visitors. Restaurants and hotels make up the bulk of the hospitality industry, but there are some intersections with the travel industry. (A luxury yacht for charter with a full staff included, for instance, would likely fall under the purview of hospitality.)
These businesses rely on a positive customer experience to remain operational. If the purpose of your business is to entertain, then you must be entertaining. Therefore, customer reviews are crucial in the hospitality industry because it is one of the main ways people find your business. People are not simply reviewing the food, they're reviewing your entire business from the decor to the service to cleanliness of your bathrooms. Word-of-mouth hits hard in this industry, and online reviews platforms have only made those words reach farther.
While we at G2 know a thing or two about reviews, a bad restaurant review may point toward a larger issue within the organization, namely, either a lack of tech or poorly implemented tech. Digital transformation has revolutionized the hospitality industry, allowing everyday customers to book their own hotel rooms, make their own restaurant reservations, and order food using a laptop from the comfort of their couch. And this is also great for hospitality businesses, making it easier to prevent overbooked hotels, automatically alert restaurant customers that their table is ready, and easily create kitchen tickets for orders placed online. Well-implemented technology makes operations easier for both the customer and the business, but poorly-implemented tech will only create more problems.
What is hospitality technology?
Hospitality tech is essentially any tech that helps someone in the hospitality industry run their business. Typically for restaurants, this tech takes the form of restaurant POS software and restaurant management software. For hotels, hotel management software and channel management software are often used.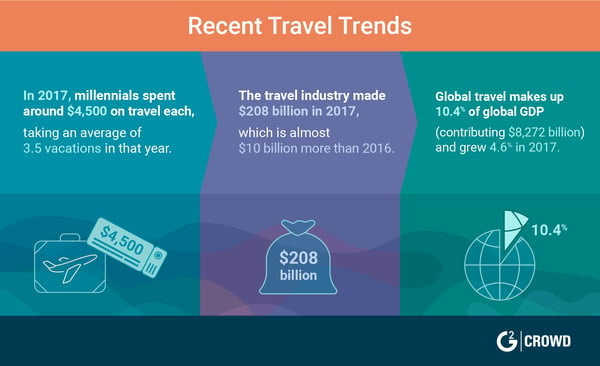 Restaurant technology is its own beast, one that I've already covered. Here, we'll take a closer look at technology designed specifically for hotels.
Hotel management software
Hotel management software helps hoteliers coordinate all aspects of their business. From guest check-in to accounting, hotel management software is intended to cover both guest-facing and back-office tasks. From check-in to turndown service, hotel software ensures guests have the most enjoyable stay possible and that the staff can efficiently meet all the guests' needs. Functioning similarly to a property management tool, a good hotel management solution will provide end-to-end features to help a hotel run smoothly. In many instances, hotel management software will integrate with some if not all of the software discussed below.
Channel management software
The internet has revolutionized the hospitality industry by making it easy for customers to book restaurant reservations and hotel stays from the comfort of their own home. Entire websites are devoted to helping guests find and book the right hotel for them, so hotels are receiving bookings from potentially dozens of sources. Channel management software consolidates all those bookings in one place so hotels can stay organized and avoid overbooking. Hotels can also use channel managers to gather valuable data based on customer activity across channels.
Learn more about how channel management software can boost your business.
Unlike reservation software, channel management software is not accessible by the customer. Channel management platforms consolidate and organize reservations made across various platforms, including those made by travel agents and those contacting the hotel directly.
Concierge software
A hotel cannot function without guests, so making sure those guests are happy and taken care of is a large priority of any hotel. With concierge software, concierges can easily organize guest requests, schedule activities, make reservations and order any requested items. Concierge software can also help create a central hub to coordinate schedules for various aspects of the hotel such as the restaurant, room service and spa.
Guest messaging software
Responding quickly to guests using their own phones is a great way to elevate customer service. With guest messaging software, hotels can easily chat, text or email with guests from a centralized location. Guests can choose the best way to be contacted, and a quick response from the hotel can ease any potential customer service issues before the customer becomes upset.
Hotel reservation software
Making hotel reservations online has essentially become the norm. For a hotel, creating that functionality makes it much easier for both guests and staff to add and organize reservations. Hotel reservation software provides the means to make online reservations available and ensure that rooms are not overbooked.
Why is hospitality important?
The hospitality industry is growing, and the technological applications are only becoming more advanced. One of our major 2019 hospitality trends is personalization fueled by AI and data, which help make guests feel truly welcomed and cared for. With guests more and more attached to their phones and the ubiquity of the internet in general, providing means to easily communicate with guests via those methods has become a vital aspect of any hospitality business.
One must remember that millennials are generally prioritizing experiences over things; the hospitality industry has the opportunity to make huge gains as millennials become the driving purchasing demographic. So the hospitality industry is becoming an even more important part of the economy than ever.
To read more about the restaurant side of hospitality, check out our 2019 Restaurant Trends.