Getting a customer to buy your solution is only half the battle.
The market has never been as flooded with options for consumers as it is today, and to win their loyalty, you're going to have to do more than offer a positive one-time customer experience. The relationships that, quite frankly, will make or break your business, should be highly prioritized.
Creating and managing these relationships will require two things: human interaction and customer relationship management (CRM).
What is CRM?
Customer relationship management can be seen as a practice, system, or database. The phrase most often refers to the software used to manage customer relationships, but the definition can be applied to all of those other ideas as well.
What is CRM software?
Customer relationship management (CRM) is the software that businesses use to keep track of interactions with prospects and existing customers. It's a tool that unites sales, marketing, and customer service and ideally provides a complete view of customer identity, history, preferences, and activity.
The purpose of using a CRM for your business is to improve the relationships you have with your customers. One positive experience with a brand isn't enough to make a customer become loyal. That connection must be nourished. By staying connected to customers on an individual level with a CRM, businesses can anticipate needs and provide support, strengthen relationships, and increase the chances of customers becoming loyal to their brand.
Using CRM software is a win-win situation. Buyers receive a personalized, helpful, and informed customer experience, and businesses win their loyalty.
CRM vs. ERP vs. marketing automation
Before we move on, we need to establish the important yet often forgotten difference between CRM, enterprise resource planning (ERP) software, and marketing automation software. They are all used to store, organize, and analyze important business data, but there are a few key differences.
Marketing automation: meant to start and maintain communication with potential customers
CRM: aims to convert prospects into loyal customers
ERP: used to oversee the process of creating and delivering solutions to customers
Even though marketing automation, CRM, and ERP all serve different purposes, businesses require the power of all three to find customers, show them the value of their solutions, and follow through on the promise of delivery.
Who uses CRM?
When you hear the phrase CRM, you probably think of a huge corporation needing to manage all of its clients. However, CRM is the fastest growing software on the market, and 91% of businesses with 10 or more employees use it.
CRM can be used by multiple departments across any organization. Anyone that needs information on a customer or sales action can benefit from the information stored in a CRM. Sales, marketing, business development, and customer support are all examples of teams that use CRM.
While CRM is often associated with B2B companies, B2C businesses can also benefit from using the software. As long as a business sells something and is looking to create mutually beneficial relationships with their customers, they can see improvements with CRM.
Similarly, CRMs can be used by businesses of all sizes. For small businesses with only a few clients, CRM might seem like a bit much. But once their customer base grows and becomes too much to manage in a spreadsheet or on a series of sticky notes, it's a good idea to make the switch.
Enterprise businesses will almost certainly use a CRM due to their quantity of customers and customer-facing departments.
CRM features
Besides improving customer relationships, another key purpose of CRM is to automate the entire sales process for reps, which is not a task to be taken lightly.
Each stage in the sales process is just as important as the last one, and to streamline it as much as possible, your CRM tool should have the following features.
Contact management
Contact management refers to the process of recording a customer's contact information and interactions they have with a business.
This feature of CRM allows businesses to stay organized, keep track of crucial customer data, and adapt their approaches to better target them based on the customer's preferred contact method. As the amount of touchpoints increase, contact management enables businesses to offer a more personalized customer experience.
Lead and opportunity management
Lead management is the action of finding, qualifying, tracking, and engaging with potential customers, also known as leads. Leads enter your sales pipeline when you get a hold of their contact information from some action they took, like opting into your newsletter.
From there, those potential customers need to be qualified as a suitable buyer, at which point they convert to an opportunity, and are then ranked based on their likelihood to buy.
Lead and opportunity management in CRM tools help businesses track which leads are the most promising, allowing them to prioritize those accounts.
Pipeline management
Pipeline management oversees every stage that customers enter in the entire sales process.
CRMs allow sales teams to analyze all areas of the sales pipeline, like predicting closing rates and revenues, identifying weak spots in the sales process, and making estimates on sales growth for managers.
Report creation
Using CRM and business intelligence software, sales teams can create reports and dashboards to view progress on deals, statistics, and any other metric that needs to be tracked.
Report creation features offer the ability to update in real-time, so whenever new data is entered, the reports reflect those changes right away. Data is at the center of many business decisions, and making that information easily accessible and digestible is crucial.
Sales analytics
Also involving data, CRM tools have a sales analytics feature.
The information collected with the reports, dashboards, and general data input can be analyzed to draw important conclusions, like identifying trends in customer behavior and pinpointing areas of the sales process that need improvement.
Sales forecasting
Using other features like pipeline management, report creation, and sales analytics, CRM software offers the ability to forecast sales for the future and establish a north star in terms of goals.
Creating that benchmark is important in measuring success and determining areas of improvement.
Integration
Perhaps one of the most important features of a CRM is its capability to integrate with other software tools. There are plenty of other systems that participate in the success of your sales team, for instance:
Email marketing
Marketing automation
Chatbots
Inbound and outbound call tracking
Web analytics
Social media marketing
CRMs can integrate with all of the tools above, empowering any department that uses them.
Types of CRMs
Managing your relationships with customers should be a top priority for your business. However, your specific business goals might affect the type of CRM you choose to implement.
The different CRMs support different objectives for your business, and deciding which one to use comes down to pinpointing one specific customer relationship management problem you need to address.
The three types of CRMs are operational, analytical, and collaborative.
Operational CRM
Operational CRMs help businesses manage their day to day marketing, sales, and customer service activities, data, and processes. The purpose of using an operational CRM is to connect all of those pieces to build the framework for providing a seamless customer experience.
These are the most common types of CRMs, as they act as a resource for any customer-facing department.
Daily sales actions like managing the pipeline, qualifying leads, nurturing customer relationships, and marketing automation initiatives like email campaigns for new prospects, can all happen within an operational CRM.
Analytical CRM
Analytical CRM is a type of software that collects data about customers, analyzes it, and allows businesses to determine how to increase customer satisfaction and retention rates. Any interaction that a rep has with a customer is tracked and analyzed by analytical CRMs.
The purpose of using an analytical CRM is to use data to gain insight into your current customer journey to better tailor your sales and marketing efforts towards those groups. Data collected will revolve around customer behaviors, patterns, and pain points.
Collaborative CRM
Collaborative CRM works to give customer-facing departments the information they need to offer a better customer experience.
Organizations use them to collect, organize, and share that information with the teams that contribute to the teams that need it. Examples of data collected include previous solutions purchased, customer service touchpoints, and preferences for marketing channels.
Collaborative CRMs use interaction management and channel management to analyze customer interactions and record preferred methods of communication to ultimately determine the best way to approach each customer.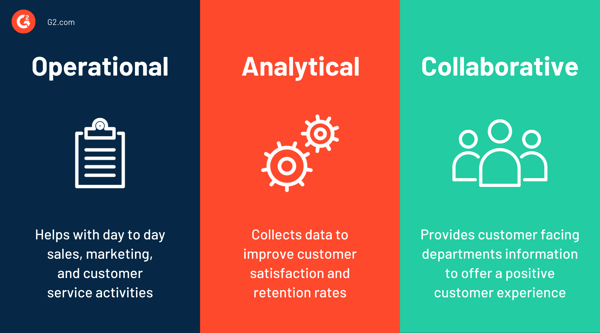 CRM use cases
Businesses of any shape, size, and industry can benefit from a CRM tool - B2B, B2C, startups, and large enterprises. As long as maintaining a healthy and mutually beneficial relationship with your customers is important to your business (which it likely is), you should be using a CRM tool.
Here are some of the most common use cases for a CRM.
Prospecting
Not every prospect becomes a customer, but every customer was once a prospect. This simple fact of sales makes prospecting arguably the most important stage in the sales cycle - you can't have a customer without them being a prospect first.
Prospecting revolves around numbers. Not every prospect will become a paying customer, so you need to generate a large number of prospects to take the lack of conversions into account.
Whatever method you use to gather prospect contact information, CRM software can automate the process of collecting and organizing it.
Prioritizing leads
Not all of those prospects are going to be winners. To be considered a lead, prospects need to be qualified as likely to purchase your solution. Prioritizing leads is a game of extracting value from the mass of prospects you collected, and this can all be done with a CRM.
Based on the criteria you set for your business, your CRM can assign a score to each lead that represents how highly this person should be prioritized. Some people are more likely to buy your solution than others, and those customers should be a higher priority for reps.
Factors that will play into a lead's score include job title, industry, location, and ways they've interacted with your business.
Sales outreach
With that list of carefully qualified and prioritized leads that fit your target market, you'll move further down the process and start with some outreach.
Every single engagement you have with a lead can and should be tracked using a CRM. Whether the touchpoint resulted in you making a sale or not, you can learn something advantageous about a customer every time you communicate with them.
Plus, keeping all of this data in the same place can give you a clearer image of who this customer is, helping you find ways to sell to them better.
Lead tracking
Your customers are going to follow some version of a predetermined journey through your sales funnel. Each of the stages in that journey should have its own place in your CRM.
This will help you see a representation of your sales pipeline and understand where your customers are in their decision making process. As leads enter certain stages, you'll know what actions to take to move them closer to closing.
Overall, CRMs help with lead tracking, which offers clear stages for reps to complete when selling, increasing the likelihood of them closing deals and mastering the process.
Approaching different sales processes
It's possible that your business sells multiple solutions or has more than one customer persona. Because of this, you'll likely have different sales processes for each one, and having more than one sales process can cause confusion and overlap that hurts the chances of converting prospects into customers.
CRM software can be used to create separate sales pipelines with their own sales processes, stages, and action items for a specific audience or solution.
Understanding your customers
Overall, the key use case of a CRM is to better understand your customers. Offering a solution to someone's pain point is a good start, but your business will only flourish if you go the extra mile and empathize with your customers.
If you were in their shoes, how would you want to be approached by a sales rep? What specific problem are you trying to resolve? What information would you be looking for before you made a buying decision?
Whatever the answers are for your buyers, you can count on them looking for a personalized customer experience, and CRM has all of the tools you need to make that happen.
"Tagging our customers with their product, platform, and the emails we have sent them so far produces a pretty good picture of the relevant characteristics of our customers."

John Donnachie
Director of ClydeBank Media
Benefits of CRM
When moving into a sales role, you'll be surprised to find that communicating with customers isn't as central as you think. While it should be the main focus for any rep, tedious assignments like data entry and organization take up more time than it may appear.
This is where a CRM can come in handy.
Enhanced organization
Every interaction that a customer has with your business should be documented and analyzed. As you engage in more touchpoints with customers, the information can add up over time, making it easy for important data points to be buried and forgotten.
To avoid this, your business needs to start using a CRM - sticky notes and messy documents won't cut it anymore.
CRM software is not only there to organize the data, but to also make it accessible for anyone in the organization that might need it. There are multiple customer-facing departments that can benefit from the information stored within a CRM, and it's the job of reps to make sure it's all relevant, accurate, and updated.
Better communication
Your customers are all unique. They have their own preferred method of communication, pain points to resolve, and issues with your solution.
While these important details exist in the head of the rep that is handling that account, it isn't public knowledge for everyone else at the company. Should another rep or customer service agent reach out, CRM software can equip them with all of the information the business has on that particular customer.
This will result in better communication because reps don't have to start at square one with every single customer they interact with.
"Having a history of communication with customers proves super useful. Not only for the sales reps, but also for marketing, operations, and customer support."

Daniela Turcanu
Senior Marketing Manager at Walls.io
Improved customer service
As a business, you need to value your customer's time as if it were your own. When customers approach you with questions, comments, and concerns, you'll need to be ready to jump right into the conversation informed on what their past exchanges with your business have looked like.
Have they run into any other issues in the past? Was a solution found? Have recurring problems presented themselves?
To quickly and accurately provide customer service solutions, you need to know a customer's history with the business. CRMs offer access to updated information regarding an individual customer, helping you support them to the best of your ability.
Automated tasks
Selling involves plenty of customer interactions. However, it also requires things like entering data, creating reports, and addressing any legal issues that might arise.
CRMs are meant to relieve sales reps of these rather mindless and annoying tasks, freeing up more time for them to focus on their customers. This extra focus on the people at hand, rather than their contracts and data, is a win for bettering the relationship.
Advanced department alignment
There are plenty of departments within a business that can benefit from the information that's stored in a CRM.
In addition to sales, marketing and customer service need that data to do their jobs as well. Access to that data increases the ability for departments to better understand each other's goals so they can all work towards the one they have in common - to offer a great solution and customer experience.
Upgraded data analytics and reporting
Customer data is precious for two reasons: it helps you connect with customers, and it can be analyzed to draw meaningful conclusions about how to sell to customers.
A CRM doesn't just hold your data. It helps you put it to good use. Reports can be generated, dashboards made, and ideas generated to enhance customer relationships and maximize profits.
How to know when you need a CRM
Whether you think your business hasn't required a software system to keep track of your customers, or you think your sales techniques could benefit from additional organization, it might be time to implement a CRM tool.
Here are some signs that your business is ready for a CRM:
Managing customer contact information, data, and interaction notes are getting too complicated for a spreadsheet or other form of note-taking.
Your employees have to go to more than one place to obtain information on customers.
If an employee leaves your business, all of the relevant information on a customer would leave with them, because it isn't documented anywhere.
If you've felt any of those pain points, or you want to reap the benefits of a CRM listed in the section above, it's time to invest.
Choosing a CRM
If you checked any of those boxes above, it's probably time to invest in a CRM tool for your business. You know how unique the needs of your business are, and you need to find a CRM that can hit all of your customer relationship management pain points.
In a sea of products that seem as if they all serve the same purpose, here are some things to do when making your CRM buying decision.
Make a wish list
First things first, you need to create a wishlist. Anything and everything you need of a CRM, add it to the list. A good place to start when making this catalog of features is to analyze your business processes, identify places where your sales, marketing, and customer service teams are struggling, and ideate a software component that can help.
When choosing a CRM, crosscheck your wishlist with the available features of a specific solution. There might not be a solution with everything you're looking for, so prioritize some features over others.
Think about the user
Finding a solution that checks all of the boxes on your wishlist and sits within your price range is a great accomplishment. But is it easy to use? Customer-facing departments will need to use this software every single day, and the tasks they'll be using it for are far from mundane.
Make sure the CRM you choose is easy to navigate, understand, and learn. The last thing your business needs is for reps to run into problems with a CRM when trying to resolve a separate issue with a customer.
Not only will this double the trouble, but it might also deter people from using the CRM, resulting in your business missing out on the benefits it can provide.
Look at accessibility
Not all business occurs in an office with desktop computers. Reps and marketers are often sent on the road while still requiring access to a CRM. Make sure the software you select is mobile friendly and can be accessed on the cloud.
There will be plenty of instances where reps will need customer data on the fly, and if they can't access it, it'll hinder their ability to sell. Plus, a Nucleus Research report found that 65% of reps that use a mobile CRM hit their sales quota compared to the 22% of non-mobile users hitting the same targets.
Ensure it integrates well
There are plenty of other software systems that work towards your sales process: marketing automation, email marketing, help desks tools, and so on.
Your CRM must be able to work in accordance with those other tools. It will only make your life easier.
5 best CRM software
With those software selection methods in mind, it's time to choose the right CRM for your business. What better way to do that than by reading reviews from real-life users?
* Below are the top five leading CRM software solutions from G2's Spring 2020 Grid® Report. Some reviews may be edited for clarity.
1. Salesforce
Salesforce is a CRM that focuses on automating sales tasks and allowing companies to grow their business by offering the following features: lead and contact management, sales opportunity management, and customizable reports and dashboards.
What users like:
"It's nice to be able to send internal requests to support teams and link the request right to the contact, account, or opportunity so you don't need to constantly remind everyone what group the request is linked to or write a novel just to tell them where to look for information."
- Salesforce CRM Review, Nathan R.
What users don't like:
"There is a limit to how many fields you can utilize to categorize different types of requests and issues. This affects what metrics you can report on. It would be better if you could apply tags to each case and then be able to search the tags."
- Salesforce CRM Review, Daniel P.
2. HubSpot Sales Hub
HubSpot's Sales Hub can track how your deals are progressing, organize all of your sales activity, and accelerate your selling process. Its big focus is saving you time at every stage of your sales funnel.
What users like:
"Hubspot Sales Hub is a very well designed platform. Contacts, companies, opportunities, and activity (tasks, email, phone, meetings) are comprehensively tracked with little additional user effort. This creates and maintains a very complete record of customer interaction in one single place."
- HubSpot Sales Hub Review, Tim P.
What users dislike:
"To truly benefit from Hubspot Sales Hub, it's my opinion that you need the marketing add-on as well. They're expensive separately, but together it's a ridiculous cost for a small business, which is exactly the kind of company which would benefit from these tools."
- HubSpot Sales Hub Review, Raluca T.
3. ActiveCampaign
ActiveCampaign focuses on helping reps have meaningful engagements, interactions, and communication with their customers. ActiveCampaign's automations combine the benefits of email marketing, marketing automation, CRM, and machine learning.
What users like:
"The automations are the best in the industry and the price is right. It can handle just about everything. It has all the features you need to manage your email campaigns and build your email list."
- ActiveCampaign Review, Anthony S.
What users don't like:
"The platform lacks some very basic functionality like the ability to share file uploads with all users. Also, although the email customization is more robust than some of their competitors and is easier to use, it lacks the ability to add simple things such as a button that pulls up a pre-populated email."
- ActiveCampaign Review, Katie J.
4. Freshsales
Freshsales works for businesses of all sizes to attract, close, and nurture leads. It has an easy-to-understand user interface with lead scoring, pipeline visualization, and workflow automations.
What users like:
"Freshsales was really effortless to set up, and the layout of the interface was very easy to understand. It was a breeze to integrate and migrate data from other software solutions. The support and knowledge base of this CRM is very professional and concise. You rarely ever have to reach out to their support."
- Freshsales Review, Antal U.
What users don't like:
"It's a mission to export my leads. They've buried it to make it a little harder to find and use, but once I've figured it out I was good to go."
- Freshsales Review, Paul M.
5. Zoho CRM
Zoho is a cloud-based CRM ready to help a business of any shape, size, or industry. The tool's main focus is to build lasting relationships with customers and boost the productivity of your sales team.
What users like:
"Zoho is a complete CRM solution, but you can also surround it with almost all other modules to run your business at a very favorable cost. Its best attribute is the attention to detail, UI/UX, and features that Zoho continually builds into their product."
- Zoho CRM Review, Steve W.
What users don't like:
"The software falls short in the quality of its documentation since it is not very accurate and easy to digest, at least for the not-so-advanced users. This forces you to look for solutions in online help forums."
- Zoho CRM Review, Christina S.
Keep your eyes on the prize
That prize is the customer. While getting a customer to buy your solution once is definitely a win, what's even more rewarding is earning their loyalty by creating a mutually beneficial relationship. CRM software can help automate the mundane tasks associated with the selling process, allowing reps to focus on what really matters: the customer.
Looking to make the job of your sales reps easier? You can start by using our template to craft a sales playbook.