Have you ever wondered how engineers and architects design roads or buildings with such detail and precision?
Aside from being masters in the art of design, most, if not all, get a little help from something called CAD.
What is CAD?
CAD stands for computer-aided design.
CAD allows engineers to create 2D technical drawings, mockups of conceptual designs, and 3D models of physical objects, all within the virtual space of a computer.
CAD is critical for engineers and architects as it enables them to improve design quality, save time and decrease the number of measurement errors.
While some designers use very specific types of CAD, most use general-purpose CAD software to simulate what a design would look like in the real world.
CAD definition
Computer-aided design is the use of computer software to create, modify, and optimize a design.
2D and 3D CAD software
General-purpose CAD software includes a wide range of 2D and 3D software. Before delving into the more specific types of CAD software, it's important to understand the difference between 2D and 3D CAD and the various industries that leverage them.
2D CAD software offers a platform to design in two dimensions. Since 2D CAD does not allow for the creation of perspectives or scale, it is often used for drawing, sketching and drafting conceptual designs. 2D CAD is often used for floor plan development, building permit drawing and building inspection planning. Since it is mainly used as a tool for conceptual design, it is also a great starting point for most 3D designs. This gives users a basic overview of dimension and scale before they move on to 3D design. 2D CAD typically runs at a significantly lower price since it does not provide the same scale of tools and breadth of features.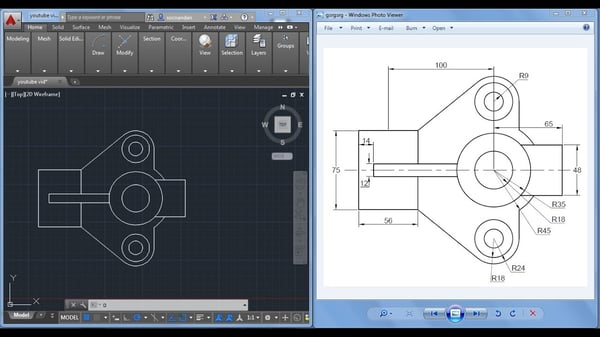 Image courtesy of YouTube
3D CAD provides a platform for designing 3D objects. The main feature of this type of CAD software is 3D solid modeling. This lets designers create objects with length, width and height, allowing more accurate scaling and visualization. With this feature, users can push and pull surfaces and manipulate designs to adjust measurements. Once the 3D design is to your liking, you can transfer it to a 3D rendering software and place the designs in fully realized 3D landscapes. In the example below, 3D rendering allows the designer to place the house design on an empty lot to help visualize what it would look like in a suburb. Some 3D rendering functionalities allow users to add effects such as lighting and texture.
Engineers, architects, interior designers and machine production designers are all professions that use 3D CAD on a consistent basis. Most 3D CAD solutions have industry-specific functionality for designing bridges, roads, tunnels and other structures. Evaluating your needs regarding specific tools and features is key when deciding on a particular 3D CAD solution.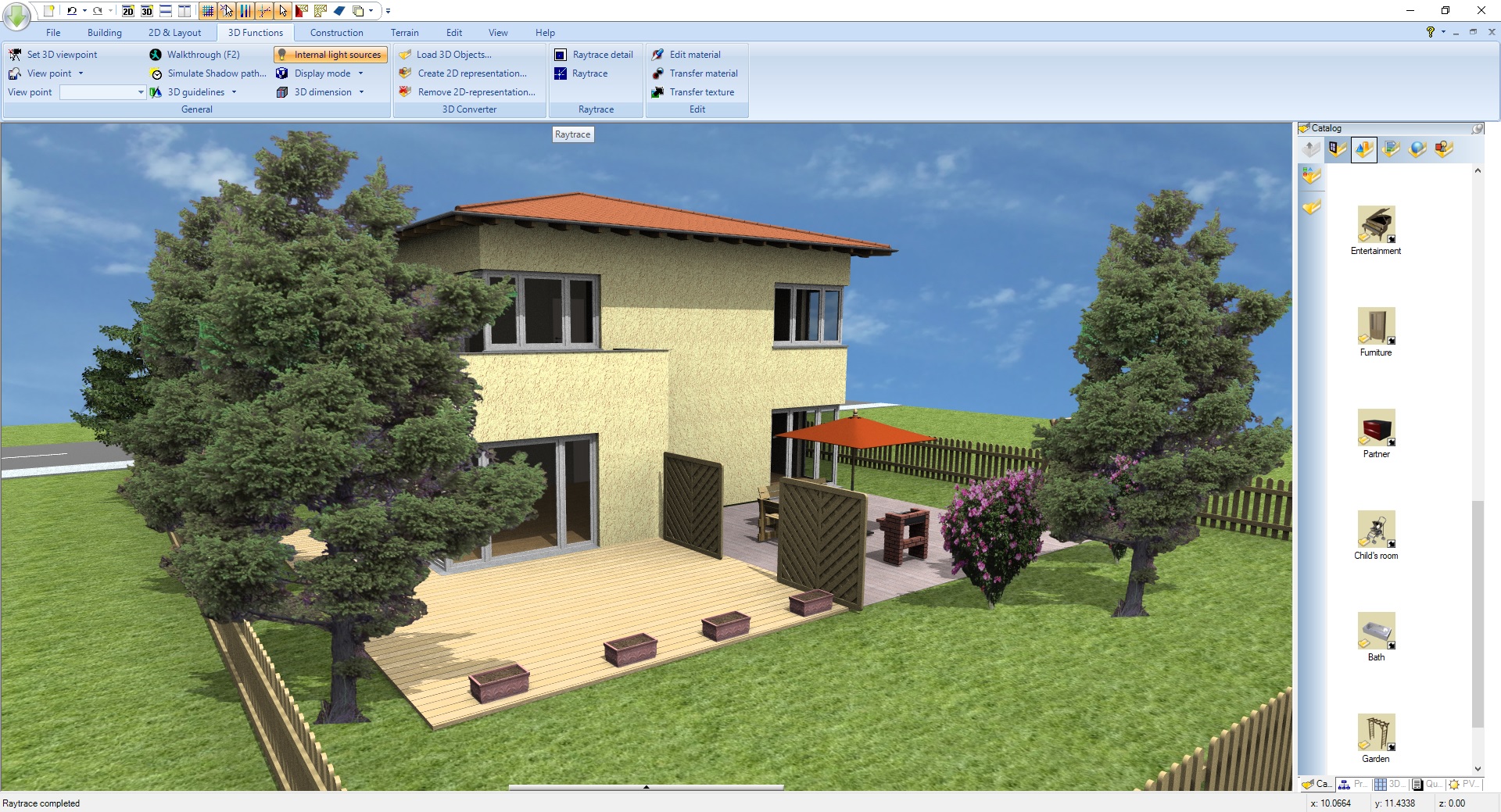 Image courtesy of Steam
BIM software
One of the more specific types of 3D CAD software is building information modeling software, also known as BIM software. BIM software is intended to aid in the design and construction of buildings specifically. BIM software provides users with the ability to break down building parts and see how they fit into a single finalized structure. Users can isolate walls, columns, windows, doors, etc., and alter the design. Engineers, architect, and manufacturers are just some of the professionals that use BIM software on a regular basis.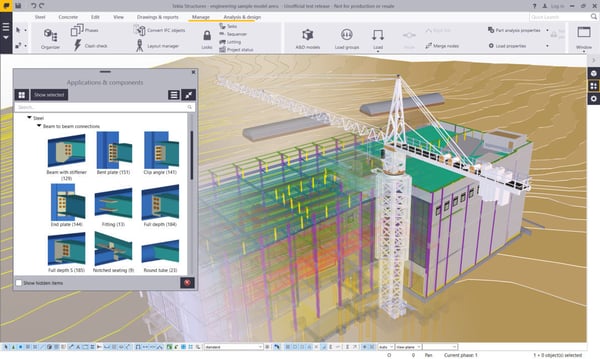 Image courtesy of ArchiExpo
Civil engineering design software
Civil engineering design software allows users to design 3D models of municipal buildings and structures. This includes tools for railway modeling, highway design and city infrastructure planning. Similar to BIM, civil engineering design software helps in every stage of the design process by breaking it down to drafting, designing and visualizing the final product. This software also helps designers determine building costs. Civil engineering design software is perfect for engineers working in public and civil departments including transportation, structural and geotech.
3D printing software
3D printing software facilitates the printing of real-life 3D objects. When users design an object, it can be translated into a 3D printing software. The software then relays instructions on how to print that design to an actual 3D printer. The 3D printing software sends instructions to just print out certain parts of an object, or it can print out the entirety of an object. Some CAD software doubles as 3D printing software so you can seamlessly produce actual 3D objects all from one platform. 3D printing software can be used by manufacturers and architects to build machine or building parts. This greatly reduces production costs, as manufacturers no longer need offsite locations for manufacturing. It also gives companies a rapid test drive to see how a product would look if it were mass produced.
TIP

:
To learn more about 3D printing software, take a look at our article that breaks down what you need to know about 3D printing.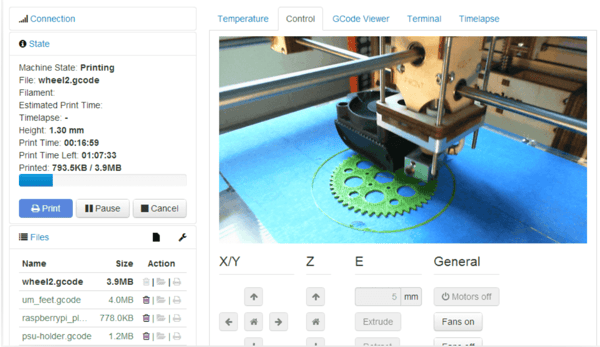 Image courtesy of All3DP
Why is CAD important?
1) Collaboration: CAD makes it easy to collaborate on projects. It takes a village to get a product from conceptualization to completion, and CAD offers a shared platform.
If users want to share their design to a separate CAD platform, all they have to do is use CAD data exchange software. This lets data pass between systems and translates it into the proper format for readability.
2) Improve design quality: When designing manually, it can take hours to determine the perfect measurements. Even then, designers are still prone to human error. This can cause problems down the line when designs need to be reworked. CAD software lets engineers design with perfect accuracy and precision.

3) Makes your product sellable: CAD software doesn't just make the design process faster; it also makes your design more appealing to investors. If architects and engineers present potential investors with 3D visual designs, they can communicate their vision much more effectively.
The future of CAD
Mobile phones: Historically, CAD has been an expensive software run on desktop computers. Now, it runs for free on mobile phones and tablets for a much lower cost. While desktops are still your best bet for complex 3D designs, plenty of simple designs can be completed on mobile devices. This flexibility enables people to manipulate 3D design with their fingers or use a stylus to draw 2D designs. Users can also share designs from their mobile device.
VR integration: More and more CAD software is integrating with VR platforms. The integration of the two lets users visualize 3D designs as if they were standing right in front of them. Using your own hands to design or manipulate any object, VR shows designs on scale against other virtual objects. This gives a sense of depth and scale that is not possible with a 2D monitor. Although most VR/CAD integrations are still rudimentary when it comes to the render quality, expect them to improve as more money is invested.
Image courtesy of Road to VR
CAD improves the quality of architecture and manufacturing
Users are rapidly adopting CAD software. It is projected that by 2023, the global CAD market will reach $11.2 billion. CAD can saves time, enhances design quality, and improves the communication of design teams across multiple industries.

From better roads, to more environmentally-friendly buildings, CAD has the capability to improve the overall design of cities, towns and infrastructure.
For a comprehensive overview of this article and CAD software, here's an infographic made by the folks at Venngage:



---
Check for more informational infographics at Venngage

Ready to test CAD software today? Check out the best free CAD software and free BIM tools that you can download right now.