There are several ways to write and send an invoice.
You can write an invoice manually or use accounting software to create one, too. However, no matter how you create them, it's important to ensure your invoices include everything necessary to guarantee timely payments.
Although businesses send and receive many invoices every day, there is a major problem with invoices being paid on time. A 2013 industry report showed that in the digital advertising industry:
6 percent of invoices are paid in under 30 days.

94 percent of invoices take more than 30 days to be paid.

62 percent of invoices take more than 60 days to be paid.
Finding out why these invoices aren't being paid on time isn't hard. In another study done by the credit research foundation, it was shown that 61 percent of late payments are due to compliance or administrative problems such as incorrect or late invoices.
The data is clear: More and more businesses are failing to send out accurate invoices. To improve your company's financial health, it's important to establish accurate bookkeeping practices. One immediate benefit of establishing such practices is finding out how to send accurate invoices.
What is an invoice?
Invoice definition
An invoice is a list of goods or services provided by a business that presents a statement of how much money is due for those services or goods.
In many aspects, an invoice is like a bill. The difference is that an invoice may provide extra information such as the issuer's name, address, terms of payment, billable item description, and an account number.
Once an invoice is sent to the recipient, it becomes an account receivable. This is the amount of money you owe for received services or goods and shows an agreement that you will pay the other business by a certain date.
It is important for a company to track invoices because it provides their business with a history of all sales transactions. Invoices help companies keep accurate books, which helps with company taxes at the end of the year.
TIP

:

To keep better track of your sales transactions, check out an article on the accounting cycle of a small business.
Invoice example
Below is a sample invoice and a walkthrough of how to write an invoice. It includes all the parts commonly found on an invoice sheet. This is a good format to follow when you start sending your own invoices.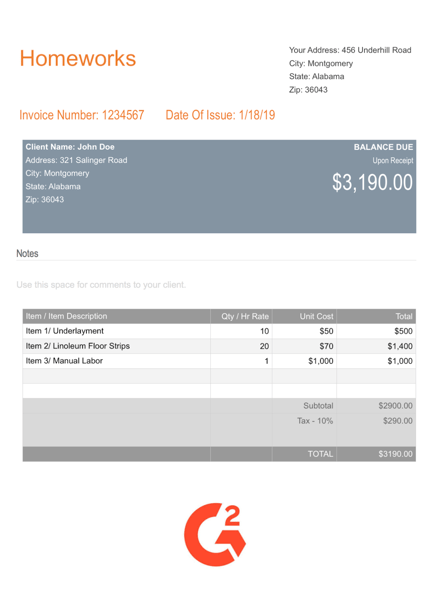 1.) Company Name and Address:
The very top of an invoice should always include the company name and address. Whether you are sending an invoice or receiving one, it's important to identify the name and physical address of the supplier if you need to get in contact.

2.) Invoice Number and Date:
Below the company name and address, the invoice should next include the invoice number and the date the invoice was sent. The invoice number is a unique code assigned to each invoice. If an invoice does not have an invoice number, then it is not considered a legal document. Accountants use these numbers to ensure that the invoice is properly documented for tax purposes. It also makes it easier to track late payments.
Including the date on an invoice is equally important. The date of issue starts the payment countdown for the recipient. Some businesses also include a due date for the payment. This ensures payments are made in a timely manner and the overall invoice process runs smoothly.

3.) Client Name, Address, and Balance Due:
Below the invoice number and date of issue, it's important to list the client's name and address. The reason is simple: to ensure the invoice gets to the recipient. Users often integrate invoice and billing software with CRM software to store information about customers, services and transactions. The balance number should also be very clearly labeled at the top so that there are no discrepancies.

4.)

Items Purchased and Item Descriptions

:
Below the client name and address, there should be a list of items purchased and a description of those items. Make sure each charge is itemized. The description does not need to be long; a simple explanation should suffice.
If you see a pricing issue that might potentially arise, then it might be helpful to include notes that add to item descriptions and details of charges.
5.)

Final Amount Due with Taxes:
The last thing to include on an invoice should be the subtotal along with taxes or other fees. Spelling out all charges ensures transactions are clear and straightforward.

---
Takeaways:
Establishing a good invoicing process is the first step in ensuring more accurate and timely payments from your customers.
It is also the best way to record sales transactions and can help your accounting team when they handle taxes at the end of the year.
To start sending invoices today, make sure to check out our accounting software, and billing software to find solutions that can automate the manual process.
---
Ready to find more ways to help improve your company's accounting?
Check out our article on the 11 best free accounting software solutions for 2019!