Imagine this: you have a friend who's a marketer.
And they're in a bit of a pickle — they're looking for one solution to educate their customers, engage their leads, and train their remote employees.
Send them this article.
What is a webinar and how does it work?
A webinar (a combination of the words "web" and "seminar") is a video workshop, lecture, or presentation hosted online using webinar software. Often business-related, these sessions can be used to share knowledge, ideas, and updates with people around the world. Webinars can also be leveraged to build and nurture relationships, build authority around a brand, or demonstrate a product.
Hosting an online event is much different than hosting a physical one. While renting a venue and hiring a catering company isn't necessary, planning and hosting your own online webinar is easier said than done.
At the same time, the benefits of hosting a webinar are virtually limitless.
What is the purpose of a webinar?
From internal training to capturing leads, marketers from industries across the board use webinars for all kinds of purposes.
26%
of all webinars are in the software and technology industry.
Source: GoToWebinar
No matter what industry you're in, below are some of the many ways that you can use a webinar.
Present your newest product
It doesn't make much sense to expect all of your customers to book a flight to your conference every time you launch a new product. However, asking them for an hour of their time online to showcase your latest creation is a lot more manageable.
Product webinars are a chance for you to get everyone from your leads to your brand evangelists in one place. You're not only there to educate registrants on the latest updates, but also to answer questions.
Taking the time to have a discussion with your viewers and answer each question they ask can reassure current customers that they're in good hands while also pushing leads down the pipeline towards purchase.
Position yourself as the expert
Hosting a webinar around a topic – whether it's related to how to code a website or mental health – puts the presenter on a virtual pedestal. While some of those registrants choose to attend for support, many of your attendees are tuning in to hear what you have to say as a thought leader.
Even if your webinar is free, they're still giving you their contact information and time out of their day to hear what you have to say. Registrants trust that you're delivering information that is valuable, unique, and interesting.
Engage your audience
Unlike social media marketing or banner ads, webinars hold a different power over your audience: the power of scarcity. Social media posts are here to stay, and advertisements are hard to get away from. But live webinars promise a value above traditional marketing tactics, and that value is a much more unique one.
Showing up late, leaving early, or forgetting to attend your live webinar entirely means that your viewer – prospect, lead, or customer – is missing something. Other attendees now know something that they don't, and the person who's missed out is going to be feeling it.
Even if you choose to record your webinar and post it at a later date, it's like your viewer is choosing to watch a viral series on Netflix months after it airs. They'll be in the loop, but only after everyone else is. On top of that, they won't have the chance to ask questions or answer others', leaving them in the dark when it comes to interaction.
Webinars are meant to be a live and engaging gathering. Missing out on one can mean more than just missing out on a video.
Generate new leads
With no leads, there's no business. Leads can be generated by marketers in a multitude of ways, but attracting high-quality leads is something that marketers can struggle with.
Webinars that pertain to topics relevant to your business are a great way to generate the high-quality leads that marketers are looking for. Why?
The people who see that you're promoting your webinar will likely venture to your landing page and engage with your form by registering for the event. These are the people who are telling you that they're interested in whatever it is you have to say.
Some people may accidentally click on a link or download an asset and get pooled into your list of leads, but those who take the action to register and attend your webinar are as high quality as it gets.
What features can a webinar have?
The purpose of a webinar is up to the host, but the options to choose from are on a wide spectrum. This means that the tools you use to launch your webinar have to be flexible enough to provide you with features that will keep your audience engaged, no matter the topic.
Below are some of the features that a majority of webinar tools provide. Learn how you can take advantage of them while hosting your own webinar.
Text chat
Engaging an audience big or small can be done in a few different ways, but one of the most simple methods is by enabling text chat.
Doing this allows your audience to ask questions related or answer questions that you prompt. Without being in the same room, it's difficult to grab a presenter's attention with a question or an answer, but text chat in webinar tools makes it possible.
And, just like your question being addressed in a traditional meeting, answering questions that your audience has builds trust and authority.
Slide decks
Making an engaging webinar can be difficult. If your webinar is educational in one way or another, consider having a slide deck handy to present to your audience as you talk through it.
Having a slide deck also allows you to provide a clear agenda for your viewers, encourage engagement, and give the audience something to walk away with.
Recording
Traditionally, webinars run live so that the audience can ask the presenter questions and get answers in real-time.
Although watching a pre-recorded webinar becomes less engaging, the information being presented or discussed can be viewed by those who missed the live version, can be referred to later by your audience, or recorded with a guest who is unable to make the scheduled time. They can also be held more than once if you have an evergreen topic.
Screen sharing
If your topic requires a demonstration, screen sharing features in webinar tools will come in handy. Viewers will be able to see exactly what actions you're taking on your screen and follow along on their own if needed.
Screen sharing can be useful beyond demos, too. If you're sharing a video or presentation in a non-traditional way, screen sharing is a way to show your audience what you're seeing.
Additionally, if you're demonstrating more than one process or using more than one tool or file, screen sharing is often more effective than screenshots for viewers.
Whiteboard
If you're explaining a complex topic and want to do it live, using a whiteboard feature enables you and other hosts to take notes, illustrate ideas with drawings, or draw arrows to demonstrate a process.
Just like you'd be able to do in a classroom, the whiteboard feature that some webinar software provides allows your audience to feel like they're right there with you and gives them a clearer idea of your subject.
Surveys and polls
Having your audience answer a question in text chat can become a little chaotic, especially when your audience is on the larger end of the scale.
Providing polls during your webinar allows you to give set options for your audience to choose, and it keeps your results organized in one place. Polls and surveys give your audience an easy way to engage with your presentation and questions in a quick and orderly manner.
Webinar challenges
The benefits of hosting a webinar are plentiful, but they don't come without their own challenges, either.
From attracting people to your event and keeping them engaged, below are some of the most common challenges that webinar hosts face and how to resolve them before they even arise.
Technical issues
Webinars have a unique set of challenges, but technical issues are universal across industries, activities, and people around the world.
If you're organizing a webinar, the largest challenge you'll have to prepare to face is the challenge of technical difficulties. From an internet connection to operating software, the number of different issues you'll be confronted with knows no end.
Solution:
Prepare ahead of time by running through a few checks. First, check your environment: internet stability, camera positioning, lighting, and sound check should all be tested before launching your webinar at least a day beforehand.
Second, check your tech: your webinar tool's ease of use, chat options, poll and survey features, screen sharing, and slide decks should all be looked over at least one day before the event and again an hour before the broadcast.
Finally, check your audience. Ensure that your participants understand how to use each functionality that will be required of them beforehand.
Promotion
If a tree falls in a forest and no one is around to hear it, does it make a sound? If a webinar is broadcasted and nobody attends, did you even have a webinar? The answer to that second question is definitely "no".
Preparing a webinar means nothing if nobody sees or hears what you have to say. A majority of your webinar's success will come from promotions, just like any event's success would.
Promoting at the wrong time on the wrong channels won't get you high-quality leads. It might not even get you an audience.
Solution:
Hands down, make sure you're promoting your webinar.
Depending on the topic and host(s), there are a few different ways this could be done. For example, if the webinar you're broadcasting is generic thought leadership, even paid banner ads could get you the audience you're looking for.
But if you're broadcasting a live demo of your latest product launch, then email campaigns would be a much better bet. In terms of timing, start about four weeks before broadcasting – not too far away from the event to be irrelevant, but not too close that people will feel as though they're too late.
And, no matter what topic you're presenting on, share your event on social media. The more reach your landing page has, the more likely a great lead will come through. There's no reason not to promote on social: it's free, it's easy, and it's a great way to reach a wider audience.
A week before the webinar, up the ante on your promotion.
33%
of registrations occur the day before the webinar.
Source: GoToWebinar
Don't forget to send your registrants a reminder the day or even an hour before you broadcast.
Keeping your audience engaged
Our attention spans are shorter than ever, meaning that if there's a way for us to lose our focus, we will.
Holding someone's attention in a traditional meeting or presentation is one thing, but doing it virtually is another hurdle to jump over.
Solution:
The format of your webinar will determine the difficulty of this first step, but one of the things that keeps people engaged is including them in your conversation.
If there's a way that you can incorporate hand raising, a Q&A, or polls into your presentation, doing so will hold the attention of a viewer longer than if they were listening to one person speak for the entire session. Opportunity for participation can go a long way.
Additionally, make the visual appearance of your webinar appealing and exciting. Whether that means using GIFs, images, or videos, visual assets that can help explain what you're talking about will capture the attention of your audience.
Keep your webinar light-hearted and speaking directly to the audience can be a great way to help them feel included. Director of Marketing at Demand Drive, AJ Alonzo, says "A great way to break tension or lessen the stress on yourself is to have a couple of jokes prepared for the intro. Run them by the rest of the team, but having a few light comments ready to go while introducing guests, touching on housekeeping, or welcoming people to the event can put you in a more relaxed mood and help you navigate that awkward or uncomfortable feeling."
Finally, know that the webcam is a must for the presenter. Even with all of the above tools and methods, listening to a presentation without seeing the presenter is bound to lead to people leaving your webinar before long. Show yourself so that you have the opportunity to make a real connection with your audience.
Measuring success
It's not likely that you're making direct sales during your webinar, and a majority of webinars that companies broadcast are free. If you're not making any money during or immediately after your webinar, what does success look like?
Solution:
Start with your goal: what are you hoping to achieve with this webinar? Answers could range from brand awareness to generating revenue. Whichever question you choose to answer, set a key performance indicator (KPI) for it.
How you determine success should be settled on far before your webinar launches. Common webinar KPIs could include attendance rate, increased traffic to your site, number of qualified leads, or pipeline generated.
Tips for creating an effective webinar
The benefits of webinars can be taken advantage of and the challenges that arise can be resolved, but no matter how well you prepare, your success is never guaranteed.
If you're broadcasting a webinar for the first time or haven't seen the results you'd like in previous webinars, be sure to use these tips.
Know your purpose
Webinars are broadcasted for many different reasons, depending on the goals of the business hosting the webinar.
One of the first things to do when planning a webinar is to identify those goals, and then set KPIs so that you and your team can determine how successful your webinar was when it's over.
Once your goal and KPIs are set, it's time to get focused. What are you trying to provide for others?
Are you sharing knowledge around a person, idea, or tool? How can you present that to an audience in a way that is concise, informative, and helpful? Just like telling a story, your webinar should be structured to keep your presentation engaging and organized for your audience.
Whatever your goal may be for this webinar, it will almost always lead directly back to your audience. Make it known that this webinar is for them.
Don't just choose a title that catches someone's attention or captures their pain point, but make sure that it actually describes what kind of content your webinar will present. No matter how clever your title is, setting up false expectations endangers your reputation.
Rehearse
The webinar hosts who think they can wing their entire presentation are the same webinar hosts that see little to no success afterward.
Katie LoFaso, Senior Content Manager at Fairmarkit, advises to "Always host a dry-run with your speakers and presenters... As experienced or as senior as your presenters may be, this is a great opportunity to ensure everyone is on the same page." Day of, you need to "ensure everyone can get into the platform and dial-in to to make sure the audio works, run through the order of events so there is an agreed-upon flow, and assign any last-minute to-dos such as changes to content, updates to slides, etc."
Just like any presentation, preparation is critical, especially when the people you're presenting to are people that you're hoping will turn into customers.
48%
of people say webinars were least enjoyable when there was a poor presenter.
Source: WorkCast
Attend other webinars
Good artists copy, great artists steal. No matter what kind of artist you are, attending other webinars can inspire ideas you may not have had otherwise.
Find a few webinars with experienced hosts who have broadcasted webinars more than once and have a pen and paper ready to take notes.
Pay attention to the ways they interact with their audience, the way they frame their questions, and even the way their webinar's landing page is laid out. Work to implement everything that you admire into your own webinar.
At the same time, be keeping an eye out for things that you don't admire. Anything the presenter did incorrectly or said that came out the wrong way are things that you can practice avoiding if you make note of them.
Best webinar tools
The software designed specifically for webinars differs from web conferencing and audio conferencing tools in that they're created to have a focus on one authority and many viewers.
Like all software, there's no one-size-fits-all webinar tool that works for every business. Depending on your company's financial state, goals, priorities, and size, some software may be a better fit than others.
* Below are the five leading webinar software from G2's Spring 2020 Grid® Report. Some reviews may be edited for clarity.
1. Adobe Connect
Adobe Connect is webinar software designed to create general presentations, online training materials, web conferencing, learning modules, and webinars. Meeting rooms are organized in "pods", with each of the pods performing a specific role such as "chat", "notes", "whiteboard", etc.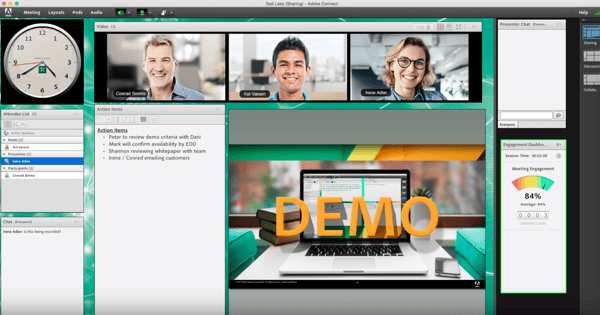 What users like:
"The 'Pods' are a core element that has helped me get people set up I can share files immediately, especially with the participants that seem to never read the memos to download files before the session."
– Adobe Connect Review, Joseph C.
What users dislike:
"It's such a comprehensive resource that it has taken a bit of time to learn how to switch from one hand to the other, to adjust the buttons and everything it provides."
– Adobe Connect Review, Ashu Y.
Recommendations to others considering the product:
"I recommend Adobe Connect for its excellent software and easy operation for the improvement of work and communication in video calls and to make high-quality meetings."
– Adobe Connect Review, Yusarys G.
2. GoToWebinar
GoToWebinar's software goes beyond the traditional webinar with features like videos, polls, and sharing capabilities to increase audience engagement. Data on attendees is can be collected after your webinar takes place, and GoToWebinar is able to automate the process of invitations and follow-ups right in your viewers' mailboxes.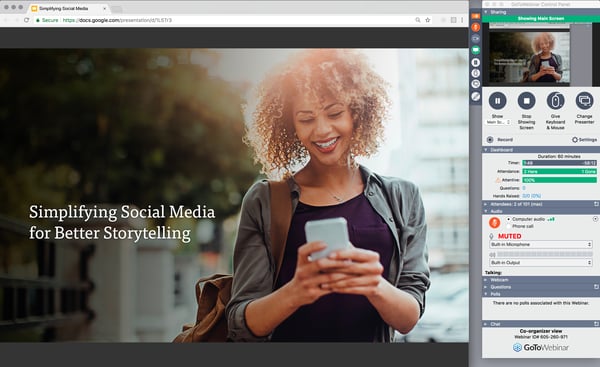 What users like:
"GoToWebinar is an inexpensive webinar platform that works great for small nonprofits. My organization hosts about 12-15 webinars per year and uses GoToWebinar to host. I like that you can have multiple speakers in different locations on the call at once and that you can seamlessly switch from speaker to speaker."
– GoToWebinar Review, Sarina K.
What users dislike:
"GoToWebinar is not as customizable as other platforms on the market. I have noticed that landing pages for the platform are relatively bare-bones compared to the other competitors in the digital meeting space."
– GoToWebinar Review, Joshua M.
Recommendations to others considering the product:
"GoToWebinar is a phenomenal software in terms of productivity, since it allows distance communication through video conferences with high-quality standards in terms of audio and video. Its cost is accessible to small or medium-sized organizations, so you can surely use your budget to purchase this product."
– GoToWebinar Review, Oscar V.
3. ON24
ON24 allows users to transform their webinar experience into something full of both interaction and data. Capabilities of this software range from a customized design of your webinar screen to more than twenty different webinar interactivity tools. ON24 includes interactive storyboards, role-based access, and personalized screen views for hosts.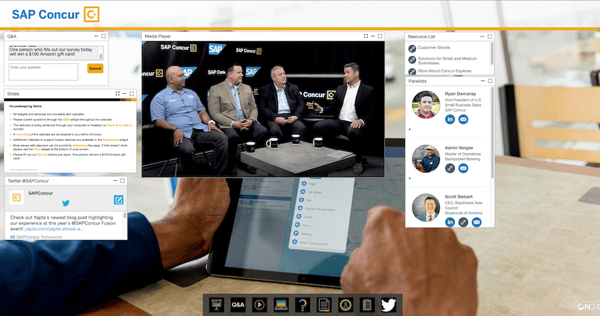 What users like:
"There are a lot of cool options like polling, surveys, adding media, and group chats. I love how we have the ability to brand our page by including logos, specific coloring, and the types of icons that we want to include as well. The 'lobby' is a great feature that not many webinar providers have. It gives your viewers the chance to consume content while waiting."
– ON24 Review, Chris K.
What users dislike:
"Our company primarily uses ON24 to promote webinars. I wish there was more flexibility in formatting the email and generating footers, but this drawback is more than compensated by On24's ease of use."
– ON24 Review, Joel F.
Recommendations to others considering the product:
"This platform is fantastic. I've used three different types of webinar platforms and ON24 is by far the best one. It is the most flexible in terms of the types of webinars you can host, how they are hosted and also not at all dependent on the location of the producer and speakers."
– ON24 Review, Leticia D.
4. Zoho Meeting
Both an online meeting and webinar solution, Zoho Meeting gives users the capability to train and engage their audiences. Through the software, hosts are able to both plan and promote their webinars.
Hosts can also add multiple organizers to help moderate their audiences, whether their presentation is being done with audio, video, or screen sharing. Features like hand raising and polls are available, as well as moderating when participants are able to speak during the presentation.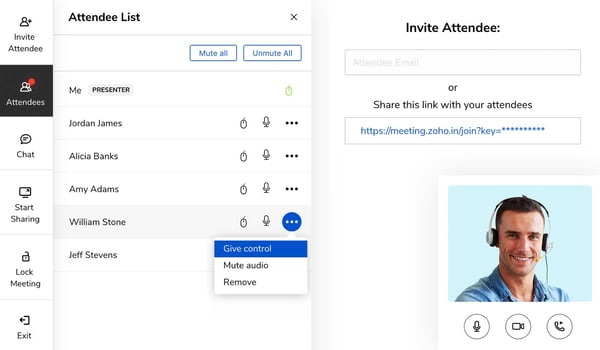 What users like:
"I appreciate that my participants don't have to download any software since it can be used directly from a web browser. This makes getting connected with new participants much faster. It also reduces any hesitation that my participants may have in utilizing the program."
– Zoho Meeting Review, Cyrene Amanda L.
What users dislike:
"The numbers of users who can join are very limited compared to what other platforms offer."
– Zoho Meeting Review, Lukman Y.
Recommendations to others considering the product:
"I recommend Zoho Meeting for any company or person looking for a fully efficient software like Zoho Meeting. This software is a real comfort for people to make online meetings from any place, at any time, and on different devices."
– Zoho Meeting Review, John B.
5. Zoom Video Webinar
Zoom Video Webinar provides hosts a plethora of benefits such as event assistance from Zoom's own team, host controls with full features, and access to reporting and analytics after webinars have taken place. Additionally, Zoom Video Webinar provides the option to monetize webinars with a Paypal integration.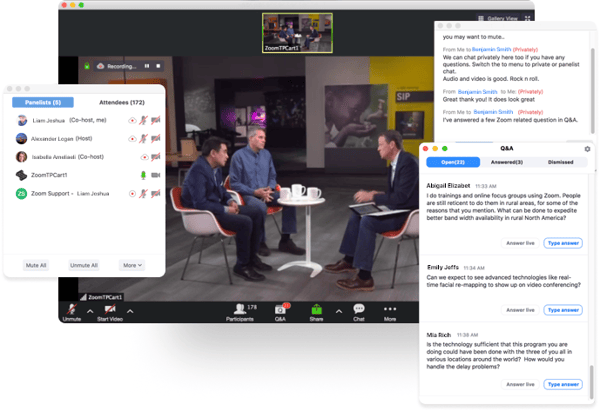 What users like:
"Zoom Video Webinar is really effective and very good for casual webinars anywhere thanks to the large number of components where you can use both in desktop and mobile applications. The user interface is very easy to use and each of the functions it has is a great help to improve the quality of the webinar that will take place."
– Zoom Video Webinar Review, Carolyn E.
What users dislike:
"Sometimes call quality becomes very poor and video calls are disconnected automatically. While using this tool on a mobile phone, it doesn't perform perfectly on cellular data connection. It requires a strong bandwidth of internet to perform perfectly."
– Zoom Video Webinar Review, Kevin J.
Recommendations to others considering the product:
"Unless you are handling a very large company, try out the free version of Zoom Video Webinar to see if it meets your needs and requirements before purchasing the upgraded version."
– Zoom Video Webinar Review, Ginger P.
Ready to tune in?
The potential your webinar can reach goes beyond your own imagination. But it's impossible for a webinar to exceed expectations without preparing appropriately.
Just like any other marketing effort, it's critical that your goals are set clearly, the way that you'll measure your webinar's success is determined beforehand, promotion is present on the proper channels, and you and other presenters are well-rehearsed before it's showtime.
Interested in checking out what other webinars look and sound like? See examples of G2's own webinars.