Podcasting has established itself as one of the most powerful tools for sharing new ideas in the digital age.
With over half of the US population as its listener base, podcasting has taken the internet by storm. This is due in no small part to the fact that a podcast can be almost anything the creator desires. Unlike traditional radio, there are no rigid guidelines to follow in terms of air-time, advertising, or even release schedules. This has cultivated an environment where the intent of the creators is able to take center stage, allowing for the production of some truly unique content.
What is a podcast?
A podcast is a form of on-demand, internet talk radio that is focused on a particular topic and is delivered in an episodic format.
However, this creative freedom can be daunting to someone unfamiliar to the medium. With so much possibility, it's hard to know where to begin your podcasting journey.
How to structure a podcast
A podcast has three main components: platform, series, and episodes.
The platform–such as a podcast hosting website–is where podcasts are stored and sorted by subject matter. Some platforms contain numerous topics and a wide range of different podcasts, while others might be a webpage dedicated to a single show. Either way, this categorization by topic serves the dual purpose of providing an umbrella under which a producer can organize their passion and knowledge while also acting as a convenient way for perspective listeners to locate the most interesting and relevant content.
These topics can be as broad as "politics" or as narrow as "competitive Magic The Gathering deck lists" and serve to form the basis of each podcast series. These series are all completely unique and original content that are produced by the creators of a podcast and are comprised of individual episodes–self contained audio recordings–that are periodically uploaded by the podcasters. When you listen to a podcast, you're listening to a specific episode.
While this basic structure might not being anything new, the ability to access a podcast anytime, anywhere on an internet-based platform sets it apart from more traditional audio-based entertainment like radio.
TIP:
Learn about these 11
podcast editing terms
in order to know exactly what you're doing behind the scenes.
History of podcasts
The word "podcast" is actually a portmanteau of the words "iPod"(Apple's popular audio playback device) and the near-ubiquitous moniker for radio, "broadcast". The term was coined by Ben Hammersley in 2004 when he wrote an article in the Guardian newspaper covering the "audible revolution." While you can use a variety of devices to listen to a podcast, Apple's iPod dominated the portable media player industry and became synonymous with easily accessed, on demand audio content; something that fit perfectly with podcasting's radical convenience and timeshifted format.
The power of timeshifting
One of the most disruptive new elements of podcasting when compared to traditional radio is that they are timeshifted. This is just a nifty way of saying you can listen to an episode whenever you want!
By putting the power of choice in the hands of their audiences, podcast hosts inverted the fundamental wisdom of broadcasting that dominated radio since its inception. There are only so many hours in a day for a live radio show to reach an audience, so producers had to cast as wide a net as possible in order to maximize the advertising revenue their parent station was receiving.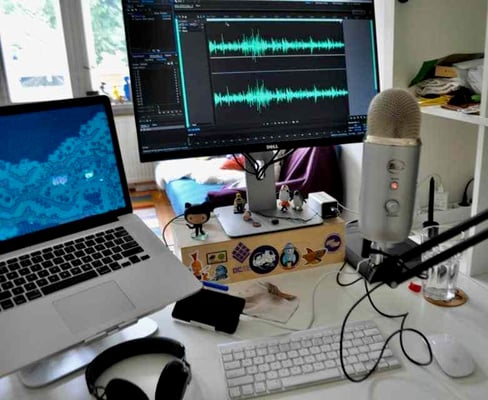 Source: Sociocast
Podcasting, aided by the power of timeshifting and largely free from the pressures of larger business entities, has been able to narrowcast or target niche audiences with content that is tailored to their specific interests. Instead of a radio station spending five minutes telling the story of a murder before jumping to a new segment, podcasts are free to devote forty minute or longer episodes–sometimes whole series–to dig into every element of a story.
3 types of podcasts
While a podcast creator can structure their shows however they want, there are a few common styles that can be found throughout all topics.
1. Co-hosted podcasts
This style of podcasting is characterized by the presence of two or more recurring hosts who work together to create a conversational feel. Co-hosted podcasts are one of the most common forms of podcasting. Generally, it requires very little in terms of cost or effort to set up. All you need are a few people interested in a particular subject and a microphone and you're off to the races!
2. Solo podcasts
Another common style of podcasting, solo podcasts are often used by people who have some knowledge or skill they want to share or are just looking for a place for them to put their ideas out into the world.
3. Interview podcasts
Interview podcasts tend to be a little harder to execute than their solo or co-hosted cousins for the simple fact that each show relies on the participation of an expert who may or may not have any affiliation with the hosts. Despite this, they can be an excellent source of information and inspiration as a varied cast of experts bring an enormous range of skills and knowledge to the table.
How to listen to podcasts
While most podcasts primarily live online at specific websites, there are a variety of tools you can use to find content. Podcasting apps and websites, referred to as "podcatchers,"compile up-to-date lists of series in one convenient location. A podcast producer can also upload their series and episodes to an independent website, host their own webpage for their content or use a process of syndication known as RSS (Real Simple Syndication) to instantly deliver their content to multiple different locations on the internet.
You can either listen to a podcast at these websites on your computer or download them and take them with you on a portable media player. Spotify podcasts, iTunes and SoundCloud are some of the most popular platforms for finding every type of podcasting content imaginable. Additionally, most smartphones have pre-loaded podcast apps that allow you to search for new podcasts online or listen to downloaded episodes offline.
TIP: While the majority of podcasts are audio-only, some podcasts have a video component to them and are referred to as vodcasts.
This mobility allows you to listen to them when you want; podcasts can be the perfect background content to add interesting ideas to an otherwise boring task such as cleaning or commuting. However, the content on some podcasts can be very thought-provoking, and might require note-taking or an extra listen for their knowledge to really sink in.
Subscriptions
If you're worried about how to stay up to date on your favorite podcasts, don't be! Most websites and podcatcher applications have an option to subscribe to a particular podcast, which is a system of automatic notifications that will alert you whenever a new episode in a particular series is released.
Are podcasts free?
The short answer: yes, podcasts are almost always free to listen to!
The long answer: monetization of any kind has been a recent introduction to podcasting. In fact, podcasts tend to eschew traditional pre-recorded radio advertising in favor of partnerships or sponsorships that simply have the show's host reading a short statement or even talking organically about the product or service.
Some podcast platforms might charge you a small monthly fee for premium features, but chances are there's a way to find the content you're looking for without spending a dime.
Listen up
Having an independent, easy to use platform that allows creators to explore whatever content they want while at the same time empowering audiences to listen at their convenience has fundamentally changed the landscape of audio recording. The time is now to make your voice heard and share your ideas with the world.
Interested in making your mark on the digital landscape? Check out our podcasting 101 guide to get everything you need to know!