Nonprofits? Charities? What's the difference?
It's not just a preference of words, they're actually two different things. Surprised? Most people are. The world of nonprofits can be confusing for anyone who hasn't worked in the field before. If you're ready this article, you probably have plenty of questions. What is a nonprofit organization? What are the different types of nonprofits?
Understanding what a nonprofit organization is and what qualifies as a nonprofit can help clear up some of the confusion.
Looking for specific information about nonprofits? Use the links below to jump ahead:
What is a nonprofit?
Nonprofit organizations are a tricky thing to pin down because the term covers a variety of different business models. Though there are many classifications of nonprofits, most can be described using the same umbrella term.
Nonprofit organization definition
A nonprofit organization refers to an organization whose mission focuses on furthering a social cause or a shared goal or mission.
In total, there are actually more than 25 different nonprofit classifications that the IRS uses to differentiate. And though there are a variety of nonprofit types, there's certainly a trend when it comes to what causes they serve.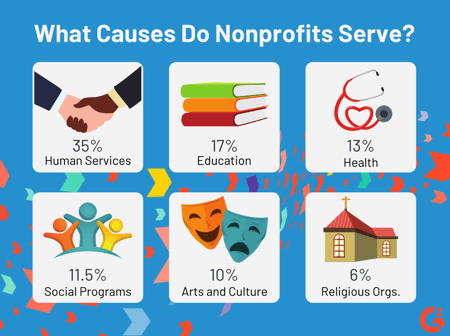 Data Source: Council of Nonprofits
No matter what causes a nonprofit chooses to support, there are a few base-line rules that every nonprofit organization must follow.
In order to qualify as a nonprofit, an organization must meet the following three criteria.
The organization must be a private organization separate from the government
The organization must be an established, self-governing body
The organization must not distribute profit to anything else other than the advancement of the organization.
There are countless other legal qualifications required in order to be recognized as a nonprofit organization. However, if your organization does not meet the baseline criteria listed above, there's no chance of it being recognized as a nonprofit.
How are nonprofits and charities different?
The terms nonprofit organization and charity are used so interchangeably, some people think they are the same thing. That's not the case. The term charity is reserved specifically for nonprofit organizations that work to provide aid or benefit to the public.
What are some examples of charity organizations?
Churches
Hospitals or medical research organizations
Educational foundations
Public schools and universities
Charities fall under the nonprofit designation known as 501(c)(3), also known as a "true nonprofit." When people think of nonprofits, they are often thinking about 501(c)(3)'s. Not all nonprofit organizations are tax-exempt, but all 501(c)(3) nonprofit organizations are.
On the flip-side are nonprofit organizations like The Better Business Bureau, that provide a public good or service, but are not considered a charity. These nonprofit organizations are given a different distinction because while they do work toward a shared goal or mission, they do not serve the broader public good.
Your local hospital or public university serves the general public toward a mission of social good, which is why they are a charity. An organization like The Better Business Bureau focuses specifically on promoting the betterment of local businesses, which is why they are only considered a nonprofit organization.
Very simply put – all charities are nonprofits, but not all nonprofits are charities.
What does a nonprofit organization do?
Now that you understand what nonprofit organizations are, it's time to dig into what they do.
Overall, there's no unified list of functions that nonprofit organizations fulfill. Different nonprofit organizations provide unique value to their communities. The Boys and Girls Club of America focus on youth programming and education, whereas the Alzheimer's Association is focused on finding a cure for and raising awareness about Alzheimer's.
They each promote social good and progress through their work: and that's the primary function of nonprofit organizations. No matter what the specific mission of a nonprofit may be, the common theme is the promotion of the greater good.
Nonprofit organizations help the greater good by:
Fundraising money to support charitable causes
Connecting people with their community
Spearheading research
Educating donors
Identifying public needs
Raising awareness
Nonprofit organizations do all of this with funding provided by donors. A common misconception about nonprofit organizations is that they don't turn a profit. That's not the case. The phrase nonprofit simply means that none of the organization's net profits from donations, membership fees, fundraising, or any other business activity will be used to pay a specific individual.
Companies that run for-profit often do so in an effort to turn a profit for the benefit of owners and shareholders. Nonprofit organizations don't have owners, which means their revenue relies heavily on the goodwill and charity of others.
Looking to help support your favorite nonprofit organization? Discover how to create a Facebook fundraiser.
Nothing but nonprofits
Finding the right talent in the nonprofit sector isn't easy. Read our guide on recruiting for a nonprofit organization.
This is just the beginning! We'll be covering anything and everything nonprofits for the next several months. Interested in getting updates on when we publish new stuff? Scroll to the bottom of this page to subscribe to the G2 Learning Hub newsletter and receive new articles every week.