Roads. Railways. Bridges. Highways. Skyscrapers.
What do these seemingly random structures have in common? Well, all of them have been touched by the work of a civil engineer at some point in their design or construction.
Thanks in part to civil engineering, we can rest assured knowing that the buildings and roads we use every day are built to last and safe to use. But having a hand in the design and construction of a structure only skims the surface of what is required of a civil engineer on the job.
If you're curious to learn what exactly a civil engineer does, you've come to the right place. In this article, we will walk through the main responsibilities of a civil engineer, share salary information, and outline what steps are necessary to earn the title.
What do civil engineers do?
Simply put, a civil engineer is responsible for the design, construction, and maintenance of man-made infrastructure. Most of the work is project-based and commissioned by public (local or state government) or private parties (a privately-owned business). It's a civil engineer's job to oversee project execution from start-to-finish while meeting the client's budget expectations.
In most cases, time on the job is split between working in a corporate office and going on-site to oversee the development of a project. This means that a civil engineer is very likely to be working hours beyond the typical 9-to-5 to meet project schedules and deadlines. They are often required to work in large teams consisting of other engineers, contractors, surveyors, and architects to keep tabs on every aspect of the project and ensure its completion.
Civil engineering skills
Civil engineering is a complex field with many disciplines that are tied to specific areas of the industry. Someone who works in the environmental sector could have very different day-to-day responsibilities from a civil engineer that works in transportation or construction.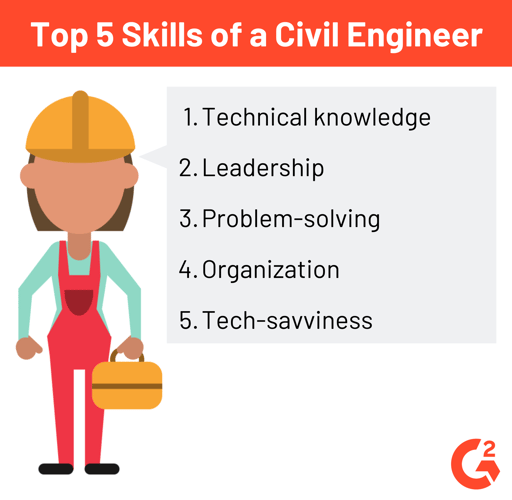 Despite the difference in responsibilities across the industry, there are a handful of overarching skills that almost every civil engineer should have:
Technical knowledge
Technical knowledge is the backbone of a good civil engineer. Unlike other professions, what you learn in school doesn't fly out the window the second you graduate. Many of the skills learned in college related to math, physics, etc. will be applicable to your day-to-day on the job. Additionally, there are many opportunities to get special licenses and certifications throughout your career to help keep your mind sharp and stay on top of your game. We'll touch more on these opportunities later.
Leadership
Engineering projects have a lot of moving parts and require a strong leader to make sure everything is running smoothly. On any given project, there could be any number of people that you have to manage including other engineers, contractors, and architects. If you aspire to climb the corporate ladder and eventually be in charge of projects, you need to hone in on your management and leadership skills.
Problem-solving
In a perfect world, every project you get assigned to would go off without a hitch. However, the world isn't perfect and things go wrong all the time. A good civil engineer has the ability to think on their feet and make the right decisions when things don't go according to plan. Strong problem-solving skills could be the difference between hitting and missing an important project deadline or budget constraint.
Organization and time management
As mentioned earlier, civil engineering work is often project-based and tied to strict deadlines to meet the demands of the client. Regardless of which subsection of the industry you may find yourself in, it's important to be well-organized and have the ability to manage your time effectively.
Tech-savviness
Technology is fundamental to the civil engineering industry and plays a part in nearly every stage of a construction project from start-to-finish. You don't need to be a software expert from the get-go, but you should aim to learn quickly and become more tech-savvy as you gain experience using various software solutions.
TIP: Building design and building information modeling (BIM) software is commonly used in the civil engineering world as it allows users to generate digital 3D representations of different buildings and structures. Discover the best BIM software solutions on the market on G2:
How to become a civil engineer
The road to becoming a civil engineer is a straightforward one. It requires a high degree of commitment to getting an education and internship experience before you can start searching for a full-time job in the field.
Education requirements
In order to secure a job as a civil engineer, you need to earn a bachelor's degree in civil engineering from an accredited school. Most colleges offer undergraduate degree programs specific to civil engineering that are heavily focused on math, physics, architectural design, and dynamics.
Internship experience
Most entry-level civil engineering jobs will require that you have earned some internship experience during your time as an undergrad. Internships give you the opportunity to gain hands-on experience and explore a specialty within the civil engineering field that might be of interest to you.
Higher education and certifications
Seeking higher education is recommended, but not required in the civil engineering field. Most employers will hire you without a master's degree, but getting one can help you stand out among other applicants and lead to a higher salary.
For further professional development, civil engineers have the option to become licensed through various certification programs. Whether or not this is necessary will vary greatly by the state you live in and the sub-sector of civil engineering that you work in. Be sure to double-check with your state's licensing requirements to see what applies to you.
Administered by the National Society of Professional Engineers, the Professional Engineer (PE) license is one of the most common and sought-after credentials in the industry. To obtain a PE license, a civil engineer must have a bachelor's degree, four years of professional work experience, and pass two intensive competency exams.
Civil engineer salary
According to the U.S. Bureau of Labor Statistics, the median annual salary for a civil engineer as of May 2018 is $86,640. The top 10% of civil engineers earned an average annual salary of $142,560, while the bottom 10% earned $54,780.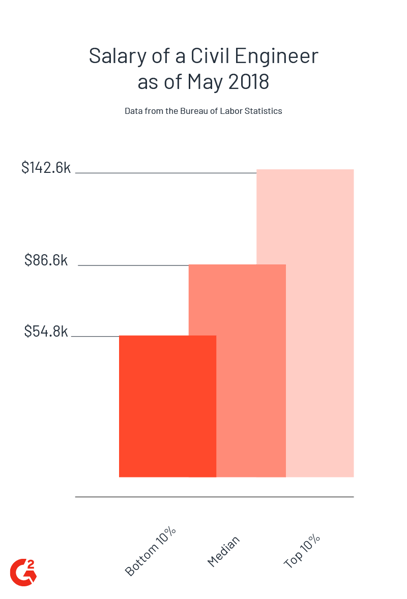 It's important to note that salary will vary greatly based on industry and geographic location. The values listed above are averages.
Grab your construction hat
A career in civil engineering can be both long and rewarding for the right individual that is willing to put in the work required to be successful. If you have a knack for math and physics and a desire to have your hand in building the world around us, this could be the right fit for you. After all, these roads and highways aren't going to build themselves!
One of the most popular civil engineering jobs is to become a cost estimator! Learn all about the skills you'll need, the degree you should have, and your potential salary!