If your company doesn't have a digital presence, does it really exist?
Obviously it does, but you are doing your company a huge disservice by not creating a user-friendly and engaging website. Knowing how to make a website for your brand is an absolute must. There are a lot of steps to creating the perfect website, starting with deciding on a domain name.
Once that step is out of the way, choosing the best web host for you and your needs is next.
What is website hosting?
Website hosting is a service that allows organizations, companies, and individuals to create and post a website onto the internet.
If you're interested in learning something specific about website hosting, you can skip ahead to:
What is website hosting?
To put it in simple terms, the website host is where your website physically lives. All websites on the internet need a web host to be able to exist on the world wide web. These websites are hosted, or stored, on a unique type of computers called servers, making it possible for your website to be deliverable to visitors.
Web hosting services provide a specific amount of storage space, which is where you'll upload your HTML, CSS, and media files. Doing so allows you to be connected to the internet.
Web hosting services typically offer a variety of hosting plans to customers with varying levels of support, access, and pricing, depending on your exact need. Some also offer managed hosting services, which provide advanced support services to their customers, including automated backups and security.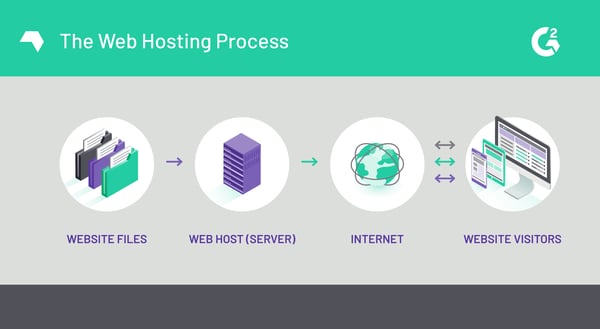 Types of web hosting services
In addition to the packages, features, and level of management offered by various web hosting services, there are also different types of web hosting services.
Shared hosting
When you choose shared hosting, your site is located on the same server as various other websites. Since you'll be sharing the cost of the server with others, this option is best for beginners and those on a budget. While this route may save you money, it's important to consider that the resources on a shared hosting platform are limited and you could potentially run into problems if the servers are having issues due to an increased amount of traffic or a faulty code.
VPS hosting
VPS (Virtual Private Server) hosting still shares sites on one physical server, but it houses them on multiple virtual machines that are separate from one another. Because there is typically a limit of 10-20 websites per server, the demand on each server isn't as high as the demand on shared hosting servers, and all resources are split evenly. Due to this, VPS hosting is typically more expensive than shared hosting.
Dedicated hosting
As you may be able to tell from its name, a dedicated host is a server you have all to yourself. One of the advantages of going this route is that no other website can hog all of the resources or pose any sort of security threat. However, renting a server that is completely yours, and yours alone, is more expensive.
Cloud hosting
Similar to VPS hosting, cloud hosting puts your site on a virtual machine. However, while VPS puts websites on one physical server, cloud puts your website on an entire network or computer to pull power from.
One advantage of choosing cloud hosting is the possibility for higher scalability. Several computers used to create a powerful virtual server that can provide resources on a needed basis. Plus, you will only be billed for the resources you end up using.
What are some web hosting services?
There's no denying that there are a lot of web hosting services to choose from and it can feel a little overwhelming deciding which one to use for your website. These web host providers offer space on computer servers that will store and operate websites, in addition to a connection to the internet so that your website can be accessed by visitors and potential customers.
What is self-hosting?
If you aren't interested in using a web hosting platform, there is the option of self-hosting your website. Basically, when you self host, you pay a web host company to host your website so it can be viewed online. Doing things this way means that you own your website and there are a vast amount of capabilities as to how you can personalize it and make it your own. When you self host, you have access to all of your website files, in addition to the servers they are stored on.
Advantages of self-hosting
Like anything, there are pros and cons to going the route of self-hosting. Some advantages of self-hosting include:
You can implement a design that is truly your own.
Being able to add plugins or tools to improve the functionality of your site whenever you feel like it.
Set up Google Analytics or other digital analytics software, gain access to Google Search Console to track traffic, and set up and establish other KPIs.
The ability to monetize your site, add e-commerce tools, and create landing pages around specific products.
The option to set up an email newsletter and have access to your visitor's email addresses.
Disadvantages of self-hosting
On the flip side, some drawbacks to self-hosting are:
You may not have the proper tools, or knowledge, to fully secure your website and run it on an HTTPS URL.
You need to back up your website on your own time, which can save you if you experience any crashes or hackers in the future.
If your site does experience any issues, or it goes down, the responsibility is all on you to get it back up and running again.
Depending on how you go about self-hosting, it could be expensive. The price can range from free for non-profit organizations to several hundred dollars for a dedicated server.
The hostess with the mostess
The process of building a website can be daunting, as there are a lot of steps to consider. When deciding which direction to go with web hosting, keep these factors in mind and choose the option you feel will work best for your business, brand, and the overall goal of your website.
Once you move on the building of your website, check out these 42 must-have website features to really make your website stand out from the crowd.