Waterfalls have so much more to offer than an intense moment in almost every action comedy.
For example, we have the waterfall method — a popular technique, approach or methodology that exists within the project management realm.
Stages in the waterfall methodology:
Requirements
Analysis
Design
Coding/Implementation
Testing
Operations/Deployment
Maintenance
It can be difficult to differentiate between the many project management methodologies, as well as decipher which one will work best for your next adventure.
But if you're considering the waterfall method, look no further than this article for a cohesive explanation of the strategy, as well as insight into when it could work for your organization.
What is the waterfall methodology?
The waterfall methodology is a method of project management used throughout the software development life cycle (SDLC). In other words, you would really only use this method in industries such as product development, or software engineering.
The waterfall method emphasizes completing tasks sequentially and logically. Tasks are completed in a specific order, and employees or managers do not return to a previous task after they have completed what came before.
Many compare the project management strategy "agile" against "waterfall." The image below briefly displays the differences between the two.
Image courtesy of Segue Technologies
In another piece, I compared the waterfall method to putting on makeup. Say your routine is foundation, blush, then mascara. Foundation would be step one, and you wouldn't move on to step two until your foundation has been fully applied.
The waterfall method consists of seven individual stages that do not run at the same time. Let's dive further into those stages and what happens during each one.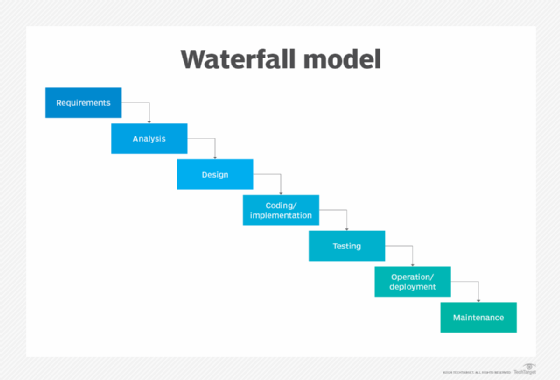 Illustration courtesy of TechTarget
Requirements
Like any project methodology, the waterfall method asks those executing it to have clear project requirements laid out before beginning.
In the case of the waterfall method, you're recording the requirements of the app or engineering product you're developing. The requirements are typically recorded in a requirements document which houses all data as to what the application should be able to accomplish.
Analysis
Analysis is the second stage of the waterfall method. During analysis, managers look over their system's specifications to determine the business logic that will be used to meet objectives. In this stage, project managers will also determine the feasibility of the project by analyzing whether they or can procure the necessary resources. (See: How to Conduct a Feasibility Study for more on that.)
Design
As I mentioned earlier, the waterfall method is very specific. In the design stage, those working on the project will create a design specification document (DSD) to record the logistics of programming languages, hardware, data layers, and more. The DSD will also name the specific ways the business logic created earlier in the project will be executed.
Coding/Implementation
In this stage, the responsible parties will develop the source code that will be used to make the product or software functional. They will use the aforementioned service integrations, business logic, and any other specifications to help them write code that is, well, up to code.
Source code example courtesy of Wiktionary
Testing
After the code has been written, it's time to test and retest it to ensure everything works as it should. As bugs are found and reported, coders will have to rewrite code and maybe even go back to the drawing board in a few places.
Systems run beta tests, quality assurance tests, unit tests, and whatever else is necessary to that specific project.
Operations/Deployment
In this stage, the project is deployed to real users. All tests have been run and passed, and the product is ready to function on its own.
Maintenance
As the project is deployed, issues may arise that were not initially obvious in the testing phase. As these issues are reported, creators will analyze and address them to improve user experience.
Creators are also responsible for perpetually monitoring performance to ensure systems are constantly performing as they should.
Brick wall, waterfall…
...now you really know it all! The waterfall method is a disciplined approach to project management that requires you to adhere to strict deadlines in order to eventually turn over a quality result.
You should feel comfortable carrying out this method for any projects which have linear steps, as opposed to fluid steps that need to be carried out in tandem.
Ready to turn your project specifics in to the higher-ups? Learn how to put your best business foot forward by writing a business case.