Cyber threats are a mirror of security gaps, and you should always cover them before they get out of control.
Even a few minutes of a cyberattack can drain the reputation you build for years. So it's important to be proactive and cautious in fixing these security issues and guarding your organization's cybersecurity.
To do that, you need a vulnerability scanner. This software assesses your network and systems for vulnerabilities and reports the risks associated with them. There are many vulnerability scanning tools available in the industry, but as every organization's need varies, so does the best choice in vulnerability scanners.
Let's take a deep dive into learning everything about vulnerability scanning to get your priorities in order and help you select the best fit for your team.
What is a vulnerability scanner?
A vulnerability scanner is a security tool that examines your IT assets for flaws, weaknesses, or CVEs (Common Vulnerabilities and Exposures) that may put your organization's cybersecurity at risk.
These scanners help you remediate vulnerabilities and prioritize the process according to their risk level. Once the software completes the scan, it produces a measure of risk associated with identified vulnerabilities and suggests remediation to mitigate the risks.
When vulnerability scanning is done regularly with proper vulnerability management, it helps protect your organization against new threats emanating from frequent updates in the software. Also, the tool cross-checks with one or more vulnerability databases (NVD and more) to identify if there are any known vulnerabilities.
NVD, or the National Vulnerability Database, is the U.S. government repository of standards-based vulnerability management data represented using the Security Content Automation Protocol. This data enables the automation of vulnerability management, security measurement, and compliance.
Vulnerability scanners allow organizations to meet the evolving security standards by monitoring and detecting vulnerability and remediating them to maintain network security. Moreover, vulnerability scanning is also one of the first steps in penetration testing.
What are the types of vulnerability scans?
Whether you have chosen an open-source tool or a licensed security scanner, there are different types of vulnerability scans that you can perform with them. The type of vulnerability scan depends upon the scope, environment, and other factors.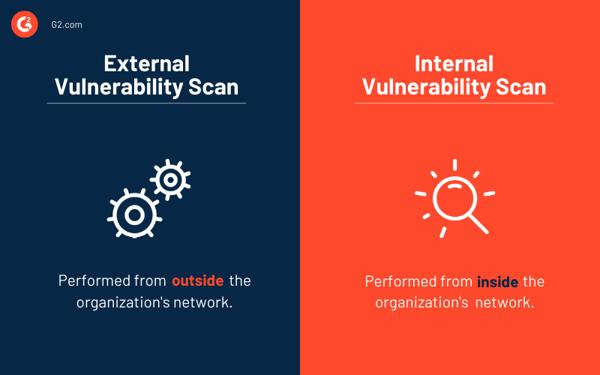 One can classify them into the these types:
External vulnerability scan vs. internal vulnerability scan
External vulnerability scans help companies identify and fix the vulnerabilities that expose their network to attackers. These scans are performed from outside the organization's network, including IT assets, web applications, ports, and more.
An external vulnerability scan helps identify possible surface attacks in your network defenses, such as open ports in the network's firewall, as well as enhances web application security.
Also, the adoption of the cloud has fueled the need for external vulnerability scanning as the presence of misconfigurations and insecure databases have largely increased.
Internal vulnerability scans allow you to tighten the security of applications and systems, mainly from the inside of your enterprise's network.
These scans help you detect the security vulnerabilities that hackers may use for their advantage once they have penetrated through the security holes or the external defense framework. These scans also assist in identifying the threat posed by malware or insider threats modeled by disgruntled employees or contractors.
Internal vulnerability scanning primarily detects the security issues that can motivate the attacker to move inside the systems or servers, get privilege escalations, and more once they get access to the local network.
There are standards such as the Payment Card Industry Data Security Standard (PCI-DSS), which mandates both internal and external vulnerability scans quarterly, as well as when new updates are installed, network topology changes, or firewall rules are modified. Here, you must use tools from a PCI approved scanning vendor (ASV) that adheres to PCI DSS requirement 11.2.2 to perform your external scans.
Unauthenticated vulnerability scans vs. authenticated vulnerability scans
Unauthenticated vulnerability scans explore and detect services open on a computer over a network by sending packets on their open ports. It determines the version of the operating system, the software's version behind respective services, open file shares, or any other available information without authentication.
Following that, scanners cross-check with the vulnerability database and identify vulnerabilities mostly likely to be present.
Authenticated vulnerability scans accumulate more detailed information on the version of the OS and software installed by using login credentials. Authenticated scans deliver comprehensive information about the system's vulnerabilities, as they can access secured applications, files, and more.
Sometimes, it's possible that some programs might not be accessible over the network but can still divulge vulnerabilities exposed to other attack vectors, such as, opening malicious web pages or maliciously crafted files.
To manage such vulnerabilities, some vulnerability assessment solutions deploy lightweight software agents on computers to get a complete picture of an organization's cybersecurity landscape.
Comprehensive vulnerability scans vs. limited vulnerability scans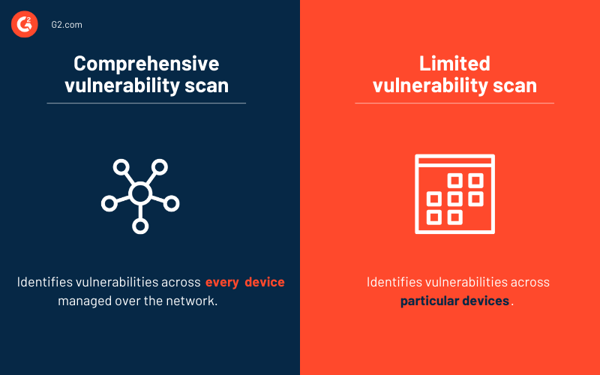 Comprehensive vulnerability scans explore, examine, and identify new vulnerabilities across every device managed on the network. These include servers, desktops, laptops, virtual machines, mobile phones, containers, printers, firewalls, switches, and more.
Here, you get a complete scan report on the operating system installed, user account information, and open ports, among other things. Comprehensive vulnerability scanning may use a lot of bandwidth, but the plus is, it doesn't leave any risk overlooked.
Limited vulnerability scans primarily focus on particular devices like a server, workstation, or software. These scans are done to obtain a highly specific security posture of the tools and protect them better against possible risks.
What is the purpose of vulnerability scanners?
The purpose of vulnerability scanners is to safeguard your organization's security framework against continuously evolving threats. It checks your IT environment for known vulnerabilities regularly and enables you to remediate them at the earliest. Here is how a vulnerability scanner fulfills its purpose.
Detects security threats: Continuous scans help you in vulnerability detection and address emerging vulnerabilities both from an external and internal perspective.
Discovers unidentified devices: Vulnerability scanners identify rouge machines connected to your network without proper authorization. It helps you prevent your network from possible threats that these devices may pose.
Verifies network device inventory: Vulnerability scanners help identify all devices in the network with specific details such as device type, version of the OS, hardware configuration, patch level, etc.
How does a vulnerability scanner work?
Vulnerability scanners work by a three-step mechanism that converges toward your organization's goal of identifying the vulnerabilities and the risk that they may pose. These three mechanisms collaboratively allow you to safeguard your organization's cybersecurity.
1. Detection
The first step of vulnerability assessment tool is to conduct a vulnerability test for detecting and identifying possible attack surfaces. It enables you to determine the security gaps across your network and fill them before attackers can penetrate it.
2. Classification
In the second step, the vulnerabilities are classified to help admins prioritize their action course. These vulnerabilities could include missing updates, script errors, or anomalies. while the threats are prioritized based on age and the risk measure.
3. Remediation
Generally, vulnerability scanners do not provide a way to address identified vulnerabilities automatically. They are focused more on monitoring and providing details for the admins to take the step further. But some scanners handle configuration errors, thereby saving admin hours of work by reaching multiple devices simultaneously.
How do you perform a vulnerability scan?
Performing a vulnerability scan requires a standard set of repeatable and scalable processes to address the growing needs of your organization. Execute the steps mentioned below to perform a network vulnerability scan in your organization and set a standard procedure:
Define the scope
It's essential to define the scope of vulnerability scanning before scheduling it. You need to identify all assets that are a part of the information system of your organization. You can do it with your assets register with additional columns for threats and vulnerabilities to maintain a centralized repository of assets, vulnerabilities, risks, and remediation measures.
Create a standard procedure
To create a clear and structured methodology of vulnerability scanning, you should have a fixed standard procedure, policies, and a course of action to implement it.
First, you need an official owner who would be responsible for executing the SOP mentioned. Remember, this SOP should be approved by the higher-level authorities and should be according to different compliances like HIPAA or PCI-DSS, for example.
This standard procedure would define how frequently you should conduct these scans, type of scans, usage of software solutions, and steps after the scan is complete.
Identify the type of vulnerability scan needed
Before going straight into scanning your assets for vulnerabilities, you need to identify which type of scan would yield maximum benefit.
There are four types of scans you can do based on your need.
Network vulnerability scans: The scope of network vulnerability scans includes the hardware and software that are part of the network, their communication channels, or network equipment. These include hubs, switches, firewalls, routers, web servers, clusters, and so on.
Host-based vulnerability scans: These scans are often confused with network scans. In reality, host-based vulnerability scans identify vulnerabilities in the hosts on a network like computers, systems, laptops, etc. The scope of investigation in these scans includes configuration, directories, file systems, and other information. Through these, you can identify the dormant vulnerabilities and misconfigurations that attackers can exploit.
Wireless-based vulnerability scans: These scans include knowing all wireless devices in your network, mapping out the attributes of each device, and identifying any rogue access points in the network that hackers might use to listen on your wireless traffic.
Application-based vulnerability scans: These scans include detecting application vulnerability on a system; based on the results, an application pen testing is carried out to build more robust application security.
Configure the vulnerability scan
You can address the configuration of a vulnerability scan based on the general objectives you want to achieve and the system involved.
First, you need to add a list of targeted IP addresses where the courses are hosted in the vulnerability scanning software. You must then select the port range you want to scan and the protocol that you would use.
The next step defines the targets on the specified IPs, like where it's a database, server, wireless device, or something other. With this, you can make your scan more specific to get accurate results.
Evaluate the risks associated with the scan
Performing a vulnerability scan can lay a substantial load on the target, forcing it to potentially reboot or suffer downtime.
You should take precautions while scanning production systems and those vital for the organization's operations. It's best if you perform the scans outside of working hours so the effect on the target is minimum, and there are fewer possibilities of an overload.
Initiate the vulnerability scan
Once you have completed setting the configuration and evaluation of risks, you can run the desired scan. Now the scan's duration depends on a variety of factors; it may take minutes or hours to complete. It depends on the scope of the scan, its intrusiveness, and more.
There are three phases of a vulnerability scan. First is scanning, where the tool will analyze the targets and gather necessary information. Then comes enumeration, when the tool mines for more specific details like ports and services these targets are running. Lastly, the vulnerability scanner will create a map of the vulnerabilities that are present.
Analyze the results
To analyze the vulnerability scan results, you need qualified resources who possess the knowledge about the scanned systems. Vulnerability scanning tools will automatically generate a priority list, but you need to check for any false-positives or false-negatives before prioritizing vulnerabilities for remediation.
You should also consider the possibilities and the effort required to exploit the vulnerability. Hackers will attack those that demand fewer steps and have higher gains for them. Similarly, it will help if you fix those vulnerabilities first that are open to exploitation publicly.
Create a remediation plan
Once you have analyzed the results, your information security staff should collaborate with the IT team to prioritize the remediation process.
It's best to use the CVSS (Common Vulnerability Scoring System) to prioritize the remediation measures. This standard system helps you quantify the severity of security risks associated with the vulnerability on a scale of zero to 10. Altogether, it would allow you to prioritize and expedite the remediation process.
It would help if you did not consider a vulnerability fixed after patching, run scans to gain assurance that they do not appear in the reports again. Some vulnerabilities can be complicated, and you may need multiple security patches to fix them.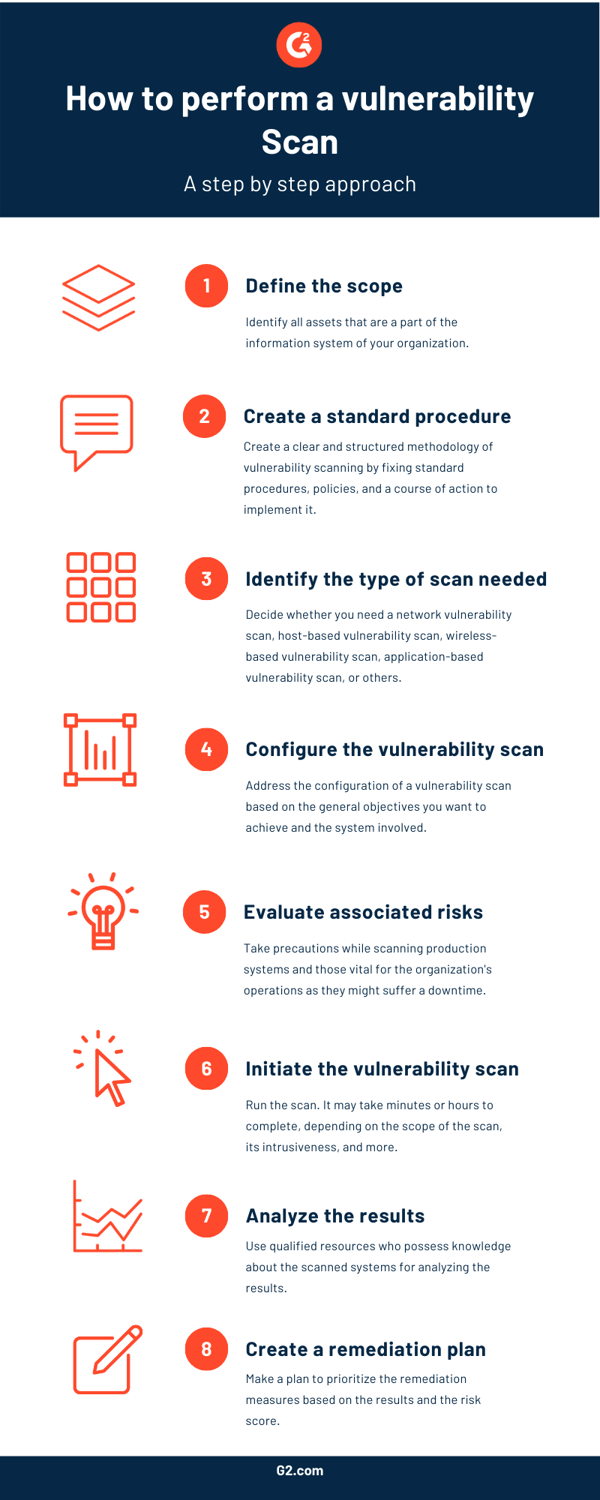 Top 5 vulnerability scanners
The list below contains real-user reviews from the best vulnerability scanners on the market. To be included in this list, a product must:
Maintain a database of known vulnerabilities.
Continuously scan applications for vulnerabilities.
Produce reports analyzing known vulnerabilities and new exploits.
* Below are the five leading vulnerability scanners from G2's Summer 2020 Grid® Report. Some reviews may be edited for clarity.
1. Nessus
Nessus is a vulnerability assessment solution used by security professionals to perform point-in-time assessments for quickly identifying and fixing vulnerabilities. It also analyzes and detects software flaws, missing patches, malware, and misconfigurations across various operating systems, devices, and applications.
Nessus offers features such as pre-built policies and templates, customizable reporting, real-time updates, and group "snooze" functionality. Altogether, it makes vulnerability assessment simple, easy, and intuitive.
What users like:
"Nessus provides efficient scanning of web applications, database servers, and network devices. I can build scheduled credential jobs and have my hosts added. I know the work always runs and produces the results that are needed. It helps me keep up with our organizational risks."
- Nessus Review, Raisa K.
What users dislike:
"The policy section defining custom policies can be cumbersome and not as intuitive as it should be. Would like to be able to search for plugins in the policies section, and not to have to scroll through thousands of plugins to find the correct one. Troubleshooting is problematic, and support tends to be slow because of the online chat feature."
- Nessus Review, Ian A.
2. BurpSuite
BurpSuite is an advanced set of tools used by more than 47,000 web security professionals to find and exploit vulnerabilities in web applications – all within a single product. It can be used to test and report on a large number of vulnerabilities, including SQLi, XSS, and the whole OWASP top 10. The enterprise edition performs recurring, scheduled scans across thousands of applications, with intuitive reporting dashboards, role-based access control, and scan reports.
What users like:
"As a penetration tester, I have to deal with a vast range of security testing tools. BurpSuite is by far the most favourable security testing tool among others. The reason for that is, I was able to capture some severe vulnerabilities by using a burp scanner while the dedicated scanners failed to do so. It's easy to intercept the traffic, manipulate the parameters, and send the same request repetitively.
Testing for SQL injection and XSS (cross-site scripting ) can't be easier as the user simply needs to indicate where to test and select the malicious list. External plugins and extensions can be integrated easily into a burp environment, increasing its effectiveness. By specializing in all these functionalities of BurpSuite, you can drastically enhance your skills as a penetration tester."
- BurpSuite Review, Gihan J.
What users dislike:
"The only problem I can see is the number of false positives it generates. Although in any vulnerability scanner, the user must manually check if the vulnerability actually exists. Still, if Burp Suite can reduce the false positives more significantly, without the user's interaction or by limiting the scope further, it would add a lot of additional value to an already top-notch scanner."
- BurpSuite Review, Isuru S.
3. IBM Security QRadar
IBM Security QRadar allows you to gain comprehensibility visibility into enterprise data across on-premise and cloud-based environments. The software detects known and unknown vulnerabilities and also goes beyond individual alerts to help you identify, prioritize remediation, and applies AI to expedite the investigation process.
What users like:
"IBM Security QRadar has a GUI that is easy to work with as compared to other SIEM tools. Qradar is a perfect tool when we consider scalability, customization, visibility, performance, and support. We can implement advanced correlation rules as per our requirement. We can do analysis very fast and efficiently because of its structure and visibility.
Various features like assigning, adding notes, hiding, and prioritizing alerts are beneficial while working on Qradar. The correlation engine is also good, and it's easier to deploy. Overall it's a useful tool for security and threat monitoring."
- IBM Security QRadar Review, Swapnil R.
What users dislike:
"The integration of new log sources and report creation can be complicated. You need to be very careful while running searches if multiple people are searching simultaneously. At times, things may get stuck and ultimately will lead to the cancellation of respective searches."
- IBM Security QRadar Review, Sachin A.
4. AlienVault USM (from AT&T Cybersecurity)
AlienVault USM Anywhere is a cloud-based security management solution that centralizes security monitoring of networks and devices in the cloud, on-premises, and remote locations, helping you detect threats virtually. It collects and analyzes data across your attack surface, allowing you to quickly gain centralized security visibility without any complexities.
What users like:
"Alienvault USM gives us the ability to monitor our on-premise and cloud infrastructure via a single web-based portal. It helps us to maintain our PCI compliance. We check our portal daily, and I also get email alerts about alarms generated by the system. The system is relatively easy to set up, and there are lots of plugins to translate the different log files generated by different manufacturers to give richer, more useful information.
Dashboards allow us to see trends and activity across all our areas of responsibility. We now get information from sources such as our Cisco Meraki switches, Office 365 Azure AD, One drive, SharePoint, Windows, and VMware systems. It's also possible to create customized alarms and filters to focus on the things that are important to you."
- AlienVault USM Review, Chris M.
What users dislike:
"At times, the online portal can be a bit sluggish or sometimes not respond at all. We have hit a wall when running scans at the wrong time and had to adjust groups and automatic scan times. We used to manually run scans on servers as we identified them, but had to relegate to adding them to groups to scan in off-hours to help system usability."
AlienVault USM Review, Eric M
5. Qualys Cloud Platform
Qualys' integrated approach to IT security and compliance enables more than 15,700 customers to simplify their security operations, achieve vulnerability management and lower the cost of compliance. The platform provides continuous visibility of all your IT assets. It is remotely deployable, and centrally managed, enabling you protect your IT systems from anywhere.
What do users like:
"I used this for corporate scanning, and I am satisfied with the performance and VA reports. False positives are very minimal even if scans are unauthenticated. The technical support is fantastic. What I like about Qualys VM is the dashboard presentation. It's terrific."
- Qualys Cloud Platform Review, Jinal D.
What do users dislike:
"The scan sometimes says it's successful even though it would not have done the scan; it shows old data that is not good when reviewing changes."
- Qualys Cloud Platform Review, Nitin S.
Strengthen your cybersecurity now
Choosing the best vulnerability scanner for your organization is paramount, as it would have an enormous impact on your vulnerability assessment and vulnerability management process.
You need the software that complements your organization needs, and delivers results as per your expectations. Select the best vulnerability scanner from the above, and make a wise choice in protecting your organization's cybersecurity from threats and attacks.
Now that you're well-informed about your vulnerability scanner options, make sure to take a look at the cybersecurity questions that you should ask your IT vendors before finalizing a deal.