We all know that social platforms are constantly evolving aka integrating the latest and greatest technologies to stay ahead of their competitors.
Think about it – they are competing for your time. While there might be different use cases, social media is a form of entertainment. Digital social interactions have advanced significantly over the years, from texting and instant messaging to video calls and even animated emojis.
So, it makes sense that virtual reality is the next emerging technology to transform the way we communicate.
What is VRChat?
VRChat is an immersive virtual reality social platform that allows users to interact with other 3D characters, or avatars, that represent their likeness. In the social game, players can explore many virtual worlds built by others also using the platform.
Since it's launch in 2017 by founders Graham Gaylor and Jesse Joudrey, VRChat has become widely spread in the gaming world and is heavily featured on streaming sites like Twitch and YouTube. This VR social platform relies heavily on user-generated content. You can customize your avatar and create your own world to be whatever you want.
"Imagine a world where anything is possible. Join a game of capture the flag in outer space. Share stories around a campfire while roasting marshmallows, then moments later experience a retro game of bowling with an alien and robot. " – Steam Community on VRChat
How to use VRChat
There are a ton of ways to use VRChat to connect with people all over the world. First, you'll need to download the software specific to the type of hardware you have. VRChat has support on a variety of different Virtual reality hardware options, including popular headsets such as Oculus Rift, HTC Vive, and Microsoft's Mixed Reality gear.
The social game also supports other hardware like keyboards, gamepads, and motion-tracking controllers. VRChat can be played seated or standing, and the play area is room-scale.
Some features of VRChat include:
Avatars with lip sync, eye tracking, and a complete range of motion/full body tracking

3D spatialized audio

Chat, collaborate, draw, sculpt, or watch videos

Play games like capture the flag, battle discs, bowling and more

Discover and explore hundreds of worlds

Create your own customized avatars, worlds, and games
Is VRChat still popular?
Although the game was founded in 2014 and launched in 2017, VRChat just closed on anadditional $10 million in Series C investment, bringing to total funding to just over $15 million in three rounds.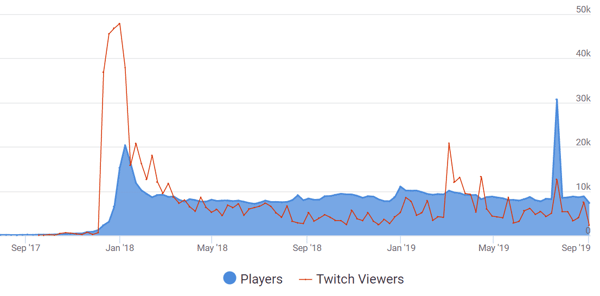 Image courtesy of SteamDB
VRChat went viral a few months after it's launch, primarily due to Twitch live streaming. You can see that shortly after the spike of Twitch views, there was a corresponding influx of VRChat players. VRChat memes played a big part in its viral trend. Yes, you read that right. If there's anything I know about meme culture, irony is key – and there's a lot of it here with VRChat.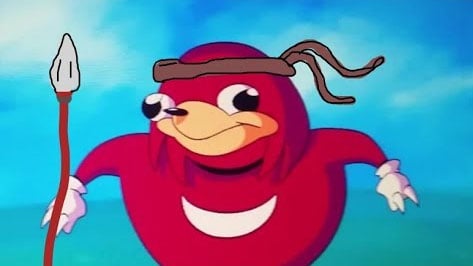 re: Ugandan Knuckles
But, what actually makes VRChat so attractive to gamers? Let's quickly answer a few frequently asked questions that should shed some light on its popularity.
Is VRChat free?
VRChat is a free-to-play multiplayer social game. Plus there are a lot of forums and other content, from players and developers, available to get you started.
Can you use VRChat without a VR headset?
Yes. Despite the name, you can play VRChat without VR equipment. You can play VRChat on your desktop computer, as well as the other supported VR systems. However, it's important to note that in order to chat back with other players, you'll need some sort of headset.
What is the VRChat SDK?
The VRChart SDK (software development kit) gives users the ability to create their own worlds and avatars via Unity, a game development platform. This completely opens the game up to the players' imaginations.
Other virtual social platforms
While it's loved in the gaming community, VRChat isn't the only virtual reality social platform out there today. They all have their own unique set of features and use cases, but one common theme is that they allow users to collaborate in virtual realities from remote locations.
VR social platforms can even be used in a business setting, for collaborative meetings between remote employees in a virtual conference room (or even better… the beach).
The top three VR platforms include:
Facebook Spaces

Hubs

Cluster
If you're interested in learning more about virtual social platforms, read real user reviews on G2.
Be a social butterfly (in 3D)
VRChat quite literally opens up a whole new world of possibilities. You can create, share, and play with your friends in virtual realities you build together from anywhere in the world!
Not ready for the real world just yet? Read on to see how these outside-the-box augmented reality examples are changing the way we use tech in so many industries.