Let VR take you to new places.
With virtual reality, the possibilities are endless. You could be hiking in Yosemite National Park one minute, and the next you could be halfway across the world swimming with fish in the Great Barrier Reef.
But how? With the power of VR video.
What is VR video?
A VR video, or virtual reality video, is immersive video content that creates the illusion of the viewer actually being in the video itself. VR video is typically viewed through a VR headset, not a traditional screen. This allows the user to interact with the displayed content.
Now that you know what it is, let's look at a few of the best examples of virtual reality videos.
Best VR Videos
Throughout the history of virtual reality, the technology used to consume the content has become increasingly available to the general public. Immersive VR and 360-degree content is still on the rise. YouTube even has a virtual reality channel with over 3.2 million subscribers. Here are 15 of the best VR videos you can watch right now.
Free Solo - National Geographic
Experience the award-winning documentary, Free Solo, in virtual reality. Explore new heights and breathtaking views that most of us will never see in real life. Join Alex Honnold on an unbelievable free solo climb (yes, that means no ropes) to the top of Yosemite's giant El Capitan.
Isle of Dogs
Get a behind-the-scenes look at Wes Anderson's stop-motion film Isle of Dogs. This 360-degree video shows viewers the ins and outs of how the characters were created.
Google Doodles
Watch this animated VR video and interact by moving the screen to follow the characters. This video received a 2018 official Emmy nomination for outstanding original interactive programs.
NightFlyers VR
Climb aboard the most advanced ship ever made with this psychological thriller from George R.R. Martin. A team of scientists take you into outer space and uncover a few mysteries along the way.
Wild With: Bears - Discovery
Stand face to face with a real Kodiak grizzly bear in his natural habitat with this short VR video experience from Discovery – from your very safe living room.
Aerospace Engineer - The Female Planet
Get to know Tiera Fletcher, a Boeing aerospace engineer working with NASA. Her team is designing a rocket and leading the "Mars generation."
Do Not Touch
Browse exhibits in this new type of immersive museum where art actually comes to life. The paintings in this VR video were stylized with advanced AI to create a one-of-a-kind experience.
Superman Roller Coaster
Take a ride on the real Superman roller coaster at Six Flags Fiesta Texas. Move your device around for the full flying effect – don't look down!
Africa's Pristine Delta - National Geographic
Join Dr. Steve Boyes and his team on a 3-week expedition through the Okavango Delta, where you'll canoe down a river and get up close and personal with the local wildlife like lions, zebras, and elephants.
Elton John - Farewell Yellow Brick Road Tour
Watch the announcement of Sir Elton John's last-ever tour, presented by YouTube in VR. This video also features a live, small-venue performance.
Line of Sight
Experience the thrill of heli-skiiing, without the frostbite (or the jumping out of a helicopter part). This fully immersive VR video drops you into fresh powder on some of the best runs in the world.
Cirque du Soleil
Get to know the people behind the acts! IMMERCIRQUE is a virtual reality tour of the epic show, including interviews with the artists and an up-close look at the ins and outs of the performance.
The Joel Emiid Experience - GQ
Stand next to the court with basketball superstar Joel Emiid while he shoots around and dunks right in front of you.
A Surfing Journey - Jeep
Jump in for a road trip adventure down the coast with champion surfers Jordy Smith and Malia Manuel to find the best waves.
Victoria Falls
Explore the spectacular views of Victoria Falls, The Pearl of Africa soaring over the rapids and waterfalls like a bird with this 360 video.
Now, it's time to pick your favorite and watch it!
How to watch VR videos on a headset
The best way to watch VR videos is with a virtual reality headset. It offers the most immersive experience and with some videos, it gives you the ability to interact with the content.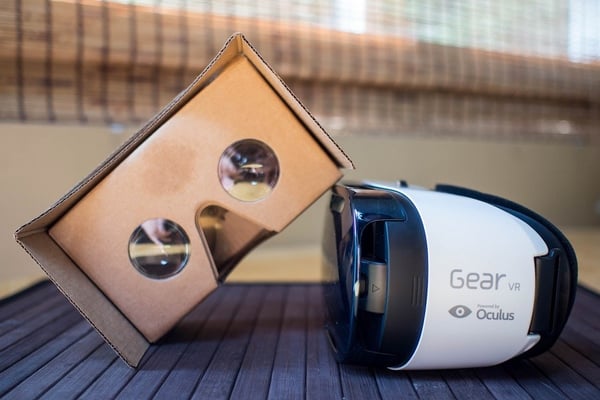 There are a ton of VR headset options, and some even let you place your phone inside of them to act like the screen, like the Google Cardboard or Samsung Gear VR device. Other headsets are more elaborate (and expensive) like the Oculus Rift or HTC Vive. Keep in mind that prices vary greatly.
TIP:

It's important to understand the difference

between augmented reality and virtual reality

content. AR layers content on top of our world and VR immerses you into a completely new world. So, you also consume the content differently as well.
How to watch VR videos on desktop
You can also watch VR videos from your PC or desktop. Simply play the content and click around with your mouse to move the point-of-view. The bigger the screen, the better the experience.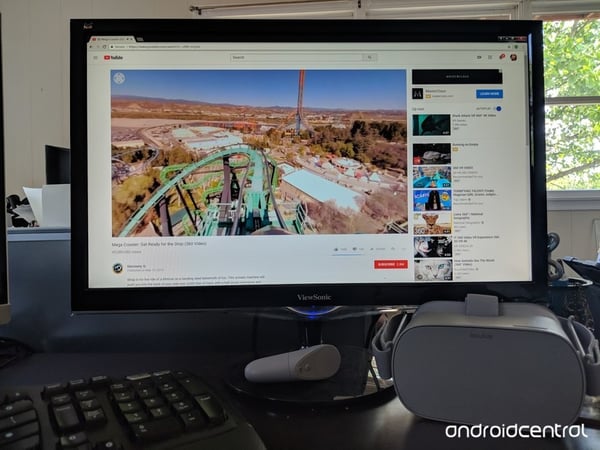 Image courtesy of Android Central
This click-and-play interaction is very similar to how you consume more well-known 3D content like Facebook 360 photos.
How to watch VR videos on mobile
You can watch VR and 360-degree videos on your phone, just don't expect to be totally immersed. With most devices, you can pan and tilt the phone to move the camera and explore the entire shot.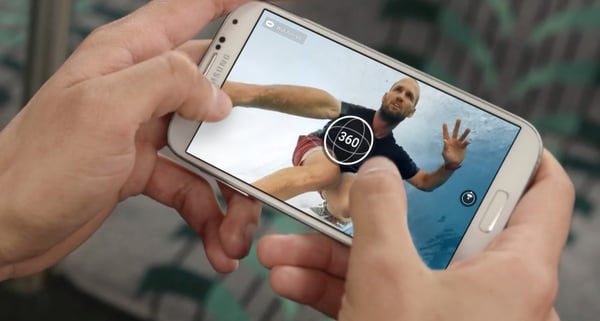 Browse VR videos on your YouTube app or with the latest versions of Chrome, Firefox, or Safari.
Snap back to reality
Now you can enjoy an immersive video experience from anywhere to be in the same room as an icon or travel the world. There are so many possibilities and there are more VR videos created each day.
Interested in more immersive experiences? Check out these 13 real-life examples of augmented reality that you can use at museums and even the grocery store.