One of the hottest trends in the tech world right now is the use of VR and AR technology for just about everything from healthcare to video gaming.
The HR and recruiting industries are no stranger to this trending technology. Over the past few years, organizations across the board (including the U.S. Navy, General Mills, and Jaguar) have been creating VR experiences to help drive their recruiting efforts. This method of sourcing talent is expected to continue growing as organizations find new and interesting ways to implement it.
If you're interested in creating a VR experience to boost your recruiting efforts, you've come to the right place.
What is virtual reality recruitment?
Virtual reality recruitment (or VR recruitment) is a way of utilizing virtual reality to engage potential applicants to join an organization. It provides a more realistic and immersive look into an organization and can help people gain a better idea of what it would be like to join.
The job of a recruiter can be a tough one, but VR recruitment is here to make it easier and encourage potential applicants to take the next step and become engaged employees.
Virtual reality recruitment is more than a trend
With its quick rise and widespread use, it can seem like virtual reality software is nothing more than a temporary fad. This couldn't be further from the truth. VR technology is being implemented at an exponential rate because it's helping people accomplish their goals in new and exciting ways.
3 ways VR is used in recruiting
Recruiters especially have seen a rise in the number of qualified applicants when VR is utilized at job fairs or in campus recruiting efforts. Let's take a look at how organizations currently use this technology and the different ways you can apply it as one of your organization's own recruiting strategies.
1. Immersive experiences
The biggest benefit to virtual reality technology is the way it creates an extremely immersive experience–especially when compared to printed materials or a video. The immersive multimedia nature of VR can be a huge draw for young people who want increasingly more experiential opportunities. It shows them exactly what it's like to be a member of your organization by simulating the sensory experiences of physically being there and inspiring potential applicants to consider joining.
TIP: The biggest obstacle for young people in joining an organization is not knowing what it's like to work there. This guide to recruiting Millennials and Gen Z shows you three proven strategies to recruit and engage emerging generations in the workforce.
These immersive experiences can be incorporated into an onboarding and VR training program as well. Walmart recently announced that it is using 17,000 Oculus Go headsets to train its employees in skills ranging from compliance to customer service. The modules would allow candidates or employees to learn new skills or provide them with the virtual experience of the work they'll be doing on the job.
2. Applicant assessments
Performing virtual assessments on applicants can streamline the assessment process like never before. Let's take a look at Jaguar, the luxury car brand, which created a skills-based, recruiting game in 2017.
Jaguar used this recruiting game as a gateway to its application. Players were guided through an experience that allowed them to learn about electric vehicles and solve demanding code-breaking puzzles in order to test "test their curiosity, persistence, lateral thinking and problem-solving skills."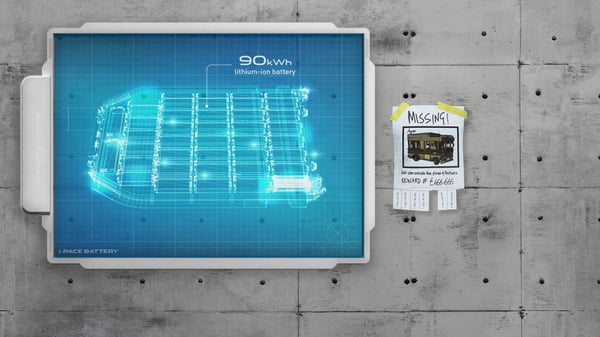 Jaguar's VR code-breaking game
Jaguar's approach had two huge benefits. Candidates who enjoyed the games were more likely to apply. Additionally, those who performed exceptionally at the code-breaking games were streamlined through the recruiting process.
3. Office tours
There's no better way to showcase your company culture than with a video. Take that video one step further and use virtual reality to walk people through your office and what a day in the life of one of your employees looks like.
Incorporating VR as a means to show what it's like to work for your company allows potential applicants to have a personalized and free-flowing way to explore your employer brand.
Think of it as a sort of choose-your-own-adventure game. Upon putting on the headset, the potential applicant can take a virtual walk through the office to see some of the employee perks like the lunch spread or meditation room. They may happen upon an employee or two who provides a testimonial of what they love about working for the company. They could bump into the CEO who gives a quick explanation about the company's values and mission.
There's no better example of this technology put into action than General Mills' recruitment experience debuted at a 2015 career event for the University of Minnesota in a way to recruit talent for their Minneapolis-St. Paul headquarters.
The 360 VR video had a huge response and helped showcase exactly what one can expect if they go on to work for General Mills. After watching, it's extremely easy to picture yourself in a role with the company
Are you sold on using virtual reality software to give a huge boost to your organization's recruiting efforts? Then it's time to bite the bullet, make a budget, and get started. With current VR production and API technology, your own creativity is really the only thing holding you back.
Stand out from the crowd
Hopefully, by now you have a great starting point in implementing virtual reality recruiting as a new strategy for your organization. You're bound to see a boost to your talent sourcing that will help elevate your employer brand to the next level.
Do you want to be at the forefront of implementing virtual reality recruitment? It's time to start your career in talent acquisition by reading this guide to find out what a recruiter does, how much money they make, and tips and skills that make one successful.