When you think of a classroom, what image comes to mind?
You probably immediately imagine a teacher at the front of the room, standing next to a dry erase board, marker in hand, with rows of desks all occupied by students.
While this is what a "traditional" classroom may look like, that image is evolving to include something else. Thanks to the growing popularity of virtual classrooms, learning environments can now be completely online, meaning students can learn from anywhere.
What is a virtual classroom?
A virtual classroom is an online teaching and learning space where teachers and students can work in groups, present course materials, and interact with one another. It takes place in a synchronous setting and involves live interaction between the teacher and the students.
When looking to bring life and engagement to online learning, virtual classrooms are a great place to start. They enhance the levels of interaction as you build a sense of community among learners online.
There are various types of use cases for virtual classrooms. Some include:
Teaching content to any location, from any location
Conduct office hours or lab sessions
Show demonstrations by the instructor or student
Facilitate student presentations
Host guest speakers from anywhere in the world
Promote discussions and debates
As technology advances and becomes more user-friendly, a virtual classroom can look like many different things. While it was once exclusively on desktop computers, they are now accessible on your mobile device. As new features are developed, virtual classrooms grow to be more collaborative and interactive than ever.
No matter if you're looking to learn a new skill, expand on one you already have, or pursue an advanced degree, a virtual classroom is a great resource to turn to.
Elements of a virtual classroom
When using virtual classroom software, there are specific elements and features that make teaching in this kind of environment seamless and user-friendly.
Online whiteboard
One of the most common elements of a virtual classroom is the online whiteboard. Think of the whiteboard used by most instructors at the front of a physical classroom that allows them to write and draw on for students to see. It's the same thing, only virtual.
This feature allows instructors to share various types of learning resources to students or other participants on the whiteboard to analyze and discuss during live sessions. They make it easy for participants to collaborate, learn from various types of content, and interact with one another from anywhere.
Online whiteboards typically provide the ability to zoom, highlight, draw, and write on the presentations, all while being visible to students.
Video conference
What makes a virtual classroom successful is the ability to see the faces of the instructor and fellow participants. That's made possible thanks to the video conferencing feature that's built into virtual classrooms.
When you can see and hear others, it allows for interaction and communication in real-time, as well as a more engaging experience for everyone in the classroom. There's also the benefit of being able to pick up on social cues that come from eye contact and body language.
Screen sharing
Screen sharing is an absolute must when teaching in a virtual classroom. You can do live demonstrations, show specific visuals, and utilize different multimedia applications.
Not only can participants see your screen, but if someone in the classroom is having a technical difficulty, or if they have a specific question, they can share their screen so you can see exactly what they're doing on their end.
Breakout rooms
Whether you prefer to work in groups or not, breakout rooms provide the ability to interact with all participants at once or create smaller groups that work on different activities or lessons at the same time.
The facilitator of the virtual classroom can assign one or more participants to each breakout room, whether it be for a specific team-based exercise or a competition type of lesson.
Breakout rooms provide a similar feel of segmenting students into small groups on specific projects, just like an instructor would if they were teaching an in-person lesson.
Media players
Whether you're showing a YouTube video, playing a specific song, or a clip from a different lesson, media players can make learning a more engaging experience as you utilize different tools during a live session.
When you take advantage of this helpful tool, you can use varying types of outlets to conduct lessons and exercises within your teaching strategy.
Text chat
When virtual classrooms have a chat feature, fostering and maintaining discussions is made easy. It also simplifies how instructors and participants can interact with one another.
Depending on the class, text chat can be used by students when they need to ask a specific question or to give quick feedback on a point that was brought up.It can also provide a way for students who don't feel comfortable speaking up in front of their peers to get their voices heard and to bring their thoughts into the discussion.
Or, as an instructor, text chat can be used to privately send a message to an individual student to check on if they're understanding the material without drawing unwanted attention to that student.
Recording
Recording lessons in a virtual classroom gives you the ability to monitor any tutors within the organization or analyze your performance.
And, if a student was unable to attend a lesson, they can simply watch the recording to be sure they don't miss out on any important class material or lecture. It also brings the benefit of being reviewed for participation grades.
Benefits of a virtual classroom
There's no denying that there are many benefits to using virtual classroom software. Let's break them down.
Increased convenience
When you remove the limitation of time and location, two common challenges with a traditional classroom, a virtual classroom is simply more convenient. Students and lesson participants have the freedom to study and finish homework on their own time, from anywhere. In addition, a virtual classroom can be accessed by anyone who has a computer, tablet, or smartphone.
At the end of the day, a virtual classroom gives them the convenience and ability to learn at a time that best fits their schedule.
Affordability
There's no denying that the cost of setting up a physical classroom can be costly. Not only that, but consider the price that parents of students pay for school tuition and other fees.
$500
is the average amount that teachers spend of their own money to decorate their classrooms.
Source: NBC News
In a virtual classroom, all learning materials are available online, so students don't need to worry about affording actual textbooks. Plus, there isn't a need to pay for any travel expenses, even if it's something small like the cost to fill up a gas tank.
A virtual classroom is much more cost-effective, and the savings can generally be passed onto the students, meaning they can increase their course intake because they can afford to do so.
Data and reporting
When utilizing a virtual classroom, you have the benefit of easily managing data right at your fingertips. Not only do these include attendance reports, but you can also access additional data points that could become useful when considering compliance training, like proof of participation and measured interactions with students or participants.
Fast feedback
No one likes to stress out and wait to hear how they did on an exam. When students are enrolled in an online degree program, things like tests, assignments, projects, quizzes, and exams that are taken using virtual classroom software are usually scored as soon as they're completed.
Not only does this help track the progress of the student, but it also frees up time for the instructor that would otherwise be spent grading and inputting scores.
Share and monetize training
The benefit to virtual classrooms is specific to Massive Open Online Courses, otherwise known as MOOCs, which are online courses that are available for anyone to enroll and participate in. MOOCs and online degree programs make it possible for educators to share and monetize their training and teaching abilities without having to travel to different locations to do so.
An example of this would be if an English-speaking teacher were to teach English in another country, like Japan. They wouldn't have to travel to Japan to do so. Instead, they can set up and establish a virtual classroom.
Grow brand presence
Whether your teaching institute is a small private college or a large university, growing your brand and attracting more students is always on your radar. Offering online courses through a virtual classroom is a great way to reach more students who may not be in your geographical area.
Drawbacks of a virtual classroom
There aren't as many disadvantages to a virtual classroom as there are advantages, but there are some potential shortcomings that you need to be aware of.
Additional training
One potential drawback of a virtual classroom is that students and even the instructor may not feel confident in their ability to use digital eLearning tools.
Some teachers may run into the potential problem of adopting the technology, while others may have issues creating the necessary study materials needed in this new format. Students may also take some time to get to know the ins and outs of virtual classroom software.
Because of this, chances are you'll run into needing IT support at some point, which will slow down the education process until the issue is solved.
Technical challenges
Any time you use new software, there are bound to be some technical difficulties and failures. Whether it be glitches in the program, a lagging video, or audio that's compromised, students can grow frustrated with these problems which can deter them from the learning process.
Because of this, make sure you're utilizing virtual classroom software that has exceptional customer service that you can contact at a moment's notice. You never know when an issue may arise.
Lack of interaction or participation
While virtual classrooms allow simulated face-to-face interaction and communication, there will always be people who benefit more, and who prefer, in-person learning. Both instructors and participants may be uncomfortable with the idea of delivering and engaging with the material being taught when entirely in a virtual classroom setting.
Because of this, you may find that students are less likely to interact with other students, as well as the instructor. Thankfully, instructors can work with participants using other features besides the face-to-face video, like the text chat, to try and encourage learning.
Lack of motivation
For a student to get the most out of a virtual classroom, they need to exhibit self-discipline and motivation to not only log into the class but to participate and engage.
If a student is struggling with time management skills or procrastination, they could have difficulties when it comes to completing their homework or assignments on time, as well as avoiding distractions that come with attending a class from anywhere.
At the end of the day, virtual classroom settings can lack the structure that traditional classrooms have, which some participants need to be successful.
7 tips for a successful virtual classroom experience
If you're an instructor or teacher looking to conduct a successful virtual classroom for your participants, here are seven tips to follow to ensure everyone is reaching their full potential.
1. Get familiar with the software
First things first, know the virtual classroom software you'll be using inside and out. Watch tutorials, check out their official website, and browse online forums with other teachers. When you take the time to understand every feature that the software can do, you're taking the first step in providing your students with the best learning experience you can offer.
When you're teaching in a virtual environment, you're pretty reliant on the technology, so be sure to dot your i's and cross your t's before you go live.
2. Determine your goals
Just like teaching in a traditional setting, you'll want to determine your goals early on. This includes short-term goals like what you want to cross off your to-do list by the end of the week, in addition to long-term goals, like what you want to accomplish by the end of the semester. Before you dive into how your virtual classroom will take place, define performance goals as well as learning objectives.
Doing so will guide you in selecting the right learning materials, tools, and methods that will best serve to teach students in a virtual classroom while supporting your goals.
3. Create the right elements
One of the greatest aspects of virtual classroom software is the many features it possesses to enhance each lesson. When you pair the right visuals and external tools, you're likely to boost engagement and participation with your students.
It's in your best interest to find out which resource your students gravitate to the most, like watching expert videos or live presentations, playing games, breaking out into groups, or acting out real scenarios.
To do this, distribute an anonymous feedback form where they can tell you exactly what they're likely to benefit from. When you create interactive learning elements into your classroom, you're also likely to prevent boredom.
4. Set specific rules and expectations
When it comes to student discipline, participation, deadlines, and the study process, it's in the best interest of the instructor and the student to establish clear rules and expectations as soon as possible.
As an instructor, make sure to communicate rules in a positive way. Instead of saying, "don't interrupt your classmates when they're speaking", you can word it like, "please make sure to use the virtual hand-raising icon when you'd like to participate or ask a question." Some rules and expectations that you can set in your virtual classroom are:
When to mute the microphone.
How to indicate to the instructor if you have to step away.
What to do when you have a question.
When students are expected to be online.
What qualifies as an appropriate dress code during live sessions.
Related: As you consider the rules for your virtual classroom, don't forget to establish a zero-tolerance policy for cyberbullying and any disciplinary acts that will follow if it occurs.
5. Establish a routine
Traditional schools are very much based on routine. Students have a set schedule, bells alert students and staff of a change in period, and there's a syllabus outlining the course so students know what to expect.
A virtual classroom should have a routine, too. Not only does an agenda and a routine keep the instructor accountable, but the students will be better aware of what they're going to learn and when. It will also be easier for students to participate in the learning process if they know what's next in the syllabus.
6. Ask more questions
Because participation can sometimes be an issue in a virtual classroom, it's important that instructors ask more questions than they would in a traditional classroom setting. When you ask more questions, you elongate your learner's attention span, which can already be shortened due to the virtual setting.
This is also a method to ensure that everyone is included in class discussions. Be sure to take note of which students are keen to answer and which ones are consistently shying away from class discussions.
7. Give it a test run
Practice makes perfect, especially when experimenting with a virtual classroom setting for the first time. Even once you think you've got it perfect, you should always give it at least one test turn to make sure everything runs smoothly after its launch.
It's in your best interest to conduct a "mock" lesson so you can be aware of any potential glitches within the software so that there aren't any surprises when you first hold a training session.
What is the best virtual classroom software?
The virtual classroom market is crowded with options, so it can be tough to narrow down the best software for you and your needs. To help you make a decision, G2 has you covered.
* Below are the five leading virtual classroom software from G2's Spring 2020 Grid® Report. Some reviews may be edited for clarity.
1. Adobe Connect
Adobe Connect is a secure, flexible, extensible, and feature-rich web conferencing product that provides solutions for rapid classroom training. It's accessible anywhere, anytime, and on virtually any device.
It utilizes industry-leading content authoring tools, rich learner registration capabilities, and powerful learner management and tracking tools to deliver immersive virtual classroom experiences.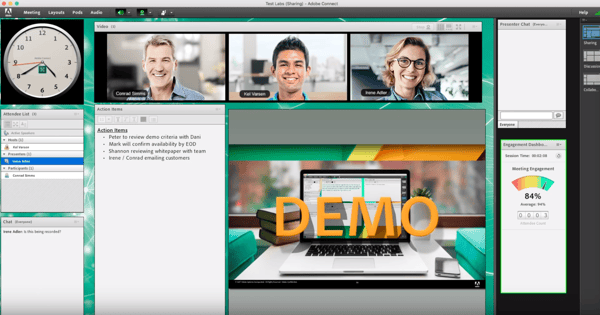 What users like:
"Adobe Connect is easy to use, plus the UI is simple, intuitive, and streamlined. In general, it functions smoothly without crashes and does everything it needs to without excessive clutter. It's full of useful features such as polls, file sharing, 'raise hand', 'reaction' , and 'step away' buttons, presenter controls for muting attendees, and markup.
The process of joining a meeting is easy: the presenter sends a link out, you click the link, enter your name, open the app or use the web version, and you're in! Joining audio is just as simple and functions very well regardless of the peripheral (speakers, microphone, headset) being used."
- Adobe Connect Review, Chelsea H.
What users dislike:
"Audio or video is sometimes frozen during usage, especially when we try to share screens. This is probably because the software requires a strong Internet connection to operate."
- Adobe Connect Review, Tora M.
2. Blackboard Collaborate
Blackboard Collaborate is a one-click virtual classroom and online collaboration tool built specifically for institutions that need to deliver more engaging, personalized, and flexible learning options for students.
It goes well beyond traditional web conferencing to meet the extensive and varied collaboration needs of today's educators and learners. Designed with the learner in mind, it delivers a level of engagement that makes students forget they're not in a physical classroom.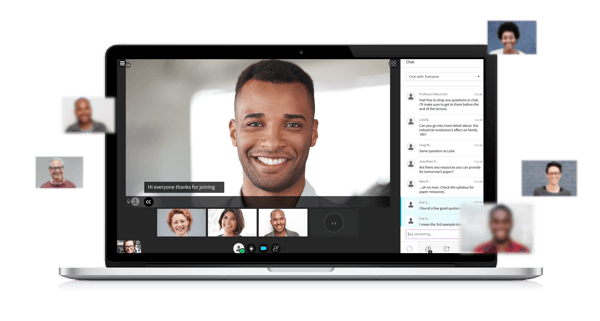 What users like:
"I love the ability to share screens and write on a blank whiteboard to collaborate in real-time. I also appreciate the intuitive moderator functions so I can chat with students and they can raise their hands if I'm in another room with another student. The file upload section is usually very fast and the PDF documents look nice when I'm sharing them with the students."
- Blackboard Collaborate Review, Jordan T.
What users dislike:
"Sometimes the text boxes and other dialogue components within Blackboard Collaborate can malfunction. The student or participant will be typing, video chatting, or recording, and the box they were using will simply disappear from view. This could be a problem with hardware rather than Collaborate, but in our experience, it has happened frequently."
- Blackboard Collaborate Review, John D.
3. BigBlueButton
BigBlueButton is a web conferencing system, designed for online learning. It's built for teachers, students, and schools in mind by allowing you to share your audio, slides, chat, video, and desktop with students. It also boasts built-in polling, which makes it easy to engage students. Teachers can also record their lectures, making them available for later review.
Other features include screen sharing, emojis, webcams, breakout rooms, and multi-user whiteboard.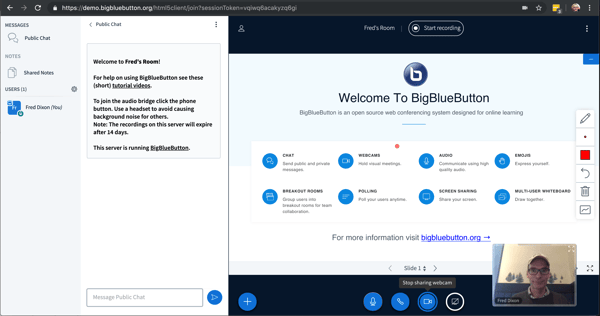 What users like:
"The room/password structure is easier for a lot of folks to navigate than a Skype or Zoom meeting link. We generally just link to our BigBlueButton landing page and let meeting attendees know which room to join in the meeting invite. BigBlueButton also smoothly handles meetings with multiple remote locations, which we run into often, and audio is generally fine to great. The presenter tools are also intuitive and helpful."
- BigBlueButton Review, Ian M.
What users dislike:
"The connection is not very stable and there are problems with mics and board tools. This is especially frustrating since these features are essential for my classes and with the presentation itself."
- BigBlueButton Review, Ana C.
4. LearnCube
LearnCube offers an intuitive, seamless virtual classroom software that's perfect for teachers and online schools wanting purpose-built features, better insights into the class, and their own brand identity.
Features of this software include text chat, online whiteboard, private classes, file and media sharing, classroom interaction, and more.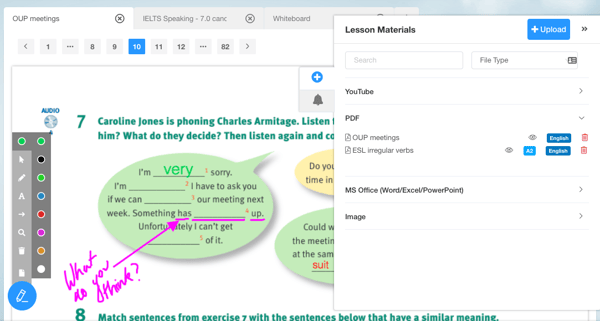 What users like:
"I am currently teaching English online to students whom I previously taught in real-time and real space...in the classroom. The transition to online-based lessons in itself is an adjustment. Initially, I used Skype but soon ran into difficulties, as it did not seem like a classroom.
After searching for another alternative, I came across LearnCube. The students now actually feel that they are in a classroom. They thoroughly enjoy it. Furthermore, it's student-friendly, and not over complicated as are other education platforms. Many other providers are geared towards adult users, but LearnCube caters to children as well."
- LearnCube Review, Chrissa B.
What users dislike:
"The only consideration is that LearnCube requires an at least average network connection. Some students had a very bad connection or outdated equipment, which made it a bit difficult to connect. But I suppose this is a general problem, and not specific to LearnCube."
- LearnCube Review, Cleri S.
5. WizIQ
WizIQ provides a complete solution to tutors, institutes, and organizations to deliver live online classes and launch self-paced courses. It's easy-to-use and gives the freedom to learners to access the courses from any location and device.
With WizIQ, businesses can launch their own custom-branded learning/training portal with features such as virtual classroom, course builder, tests and assessment builder, customized mobile application, eCommerce, and reports.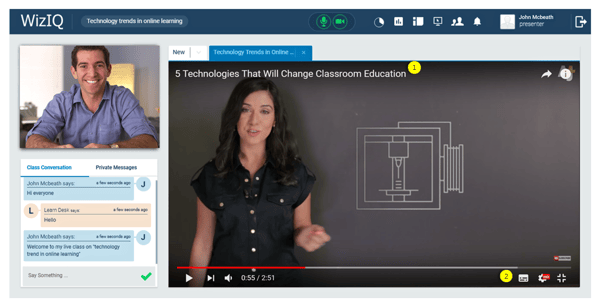 What users like:
"I consider WizIQ to have a great impact on most of its users, as it is the best platform hosted in the cloud that allows me to teach and participate in live classes face-to-face with my students. It gives the feeling of being in contact with my students as if we were in a classroom together, but we're actually in the comfort of our homes or anywhere else.
The audio and video transmission work well, I rarely have issues. WizIQ also has an option for users to upload the content and share it with other people to see it on the screen. I consider this software to be very complete and helpful to improve online education."
- WizIQ Review, Miller M.
What users dislike:
"The only negative I had while working with WizIQ was the lack of impromptu customer support. It's more of a "Read and Do It yourself" sort of tool, which sometimes does not help us solve the cause of the issue and we have to fix it ourselves. Some issues need to be rectified immediately when there is a live class in progress. Lack of immediate response can put the organization in a bad light and cause the students and participants to have a bad experience."
- WizIQ Review, Hanaa I.
Knowledge is power
Whether you're a student looking to learn a new skill or a teacher interested in sharing your knowledge with others, virtual classrooms give you the opportunity to do so in a seamless way, no matter where you are.
With so many virtual classrooms available to you, there's never been a better time to learn the language you've always wanted to speak, master a new craft, or anything in between.
Discover even more about how education is going virtual with the ins and outs of edtech and how it's shaping the face of education.