As your company grows, so will its tech stack. New advancements in business lead to the requirement of new technologies, which often involves new software.
Implementing new software within your organization is one thing, but installing a tool like virtual desktop infrastructure (VDI) is another.
VDI allows users within your organization to access their desktops from anywhere in the world through a secure portal. While it's a convenient software, using it will involve significant adjustment and change - this isn't your average software implementation.
How to implement VDI
When putting a new software into action, especially something like VDI that can change the way your organization works and accesses information, following a process is your best bet in achieving a streamlined implementation.
Below are the ten steps any organization should abide by when implementing a VDI.
1. Develop a business case
Before implementing any new software solution, you're going to need to secure buy-in from important stakeholders.
Provide leadership within your organization with any and all information they might need to understand the benefits of VDI, what the rest of the implementation process will look like, and perhaps most importantly, the risks of not using VDI.
Stress the complications of working with your current infrastructure and associated challenges, like physical desktop management, operating system maintenance, and regulatory compliance.
Don't forget to include the goals of the implementation in your business case. Here's a list of some common goals of implementing a VDI:
Enable remote workers to access information securely and work productively
Make desktop access easier and more convenient
Increase security and protect information stored on desktops
Decrease the burden on the IT department
Lower hardware costs
You'll also want to include a breakdown of what this will cost for your organization. The VDI will be seen as an operational expense, meaning it's associated with the day-to-day cost of running the business.
This "pay as you go" mentality might make it easier for leadership to accept the costs of implementing VDI.
2. Select a VDI type
Once you've secured buy-in from leadership and have the go-ahead to move forward with the rest of the VDI implementation, you need to select which type of VDI your organization calls for.
There are two types of VDI deployment: persistent and non-persistent. The one you choose will depend on the needs of your organization's users.
A persistent VDI allows users to personalize their desktops, saving any and all changes they make. This deployment is often used in an organization that needs virtual desktops to act in place of a physical personal computer, like schools and offices.
A non-persistent VDI, on the other hand, does not offer a personalized desktop. When the user logs in, they are given access to the virtual desktop's applications, but no changes are saved. This deployment is more for one-off uses, like in public libraries or kiosks.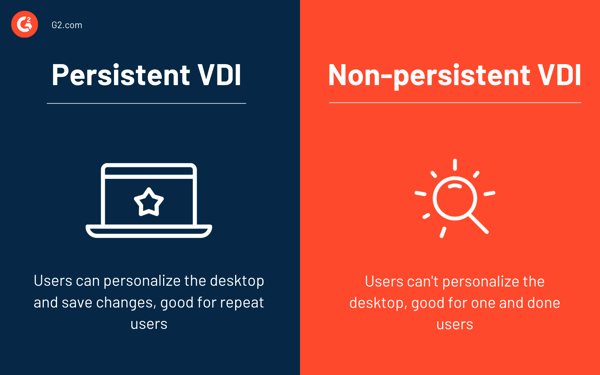 3. Determine a rollout method
Once you have decided on the deployment, you'll then need to determine your approach. In this case, the approach refers to how slowly or quickly you will go about implementing the VDI.
Some organizations will start by implementing VDI for a single project, see how it goes, make adjustments, and then move a second project along using VDI.
Another option is to deploy by department - start with accounting and then move to marketing. Or begin with market research and then apply it to human resources.
Whatever you decide, taking it department by department is usually a good approach if you're worried about disrupting project workflows. Another option is to implement VDI office by office, which will obviously only work if you have more than one location, and if those locations work well independently.
4. Establish user environments
VDI is all about the end users, so figuring out user experience requirements is key for a successful implementation.
You want the VDI you select to enable people within your organization, not hinder them from accessing the materials they need. Think about the capabilities you need to allow for each end user that will be interacting with your VDI based on their role in the organization and the work they will be completing using the VDI.
Important factors to consider when determining the appropriate user environments include single versus multiple desktop needs, audio and video streaming, and printing requirements. User environments won't look the same for each person, but to make the process a little easier, you can group users with similar requirements together into desktop pools, and plan on providing them the same desktop image.
Once you have understood requirements and established the user environments for your organization, you can conduct an assessment to understand metrics that'll be important in creating an infrastructure plan.
Three key metrics to pay special attention to include the total number of application users, average load time, and periods of peak usage.
5. Create an infrastructure plan
Next, you need to create an infrastructure plan. To do this, start by doing a complete overhaul of all the technology your organization is using. Assess your storage environments and identify other areas within your organization that are already in a state of virtualization.
With a good grasp on what you're currently working with, you can then create an infrastructure plan. Determine which tools are going to be virtualized and run from your data center, and identify any other equipment you might need to support that data center. With your user environments in mind, determine what kind of bandwidth your VDI will require to be successful.
6. Map solution options
With your user environments and infrastructure plan in mind, you can accurately find the solution that best fits the needs of your organization. There are a lot of options out there, and certain vendors will offer a product that hits that sweet spot for your specific set of requirements.
When choosing a VDI, it's best to look at recommendations from real life users. Pay close attention to their industry, company size, operating systems they use, and the features they claim to be the most helpful. Focusing on positive reviews from users with similar needs than your own will give you the best idea of which product to choose.
Remember, the purpose of having a VDI is to enable users to securely access their desktops from wherever they might be working. When looking at the features of each vendor solution, look at their performance, but don't forget to consider their security measures and the impact the VDI will have on your network.
Besides that, make sure all of the current software your organization is using will integrate well with the VDI you choose. If any of your software requires specific hardware, double check that it works with your selected VDI solution.
On top of that, double check that it's legal - some software companies restrict users from installing their program on a VDI.
7. Create a communication plan
When it comes down to it, software implementation will fail if you don't have an effective communication plan behind it. Set the technical parts of implementing a VDI aside for a bit, and take some time to let everyone within your organization know what they can expect once this new tool rolls out.
Here are some things you should include in your VDI implementation communication plan:
What is a VDI?
Why is your business using a VDI?
How will the VDI affect everyone's work?
How will people get support if they need it?
And of course, leave these discussions open for questions, comments, and concerns. If anything is left unsaid, the implementation might hit some unexpected turbulence.
8. Start with a test
Jumping right into a software implementation without a pilot can be a big mistake. Starting with a test will help you pick out any problems users might run into, allowing you to create a plan for troubleshooting.
Create a framework for the pilot, gather a group of test users, and define metrics or scenarios that will indicate whether it was a success or failure. Based on what you discovered during the pilot, create a plan for those that will be using the VDI once it's completely implemented. Offer best practices and additional resources they can refer to once they start using the software.
9. Install the VDI
Adjusting your strategy based on the findings from the pilot you conducted, it's time to implement your VDI. Build your VDI infrastructure in the data center based on the plan you created, migrate your data, and decide on a date to install.
Provide a training session for every user, and consider offering specific break out sessions for those that have a more complex virtual desktop. Record the training, either in written format, video, or both, so users can refer back to it should they need help troubleshooting an issue.
10. Measure success
Once everything is rolled out, you can still use, and perhaps adjust, the metrics from the pilot so you can measure the success of the implementation.
Offer an open and continuous communication channel for feedback, where users can express new issues and concerns as they become more acquainted with the VDI. How the users feel about the new software, and whether or not they can use it as intended, is a key indicator of the success of the implementation.
After onboarding your organization's users on using the VDI, refer back to the goals you set at the beginning of this implementation journey and identify whether your VDI has helped you achieve them.
VDI implementation mistakes
As with any new organizational process, there are plenty of mistakes to be made when implementing a VDI solution. Certain minor bumps in the road are bound to happen, hard to avoid, and won't negatively impact your installation all too terribly.
However, there are three major mistakes that can and should be avoided.
Going all in at once
First and foremost, a detrimental mistake organizations can make when implementing a VDI is taking the big bang approach and going all in at once.
As you go about planning and implementing your VDI, make sure you take a phased approach (see step three above). Whether you start a certain department off with VDI, an entire office, or all of your remote workers, taking it little by little is the best way to figure out the needs of each group within your organization.
You might find that certain departments and user needs work best on a non-virtualized desktop, and it's best to combat that little by little, as opposed to all at once.
Not having enough resources in place
Another mistake VDI implementers often make is neglecting the importance of certain resources, resulting in a poor virtual desktop experience for users.
Before implementing a VDI solution, make sure you understand the needs of each user and the associated resources that will assist you in providing it (see steps four and five above). The key factors to look out for, in terms of resources, are storage and bandwidth.
To offer fast application response times and a positive user experience, your VDI needs to be ready to handle all virtual desktop instances from every user. Equipping your data center with the right resources beforehand is much easier than realizing you need more storage space or bandwidth once everything has been implemented.
Overall, it's in your best interest to be realistic, over prepared, and generous when determining what resources you need to make your VDI implementation successful.
Neglecting to have a backup infrastructure
As you pilot and fully implement your VDI, you must always have a backup infrastructure ready to go.
The key word there is ready - if it's sitting idle and not prepared to be used if the VDI infrastructure fails, you will lose precious time and productivity. To avoid disaster, have a backup infrastructure monitored, tested, and ready for deployment at all times.
Take your implementation seriously
Besides following the ten steps listed above, taking the VDI implementation seriously is all there is to it. Don't shrug off small details - they might make the difference between a deployment that flourishes, and one that flops.
If you're implementing VDI for a remote workforce and are looking for more software tools that will make it easier, check out our list of remote work software.