A pinky promise isn't worth much in the business world these days.
To be fair, it probably hasn't been worth much since the 2nd grade, but that's beside the point. A promise (with a pinky or not) still means absolutely everything to someone who is willing to invest themselves in you, your brand, and your products. Whether that investment is time, money, or overwhelming support, your promise to provide something of value to them matters.
It matters for your overarching brand equity, and it matters for the fiercely competitive landscape you're up against. How else will your customers know the value and distinction your brand has over the vast competition? It's simple: your value proposition.
Value proposition definition
Your value proposition is the promise you make to your customers that you will deliver value to them. It explains the benefits your customers will receive from your products and services.
What is a value proposition?
A value proposition is arguably the most important aspect of your marketing strategy. If done correctly, it will articulate why consumers should choose you over the competition, and it declares exactly what makes your product so unique and valuable to them.
But it goes a lot further than just that. Your value proposition proves to your consumers that you recognize a problem they have, empathize with them, and your product is able to fix it in ways that the competition can't.
Highlighting your product's best features is a no brainer, but many brands miss the mark on this in more ways than one. Products can't speak for themselves, which is why it is so crucial that your value proposition is at the forefront of your website, marketing collateral, and evergreen campaigns.
It's important to note that a value proposition should never be mixed up with your other marketing phrases such as your slogan, or your position statement. They are all different aspects of your marketing strategy and deserve to be separate for the sake of clarity and success down the line.
The value proposition canvas
To understand the value proposition statement to its fullest, it's important to mention the value proposition canvas. Alex Osterwalder, the co-founder of Strategyzer, created the canvas to break down the two most important aspects of the value proposition framework to make it as simple as possible to understand.

On one side of the canvas is the value map. It explains the way you will create value for your customers. The other side is the customer profile, which allows you to fully get to know your customers and better understand their needs, empathize with them, and provide value. To create a successful value proposition, you have to achieve a fit between the two sides by identifying important jobs, fostering gains, and alleviate pains from the customer.
Let's take a look at what those terms mean in more depth:
The consumer profile side includes jobs, pains, and gains. Jobs refers to what your customers are trying to accomplish so they are able to properly get their jobs done. Pains are the negative outcomes, blockers, risks, and setbacks that relate to the jobs. Gains is the ultimate outcome your customers want to accomplish or the specific benefits they are looking for.
The value map side consists of products and services, pain relievers, and gain creators. Products and services are, you guessed it, your products and services that you're creating a value proposition for. Pain relievers are the ways your products or services take away the pain from your customer, where the gain creators are the ways your products or services adds value to your customer.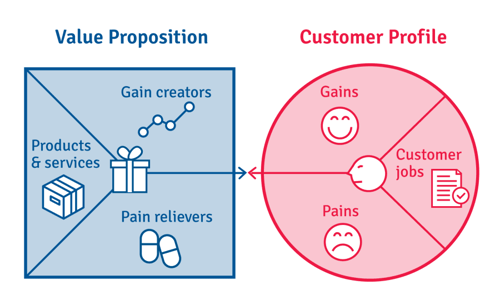 Source: B2B International
14 tips to create a strong value proposition
Now that you understand the value proposition canvas, it's time to write a value proposition for yourself! Here are a few tips to help you get started:
Create a list of all the benefits your products or services provided to your customers.
Identify your customers' pain points.
Identify all of their gains.
Out of their pains and gain, understand what is the most important.
Which of their jobs is the most important to them?
How severe is their pain?
Out of all the gains they hope to have, which is the most important to them?
How will your products or services alleviate their pain?
How will your products or services create a gain for them?
Link the value your products or services have to your customer's pain points.
State how your solution to their pain is better than the competition.
Test your value proposition with your customers.
Make sure your statement is clear and free of jargon.
Avoid gimmicky language. You want your customers to believe and trust you.
TIP: Need further help to get you started? Check out the best branding agencies to guide you through the process!
Powerful value proposition examples
Take a look at the brands that have been successful at creating strong value propositions. Each example showcases each element of the value proposition canvas in some way. See if you can identify each piece!
Shopify: "Shopify is everything you need to sell anywhere."
Dollar Shave Club: "When it comes to helping you look, feel, and smell great, we deliver."
Salesforce: "We bring customers and companies together."
Mailchimp: "Build your brand. Sell more stuff."
Evernote: "Your notes. Organized. Effortless."
Uber for drivers: "Get in the driver's seat and get paid."
Uber for riders: "The smartest way to get around."
Slack: "Whatever work you do, you can do it in Slack."
Square: "Square helps you build and grow your business."
Vimeo: "Make life worth watching."
Share your value
Your value proposition is the key to standing out from your competitors and making your value known. Prove to your customers that your brand is what they need. With the more options on the market than ever to choose from, it's crucial you can prove that you know where their pain is and that you can fix it with your offerings. If you can successfully recognize that, you will win every single time.
Interested in learning how to write more important business statements? Create your mission statement next!