A question that not too many people can answer with confidence.
User experience (UX) design is often confused with graphic design, but it's actually an entirely separate field that requires a different skill set. Graphic design is mainly concerned with the look of a product, whereas UX design is more focused on the feel of it. Let me explain.
What is a UX designer?
A UX designer, or user experience designer, creates meaningful digital experiences for the users interacting with their product.
If you're all set on what a UX designer does, jump ahead to one of the following sections:
What does a UX designer do?
A UX designer is responsible for the functionality and usability of digital products, such as apps, websites, software, etc. This role is especially integral in the app design process. The UX designer position is multifaceted, with typical tasks including research, design, and testing, as well as other common collaborative duties like project management and strategy.
While it isn't a new role, demand for UX designers has skyrocketed in recent years. The term "UX designer" is credited to Donald Norman, one of Apple's people in the 90's. Of course.
Research
Research is a large portion of a UX designer's job, even before any designing actually happens. It's important to understand the 'why' and 'how' before you can design the 'what.'
Product Research
UX designers must know the product in and out before putting their mark on it. Product research is the foundation for any UX project, and shouldn't be overlooked. Even for a UX designer that has been working with the product for a long time, it's key to take a step back and dig into the details. This task also can include looking outward, conducting competitive analysis, surveys, and focus groups.
User Research
User research is also key to understanding how customers will use your product. UX designers often build out user personas that detail a target user's general motivations, goals, frustrations, and more. User personas are a representation of an ideal audience and UX designers try to tailor experiences to them.
Design
Obviously a UX designer's main role is to design, but furthermore, design with purpose.
Architecture
First things first, UX designers organize the information architecture for the product. If it's building an app or a website, this document looks like a site map. It organizes information in a way that users will understand where they are at currently and where they can go next.
Wireframes & Prototypes
The next step is to create wireframes that will eventually be built into prototypes. Wireframes are like the blueprints of your product. They are typically started as pen and paper sketches and then moved into a digital drawing with wireframing software.
TIP: Wireframes are essential to effective design, period. Get started with these app and website wireframe templates.
Testing
The job's not done yet! Once the app or website is through the design process, it needs to be tested again and again.
User testing
Sometimes this testing is done one a 1:1 basis, so that the UX designer can see how the user navigates through the product in person. Other times, there is a beta test released to a small group of people. There are a lot of different user testing methods and a time and place for each of them. If there's one thing you can be sure of, it's that you'll test more than once, typically using various methods each time.
What's the difference between a UI/UX designer?
While often confused for the same thing, UI and UX design have a few defining differences. In general, a user interface designer works with colors and fonts, the fashion. A user experience designer deals with technical usability, the function.
These two specialties go hand in hand, and to build the best products you can't have one without the other.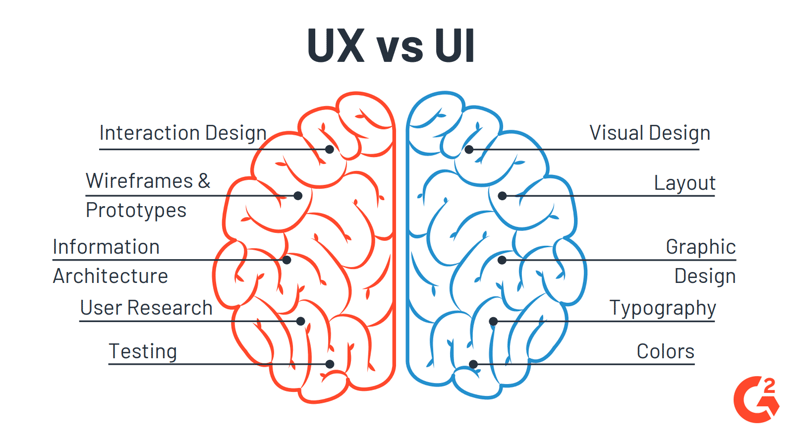 How to become a UX designer
There are many paths you could take to become a UX designer. Here's a quick overview of the most common steps to take.
1. Do your research
You don't know what you don't know. As with anything, in order to understand UX design, you have to read up on it. The grandfather of UX design that we mentioned above, Donald Norman, has a book of his own titled The Design of Everyday Things. Start there and dive into other readily available resources like blogs, podcasts, etc.
2. Find a mentor in the industry
This can be a tough task, but it will put you ahead of the game. Find a mentor that you feel comfortable with. Set meetings and ask for feedback on your work and progress. Learning from someone that has been there and had the same experiences is so valuable.
3. Continue your education with classes
Keep in mind that your mentor doesn't have the time, or the patience, to teach you everything about UX design. There are a ton of online design classes as well as resources. If you prefer to learn in a classroom setting, check with your local colleges.
4. Take on real-world UX design projects
Practice makes perfect – even if you're creating fake UX work for yourself. Ideally, you create a portfolio site if you're looking to become a UX designer. That is the perfect opportunity to put your skills to use.
5. Consider making a career move
You've learned a lot and are ready to take the leap. It's time to start applying for UX designer jobs. Leverage your network to get your foot in the door, and explain why you're looking to make this shift.
6. Keep learning
It's important to stay on top of emerging trends in any industry, but especially in design. Great, innovative design comes from taking what you've learned and applying it in a new way. In the words of Heidi Klum, "One day you're in and the next day you're out."
UX designer jobs
There are just over 8,500 UX designer jobs posted on Indeed right now. These positions range from junior UX designer to Lead UX designer to contract UX designer. Smaller companies and startups might have the headcount for only one UI/UX designer that will own every step of the design process from start to finish. Other teams consist of a few UX designers with different specialties. The UX designer job role is heavily dependent on the company and its needs.
TIP: The job search can be overwhelming, to say the least. There are a ton of job board software options out there to help candidates and employers find the right fit.
UX designer salary
The average salary for a UX designer is around $90,000 per year. The average for the design field as a whole is closer to $55,000, so you can see why this specialty is attractive to many people. However, there is a large range of UX designer salaries, ranging from $62,000 to $130,000. Again, the differences are largely attributed to the seniority level, company size, and location.
Design is a way of thinking
If you got it, go for it! Design is a passion for many people and too few actually make it a career. As our world continues to rely more and more on technology, the demand for UX designers will only increase.
Learn more about how UX writers are an integral part of any successful design team, and how they work in tandem with UX designers.