You've launched a website and you're getting traffic.
A lot of traffic.
People are finding your website from organic searches, clicking on advertisements you've strategically been geotargeting, opening emails from friends and family, clicking through on social media, and some people are even making the decision to click on your banner ad. You must've designed that ad pretty well.
A hefty percentage of the people that have landed on your website have had the customer experience of a lifetime, and because of that, you've made some sales.
But success doesn't mean anything to a marketer that can't measure it.
Defining UTM codes
You can come up with clever landing page designs and ingenious advertising campaign ideas, but there's no point in doing any of that unless you have a way to measure that success.
UTM codes are a way to prove to yourself and your company that your efforts (and money) aren't going to waste.
What are UTM codes?
The term UTM (Urchin Tracking Module) code, also known as a UTM parameter, is derived from Urchin Tracker, a web analytics software that worked as the base for Google Analytics. By attaching a UTM code to the end of a custom URL, marketers can track the success of campaigns by the source, medium, and name.
A UTM code is made up of two parts:
UTM Parameter is the part of the code that starts with "utm_". There are five parameters that can be tracked. These parameters are expanded on below.
Tracking Variables are the part of the code following the parameters that specify what exactly is being tracked. This variable is introduced with an equal sign ("=") and is followed by the nomenclature; whatever helps you to identify the source.
The addition of a UTM code doesn't affect the content on the webpage; its only purpose is to help your digital analytics software track the source of traffic.
Knowing what each channel contributes to your overall traffic (and eventually, ROI) will help you better understand the strengths and weaknesses of your marketing strategy.
The 5 UTM parameters
Each campaign you launch has several characteristics that marketers can (and should) track if they want the most accurate and meaningful data possible. Luckily, these characteristics can also be structured to make up a UTM code. When setting up a UTM code, there are three tags that are mandatory and two that are optional. Let's begin with the original URL.

utm_source
The campaign source in a UTM code looks like "utm_source". This field is mandatory and is used to simply indicate where the traffic is originating from. For example, if someone found our website through our Twitter page, they're taken to our website with the source defined as "Twitter".

utm_medium
The UTM medium is mandatory and will track the higher-level campaign medium where the link was shared. Social, organic search, paid search, email campaigns, and other core marketing channels can include multiple UTM sources. In this example, social media is the medium.

utm_campaign
There's a good chance you'll be running more than one campaign in your company's lifetime. In fact, it's probably a 100% chance. You could be running the campaign to announce a sale, a free giveaway, a new product launch, and so on. This mandatory parameter identifies the specific campaign that's being associated with the link.
Let's say we're hypothetically revamping our Learn Hub for the second half of the fiscal year, and we want to show off our sweet new design. If we promote it on Twitter and someone clicks on that link because they've seen it organically, that URL will look like this:

utm_term
When you're working with paid search, you'll be bidding keywords associated with what you're promoting. If you want to get really specific with your tracking, you have the option to implement terms into your UTM code to see if those keywords are actually paying off.

utm_content
This additional tag allows marketers to add any additional clarifying details they want to be tracked. This can be used for different CTAs, A/B testing, or buttons.
For example, in this Twitter campaign, we're running two different sets of copy. If the second version of copy was clicked, the URL might look something like:

Using UTM codes in Google Analytics
You could write the URLs manually, but why not have a program do it for you? Google Analytics Campaign URL Builder allows marketers to add campaign parameters to URLs for tracking purposes.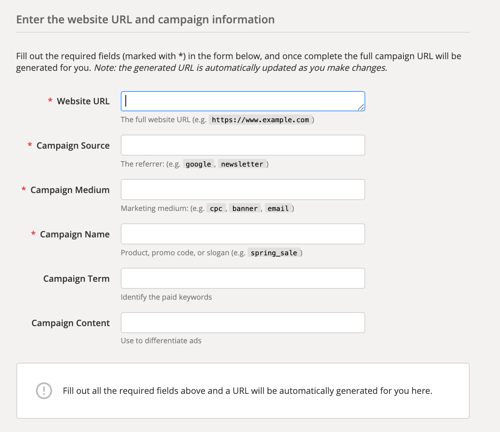 Google's builder requires that each parameter be entered individually. After inputting the required parameters, a URL with UTM code will be automatically generated with the proper syntax.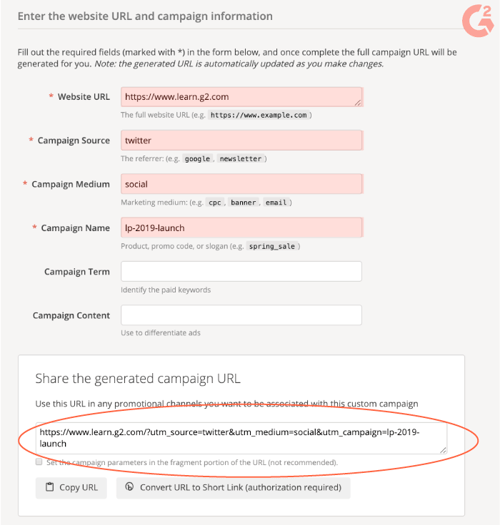 Attaching the URL or shortened link to your campaign and turning it into a clickable link will allow Google Analytics to track the success of each campaign individually. Use it on social, in your email campaigns, banner ads, and wherever else anyone could choose to click.
Measurements of each campaign can be accessed and tracked in Google Analytics by opening "Acquisition", then "Campaigns", and then "All Campaigns". You can view each campaign by the source, medium, or both.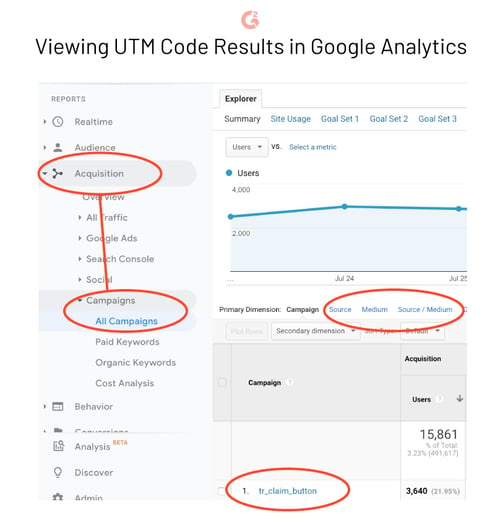 3 UTM mistakes to avoid
This is really exciting information, and it's important not to mess it up. Below are three common mistakes that people using UTM code make and how you can avoid them.
1. Not tagging at all
One of the biggest mistakes any marketer or advertiser could make is not taking the time to tag at all. The importance of being able to track your success is enormous, and it's surprising to see the lack of people taking advantage of UTM codes in their URLs.
2. Tagging inconsistently
It may surprise some people (it surprised me!) that UTM tags are case sensitive. In other words, "utm_source=Twitter" and "utm_source=twitter" will be tracked differently.
Additionally, making sure that you and your team are on the same page with tagging is of vital importance. Yes, PPC, CPC, and Paid Search all essentially mean the same thing. Make sure that you choose one of these tags to avoid having to track several different links.
3. Forgetting to shorten a URL
The final URL we end up with would not look good on an advertisement. Users like seeing neat, clean URLs for two reasons. First, they're more aesthetically pleasing to look at. Second, they're overall more trustworthy to look at. Which would you rather click on?

Mark your territory
Tagging your URLs with UTM code is a no-brainer. It's not a must, but it opens up your data-driven world a lot more than if you choose not to implement them. After all, how can you measure success without any valuable metrics?
Now that you have all of that data, it might be smart to use some data visualization techniques to present your findings.