Let's be honest: consumers don't trust marketers.
In order to truly build trust with your customers, your content marketing strategy needs to put them front and center. From theoretical personas to real end-users, their voices matter the most and should be heard in your marketing efforts.
User-generated content helps you do just that.
What is user-generated content (UGC)?
User-generated content (UGC) is any type of content – videos, images, blog posts, testimonials, social posts, reviews, and other media – that is created by an unpaid consumer and is publicly available for others to view. UGC is commonly used by marketers to bring authenticity to their efforts and build trust with their audience.
In other words, UGC is any free promotion of your product done by your fans.
Why is user-generated content so important?
User-generated content is effective for a number of reasons, the biggest being that it's a version of social proof. It shows potential new consumers that current customers are happy with your product or service. And if you're happy, chances are they will be too. Endorsements (even from total strangers) matter to us as consumers.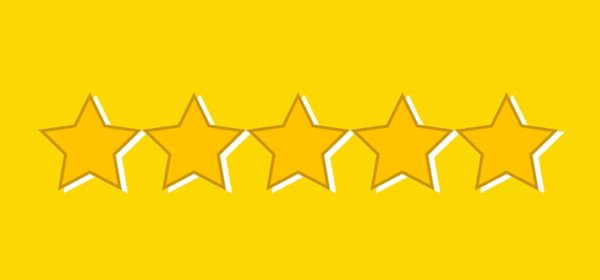 Websites and platforms dedicated solely to user reviews are becoming more popular. In fact, nearly 95 percent of buyers are reading online reviews before making a purchase. Customers are looking to Yelp for local reviews, Amazon for consumer product reviews, and G2 for software and service reviews to help all types of businesses attract more user-generated content.
Why is that? Think about it like this – similar people shop at similar stores. You have the same interests, wants, and needs, whether it's a new pair of jeans or an innovative software solution. It's the reason marketers build out user personas and adapt their strategies to match.
Related: The power of reviews isn't just marketing talk, it's reflected in the numbers. According to a recent study by Womply, business with 200+ reviews earn nearly twice as much in revenue than average.
What are the benefits of UGC?
Aside from the obvious benefits of saving time and money on content creation, there are deeper, more meaningful reasons that user-generated content should be important to you and your brand.
It builds trust
The biggest purpose and benefit to UGC is that it builds trust between your brand and your audience, both with your current customers and potential ones. Today's savvy consumer sees right through the shiny marketing tactics.
They want (and prefer) authentic stories from real people and that connection is crucial. We're spending more time in front of our computers than ever before, and it's becoming increasingly normal to look to online communities for advice and even inspiration.
It creates community
You create a community by inviting buyers to be involved in your brand, resulting in trust. There's nothing better than a brand responding to your Instagram story that mentions their product, right? You become part of the family and that makes you feel a true connection to the brand itself and other customers as well.
Encourages engagement
When others see that sense of community shaped by UGC, it will encourage them to engage further with your brand. And we all know that more engagement means more eyeballs means more sales. It's by far the best metric to gauge the effectiveness of UGC campaigns.
Gathers insight
With great engagement comes a wealth of knowledge from your customers. Even when feedback is seemingly bad, you're better off for knowing it. User-generated content presents invaluable source of real, honest opinions.
How to use UGC in your marketing efforts
So, now that you're fully on board with UGC, what it is and why you need it, you may be asking, "How do I use user-generated content?"
You're in luck! Here are a few best practices for using UGC:
1. Pick the right medium
The best place to run a UGC campaign varies from brand to brand. Where are your current and ideal customers spending most of their time? Is it social media or review sites? It's important to get this right the first time as it will affect your entire content marketing strategy and execution.
2. Be clear in your ask
Regardless of the medium(s) you decide on, your ask has to be clear and concise. Ambiguity can kill your initial hype and engagement. Choose the specific type of user-generated content you want to collect. If your ask is too lofty or confusing, people will move on to the next brand.
3. Stay on top of it
To get engagement, you have to give it. This two-way conversation is what makes inbound marketing more effective than outbound marketing. Keep in mind that monitoring your engagement will look different depending on the medium.
4. Don't be afraid to pivot
If your campaign isn't working, it might just not be the right time or place – maybe both! Take a step back and reevaluate your strategy. When in doubt, reach out to your customers to get their feedback; it never hurts to hear straight from the source.
Examples of user-generated content in B2C
Let's take a look at how some brands are incorporating user-generated content into their campaigns. All of these efforts result in a different variation of UGC in hopes to spark your imagination to start thinking about content in a totally new way.
Starbucks White Cup contest
Starbucks asked their customers to doodle on their blank, white cups and post their creations to enter a contest. The winner's cup would become a template for a new, limited edition Starbucks cup. Nearly 4,000 customers submitted content for the contest making it a smashing success.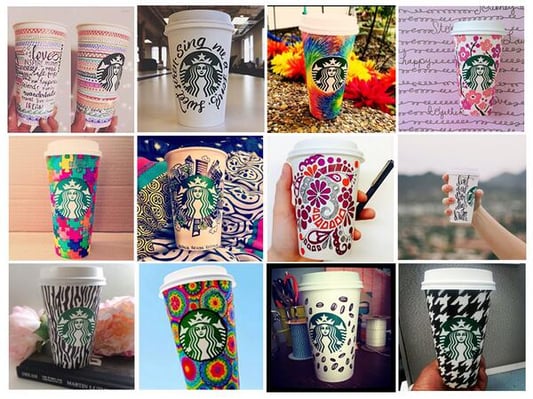 In this example, Starbucks used a variety of mediums to get the word out and gather the entries – blog posts, social, etc. But, the actual user-generated content was demonstrated by the physical product itself. It was a perfect way for Starbucks to engage with its current audience and even reach new customers.
Rent The Runway "Our Runway" filter
While Rent The Runway didn't change the rental game, it did seriously disrupt the market. Designer rentals are typically tied to special events when consumers want to look their best – weddings, fancy galas, and so on. There are a lot of hoops to jump through with rentals, but the biggest pain point was that consumers didn't know what they clothes would actually look like on until it was too late.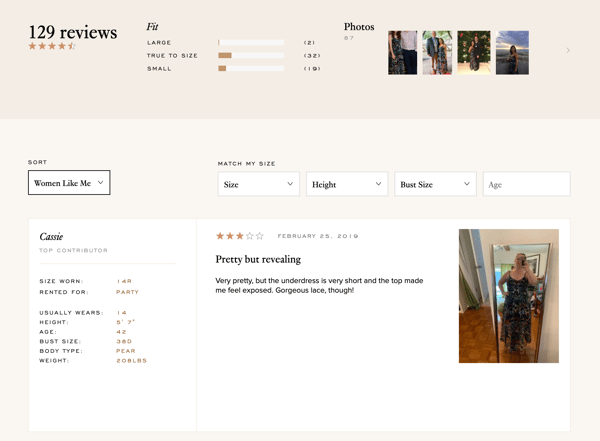 In comes the "Our Runway" filter on their website. Simply selecting a dress allows consumers to view reviews from past renters with sizes and more information. But it goes the extra mile by letting people input their measurements and other requirements to see the dress on others with similar shapes and sizes.
Isle Surf & SUP
When Isle Surf & SUP (stand-up paddle) deployed UGC on their e-commerce site, their initial goals were to increase community engagement and drive new business. The ripple effect of deploying UGC across their site meant that site visitors were more engaged.
Isle Surf & SUP saw a 119% increase in time-on-site after implementing UGC on their site. This boost was an indication that the content was resonating with their community overall.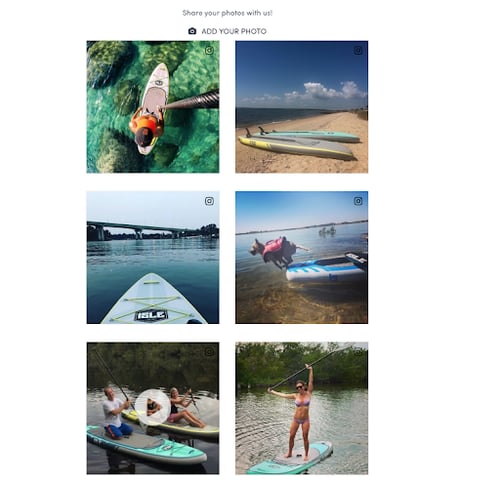 The company combined text ratings and reviews with their UGC to paint an authentic description of each product on their website. Social proof like this helps boost brand authenticity and trustworthiness, and for Isle Surf & SUP it led to a 19% sales increase.
Munchkin and shopping cart abandonment
Munchkin, a children's and baby care brand uses UGC to convert customers who added an item to a cart but didn't checkout.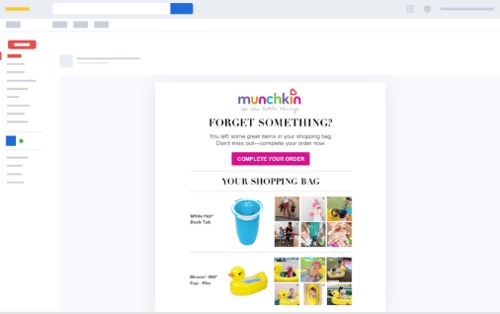 Customers are 2.3 times more likely to buy after interacting with Munchkin's UGC. This smart tactic helps potential customers see the extra proof point they need from their peers, not just from the brand. As an added bonus, this use of UGC encourages new customers to share their content when they receive their order.
Mapiful and increased return visitors
Mapiful, a brand dedicated to helping customers design reminders of their most cherished stories through custom posters saw that visitors were 115% more likely to repeat visits with UGC on the site. This data helps provide insight into the wants and needs of the community. Customers interact best with the content that is authentic, relatable, and relevant.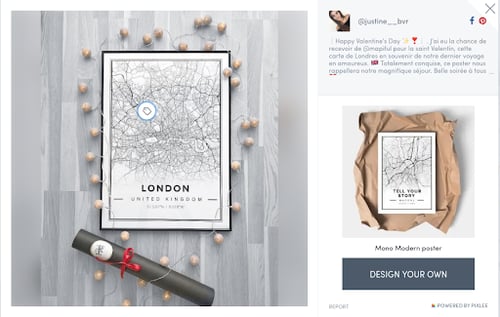 Use UGC to keep content consistently fresh and dynamic. By frequently updating galleries to reflect new UGC, you're able to provide a dynamic experience for everyone visiting the site, every time they visit.
Examples of user-generated content in B2B
Business-to-business UGC can also be very successful with the right execution. A word to the wise: remember your audience.
G2 Gives X Girls Who Code booths
Another way to encourage engagement is by tying your campaign to a greater purpose. Through the G2 Gives initiative, G2 hosts review booths at various trade shows where every review raises money for Girls Who Code. Girls Who Code's mission is simple: to close the gender gap in STEM-related fields.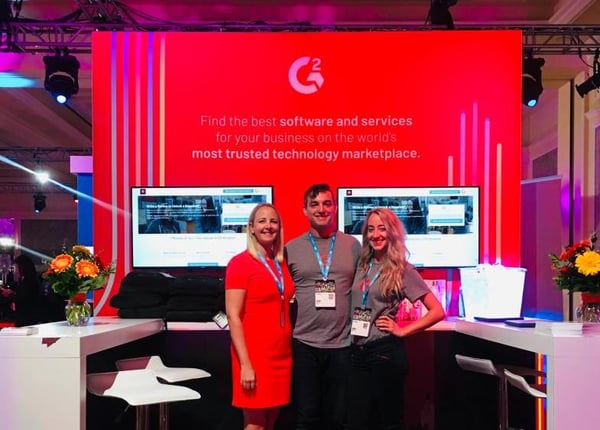 Users simply leave a review for a software product or service they currently use or have used in the past. Buyers can then find software reviews when looking at a new software solution on the G2 platform. Plus, companies can then use those same reviews in a variety of ways in their own content.
Adobe social campaigns
Adobe figured out that the best way to get people to try their products wasn't to show them the features, but to show how people are using the features. The brand's entire Instagram feed is UGC.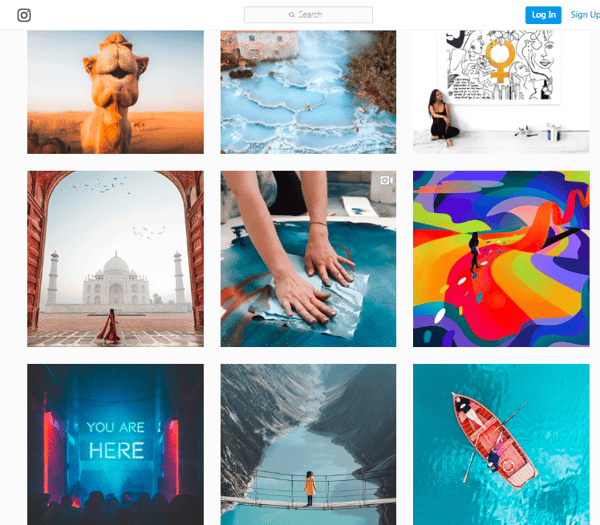 They run a variety of campaigns at any given time but the B2B use case is truly a [key]stroke of genius. Adobe asks people that use Photoshop, Illustrator, Lightroom, and other Adobe software programs in their jobs to share their work. This is the end use for this user-generated content and it makes such a visual impact.
People talk
Don't you want to be part of the conversation? User-generated content could be the next step in turning your customers into advocates. When done right, this cost-effective (and just plain effective) type of content creation is potentially the key to differentiating your brand in a crowded market. Working with your customers to build trust – sounds like a win-win to me.
Hungry for more? Discover how to effectively generate reviews with our ultimate guide.