Employees are working hard for more than just the money – they want to know what you're bringing to the table.
As more employees seek employment opportunities that fit into their lifestyle, it's going to take more than just a six-figure salary to find qualified candidates. If you're hoping to find and keep the best talent out there, you'll need to take a hard look at what you're bringing to the table.That's why employee benefits are becoming the next big battleground in the war on talent.
Types of employee benefits
The term 'employee benefits' can cover a number of different things. Often part of a company's compensation and benefits program, everything from health insurance to unlimited PTO fall under the umbrella term. In order to get a better understanding of what counts as an employee benefit, we first need to define it.
What are employee benefits?
Employee benefits are the various types of non-wage compensation that employers provide to employees in addition to their regular wages or salary options. These are often included in a job offer and can be used as a way to attract and retain top talent.
There are three main types of employee benefits:
Employee benefits that are required by law
Employee benefits that aren't required but are considered an industry standard
Employee benefits that are offered as an added perk or fringe benefit
For the benefit of clarity, we're going to start this article by covering the employee benefits that are required by federal law and then progress toward more "fringe" benefits.
If you're looking for information about a specific type of employee benefit, use the links below to jump ahead:
What types of employee benefits are required by federal law?
There are a handful of employee benefits that employers are required by federal law to provide to their employees. These employee benefits are a set standard across states and industries and every employer must offer them in order to stay compliant with laws created by the U.S. Department of Labor.
As with any rule, there are exceptions for each of these topics. This list should act as your guide for the different types of employee benefits program, but under no circumstances should it be considered the letter of the law. If you have any questions about the legal requirement of employee benefits, you should consult a lawyer who specializes in employment law.
1. Social security and medicare contributions
Most employers don't consider social security and medicare contributions to be an employee benefit, but they are. These are considered long-term benefits that both employee and employer pay into with the understanding that the employee will have access to them in the future.
According to the latest update from the IRS, employers are required to withhold Social Security tax at 6.2%, equal to or above the maximum wage base limit of $132,900. Once you hit your max contributions on your wage base limit, social security stops being deducted from your paycheck.
Individuals who are self-employed pay tax at 12.4%. Medicare tax is set at 1.45% for employees and employers or at 2.9% for self-employed individuals.
Tip: You can find continued updates about the rate of pay required by employers on the IRS website.
2. Workers' compensation insurance
Workers' compensation is a form of insurance provided to employees who become ill or are injured at work. It provides employees with supplemental income and medical benefits that they are no longer receiving due to their injury. You can read more about the requirements for workers' compensation on the U.S. Department of Labor website.
3. Minimum wage and overtime pay
As of July 2009, the federal minimum wage is set at $7.25 per hour. As an employer, you are required to pay employees at the federal minimum wage – with some exceptions to this rule for employees who work for tips. Your local state laws may have a higher minimum requirement than the one set at the federal level.
Most federal and state laws set the required hourly threshold at 40 hours per workweek. Federal overtime laws require employers to pay employees a wage greater than their regular rate for hours worked beyond their normally required threshold.
As with the minimum wage laws, there are exceptions based on the type of employee and state laws. Every circumstance is unique, and you should consult your state and local laws for more information about what you're required to provide for your employees.
4. Unemployment compensation contributions
Employers must contribute pay for unemployment insurance for every employee, regardless of whether they are full-time or part-time. A combination of taxes at both the state and federal level are required of employers to pay into an Unemployment Trust Fund wherein eligible employees are paid out should they qualify for unemployment.
5. Employee benefits required for employers with 50+ full-time employees
Depending on the size of your company, you may have additional requirements for what employee benefits you must offer your staff.
There are two major requirements for employee benefits that go into effect for employers who have more than 50 full-time employees:
These two employee benefits are not required by every employer, so we will cover them in more detail in the next section. It's important to note that they are mandatory for any employer that passes the 50+ full-time employee benchmark.
What types of employee benefits are considered an industry standard?
We spent some time in the section above covering the federal requirements for employee benefits. In this section, we'll cover the employee benefits that are not required by law but are considered the standard across industries. Most companies will offer a majority of the employee benefits listed below to some degree.
1. Health insurance
Health insurance is one of the most popular employee benefits offered by employers. It's important to note that because of the Affordable Care Act (ACA), employers with more than 50 full-time employees must offer medical insurance through their employee benefits program.
Medical insurance usually covers three main things: health insurance, vision insurance, and dental insurance. These three offerings are often bundled together and offered by an employer to the employee.
Health insurance can also include a few other things, like a health savings account (HSA), flexible spending account (FSA), or health reimbursement account (HRA). Some companies will offer one or all three of these options. It's important to explain to your employees the difference between each of these options and why they might benefit from each one.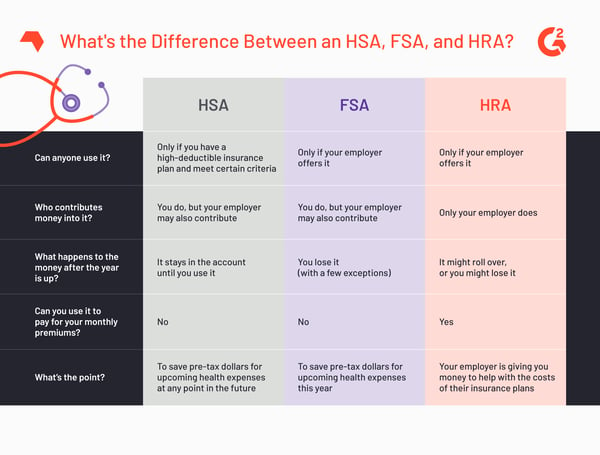 Deciding which of the following additional health insurance programs is best for your employees is best left between you and your corporate insurance provider. Each of these programs will benefit companies in a different way, so it's important to inform yourself of your choices.
2. Family and medical leave (FMLA)
As mentioned above, employers who have 50+ full-time employees are required to offer Family and Medical Leave (FMLA) to any qualifying employee.
The FMLA dictates that any eligible employee is allowed to take up to 12 work weeks of unpaid leave during any 12-month period to care for a new child, a sick family member, or any family-related emergency without their employment being put at risk.
Employees are eligible for FMLA if they meet the following requirements:
An employee must have worked for the employer for at least 12 months
The employee must have worked at least 1,250 hours over the past 12 months
The employee must work for a company with at least 50 employees
State and local laws may dictate that employers require additional time for employees that qualify for FMLA. You should consult your local employment laws to ensure your HR department is complaint with updated FMLA laws.
3. Disability insurance
In addition to health insurance, many employers often employees the chance to opt into disability insurance. In short, disability insurance is wage protection. It protects the employee and your employer from unforeseen circumstances that may prevent the employee from working for any extended period of time. There are two types of disability insurance: short term and long term.
Short-term disability insurance
Short-term disability insurance covers injuries or circumstances that can put an employee out of work for a short period of time, like a few weeks to a couple of months. The types of situations that could be included for short-term disability are a broken limb, outpatient surgery that requires recovery time, or sometimes can even cover pregnancy or maternity leave.
In any situation where an employee is out for an extended period of time, they will expend their short-term disability option first. It's not until an employee has exhausted their short-term disability options that they will turn to their long-term disability insurance.
Long-term disability insurance
If any employee has an injury or circumstance that exhausts their short-term disability options, they will begin pulling from a long-term disability insurance plan. The time frame for this is usually anywhere from three to six months.
The types of situations that could be included for long-term disability are cancer, mental illness, or medical problems that require multiple surgeries.
Which states require employer sponsored disability insurance?
As with many employee benefits, the state and local laws will impact what is required of employers. Before you decide which disability options to provide to your employees, check your state and local laws to see what is required of your business.
There are currently six states plus Puerto Rico that require some form of disability insurance provided by employers:
California
Hawaii
New Jersey
New York
Puerto Rico
Rhode Island
If you are an employer in any of the aforementioned states, you should check your local laws to ensure your company is complaint.
4. Retirement savings
Retirement savings options are another staple of nearly every employee benefit program. Over the last couple years, 401(k) plans have overtaken pension plans as the most popular retirement planning option.
Why do employers prefer offering 401(k) over a pension?
A 401(k) is less expensive than other qualified retirement plans
Employers are not required to contribute to 401(k) plans
401(k) plans give the employee more control over fund contributions than a pension
Whether you choose to offer your employees a pension or a 401(k) retirement account, most employees expect an option for their retirement savings to be included in their employee benefits.
5. Life insurance
According to the 2019 SHRM Employee Benefits Report, 85% of companies now offer group-life insurance options to their employees. In many cases, these life insurance policies offer provisions covering accidental death and/or dismemberment. These policies can be paid out to a beneficiary designated by the employer and can include their partner, children, or extended family members.
These plans are not recommended to be used as the only source of life insurance for an employee. Rather, they should be used to supplement other life insurance plans and options.
6. Paid time off (PTO)
While not required by law, many employers offer employees some form of paid time off (PTO) in order to remain competitive with other companies. Paid time off is a pretty broad term, but it can be summarized as any time where an employee does not work and still receives pay. These can include: paid vacation time, sick days, company holidays, and so on.
In many cases, paid time off is accrued by an employee over time and have a monetary value behind them. Depending on your state, employers can be on the hook for paying out accrued PTO once an employee quits or retires.
7. Stock options
An employee stock option is when an employer allows employees to buy a certain number of shares in company stock at a pre-set, often reduced price over a certain period of time.
Thirty years ago, stock options were offered to the highest performing employees as a perk for a job well done or decades of loyalty to a company. Nowadays, stock options are becoming a way for companies that haven't gone public yet to fuel company growth.
Popularized by start-up companies, this trend of allowing employees a chance to invest in your company during your early stages is becoming more popular. We're seeing established brands opening up stock options to employees at every level as an added employee benefit.
What types of employee benefits are considered fringe benefits?
The war on talent has pushed some companies to think outside the box when it comes to employee benefits. Everything from 'Beer Friday' at advertising agencies to catered lunches during the work week, it seems there isn't a thing employers won't try to attract and retain top talent. While most of these employee benefits haven't gone mainstream quite yet, they just might be the next big thing in employee benefits.
1. Wellness Programs
Employees spend more time at work than the do anywhere else and as a result, more and more companies are investing in corporate wellness programs. According to Global Wellness Institute Research, employers spend $43 billion on wellness programs and many are looking to spend more.
Corporate wellness programs can include a variety of things including: employee assistance programs, access to therapists and crisis counselors, mental health assistance, access to nutritionists, discounted gym memberships, and more.
The idea behind a corporate wellness program is that employers invest in the well-being and wellness of their employees and see the benefit of that through employee happiness, and overall improved employee well being.
2. Tuition reimbursement and student loan repayment
The student loan crisis is something we've all seen discussed in the news over the past several years. There are nearly 45 million Americans currently burdened by $1.5 trillion in student loan debt and your employees are no doubt among them.
As a way to proactively combat the problem, some employers are offering tuition reimbursement and student loan repayment programs to their employees. These programs help lessen the financial burden on employees and encourages them to pursue advanced degrees.
How does this benefit your company? Employees who aren't financially burdened are less likely to leave their job for a company that will offer higher pay. On top of that, employees who pursue more education will learn more and bring additional value to their current role. An investment in your employees' education and future is an investment in your company.
3. Relocation and housing options
Some companies located in areas that are considered 'talent deserts' are taking the next step to recruit new talent by offering relocation and housing options. In April 2019, the city of Omaha, Nebraska launched an ambitious plan to offer $10,000 and relocation services candidates willing to move for work. While this may seem like an extreme case, the practice is becoming more common.
Relocation and housing options can include a lot of things. The most common incarnation of this plan is offering financial assistance to employees looking to move. It can also include partnering with local housing agencies to help apartment hunt for employees who are out of state.
Companies are looking outside the talent pool in their own city or state in order to attract the best and brightest to work for them. Offering a top-tier employee financial assistance may be the push they need to relocate.
4. Commuter Benefits
In cities that have large public transportation systems, employers are offering tax-free commuter benefits. This program allows employees to purchase pre-tax transportation credits directly from their employer. This helps reduce the employee cost for commuting expenses such as train or Metra tickets, ride share apps, and work related parking costs.
5. Unlimited PTO
Unlimited PTO is quickly becoming the hottest new trend in employee vacation benefits. As the name suggests, an unlimited PTO policy is a vacation policy in which employees are not given a predetermined number of days off. Employees can take as many vacation, sick, personal, or mental health days as they need, so long as their manager approves their time off.
This employee bonus started as a trendy perk available to start-up employees and is quickly being adopted by more established, larger companies. While there are always risks and rewards to offering a perk such as unlimited PTO, many companies see it as an additional recruiting and retention tool.
6. Telecommuting and work from home options
This employee benefit may seem fringe for companies that don't currently offer it, but it's actually become part of the mainstream. According to CNBC, 70% of people globally work from home at least once a week.
If your company doesn't offer a flexible work hours or telecommuting options to your employees, you may want to rework your current policy. Technology is making it easy for employees to get work done outside the office. Employees are more likely to take a job that allows them flexibility to get work done on their time and in a way that accommodates their lifestyle.
How should your company track employee benefits?
The sheer volume of different types of employee benefits can make administering employee benefits difficult. The wrong benefits administration software can keep your company from offering some of the innovate employee benefits mentioned above.
The good news is that regardless of your company size, there is a software solution that will work for you. Benefits administration software enable HR managers to administer benefits packages, track employee benefits, and encourage healthy usage among employees
If you're not happy with your current benefits administration software, you should consider exploring your options. Whether you're a company of five or 500, the right benefits administration software solution is out there to fit your budget and needs.
Make your employee benefits work to your benefit
Stop thinking about employee benefits are a requirement and start thinking about them as a recruitment and retention tool. When you offer your employees a workplace that cares about them as people, you'll create an environment where they want to stick around.
Learn about how optimizing your employee benefits can help recruit Millennial and Gen Z employees and browse more articles like this on our human resources hub.