If you're restless right before falling asleep, chances are you pull out your phone and start skimming through social media.
There are many reasons Twitter might be your nighttime social media platform of choice. Maybe as you're lying in bed, you were suddenly hit with an idea for your impending business pitch and want to test it out beforehand. Maybe you forgot to respond to that important Twitter follower. Or maybe you want to see what people are saying about the latest political decision.
So you pull up Twitter on your phone or laptop in your dark room and — it's painfully blinding, like looking into the sun.
Don't grit your teeth and squint through it. There is a solution — Twitter Night Mode.
How to use Twitter Night Mode (mobile)
Click on your profile picture icon and select 'Settings and privacy.'
Tap 'Display and sound.'
Toggle on 'Night mode.'
Setting up Night Mode is super quick and easy. Let's go through it, step-by-step.
Twitter Night Mode
What exactly is Night Mode? Turning this feature on will change the layout color scheme of your Twitter interface to a black background. It's much easier on the eyes when scrolling through your Twitter feed in the dark, or on a red-eye flight, or in a dark conference room.
Plus, it takes very little effort to turn it on!
How to use Twitter Night Mode
Night Mode can be used on both your mobile device and your PC. I'll go through each so you're prepared regardless of device.
Twitter Night Mode on mobile
More likely than not, your phone is closer to your nightstand than your laptop is. If you primarily use your mobile device for looking at Twitter, follow these easy steps.
1. Tap on your profile picture.
You'll locate it in the top-left corner of your screen.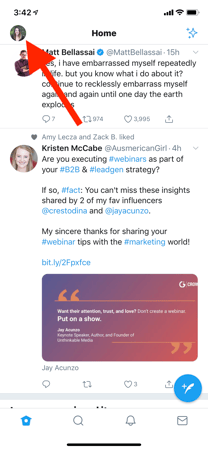 2. Tap on 'Settings and privacy.'
In the drop-down menu that appears, it's located toward the bottom.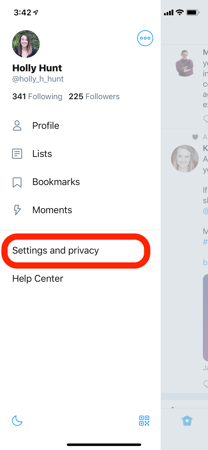 3. Select 'Display and sound.'
It's the first option under 'General.'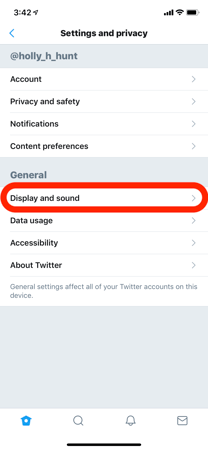 4. Toggle on 'Night mode.'
Your background will immediately change to the black color scheme.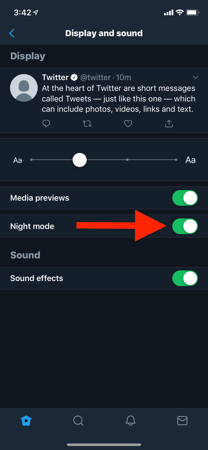 You can go back and change it at any time!
Twitter Night Mode on PC
Changing your Twitter to Night Mode on your PC is even easier than doing so on mobile, if you can believe it. It only involves two steps.
1. Click on your profile picture icon.
This will be in the top-right corner on your PC.

2. Select 'Night mode.'
It's the last option in the drop-down menu.


And boom — you're in Night Mode! Your screen should now look like this: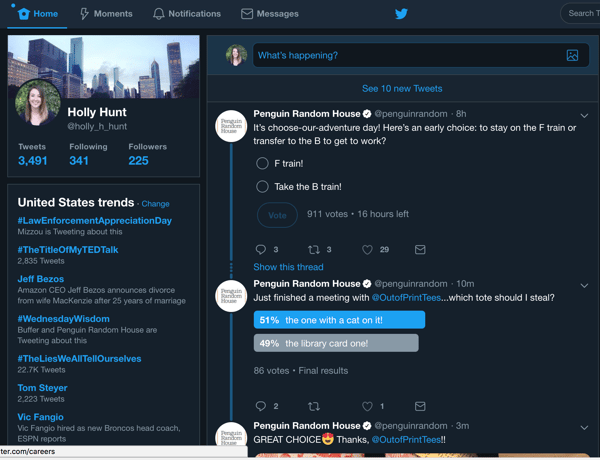 Not only will your eyes thank you, but the passenger sitting next to you on that red-eye flight will thank you. It's so easy to turn on, it's definitely worth trying out.
Twitter isn't the only social media network that has a night mode. If YouTube is more of your nighttime vice, here's how to turn on YouTube Dark Mode.
Want to know more easy Twitter hacks? Check these out: