Welcome to our first-ever #G2Fireside Twitter Chat roundup!
Last Thursday (July 18, 2019), the G2 content team launched #G2Fireside. From the beginning, the chat was full of marketers, creatives, and content professionals alike, sharing their expert opinions on social selling, analytics, and marketing strategies.
This week's topic? Social media and tech.
#G2Fireside: Social Media + Tech
As G2's social media content writer, I was psyched to lead the chat all about social media! I was joined by Olivia Jepson, a Social Media Specialist from Sprout Social and G2's own Research Specialist, Stephanie Graham!
Let's take a look at some of the insights our fellow marketing experts shared with us.
Q1: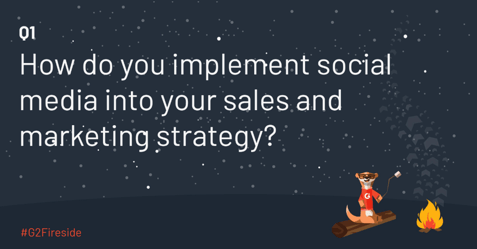 Our first question highlights the relationship between social media and sales and how you implement them into your marketing strategy. Right off the bat, Julia Rose from Ledgeview Partners shared her thoughts:
A1: In today's marketplace, social media should be an integral part of your strategies. Be where your customers are. Care what they care about. You don't have to be an expert on every platform. Focus on what's important. Grow and develop based on these factors. #G2Fireside

— Julia Rose (@Missjflar) July 18, 2019

Olivia from Sprout Social jumped in with her opinion on the importance of social at Sprout:
A1b: In marketing, our social team is often involved in projects early on to either brainstorm or create a social strategy that will support the overall initiative. Side note: social doesn't just touch sales and marketing, it touches every part of our org! #G2Fireside

— Olivia Jepson ⚡️ (@ohjepson) July 18, 2019

Dan Willis of Millennial Motivator talked about relationship marketing:
A1 #Socialmedia empowers #Relationshipmarketing in a massive way. It where your #brand and #community collide. #G2Fireside pic.twitter.com/jvI27EnZpV

— Dan Willis #SAIS2019 (@MLLNNLmotivator) July 18, 2019

Tiffany K. Schreane spoke about brand awareness:
A1: I work with a lot of small start up companies and utilize it heavily for content marketing to drive awareness and engagement or images to primarily drive awareness. #G2Fireside

— Tiffany K. Schreane (@tiffanyschreane) July 18, 2019
Q2: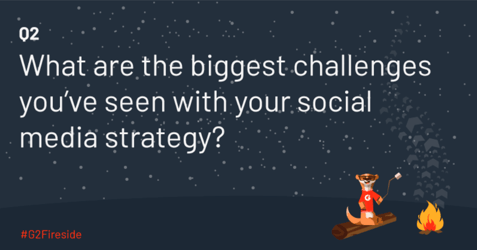 Next, we wanted to know the challenges marketers face while developing their social strategies. Julia McCoy from The Content Hacker stressed the importance of sharing the right content:
A2:With Content Hacker just recently starting up, the beginning stages of growing a community is never easy. So figuring out different content to post & seeing what works best through analytics & data is really important! Making sure what you're posting is converting.#G2Fireside

— The Content Hacker™ (@content_hackers) July 18, 2019

Bentley University chimed in:
A2.

Hi!
We're jumping in a bit late!

Biggest challenge
with our social strategy?

Keeping up with the
natural cycle of the academic year.

👍🏽Vacations
👍🏽Breaks
👍🏽Holidays
👍🏽Exam periods
👍🏽etc.

All have an impact on
our content creation + engagement. #G2Fireside

— Bentley University (@bentleyu) July 18, 2019

Archita Sharma of Automate.io talks ROI
A2: Crafting & tracking social media strategies that are aligned to ROI has been the biggest challenge. Especially when it comes to understanding what exactly our social channels are driving - traffic? brand presence? conversions? How would you track - "branding" 🤔#G2Fireside

— Archita Sharma (@mearchita) July 18, 2019
Q3:


Next, we talked social selling. Aishwarya Ashok from Zoho shared her thoughts:
A3. It's the social business age, and you can see every media having its own business platform. While it's definitely necessary to sell products by running paid campaigns, optimizing budget for channels is crucial to know which channel works for your brand better. #G2Fireside

— Aishwarya Ashok (@aishashok14) July 18, 2019

Pair Networks highlighted the importance of building relationships:
A3. Building relationships by making positive contributions to the conversations in the industry is our main focus using social media. For social selling, we share promotions, coupons, and invite our audience to sign up to receive exclusive deals in our newsletter. #G2Fireside

— pair Networks (@pairnetworks) July 18, 2019

Vraj Shah laid out his philosophy about focusing on the audience:
A3.#SocialMedia is not just for SELLING, it's for SHARING too

- Stay connected with your audience
- Listen & speak what they want
- Allow them to share their problems
- Resolve their issues & be a hero for them
- Share your service as a solution & magic

BOOM! DONE#G2Fireside

— ⚡ Vraj Shah 📸 (@vrajshahspeaks) July 18, 2019

Olivia shared her guide for selling on social media:
A3: This is something we've recently been thinking a lot about. A few weeks ago I shared some social best practices and resources that we're going to start sharing in our sales on boarding process. This is a great guide to reference too! #G2Fireside https://t.co/Jve4j8TVLu

— Olivia Jepson ⚡️ (@ohjepson) July 18, 2019
Q4: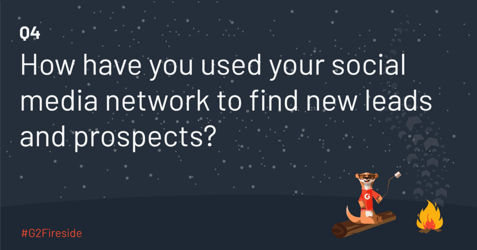 For Q4, we asked about using social media to find leads. Our own Kevin Indig talked monitoring your network:
A4: It's all about measuring who's engaged, connecting that to a market automation pipeline or CRM platform.

If you can monitor who in your network is highly engaged with your brand and could be lead - you're in a good place. ✌🏻#G2Fireside

— Kevin_Indig (@Kevin_Indig) July 18, 2019

Adrien Lemaire of RC Engage shared the tactics he uses:
A4. By being present on channels they use such as LinkedIn groups and Twitter hashtags. And also promoted posts, which allow to target precisely the persons you want to reach#G2Fireside

— Adrien Lemaire (@adrien_lemaire) July 18, 2019

Writer Christian Lowery spoke about how important genuine connections can be:
A4: #G2Fireside

I try to make genuine connections with people. Comment on their work. Engage with their posts. Celebrate their achievements.

The less you think about getting leads from people, and the more genuine you are - the more leads you end up getting.

— Christian Lowery (@clowerycontent) July 18, 2019

Deb shared her thoughts on targeting your audience effectively:
Most social media management tools have monitoring features - use them to search for relevant keywords that your target audience would use. #G2Fireside @G2dotcom @getcloudcherry

— Deb (@debdebby06) July 18, 2019
Q5: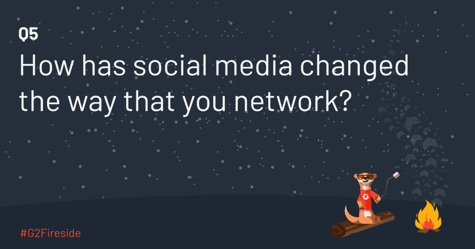 Time to talk networking! Tiffany K. Schreane praised Twitter:
What is funny is that I have had much more success with networking on Twitter than LinkedIn. Twitter has allowed for much more engaging content such as fireside chats that drives more value and insights. #G2Fireside

— Tiffany K. Schreane (@tiffanyschreane) July 18, 2019

#FreelanceChat host Michelle Garrett agreed, giving her thoughts on metrics and traffic:
Agree, Tiffany. I've started spending less time over on LinkedIn & more on Twitter because metrics show that's where more of my traffic is coming from. I was surprised to learn that LI isn't as effective for me as Twitter or FB, esp because I work with B2B clients. #G2Fireside

— Michelle Garrett (@PRisUs) July 18, 2019

Julia Rose came back to talk about establishing herself as a subject matter expert:
A5: It lets us establish ourselves (personally and w/ company profiles) as subject matter experts. We have the power to reach wider audiences than ever before! It's incredible what we're capable of. With the right strategy to back it, we're unstoppable. #G2Fireside

— Julia Rose (@Missjflar) July 18, 2019

Our own Amy Lecza shares her thoughts on brand voice:
A5: social media networking allows brands to acquire and maintain a diversity of brand voices, connecting them to different audiences across platforms. this is inherently good for networking - broadening reach while getting to know your brand on a deeper level. #g2fireside

— Amy Lecza (@amylecza) July 18, 2019
Q6: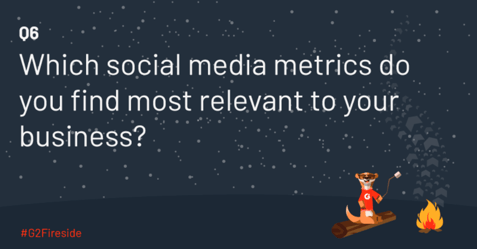 Next, we wanted to know which metrics you found most important to track. Our resident tech and analytics specialist Devin Pickell chimed in:
A6: Gotta track your link clicks and attribute them to the right campaigns. As a #contentmarketer, this is what I've been tracking lately. #G2fireside pic.twitter.com/8sbNUOwTt8

— Devin 📈 (@Devin_Pickell) July 18, 2019

I took the opportunity to share my findings on social media metrics:
I recently wrote a roundup of some of the most important metrics to pay attention to. Find it here: https://t.co/sotlTLALih#G2Fireside

— Alexa Drake (@G2Alexa) July 18, 2019

Dan came back to show some love to his favorite duo:
A6 Reshares and comments/replies are my dynamic duo.#G2Fireside pic.twitter.com/akSOYl7jED

— Dan Willis #SAIS2019 (@MLLNNLmotivator) July 18, 2019

Bentley University shared their favorite KPIs:
A6.

Our main social KPIs:

-Engagement
-Impressions
-Messaging Volumes
-Audience Growth

We always contextualize the data in order to make sure that we extracting value + are staying away from vanity metrics

Other metrics might be included on specific campaigns too#g2fireside

— Bentley University (@bentleyu) July 18, 2019
Q7: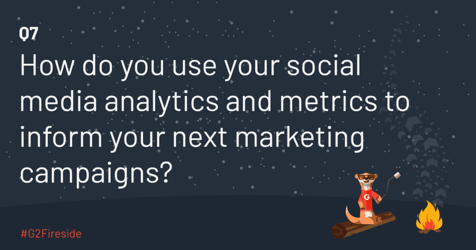 For our second to last question, we asked how you use metrics to inform your marketing campaigns. Sprout Social's Community Manager Joseph P. Huber shared his insights:
A7: In our communities, we use it to see what kind of content is helping our people elevate themselves and their careers. It also gives insight into HOW people want to view/digest that content. #G2FireSide

— Joseph P. Huber (@JosephPHuber) July 18, 2019

The Content Hacker talked looking back at past campaigns:
A6: Analytics and metrics from previous campaigns is definitely a big part of how to approach future campaigns. It can be used to improve and set higher goals. #G2Fireside

— The Content Hacker™ (@content_hackers) July 18, 2019
Q8: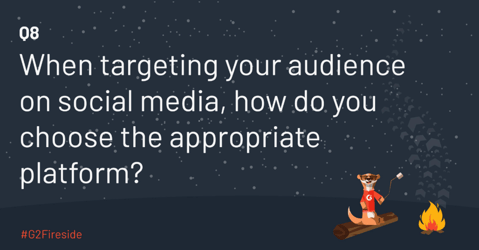 Finally, we asked how marketers choose the right platform. Content Marketing Institute stopped by to talk Slack:
A8a we frequently do audits to see where our community is spending most of its time. This year, we pivoted and made Slack a priority. Intimate group, robust conversations. #G2Fireside

— Content Marketing Institute (@CMIContent) July 18, 2019

Sprout's Joseph P. Huber said to customize your content for each platform:
A8: It's really easy when you're moderating a Facebook Group or Twitter chat... lol... But looking at your data and find out what types of content play in certain spaces. Sprout has a tagging function that makes it really easy to break down the data... Just saying! #G2FireSide

— Joseph P. Huber (@JosephPHuber) July 18, 2019

G2's Research Specialist Stephanie Graham talked about tweaking your marketing strategy:
A8: Tweak your marketing strategy for each platform you're on. There are tons of great resources out there that explain the benefits of each & how to choose one. And after a while, it becomes second nature! #G2Fireside pic.twitter.com/Vn0rY8iB5v

— stephanie graham (@grahamcrackers) July 18, 2019

Olivia wrapped up the chat, sharing her insights on demographics:
A8: We look at demographics and how people behave with certain types of content.

Simply, we listen, observe, watch and learn from both our audience and competitors! #G2Fireside

— Olivia Jepson ⚡️ (@ohjepson) July 18, 2019
Thanks for joining us!
On behalf of the G2 content team, thank you to all the experts that came out to participate in our inaugural #G2Fireside Twitter Chat.
Mark your calendars! Our next chat is on August 1st and will revolve around AI and chatbots, hosted by our own Devin Pickell and Rebecca Reynoso. It's sure to be insightful, interesting, and always fun. We hope to see you there!
If you want to talk social media, you can always find me on Twitter or LinkedIn. I love connecting with social media marketers and creatives so don't hesitate to reach out!
And if you've gotten this far, I think it's safe to assume you're a marketing buff. Check out our complete Social Media Marketing Learning Hub that includes over 30 free resources just for you.