How do you feel about meeting new people?
Hate it? Like it? Love it? Our followers had a lot to say about networking.
Held on Thursday, November 21, 2019, I hosted our most recent #G2Fireside Twitter Chat, discussing professional networking and personal branding with Natasa Djukanovic, CMO at domain.me.
#G2Fireside: Professional Networking
Meeting new people can be hard for anyone, but practice makes perfect. You can only grow if you step outside of your comfort zone and get yourself out there! Natasa Djukanovic knows a thing or two about this as the CMO at domain.me, a service for businesses and people wanting to personalize and expand their online presence.
Let's take a look at some of the key takeaways from this chat!
Q1: When networking, what's your go-to icebreaker question?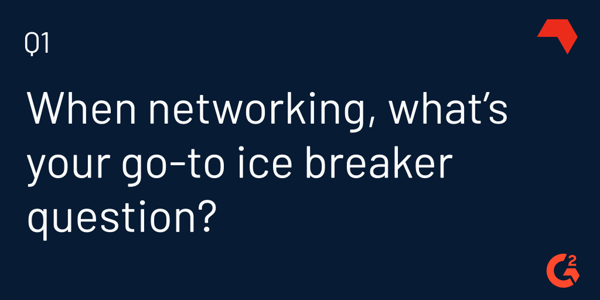 Our first question focused on the first few moments, and often scariest time, in any networking scenario.
Rachel Wendte from Career Foundry recommended an open-ended question that allows the other person to answer however they like, while also giving her some intel:
A1: "Who are you looking to talk with tonight?" This accomplishes a few goals. One, I see what they're interested in without having to ask. Two, if I know the person they want to meet or someone adjacent, then I become a connector in their mind! #G2Fireside

— Rachel Wendte (@rkwendte) November 21, 2019
Our guest Natasa added her own thoughts about the importance of context:
A1: I don't have a specific ice breaker question. Instead, I ask something related to the occasion, whether that's asking for a banquet recommendation or the most valuable takeaway from the conference. :) #G2Fireside

— Natasa Djukanovic (@natasad) November 21, 2019
Christian Lowry from Gigonomy suggested starting off the conversation with something simple:
A1: I keep it simple, something like "what brings you here" or "where'd you get that jacket?" #G2Fireside

— Christian Lowery (@clowerycontent) November 21, 2019
Our very own John Thomas Lang echoed that feeling, but added a bit more personalization:
A1: I love to ask what music people are listening to or the best concert they've attended recently. It's a great way to get to know someone quickly and find some common areas of interest! #G2Fireside

— John Thomas Lang (@johnthomaslang) November 21, 2019
Q2: Do you prefer to network in-person or online? Why?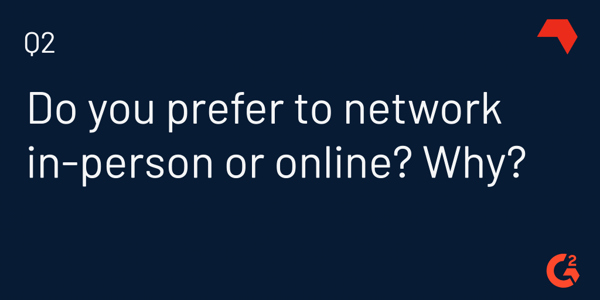 Next, we wanted to gauge how technology is changing the way we network.
Jack Virag from Nutshell noted that while he's at his best meeting people in person, there's a time and a place for online networking:
A2: No contest - I'm WAY better at in-person networking. I'll connect with you on LinkedIn if I'm trying to send you a PDF or something, but there's so much in-person magic that can't be replicated in those starchy Inmails: "Hi, pleased to make your acquaintance!" 🤮 #G2Fireside

— full metal jack (@yournewcaptain) November 21, 2019
I added my two cents on the topic as well:
A2: It depends! Conferences are great #networking opportunities because you most likely have something in common with other attendees. #Social gives you the ability to do your research ahead of time. Those years of Facebook stalking do come in handy... #G2Fireside pic.twitter.com/WXpFIkx8hK

— Bridget Poetker 💁🏼‍♀️ (@bridgetpoetkurr) November 21, 2019
Molly Kowaleski from Geben Communication also think in-person meetings are better:
Online is super easy, but I feel like networking in person is much more effective. You can usually find something to relate to much quicker in person, making it way easier to make a real, lasting connection

— Molly Ryan Kowaleski (@Molly_Kowaleski) November 21, 2019
Anchana Latha from Venngage feels like online interactions are her forte:
A2: a mix of both, but you can make a better impression online. When in person I tend to analyse the contact and forget talking about myself...

— Anchana Latha (@AnchanaLatha) November 21, 2019
Q3: How does personal branding play into professional networking?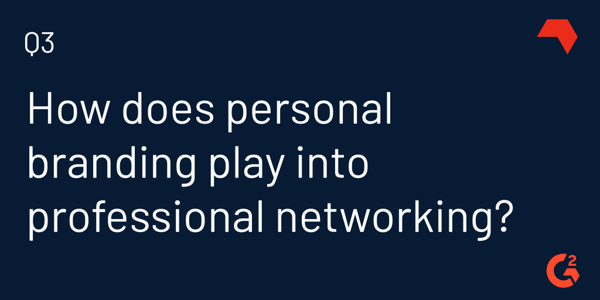 Our third question dug a bit deeper into the differences and similarities between networking and personal branding.
My co-host Natasa kicked things off with her stellar insight:
A3: As I see it, #personalbranding is the foundation of networking. Your reputation is key for expanding your professional network, whether you are connecting people or asking for an intro. And #reputation today is built both online and offline. #G2Fireside

— Natasa Djukanovic (@natasad) November 21, 2019
Twenty Two Kittens emphasized the 'personal' in personal branding:
A3. It's good to show the person behind the brand, position, or product. But it's important to let YOU shine as well. You and your personal brand are so much more than what it says on your paychecks. #G2Fireside 🔥

— Twenty Two Kittens (@All22Kittens) November 21, 2019
G2's Maddie Rehayem explained her motivation behind networking and how that comes full circle:
A3: It's only natural to want to network with people whose personal brands you admire or are similar to your own. Talking to someone who shares your values is inspiring! #G2Fireside

— Maddie Rehayem (@MaddieRehayem) November 21, 2019
Masooma got in on the action with her own thoughts about the relationship between the two:
A3. Your personal branding makes you more memorable, which is a definite help with professional networking. It also ensures that you leave a good first (professional) impression - another plus we can't afford to ignore. :)#G2Fireside

— Masooma | Content Writer (@inkandcopy) November 21, 2019
Squadhelp jumped in with a few wise words of its own:
A3: What sets you apart? What makes your personal brand appealing? People want to connect with PEOPLE. #G2Fireside

— Squadhelp (@squadhelp) November 21, 2019
Q4: What is one key mistake people make when networking?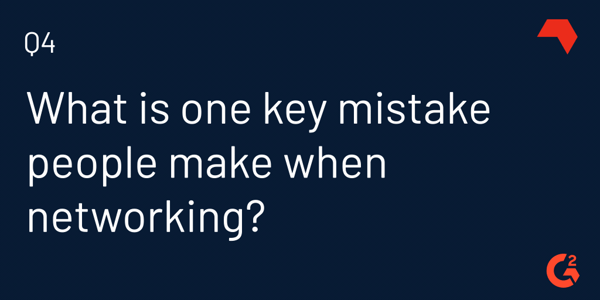 Now, in order to get it right you have to know what NOT to do. Let's hear your worst!
Graham Seymour from Upstack explained that sometimes when people network they only see dollar signs:
A4 - overselling. this is something I have to constantly catch myself on. It's not because I'm particularly deal or revenue hungry! - just a natural evangelist who craves helping others. @ this stage, it's more valuable for me to listen & learn vs. soapbox & preach. Sometimes. 😎

— Graham (Grey) Seymour (@SeymourGroup) November 22, 2019
G2's Amy Lecza shared similar thoughts about people being too wrapped up in the sale:
A4: Being too pushy/immediately disengaging when they sense that you have nothing to offer them (a job, partnership, sale, etc.) - networking is building a network of people, and no one likes to feel transactional. #G2fireside

— Amy Lecza (@amylecza) November 21, 2019
Ramesh highlighted the necessary actions after all the networking is said and done:
A4: Follow through! Networking is a great start, but the real magic happens when you follow up. #G2Fireside pic.twitter.com/ZRs6B64CzG

— Remesh (@teamremesh) November 21, 2019
I admitted something that I know I do and why it's important to be in-tune with yourself before talking to others:
A4: I... talk too much. All the time. BUT I'm hyper-aware of it when meeting new people. Listening is your friend and you'll take away so much more from the conversation if you just actively listen. #G2Fireside pic.twitter.com/LILuvxdd9u

— Bridget Poetker 💁🏼‍♀️ (@bridgetpoetkurr) November 21, 2019
Q5: How often do you attend networking events?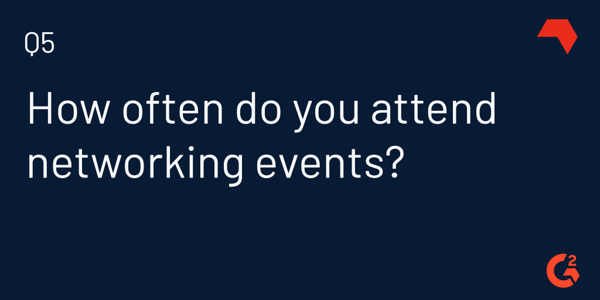 We decided to ask our followers how many conferences and networking events they attend and if they have any favorites.
Sanja Gardašević from alicorn.me said she goes to A LOT of events:
A5: Lost count! But with each networking event I go to, I grow a bit more courageous, and learn to love them more! :) As for the favourite event, @SparkDotMe <3 I might be biased, but if you don't want to take my word for it, check it out in 2020! 🙈 #G2Fireside

— Sanja Gardašević (@SanjaGardasevic) November 21, 2019
Natasa also answered that she's a frequent conference-goer and speaker:
A5: Frequently! I travel for work a lot and get invited to speak about marketing and branding at conferences. Love the opportunity to meet new people and learn from them! I was anxious at first, but I found networking is also something you learn. :) #G2Fireside

— Natasa Djukanovic (@natasad) November 21, 2019
Our own Devin Pickell explained he doesn't go to a ton but loves the opportunity when he does:
A5: Maybe a handful of times a year. I prefer bigger conferences and exchanging ideas with like-minded folks/learning. #G2Fireside

— Devin (@Devin_Pickell) November 21, 2019
Q6: How important is it to bring business cards to a networking event?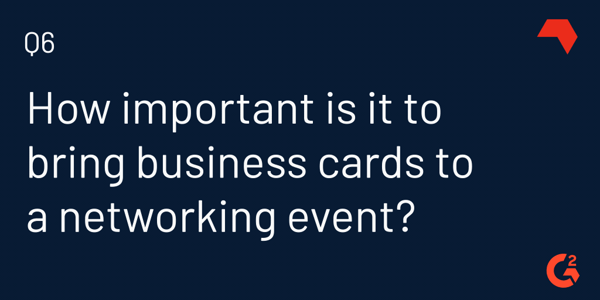 This next question really got our audience thinking about how networking continues to change year after year.
Alex Medick took a stance against business cards but admits to still having a few on hand:
A6: I don't think business cards are relevant at all, but when you're meeting someone and they hand you theirs, it seems a little foolish not to give one back.

I have 1 or 2 cards on my always, but I try to shoot over an email/text in real time to connect #G2Fireside

— Alex Medick (@alexjmedick) November 21, 2019
Our own Mara Calvello said it's all about personal preference:
A7: I love the business cards we have from @MOO, but if you're looking for a virtual option, check out https://t.co/BtIbOmnHHw! #G2Fireside

— Mara (@G2Mara_C) November 21, 2019
Britt + Steph from Holistic Creative echoed the love for Moo and business cards in general:
We are big @MOO fans as well and print all our client business cards with them as well as our own. There are still numerous use cases for business cards! #G2Fireside

— Britt + Steph (@weareholistic) November 21, 2019
Q7: How have you accomplished your biggest networking success to date?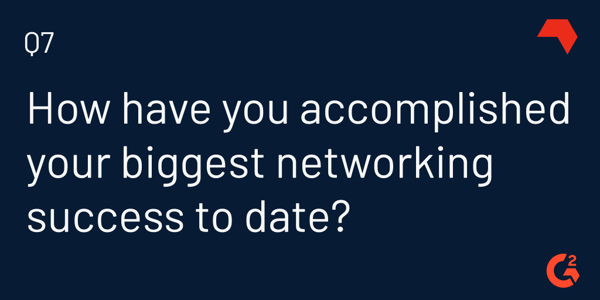 Then, we asked people to strut their stuff and shout out a few of their favorite connections they've made while networking.
Jack Virag reflected on the time he sent a cold email and ended up with a job:
Q7: Not an in-person networking achievement, but an email to @GoldsteinRaw that basically said "writing for Nutshell seems like so much fun" ended with me working for Nutshell. #G2Fireside

— full metal jack (@yournewcaptain) November 21, 2019
Natasa explained that she couldn't have worked her magic without the power of networking:
A7: It took a lot of dedication and some mad networking skills to manage to build @domainME into one of the most trusted domain names in the industry. I am so proud of my team and myself for that! ❤️ #G2Fireside

— Natasa Djukanovic (@natasad) November 21, 2019
Masooma gave a few personal shoutouts of her own:
I don't think I've kept an exact track. So lots would be the answer here. But if I think in terms of recent history then I've come to know @alexmuench (his work is ace), and @socialveronika (she's very lively). Plus, I've had the opportunity to work with @jesseddy #G2Fireside

— Masooma | Content Writer (@inkandcopy) November 21, 2019
Q8: What's your best advice for someone that's afraid of networking?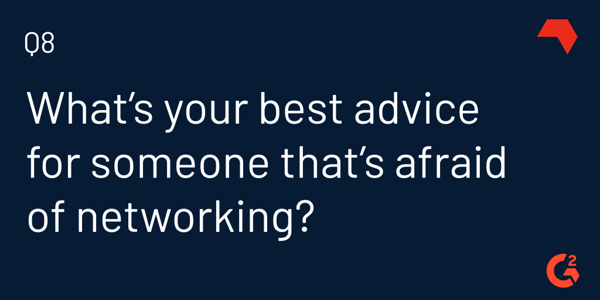 Last but not least, we wanted to gather a few networking tips and tricks.
Neal Strauss suggested that sometimes you just have to go for it:
A8. If you're nervous, others are too. Take a deep breath, smile, and don't be afraid to start the conversation.

Have made incredible connections and friendships by meeting someone I wouldn't 'normally' talk to. #G2Fireside

— Neal Strauss (@Neal_Strauss) November 21, 2019
Natasa added that sometimes the best thing you can do is just be yourself:
A8: Birds of a feather flock together indeed! The best way to connect with likeminded people is to just be yourself. :) #G2Fireside

— Natasa Djukanovic (@natasad) November 21, 2019
I wrapped up this awesome discussion with my own thoughts that echoed my co-host's:
A8: One of our cultural pillars at @G2dotcom is Authenticity. I think it's incredibly important to be YOU and not be afraid of that when it comes to professional networking. More #tips from our very own @AusmericanGirl 🥰https://t.co/R5hYIIeh0E

— Bridget Poetker 💁🏼‍♀️ (@bridgetpoetkurr) November 21, 2019
Join us every other Thursday!
A big thank you to everyone that participated in this Twitter chat, we love hearing from you! Learn more about our program and how to get involved. See ya next time!
Can't get enough? Check out these professional networking and personal branding resources our team found from across the web.
Follow @bridgetpoetkurr