After an eight week hiatus, #G2Fireside Twitter Chat is back and better than ever.
Beautifully redesigned branding full of sleek graphics and animations kicked off our return, alongside a strategic new strategy and an impressive roster of very special guests.
This week's topic of choice is influencer marketing, and our diverse group of participants joined the conversation by discussing tips, best practices, and thoughtful opinions on the subject matter.
We asked eight questions:
Stay up to date with #G2Fireside by reading up on our past Twitter Chats that covered Social Media + Tech, Chatbots + Artificial Intelligence, and Content + Data!
#G2Fireside: Influencer Marketing
I had the privilege to lead this week's Twitter Chat on influencer marketing and was joined by my colleague Stephanie Graham and our very special guest Cathy McPhillips! Cathy is the VP of Marketing at Content Marketing Institute, so we were all very excited to hear her take on the subject matter.
The three of us enjoyed answering each question and engaging with the participants. Let's now dive into the insights and learn what everyone had to say about influencer marketing.
Q1: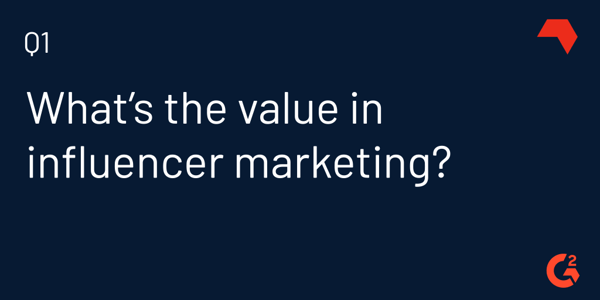 We started with the basics for the first question. Influencer marketing can spark quite the debate when discussing its value, so we were interested to learn where our participants stand.
Christian Lowery of Gigonomy shared a graph that showcases the Law of Diffusion and how it relates to the trust influencers can invoke in customers:
G2's Amy Lecza argued that influencer marketing has many benefits:
Victor Immanuel Oloo of Dignited spoke to the importance of user-generated content:
Cristina Maria of Commusoft explained how personalities of each influencer help the brand with identity:
Cathy McPhillips shared her great insight:
Q2: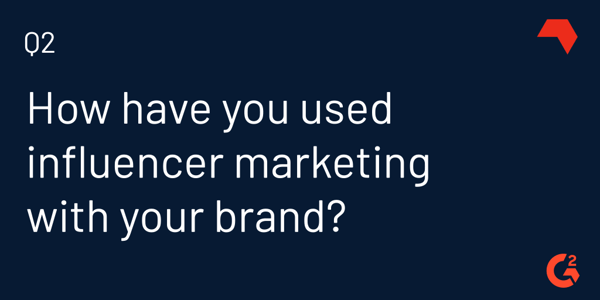 Next, we wanted to know how our audience uses influencer marketing and where they have found the most success.
G2's Derek Doeing speaks to the immense popularity that Instagram has:
Jordie Black of Copy and Check argues that there is no clear winner and that it all depends:
Tamara of Freckle agreed with Jordie. She says it's all about your brand's niche:
Q3: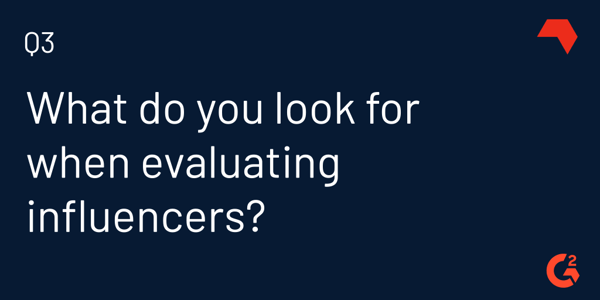 The next question was all about what to look for when choosing the perfect influencers to work with.
Julia Rose of Ledgeview was certain that quality reigns supreme:
Christian Lowery chimed back in and spoke about the importance of engagement!
G2's Lauren Pope shared how important brand alignment is:
Michelle Garrett of MichelleGarrett.com brought up how important doing research on your candidates is:
Cathy McPhillips shared the importance of respect:
Q4: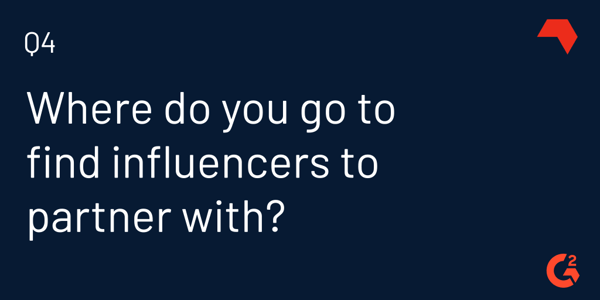 Next up, we wanted to know the best ways to source top influencer talent.
Content creator, Sharanya Manola talks about the ease of engaging with people who already love your brand:
G2's Research Specialist, Stephanie Graham shared some important statistics on the matter:
Julia Rose spoke up about doing your homework on competitors:
I wanted to share my past experiences on the matter as well:
Q5: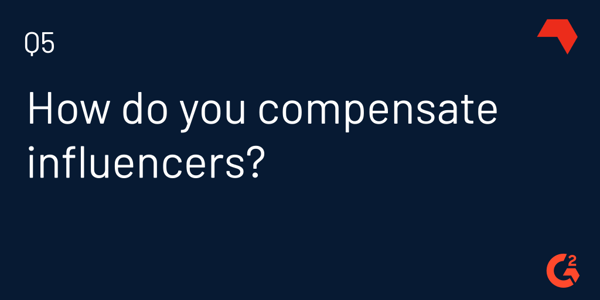 This next question on how best to compensate influencers triggered a great conversation.
Cristina Maria stated her opinion matter of factly. Influencers should be compensated with money:
Jordie Black wasn't sure if there is a right answer for all and that working within your budget is best:
The influencer marketing company, ZINE reminds us that there are so many important factors that go into making the decision:
G2's Derek Doeing brings up great points about the importance of monetary compensation:
Cathy McPhillips thinks that no matter what you decide to do, your plan must be decided in advance:
Q6: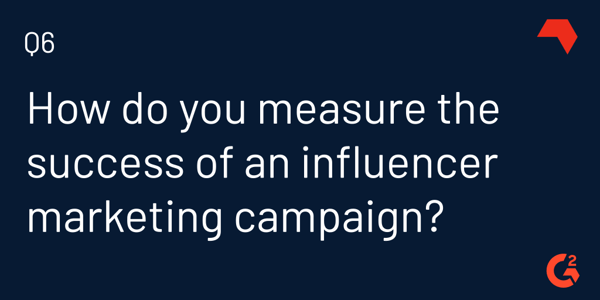 It's now time to talk about success. The next question is all about ROI.
Sharanya Manola has a short and simple answer to this question that Cathy McPhillips loved:
Consultant, VishnuPriya Mishra has a few answers to the question:
Christian Lowery argued about the importance of sales:
Stephanie Graham reminded us all of certain tools that help track ROI:
Cathy McPhillips reminds us how important the metrics are:
Q7: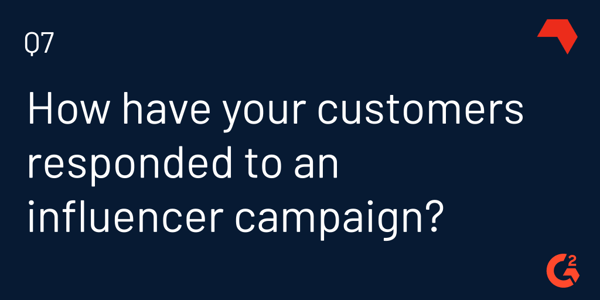 The next question asks about the trust influencers have with their followers. We wanted to know if consumers trust influencers?
Julia Rose brings up a great point. She says consumers are very smart, so don't underestimate them:
G2's Mara Cavello says she has a hard time with trust even if it's with those she has been following forever:
Jordie Black makes a great point about micro-influencer and why they are gaining popularity:
Tony Christensen of Tony Does Ads says that it all depends on the influencer:
Q8: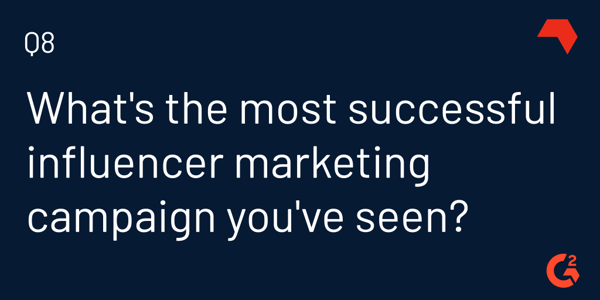 Our final question of this week's Twitter chat asked the audience for their favorite influencer marketing campaigns they've seen.
Here's what impressed everyone:
Jordie Black loves Gymshark:
Stephanie, Cathy, and I have all been very impressed with Glossier:
And who could forget the Fyre Festival Campaign? Tony Christensen thought it was particularly brilliant:
That's the latest on influencer marketing!
Join in on the conversation every other Thursday!
On behalf of the entire G2 Content Marketing team, thank you to every single person who joined our #G2Fireside Twitter Chat on influencer marketing.
If you loved this discussion, you definitely won't want to miss out on our next one all about design and branding! It will be hosted by G2's very own Daniella Alscher on October 24th. We can't wait to chat with you again!
If you want to keep the conversation going, or you just want to share ideas, you can find me on Twitter and LinkedIn.