#G2Fireside Twitter chat took to discussing content and data this last week.
Our past chats have covered social media and technology and chatbots & AI. We asked our audience about the future of AI voice assistants, how teams can leverage chatbots, using social media to generate new leads and prospects, and more.
On August 15, 2019, we led a Twitter chat that focused on how companies create content, how data can fuel content, and even jumped in on brands that are using content in an inspiring way.
#G2Fireside: Content + Data
As a member of the content team regularly contributing content to our sites along with others, I hosted the chat and was joined by CloudApp's Joe Martin, VP of Marketing & Strategy, and Maile Waite, Digital Marketing Manager, and Malte Landwehr, VP of Product at Searchmetrics.
Let's dive into some of the responses that our participants gave us.
Q1: What is the most important thing to have in mind during the content creation process?

For the first question, we asked our community about what they have in mind when they are creating new content. Alice Corner jumped in with her thoughts about CTAs:
Our guest, Maile from Cloud App, gave her insight on the importance of having customers in mind:
Bentley University talked about the list of things they keep in mind when creating content:
G2's Alexa Drake shared her process for keeping the target audience at top of mind:
Q2: Where do you seek inspiration from when creating new content?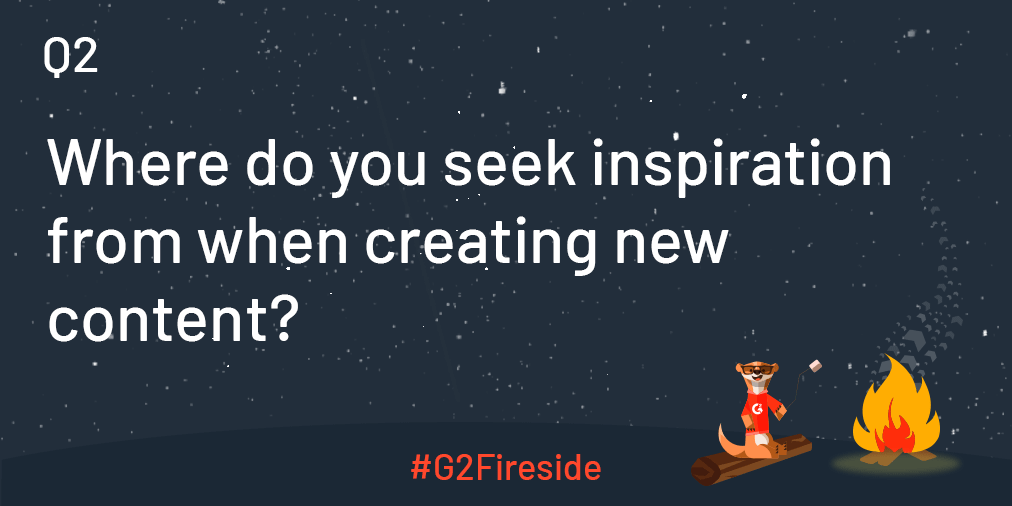 Next, we sought to learn how people find inspiration for their new content. Our Head of Community, Levi Olmstead, chimed in with some of his favorite content teams including hotjar, Sprout Social, and FiveThirtyEight:
Another special guest from Cloud App, Joe Martin, laid out how his week involves blocking off time for finding new content:
Jessica Figueroa spoke to her practice of using notes and hashtags to remember what stood out to her:
Christian Lowery talked about using his network to find inspiration:
Q3: What are the best examples of brands using content to further their brand image?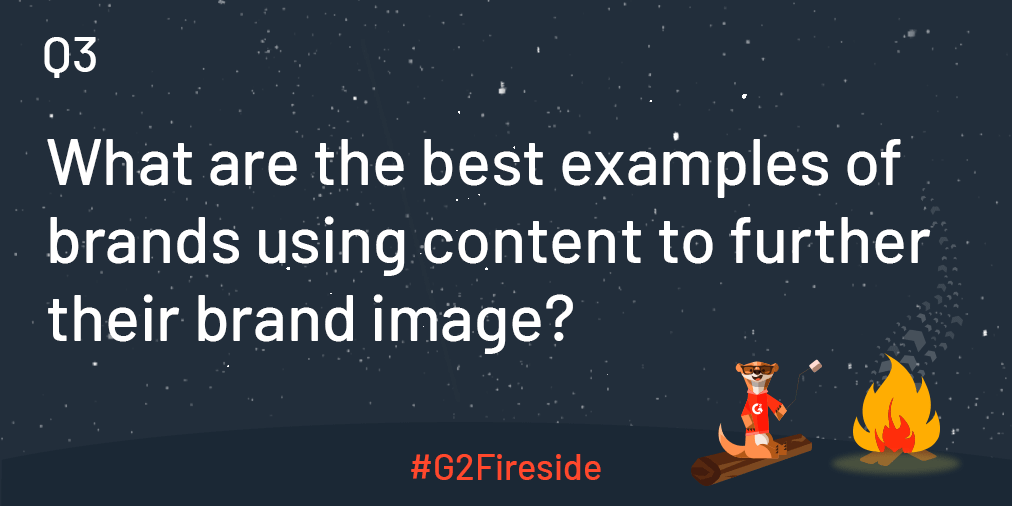 Question 3 asked for specific examples of brands that are taking advantage of content to help establish their brand image. Our third guest, Malte Landwehr, shared a few of his favorite brands on social media, including the infamous Wendy's twitter:
Pair networks added some of their favorite B2B accounts crushing the content game:
G2 Content Marketer, Lauren, spread her love for a few beauty brands:
Finally, I gave a shout out to one of my personal favorite b2b brands, Hubspot, that goes above and beyond with their content from their blog posts to their social media:
Q4: What data points are most important to you when analyzing how your content is performing?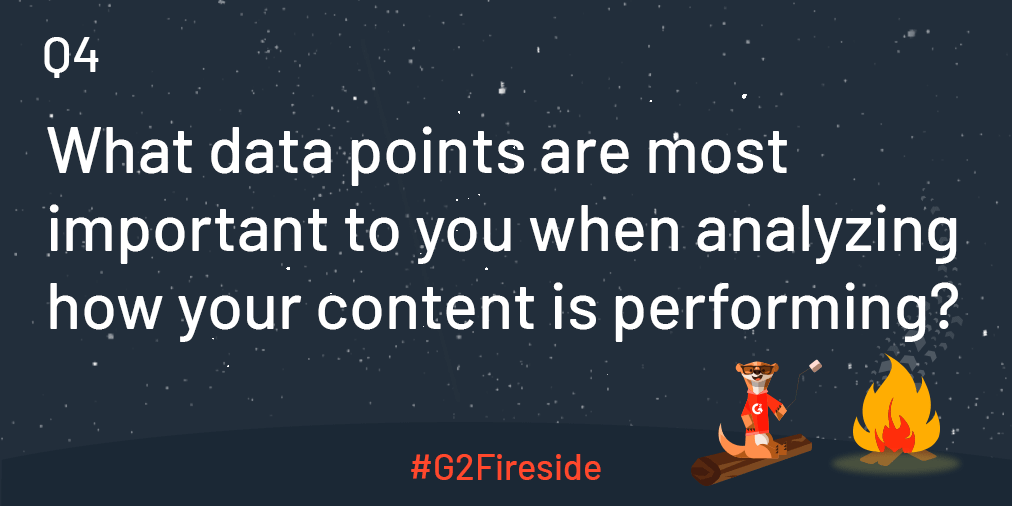 Moving on to data, OnePitch shared their most important metrics for analyzing content performance:
G2's own Madison added her two cents about email subject lines:
Maile added what point is most important to her team:
Bentley University chimed in with the data points that could be relevant:
Q5: How does data from your past content fuel the creation of new content?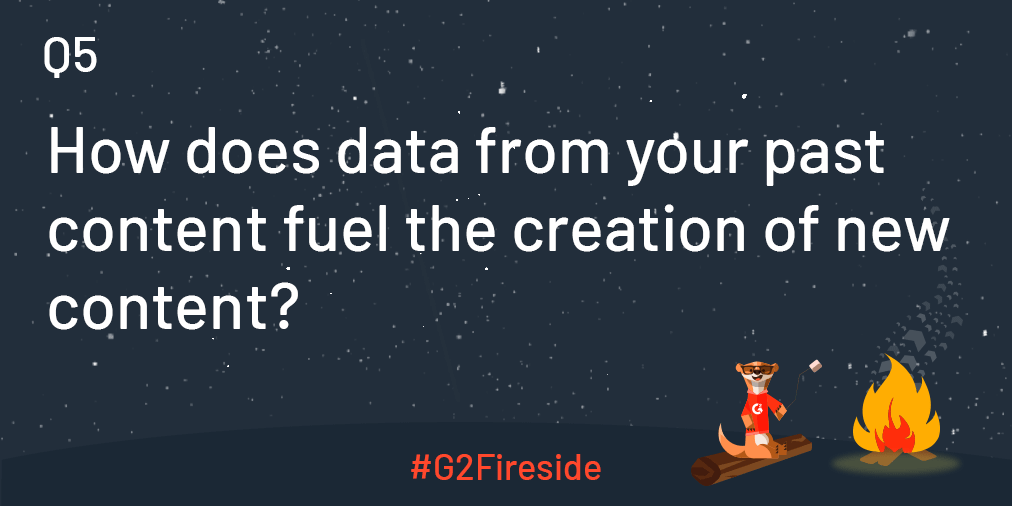 It's important to learn from what's happened in the past and use that information to guide your future actions. Brafton discussed how they use past data to help influence their current strategy:
Christian popped in again to share his basic strategy for analyzing previous content:
Malte urged content creators to focus on updating content rather than relying on creating new content regularly:
OnePitch highlighted the cycle that is creating and analyzing content to round out the question:
Q6: Do you incorporate data from other parts of your business operations into your content? How so?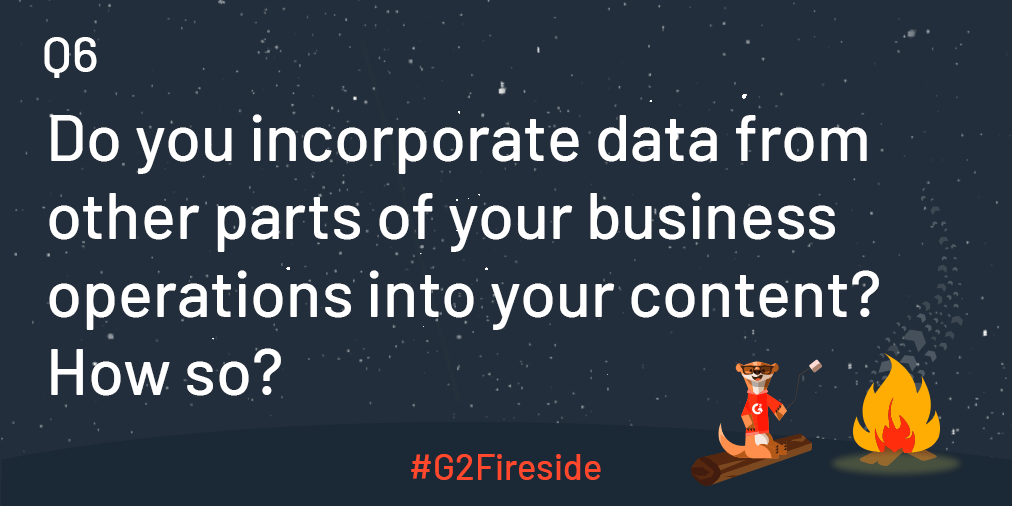 Next, we asked content creators how they make use of data from other business operations when creating content. I started off by sharing how we use G2's main offering, user ratings, in the content that we create:
Jordan Barta jumped in with how other teams give him data:
Joe Martin described how he uses data from Adobe Experience Cloud:
G2's Mara added how she uses Google and G2 trends:
Q7: Do you think the data brands collect about consumers is being used to better tailor content to their audience?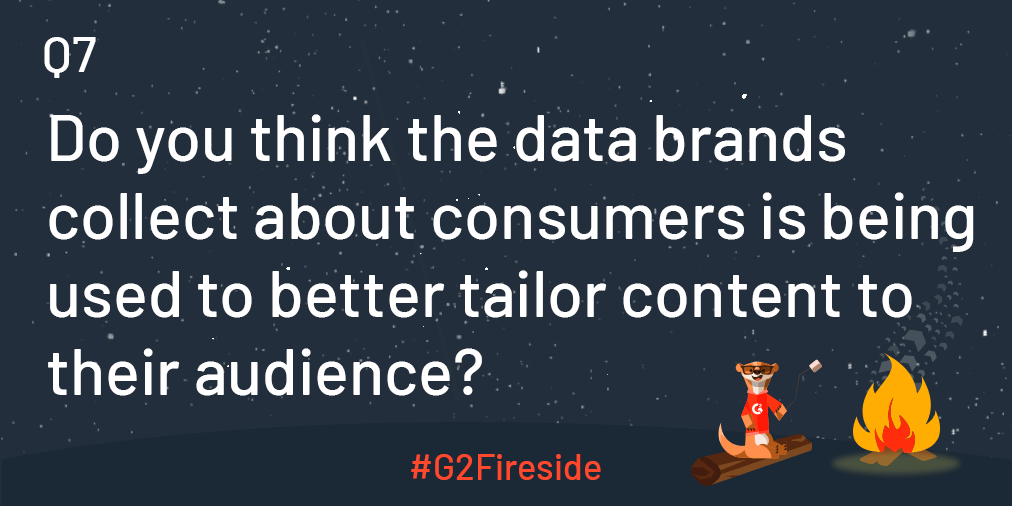 Questioning whether data collection is used to better tailor content towards the audience, Andrew Stewart praised data collection:
Malte took the opportunity to highlight how there are still areas for improvement for using data:
Bentley University reappeared to discuss how data can help you better tailor content to specific areas:
Maile answered the question by focusing on how data helps us be more consumer-focused:
Q8: Have you used data in your content in an unconventional way?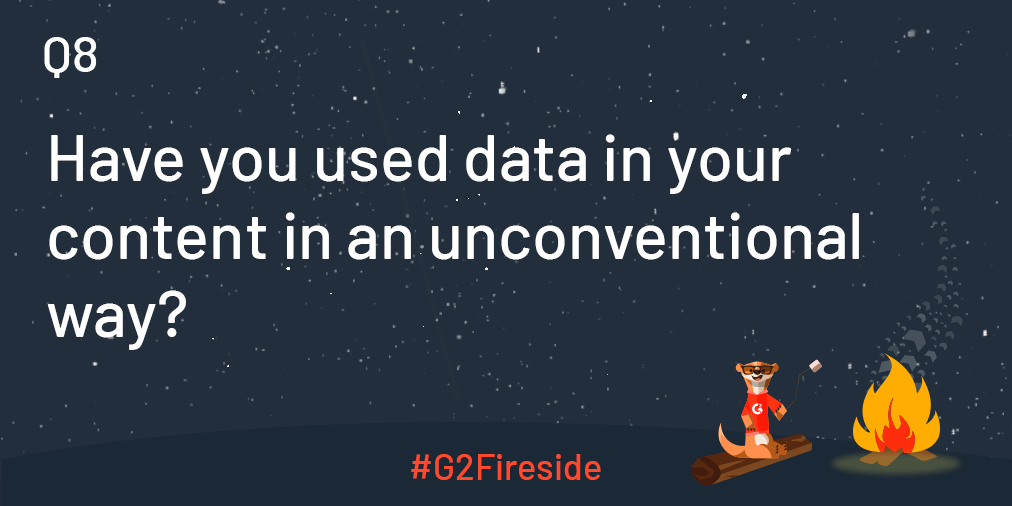 For our last question, we challenged our contributors to share how they use data in a way that may be considered more unconventional. I jump started the conversation by showcasing a case study on G2's Learning Hub:
Malte used the opportunity to highlight a side project he worked on:
To wrap up our chat, Maile reminded us that not all tactics should be shared with the public:
Join in on the conversation!
A giant thank you to all the experts and contributors that came out to share their insights during our Content + Data #G2Fireside Twitter Chat.
Don't miss out on the next twitter chat! On August 29th, our very own Kevin Indig will take on the SEO Twitter Chat with a few guests. We'll dive into some fun and interesting questions. Can't wait to see you there!
Looking to chat with me more about content and data? I'm available on Twitter and LinkedIn!