Another week, another exciting #G2Fireside Twitter chat.
We kicked off our inaugural chat discussing social media and technology. Our contributors dove into topics such as social metrics and ROI, social selling, prospecting and lead generation, and more.
Last week (August 1, 2019), we launched our second Twitter chat encompassing the world of chatbots and artificial intelligence – two topics that always generate a buzz.
#G2Fireside: Chatbots + AI
Those who contributed to the chat from G2 include:
Our #G2Fireside guest contributors include:
Let's take a look at some of the insights, starting with our first question on whether or not chatbots are ideal for communicating with brands.
Q1: Do you prefer a chatbot or human representative?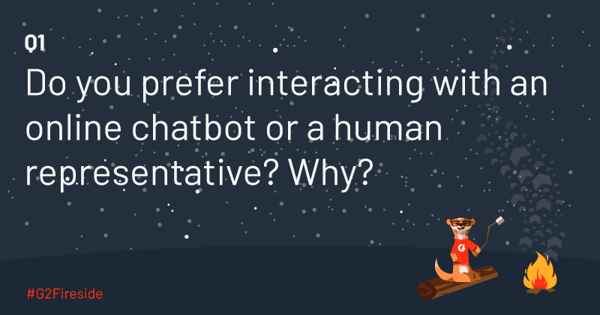 Chatbots may be the buzz right now, but how comfortable are people with using bots when they have an issue or need a quick question answered? Our very own Eddie Shleyner says it depends:
Julien Rio responded saying speed is really the main reason why he'd engage with a chatbot. Other than that, having a meaningful conversation with a human representative is more important.
Matt Schlicht seemed to differ from the "it depends" consensus, providing some compelling reasons why he prefers to interact with chatbots.
On the opposing side is our very own Jordan Wahl, saying human representatives are an important part of a brand's image.
Q2: Are chatbots in your business plan?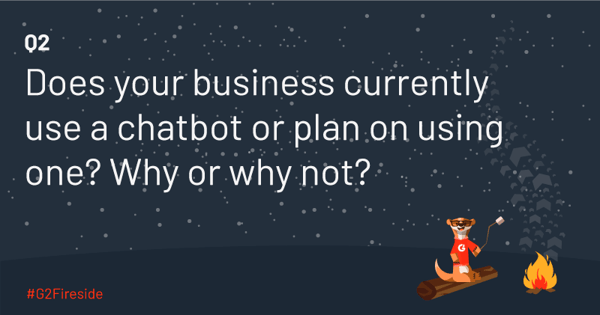 Next, we were interested in seeing whether or not businesses are using chatbots now or plan to in the near future. Sylvain Perron says Botpress uses an internal bot:
Businesses branding their chatbots isn't unusual, and when done correctly, it can add a personal touch for those using it.
Archita Sharma continues the conversation by saying their chatbot is used as a first point-of-contact for inquiring users.
Julia Rose says a chatbot for her business is on the horizon. This will allow more users to interact with her brand in a communication style they prefer.
On the other hand, Julien Rio says his business prefers to interact with every visitor in a more personal manner, and that chatbots shouldn't be used at random.
Q3:
Which team could leverage chatbots most?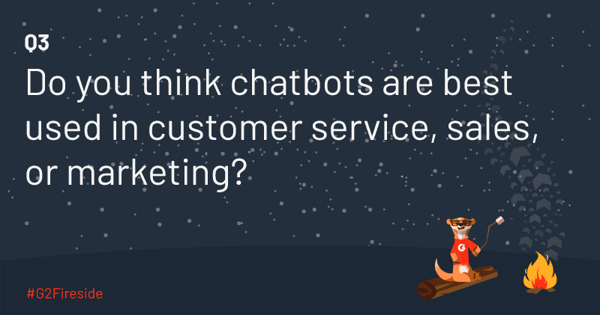 Chatbots have traditionally been used for customer service tasks, but more modern approaches are using them for marketing and sales. Our very own John Thomas Lang brought up an interesting use case:
Joseph Huber from Sprout Social goes with customer service or sales for his answer and provides some insight on how to map out your next bot.
Kat Hammoud acknowledges that customer service has been an early adopter of chatbots, but says it really depends on where the chatbot user is in their journey.
One of our G2 contributors, Rebecca Reynoso, takes the question a step further and says chatbots can be beneficial during the different phases of e-commerce.
Q4:
Share your favorite brand example!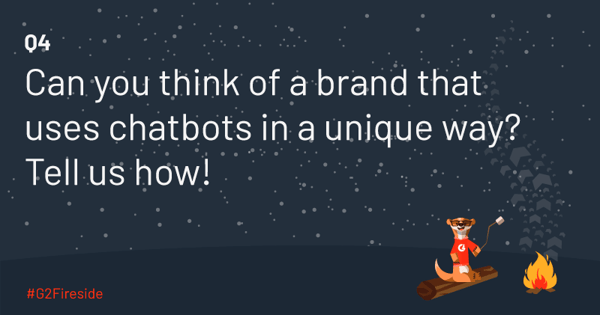 Many of us have used chatbots at some point, and some of these interactions impressed us so much, we just had to share our experiences. Here's myself plugging the Wall Street Journal Facebook chatbot:
Adrien Lemaire followed up by tagging Hello Fresh, a meal-kit provider, for their interactive chatbot.
Kat Hammoud describes her experience using Sephora's chatbot, regarded as one of Facebook's top performing customer service and sales bots.
Bentley University mentions National Geographic's Facebook chatbot, which serves more as a brand play and an educational resource for its users.
Q5:
Are AI voice assistants the future?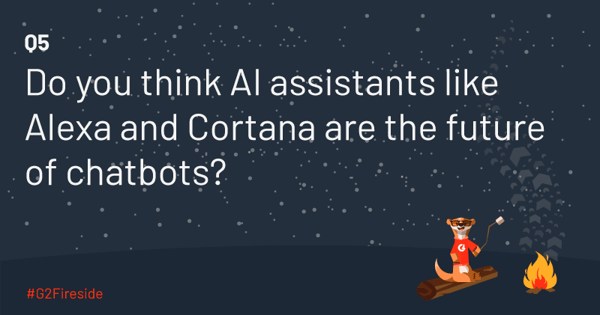 Chatbots aren't just text-based, they can also be AI-powered voice assistants like Amazon's Alexa or Microsoft's Cortana. Although, not everyone is fully on board with using these assistants regularly. Synthesio says voice assistants still lack the personality humans seek.
Lauren Pope of G2 concluded that voice assistants aren't something she plans on exploring now or in the near future.
Remesh explains that while voice assistants are a path to the future of AI, there are some ethical questions to consider.
Rob Light of G2 finishes up by laying out today's top voice assistant cloud vendors.
Q6:
Any other good examples of AI that you've seen?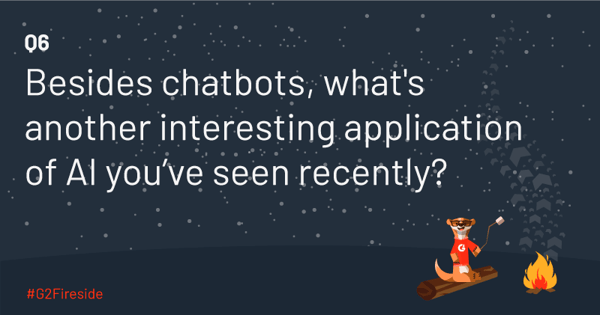 Artificial intelligence has been around for quite some time and there are many great examples of it applied today. Sylvain Perron describes an application of AI that interests him most:
Rob Light chimes in, explaining why so many people have become interested in robotic process automation software in just one year.
Pair Networks posted an interesting use case of Google Glass.
Matt Schlicht provides a fun example of how machine learning can be applied to complete time consuming tasks.
Q7: Which industries will be affected by AI in 2019?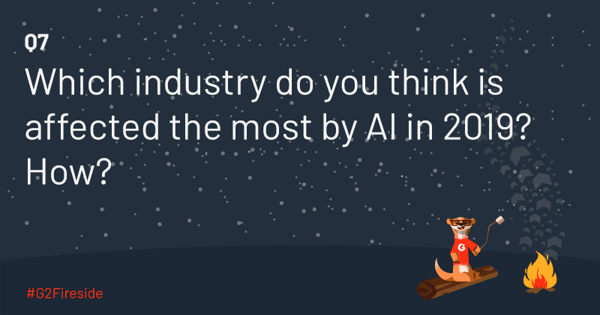 For some industries, the use of AI is imperative. For others, there may be use cases not yet discovered. Bentley University starts off the conversation by listing the many use cases of AI in healthcare.
Sylvain Perron follows up by saying you'll be hard-pressed to find an industry untouched by AI in the near future.
Lauren Pope explains how the use of AI is even on the rise in the education industry.
Julia Rose wraps up the question by saying we all are in some way affected by AI and/or use it in our day-to-day.
Q8: Will AI "take over" someday? Why or why not?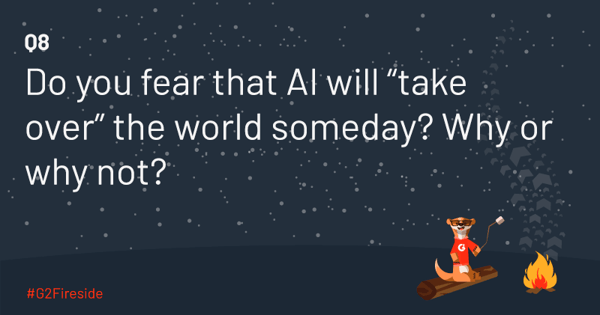 Our final question explores some of the fears of AI in the near future. Matt Schlicht explains how AI is already "taking over" social media platforms like Facebook.
Kara Kennedy, G2's Director of Market Research, responds to the apocalyptic claims that AI will "take over."
I agree that most of these claims are silly, but skewed data used to train AI can have negative impacts on the public.
Aishwarya Ashok finishes up our Twitter chat with a more positive outlook on the future of AI.
Join us every other Thursday!
Huge thanks again to everyone at G2, our guest contributors, and all our Twitter chatters for providing insight in our latest #G2Fireside on chatbots and AI.
Next up is Anastasia Masters, who will be discussing everything content and data on Thursday, August 15. You're not gonna want to miss what our contributors have to say!