Another week, another exciting #G2Fireside Twitter chat.
We kicked off our inaugural chat discussing social media and technology. Our contributors dove into topics such as social metrics and ROI, social selling, prospecting and lead generation, and more.
Last week (August 1, 2019), we launched our second Twitter chat encompassing the world of chatbots and artificial intelligence – two topics that always generate a buzz.
#G2Fireside: Chatbots + AI
Those who contributed to the chat from G2 include:
Our #G2Fireside guest contributors include:
Let's take a look at some of the insights, starting with our first question on whether or not chatbots are ideal for communicating with brands.
Q1: Do you prefer a chatbot or human representative?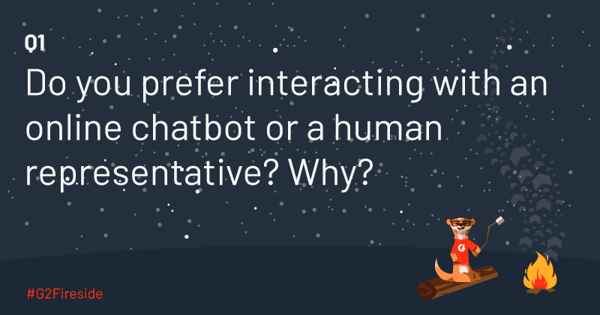 Chatbots may be the buzz right now, but how comfortable are people with using bots when they have an issue or need a quick question answered? Our very own Eddie Shleyner says it depends:
Depends on my needs. The more complicated or time-sensitive my question, the more I prefer having a real person there with me. #G2FireSide

— Eddie Shleyner (@VeryGoodCopy) August 1, 2019
Julien Rio responded saying speed is really the main reason why he'd engage with a chatbot. Other than that, having a meaningful conversation with a human representative is more important.
A1: I prefer a chatbot if my question is simple and straightforward, because it is faster, but I DEFINITELY prefer talking to a human being when I have a personal or complex question, because I need clarity and I want the company to care. I'm a customer after all!

— Julien Rio 🚀 (@Marketing_JR) August 1, 2019
Matt Schlicht seemed to differ from the "it depends" consensus, providing some compelling reasons why he prefers to interact with chatbots.
A1: I usually prefer to talk to a 🤖 instead of a human, especially if that chatbot can take actions on my behalf and I have an easy request.

Great chatbots are:
⚡️ Super fast
⏰ Available 24/7 instantly

Humans can often be:
🐌 Really slow
💤 Not available 24/7#g2fireside

— Matt Schlicht (@MattPRD) August 1, 2019
On the opposing side is our very own Jordan Wahl, saying human representatives are an important part of a brand's image.
A1: Human rep for sure. Fun fact: This was my first job at@G2dotcom and a lot of the time, those reps are the face of a company. It's important that customers feel they are actually being heard. #G2Fireside

— Jordan Wahl (@jordwahl) August 1, 2019
Q2: Are chatbots in your business plan?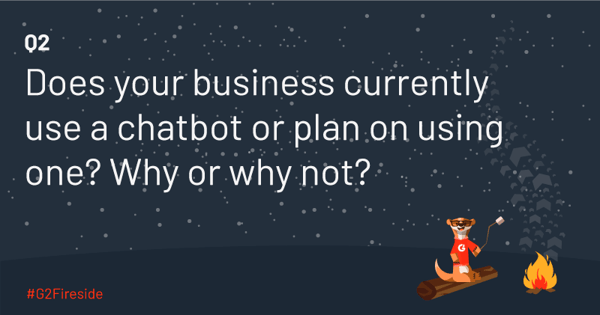 Next, we were interested in seeing whether or not businesses are using chatbots now or plan to in the near future. Sylvain Perron says Botpress uses an internal bot:
A2: Yes, we do internally. His name is Gordon. We use it to automate various business processes. His training was fast, he doesn't sleep and never forgets – so far we're proud of calling him a valuable and reliable coworker. #G2Fireside #ChatOps #BI

— Sylvain Perron (@slvnperron) August 1, 2019
Businesses branding their chatbots isn't unusual, and when done correctly, it can add a personal touch for those using it.
Archita Sharma continues the conversation by saying their chatbot is used as a first point-of-contact for inquiring users.
A2: Yes, we use it for the initial prospecting and letting users know that someone is soon going to jump to their query and help them :)

Using chatbots to automate initial processes is needed, IMO.#G2Fireside

— Archita Sharma (@mearchita) August 1, 2019
Julia Rose says a chatbot for her business is on the horizon. This will allow more users to interact with her brand in a communication style they prefer.
A2: We are planning to set up a live chat in the future to extend our customer service capabilities and options for users. Everyone prefers different styles of communication, so it's important businesses adhere to those personalization preferences. #G2Fireside

— Julia Rose (@Missjflar) August 1, 2019
On the other hand, Julien Rio says his business prefers to interact with every visitor in a more personal manner, and that chatbots shouldn't be used at random.
Not today, because we want to respond in a personal manner to every enquiry. Deploying a #chatbot should really be something you do when there is a need for it, not for the sake of having one.#G2FireSide

— Julien Rio 🚀 (@Marketing_JR) August 1, 2019
Q3:
Which team could leverage chatbots most?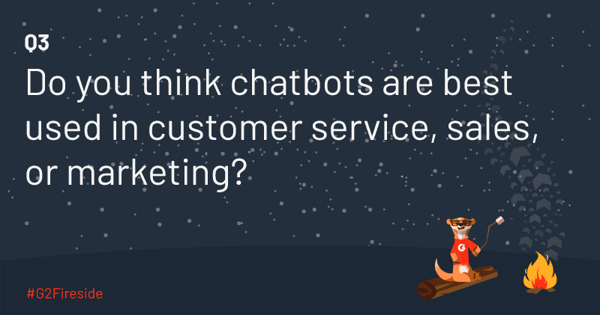 Chatbots have traditionally been used for customer service tasks, but more modern approaches are using them for marketing and sales. Our very own John Thomas Lang brought up an interesting use case:
Marketing and sales teams can better leverage chatbots by qualifying leads quickly and effectively without using any human capital or resources. Use chatbots to identify pain points in your consumer to better fit your product to their needs. #G2Fireside

— John Thomas Lang (@johnthomaslang) August 1, 2019
Joseph Huber from Sprout Social goes with customer service or sales for his answer and provides some insight on how to map out your next bot.
A3: Im going customer service or sales. Paths to route people instead of manually triaging them is extremely helpful. You have to have those triage plans mapped before you build your bots, though. Be sure to check accuracy, too. You might have to adjust. #g2fireside

— Joseph P. Huber (@JosephPHuber) August 1, 2019
Kat Hammoud acknowledges that customer service has been an early adopter of chatbots, but says it really depends on where the chatbot user is in their journey.
A3.) Depending on where a customer is in their journey (awareness, consider, ready to purchase), #ChatBots are currently MOST used to help w/high volume customer service, BUT I have absolutely seen some websites use chatbots to engage new visitors or help convert. #G2Fireside

— Kat Hammoud (@KatHammoud) August 1, 2019
One of our G2 contributors, Rebecca Reynoso, takes the question a step further and says chatbots can be beneficial during the different phases of e-commerce.
A3. I'll do you one better. I think online retail/e-commerce benefits from chatbots the most b/c they can offer product recommendations, lower cart abandonment, + gather demographic info from the customer to see what people REALLY want to buy. #G2Fireside

— Rebecca Reynoso (@G2Rebecca) August 1, 2019
Q4:
Share your favorite brand example!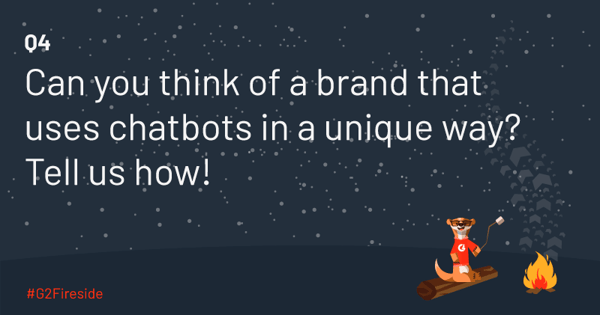 Many of us have used chatbots at some point, and some of these interactions impressed us so much, we just had to share our experiences. Here's myself plugging the Wall Street Journal Facebook chatbot:
A4: I'm a fan of @WSJ and a few other news Facebook chatbots. Simple, to the point, and provides me with relevant content. #G2fireside pic.twitter.com/263pOyZQ1z

— Devin 📈 (@Devin_Pickell) August 1, 2019
Adrien Lemaire followed up by tagging Hello Fresh, a meal-kit provider, for their interactive chatbot.
A4: A great example is @hellofreshr, which sends you daily news in a fun and interactive way. There will probably be more media following this approach in the coming years #G2Fireside

— Adrien Lemaire (@adrien_lemaire) August 1, 2019
Kat Hammoud describes her experience using Sephora's chatbot, regarded as one of Facebook's top performing customer service and sales bots.
@Sephora uses chatbots to help answer simple questions, and if their bot doesn't recognize the question, they will direct you to a representative with ease. They tell you where you are in the queue and use on brand language when engaging with you! #G2Fireside #Chatbots

— Kat Hammoud (@KatHammoud) August 1, 2019
Bentley University mentions National Geographic's Facebook chatbot, which serves more as a brand play and an educational resource for its users.
A4.

NatGeo!

For their new show, Genius, which highlights important figures in history, they used FB Messenger bot to respond to messages in that important figures voice!

So people were chatting with Einstein, for ex. So clever! #G2FireSide

— Bentley University (@bentleyu) August 1, 2019
Q5:
Are AI voice assistants the future?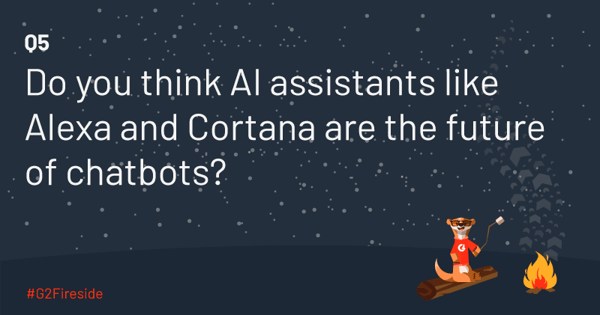 Chatbots aren't just text-based, they can also be AI-powered voice assistants like Amazon's Alexa or Microsoft's Cortana. Although, not everyone is fully on board with using these assistants regularly. Synthesio says voice assistants still lack the personality humans seek.
A5: Although the idea sounds very plausible, it lacks the personable connection and communication many seek for when using human representatives. Or when using interactive chatbots. #G2Fireside

— Synthesio, an Ipsos company (@Synthesio) August 1, 2019
Lauren Pope of G2 concluded that voice assistants aren't something she plans on exploring now or in the near future.
A5: This might just be my irrational fear, but I wouldn't have an Alexa or Cortana in my house. They creep me out. I don't even use Siri on my phone 😱 #G2Fireside

— Lauren @ G2.com (@G2Lauren) August 1, 2019
Remesh explains that while voice assistants are a path to the future of AI, there are some ethical questions to consider.
A5: These #AI assistants have opened up new doors for the future of A.I. technology. They have the talent and the data, but what about the #ethics of A.I. usage with the advancement of these products? https://t.co/zT3cp6xr4f

— Remesh (@teamremesh) August 1, 2019
Rob Light of G2 finishes up by laying out today's top voice assistant cloud vendors.
A5: Major cloud players (@awscloud, @ibmcloud, @googlecloud, @azure) will be involved in all areas of #AI in the future. They have the data, talent, and need to implement machine learning in all their services. The vendor with the best AI will win the #cloud war #G2Fireside

— G2Rob (@G2RobL) August 1, 2019
Q6:
Any other good examples of AI that you've seen?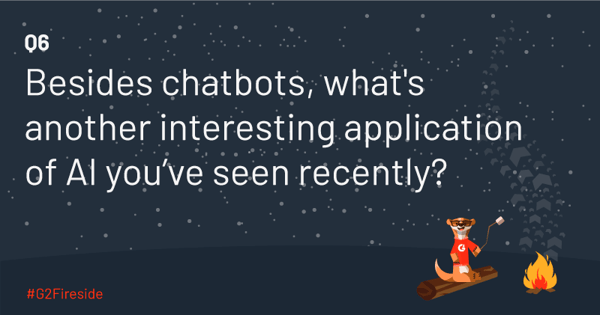 Artificial intelligence has been around for quite some time and there are many great examples of it applied today. Sylvain Perron describes an application of AI that interests him most:
A6: Anything addressing cybersecurity a/o fraud prevention is of real interest to me. With massive data breaches multiplying recently and being part of the @DesjardinsCoop 2.7m client security breach, that interest has only multiplied! #G2Fireside

— Sylvain Perron (@slvnperron) August 1, 2019
Rob Light chimes in, explaining why so many people have become interested in robotic process automation software in just one year.
A6: Interest in robotic process automation has exploded, up 440% in the last year! These tools (https://t.co/kmsmRN8Pzi) use bots to automate routine tasks to save employees time and resources, with the help of machine and deep learning #G2Fireside

— G2Rob (@G2RobL) August 1, 2019
Pair Networks posted an interesting use case of Google Glass.
A6. Google glasses are experiencing a rebirth with the help of AI for assisting children with autism. https://t.co/e9k5rwTrQA #G2Fireside

— pair Networks (@pairnetworks) August 1, 2019
Matt Schlicht provides a fun example of how machine learning can be applied to complete time consuming tasks.
A6: I love AI that solves a simple task that used to take a while but can be sped up with the use of machine learning.

Example: https://t.co/9ftHg2A63F lets you upload a photo and it will automatically remove the background.#G2FireSide

— Matt Schlicht (@MattPRD) August 1, 2019
Q7: Which industries will be affected by AI in 2019?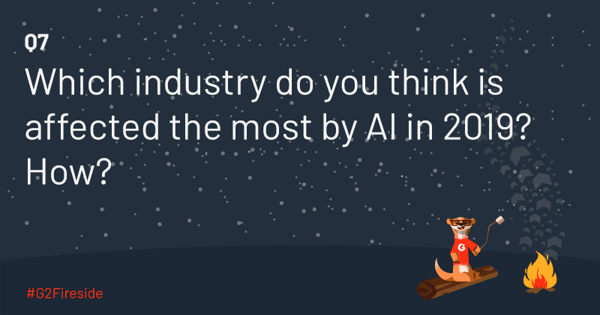 For some industries, the use of AI is imperative. For others, there may be use cases not yet discovered. Bentley University starts off the conversation by listing the many use cases of AI in healthcare.
A7.

Healthcare!

-For diagnostics
-For teaching
-For treatment
-For research
-Etc. #G2FireSide

— Bentley University (@bentleyu) August 1, 2019
Sylvain Perron follows up by saying you'll be hard-pressed to find an industry untouched by AI in the near future.
A7: Have yet to see an industry that isn't impacted, but automotive @Tesla, manufacturing, banking and healthcare are huge this year #G2Fireside

— Sylvain Perron (@slvnperron) August 1, 2019
Lauren Pope explains how the use of AI is even on the rise in the education industry.
A7: Both of my parents are teachers, so seeing how AI is being integrated into classrooms is really interesting to me. #G2Fireside

— Lauren @ G2.com (@G2Lauren) August 1, 2019
Julia Rose wraps up the question by saying we all are in some way affected by AI and/or use it in our day-to-day.
A7: We all are affected, whether we realize it or not. If you're part of modern society, you are using AI every day whether you're conscious of it or not. Of course, the technology sector is the most affected. They need to lead and evolve quicker than the rest. #G2Fireside

— Julia Rose (@Missjflar) August 1, 2019
Q8: Will AI "take over" someday? Why or why not?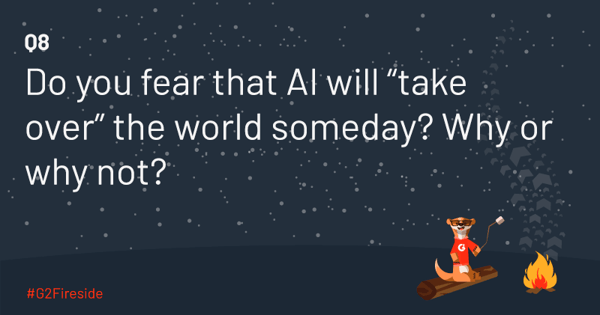 Our final question explores some of the fears of AI in the near future. Matt Schlicht explains how AI is already "taking over" social media platforms like Facebook.
A8: Depends how you look at it, technically the AI in the Facebook newsfeed, and other social networks, already hijacks your brain in order to keep you scrolling and engaging with ads. Sure, humans are monetizing the AI, but the AI is what is controlling you.#G2FireSide

— Matt Schlicht (@MattPRD) August 1, 2019
Kara Kennedy, G2's Director of Market Research, responds to the apocalyptic claims that AI will "take over."
A8: To say that #AI is going to take jobs from humans or replace us all is too extreme. The media latches on to that for the buzz, hype and clickbait factor. AI will eliminate task types, sure, but that just frees up time for skilled workers to focus on innovating. #G2Fireside pic.twitter.com/WS9bFbqzIh

— Kara K. (@karasarge) August 1, 2019
I agree that most of these claims are silly, but skewed data used to train AI can have negative impacts on the public.
A8: Lol can't say for sure, but I think this is a good reminder that while #AI will lead to more breakthroughs, it's important to look at the data behind these models. This story by @TechCrunch is just one of many examples. https://t.co/CB4lfGDlSc #G2fireside

— Devin 📈 (@Devin_Pickell) August 1, 2019
Aishwarya Ashok finishes up our Twitter chat with a more positive outlook on the future of AI.
A8. AI is made intelligent with smart people who know how to tap its potential. Even some magic can go unnoticed if there's no magician and the audience to watch it. So, AI will not take over the world, rather, AI will streamline things in the world of smart people. #G2FireSide

— Aishwarya Ashok (@aishashok14) August 1, 2019
Join us every other Thursday!
Huge thanks again to everyone at G2, our guest contributors, and all our Twitter chatters for providing insight in our latest #G2Fireside on chatbots and AI.
Next up is Anastasia Masters, who will be discussing everything content and data on Thursday, August 15. You're not gonna want to miss what our contributors have to say!
Follow @Devin_Pickell