There are few things marketers love more than data.
Data provides a holistic picture of a marketer's audience, and big data allows for prediction and hyper-personalization.
Our seventh installment of the #G2Fireside Twitter chat encompassed big data, how its used in marketing, as well as some SEO trends pertaining to the BERT update. This Twitter chat was made for data-driven marketers.
#G2Fireside: Big data in marketing
Those who contributed to the chat from G2 include:
Devin Pickell, Content Marketing Specialist (Data analytics)
Sarah Harenberg, SEO Analyst & Data Scientist
Our #G2Fireside guest contributors include:
Let's take a look at some of the insights, starting with our first question about how marketers define big data and what it means to them.
Q1: Why is big data important in marketing?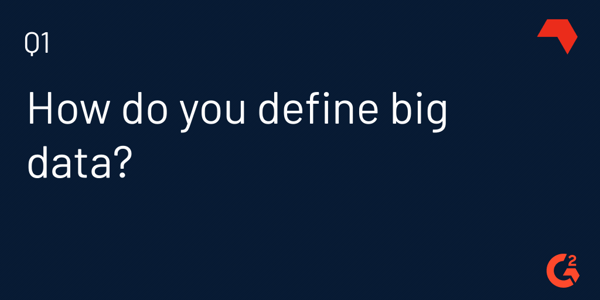 Matt Bentley, our guest contributor, hits the nail on the head with why a marketer should care more about big data right now.
A1: Big Data is important to marketing because it will make you a better marketer!
✅ More nuanced understanding of your customers
✅ Highly targeted messaging
✅ Identify and respond to trends more quickly
✅ Predict the future!#G2Fireside

— Matt Bentley (@matt_bentley) November 7, 2019
Alice Corner expands on Matt's first point of providing a more nuanced understanding of customers and focusing on user intent.
A1: For me using big data in marketing is all about having a clearer idea of user intent, and reaching users in the right place at the right time to make marketing more effective, but there's no doubt it can be easily abused! #G2Fireside

— al corner (@blerhgh) November 7, 2019
Diana agrees with both Matt and Alice, saying big data provides deeper context about customers and business opportunities.
A1: #g2fireside It's all about context. You need the big data in order to understand the big picture otherwise there's no context around anything else you do with that data.

— Diana Richardson (@DianaRich013) November 7, 2019
Aishwarya summarizes the above insights and mentions how big data can humanize our customers more than we can imagine.
A1. As a brand, you serve customers. What better way than making this whole journey a personalized one for those customers? Big data is a tool that'll help you predict and project, but in the most humanized way possible, to provide the best customer experience. #G2Fireside

— Aishwarya Ashok (@aishashok14) November 7, 2019
Q2: Tag a company that you think is using big data well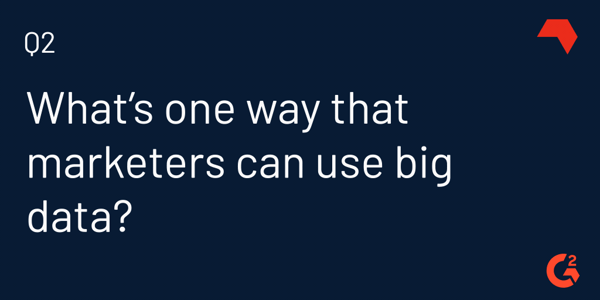 A common theme for our Twitter chats is to look at brands that are high-performing for a particular topic. When it comes to big data, Sara tagged Grammarly, a writing-assistant software powered by artificial intelligence.
@Grammarly <3 #iwillbeatrandomstrangerswithmygrammarthankyou :D

— Sara Haslem Davis (@SaraHaslem) November 7, 2019
Spotify, Hulu, and Netflix are just a few of the popular brands that harness big data for its recommendation engines.
A2: Hyper-personlisation! @Spotify do a great job of delivering suggestions that are unique to me, based on my (eclectic) listening history

— al corner (@blerhgh) November 7, 2019
Starbucks uses big data and artificial intelligence to understand customer buying habits and preferences, so it's no wonder why Squadhelp tagged them.
A2: Since they're at the top of mind with their promotion today, @Starbucks. #G2Fireside

— Squadhelp (@squadhelp) November 7, 2019
I round out the second question with a less conventional brand, the Houston Astros Major League Baseball organization, and how it used big data analytics to capture a World Series title in 2017. Sports is one of the most trending industries applying big data today, with teams vying for competitive advantages.
A2: Not your traditional company, but the @astros applied big data flawlessly in their 2017 season, which led to a World Series win. I'm always fascinated just how valuable big data is for virtually any industry now. #G2Fireside https://t.co/nG2atmb9ui

— Devin (@Devin_Pickell) November 7, 2019
Q3:
What data management techniques do you use?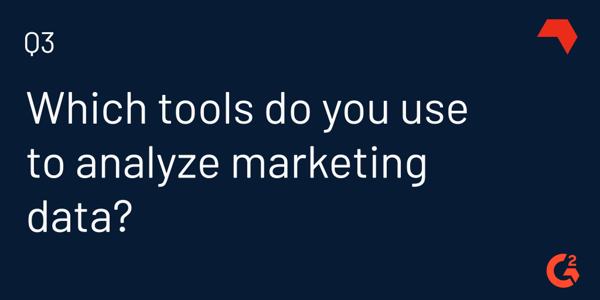 Data management is the practice of collecting, validating, storing, and processing data so it can be analyzed correctly. Marketers rely on data management and tools for analyzing data. Sara mentions some of the tools in her stack:
A3: With more marketing data than ever before, we sift through what's most important to our users with CanIRank, Analytics, Intercom, and a wide variety of other tools. #somuchdata #G2Fireside

— Sara Haslem Davis (@SaraHaslem) November 7, 2019
I decided to chime in with some of the leading database management platforms in our category.
A3: For big data, there's a wide variety of DMPs available today 📈 https://t.co/S7RKJcYq60

— Devin (@Devin_Pickell) November 7, 2019
Q4:
How does a marketing team become more data-driven?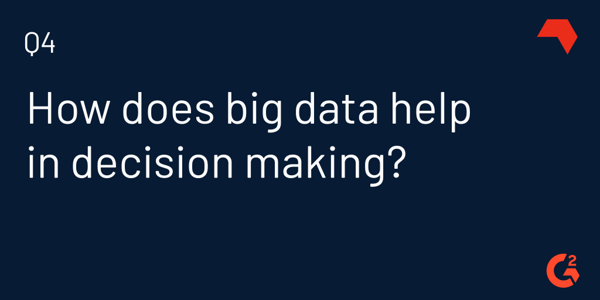 Every marketer should aspire to be data-driven, however, this takes a company-wide cultural approach. Sara says education is key for becoming data-driven:
Q4: Hire data-engineers to teach the team. Mostly kidding. Ongoing training and education, because improper use of data can be the "fake news" equivalent to marketers. Data-Science classes for everyone! #G2Fireside

— Sara Haslem Davis (@SaraHaslem) November 7, 2019
Data silos reside in many businesses, even they're not aware of it. Centralizing and standardizing this data is imperative to becoming data-driven.
A4: Removing data silos is just one of many ways. Having the right data in a centralized, easier-to-manage space is extremely beneficial for more than just the marketing team. We should all be drawing insights from the same information. #G2Fireside

— Devin (@Devin_Pickell) November 7, 2019
Twenty Two Kittens rounds out the question by saying data-driven cultures come from the top-down.
A4. Having leadership that is committed to supporting, collecting, and acting on the stories the data tells. #G2Fireside🔥

— Twenty Two Kittens (@All22Kittens) November 7, 2019
Q5:
How do you keep up with Google algorithm updates?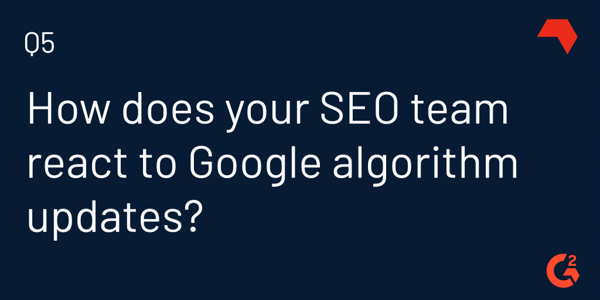 Google algorithm updates can be maddening, so, we asked around to see how SEOs and big data marketers feel about them.
When you hear about a new Google algorithm update, describe your reaction:

— G2 (@G2dotcom) November 7, 2019
CanIRank wrote a blog analyzing big data for the latest update.
A5: We have our own software that collects 549 data points on every ranking URL. After algo changes, we analyze the data to identify which signals correlated with gains and which lead to drops. Here's an example for Google Core update: https://t.co/Gbjgx1ku50 #G2Fireside

— Matt Bentley (@matt_bentley) November 7, 2019
Our very own Bridget explains that regardless of the update, content quality will reign above all.
A5: No matter the algo update, quality matters. We try to control the things we can and roll with the inevitable punches that Google throws our way. #G2Fireside pic.twitter.com/JCgA2EjMSb

— Bridget Poetker 💁🏼‍♀️ (@bridgetpoetkurr) November 7, 2019
Q6:
How does the BERT update affect SEOs?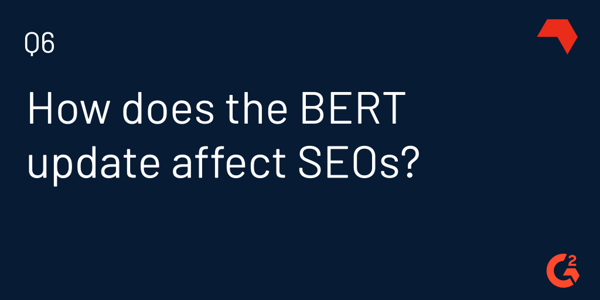 Google's BERT update, one of its largest algorithm updates of all-time, was recently released. Google states its algorithm will focus more on the context of keywords. Here's Matt's breakdown of the update:
A6: BERT improves Google's language understanding, esp. for conversational queries where syntax and context matter. If you're paying attention to intent in your optimization, you'll want to adjust accordingly: https://t.co/61BWNJXReh #G2Fireside

— Matt Bentley (@matt_bentley) November 7, 2019
Q7: What plans do you have to use big data in your marketing strategies?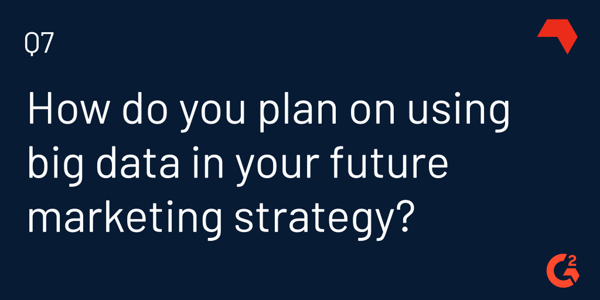 For big data to truly be harnessed by more marketers in the future, data science adoption will need to take place. Here's my take on the future of data science, drawing insights from and IBM Quant Crunch study:
A7: @IBM estimates that up to 2.72 million jobs that require data science skills will be posted by 2020. pic.twitter.com/zrCYSKSuwH

— Devin (@Devin_Pickell) November 7, 2019
Matt validates this claim using job posting data from Indeed.
Interestingly, the explosion in Big Data jobs mirrors the explosion in data: pic.twitter.com/NOizvvadmT

— Matt Bentley (@matt_bentley) November 7, 2019
Bridget explains that automation and the reliance on tools is likely, given the current software trends.
A7: My unpopular opinion is that we'll lean on software even more than we do now. Think about the way we depend on our CMS and CRM... DMPs could be next! #G2Fireside

— Bridget Poetker 💁🏼‍♀️ (@bridgetpoetkurr) November 7, 2019
Q8: What is a good background to get into data analysis?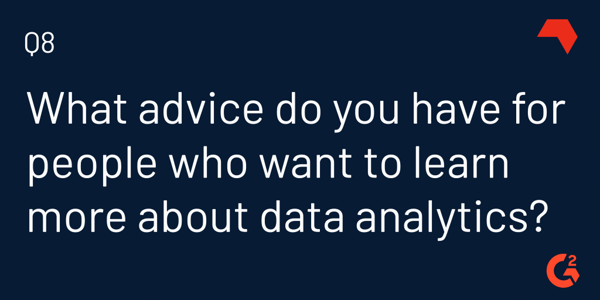 Our final question complements the previous one about the wide data science gap. How can marketers and those interested in being more data-driven do their part? Sara dropped a resource by Regina Hartley and TED.
Q8: I'm going to go with - it doesn't matter the background, it matters the discipline in learning. And sometimes it's better to bet on the scrappers than the silver spoons. :) https://t.co/FSsd8UQrWF #G2Fireside

— Sara Haslem Davis (@SaraHaslem) November 7, 2019
Matt mentions that Coursera, an online learning portal, has many of the same courses he took at Stanford for free.
A8: Years ago, I paid big bucks for a degree from Stanford. Today, you can take many of the same courses for FREE. How awesome is that?
Here's a good place to start: https://t.co/JcBhUi2RKd #G2Fireside

— Matt Bentley (@matt_bentley) November 7, 2019
Join us every other Thursday!
Huge thanks again to everyone at G2, our guest contributors, and all our Twitter chatters for providing insight in our latest #G2Fireside on big data and marketing.
Next up is Bridget Poetker, who will be discussing everything about networking and putting your best foot forward as a marketer. You're not gonna want to miss what our contributors have to say!
Follow @Devin_Pickell