Looking for a cheap and easy way to build your personal brand online?
Look no further! Twitter chats are one of the easiest ways to start creating a personal brand, connect with industry leaders, and share your knowledge.
Depending on your level of social media savvy, you may have already heard of Twitter chats. Regardless of your level of knowledge, this guide will outline everything you need to know about joining a Twitter chat.
This guide will outline the basics of joining a Twitter chat, explain how regularly participating can help improve your personal brand, and give you tips on how to get the most out of each chat. Let's get started!
How to participate in a Twitter Chat
A Twitter chat is a public conversation hosted on, you guessed it, Twitter!
Each twitter chat is created by a Twitter user or brand account and usually centers around a unique hashtag. Participants follow the discussion using the hashtag, answer questions, and interact with each other.
Twitter chats usually happen on a recurring basis and focus on a specific topic. If you're curious about the steps you should take before joining a Twitter chat, keep reading below.
1. Find a Twitter chat you want to join
The first step in joining a Twitter chat is finding one that suits your fancy.
One of the easiest ways to do this is to go to Twitter and type "Twitter chat" into the search bar. There you can find dozens of Twitter chat hashtags to comb through. And before you ask, yes, there's a Twitter chat for everything.
If you're a marketer or work in a related field, you don't have to look any further than the G2 Learning Hub to find a list of the most active Twitter chats for marketers. We update the list every quarter, so you can be sure each chat mentioned is active before you join.
Another popular way to find new Twitter chats is on TweetReports. They maintain a comprehensive list of Twitter chats for every industry. TweetReports sorts their chat list by day of the week and segments chats by industry and topic.
2. Mark your calendar
Most Twitter chats happen at the same time each week. If you find a particular chat that you love, be sure to mark your calendar to remind yourself. It can be easy to let the day slip away and miss your favorite Twitter chat if it's not top of mind.
3. Show up early and introduce yourself
In most cases, the host will tweet an icebreaker questions about five minutes before the Twitter chat starts. Be sure to show up early and introduce yourself to others in the chat. This will help you get to know your fellow chatters and feel more comfortable before the chat begins. You'll also get a rundown of what the topic for that week will be.
4. Follow the format and rules
The Twitter chat begins once the host tweets out the first question. Once you see the question, formulate your answer. To respond to a Twitter chat, click the bubble icon on the tweet featuring the question, then add your response.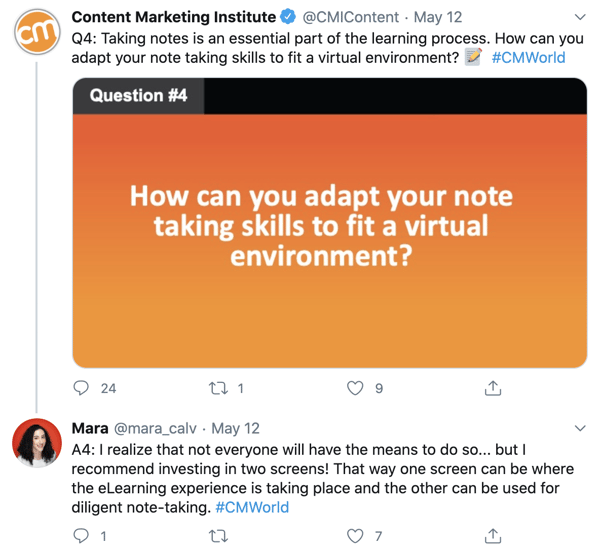 Source: Twitter
Be sure to format your answer correctly! Every Twitter chat question is prefaced with "Q1, Q2, Q3..." and you should preface your answer with "A1, A2, A3..." according to the corresponding question. Don't forget to include the Twitter chat's hashtag as well.
5. Join the conversation
The best part of Twitter chats is talking to other participants! Once you've answered the question(s), go through the replies and see what others had to say. There's a lot of value in reading the unique perspectives of other people. If someone says something interesting, like, retweet, or comment on their answer. This will help you build connections!
Benefits of joining a Twitter chat
Now that you know how to join a Twitter chat, you might be wondering why you should bother. Twitter chats aren't just a fun way to spend an hour of your work day; there are plenty of reasons to regularly participate.
Build your personal brand
Participating in Twitter chats on a regular basis can do wonders for personal brand building. Find chats that align with your knowledge and expertise - this will help you establish yourself as a thought leader in your industry.
Grow your following
Don't be afraid to engage with other users that are participating in the chat The connections you build during Twitter chats can have a real impact in your career. Twitter chats are about creating a community around yourself. Who knows? You might connect with a potential client in a Twitter chat, or maybe even meet your future employer.
Get traffic to your content
If you're answering a question during a Twitter chat and see an opportunity to plug a piece of content that would be relevant to your answer - go for it! This is a great way to get more eyes on your work and drive social traffic back to your website. Just be sure that you're adding value to the conversation and not promoting your website just for the sake of getting more views.
Give yourself a brain break
Staying focused on your tasks all day long is difficult even for the most productive people. Joining a Twitter chat is an easy way to give yourself a mental break for thirty minutes during a busy work day while still doing something productive.
Learn something new about a topic
Twitter chats are a great way to expand your knowledge about a topic or learn something entirely new. Two people with similar job titles can answer one question in two completely different ways. Participating in Twitter chats can open your eyes to different perspectives and even help you bring new and actionable insights back to your job.
Tips for participating in a Twitter chat
If you're still looking for a few tips and tricks before jumping into your first Twitter chat, don't worry! We've got you covered. Keep reading for our seven best tips for participating in Twitter chats.
1. Invite your friends
Remember, Twitter chats are a social thing! If you find a Twitter chat that you think some of your followers might enjoy, DM or tag them in a comment below the chat. Twitter chats are always more fun when a lot of people participate.
2. Don't spam people with self-promotions
It can be tempting to use a Twitter chat as a way to promote your brand, company, or content. There are some instances in which plugging a relevant blog post or product can add value to the conversation, but be judicious with what you promote. You don't want to turn off the other participants by spamming them or trying to sell them.
3. Remember, you don't have to answer everything!
A Twitter chat is not a pop quiz; it's okay to not know the answer. If a question comes up that you don't have the insight to answer, you can skip it. Take the time to read through other responses and ask follow-up questions and use these moments to learn something new from more seasoned professionals.
4. Don't forget to be social
The primary focus of a Twitter chat is to chat with other people. It's an online conversation meant for people to bounce ideas off of one another. Don't just drop your reply in the comments and wait for the likes and retweets to come in. Ask questions, give examples, and converse with your fellow Twitter chatters.
5. Make your content pop
An easy way to stand out in a sea of other Twitter chat participants is to add visual elements to your answers. Most people do this by including GIFs and videos to their answers. Some more ambitious Twitter chat participants actually film themselves answering the questions as the chat is happening.
6. Don't pick fights with people
There will eventually come a time where you and another Twitter chat user disagree on the answer to a question: and that's okay! Healthy debate is a fun way to gain new insight on topics you're familiar with. The key is to remain respectful and avoid making your disagreements personal.
7. Build connections after the chat ends
After the chat ends, be sure to follow your favorite participants as well as the host. Oftentimes, people will follow you back! This is a great way to keep connections going after the Twitter chat has ended.
Take your social strategy to new heights.
Congratulations, you're ready to join the conversation! We hope this guide has been an easy way to better understand Twitter chats and how to participate in them.

If building your brand on social media is a goal of yours, learn exactly what you need to do in order to get the blue check on Twitter and instantly earn credibility on the platform.