The Twitter character limit has doubled its previous capacity in 2017.
So, the question remains:
How many characters are in a tweet?
The short answer in 2019 is 280. That seems like a lot of room for riveting content, and it can be, but you have to be impeccable with your word choice.
Character count has to...count…in your Twitter copy.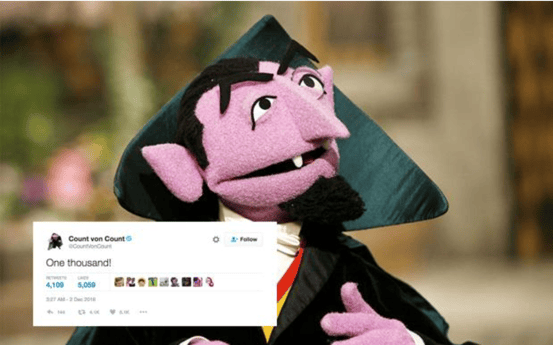 What is a character?
A character is essentially a computing term for a unit of information that symbolizes one alphabetic letter or symbol. Letters, numerical digits, whitespaces, and punctuation marks are all considered characters on Twitter's platform (e.g., "The Count has a Twitter?" has 23 characters). Every character counts; mentions and hashtags included.
How to count your Twitter characters
Twitter does not automatically count your characters, but the site and the mobile app will inform you when you're just shy of 280. So how can you optimize instead of playing around with your edits or using the Tool menu in your Google Doc? One of the best ways to simplify the process, especially if you're utilizing Twitter for a business or brand, is using social media management software that count the characters for you.
Ways to make your characters count
Two hundred eighty characters seems like a lot, but considering that a character count includes hashtags. whitespace, and exclamation marks, your limit gets used up quickly. Keep this in mind when adding links to your Tweets as well. You can shorten longer links by using URL shortener tools to save more space.
Need more Twitter characters to express yourself?
Many users also start a Twitter thread, or chain, where they continue their relevant Tweets in the comments to make their extended points. They appear as separate Tweets on your page, so make sure to keep them concise.
Want to learn more about Twitter? Check out our article on Twitter statistics or learn how to make your Twitter account private here!