Whether you're expanding your current presence or starting from scratch, advertising on Twitter can be a game-changing addition to your social strategy.
With hundreds of millions of users, Twitter is a major marketing channel for many brands. The platform allows businesses to engage directly with their audience, elicit real-time feedback from customers, and promote their offerings.
As an advertising platform, Twitter is popular because the ads are designed to be more subtle. An ad on Twitter is simply a promoted version of the content that already exists. Alternately, other social media advertising platforms, such as Facebook, allow users to produce completely separate content for promotion.
Advertising on Twitter also offers marketers cost-effective targeting options. No matter what the ad's objective is, you only pay when an action is taken, not per impression.

If you're ready to take your Twitter marketing efforts to the next level, paid advertising is the way to do it. In this article, we will share how to use Twitter Ads Manager, best practices for creating your first ad, and examples of brands that got it right.
Types of Twitter Ads
Before we jump into creating an ad campaign, it's important to familiarize yourself with the different types of Twitter Ads that are available. Depending on your goals, you will have to decide which ad type is the best fit for your first campaign.
Promoted tweets
A promoted tweet is very similar to a regular tweet, except that it has a label that reads "promoted" at the bottom to signal to users that they are seeing an ad. People can like, retweet, and reply to a promoted tweet in the same way that they can interact with a regular tweet.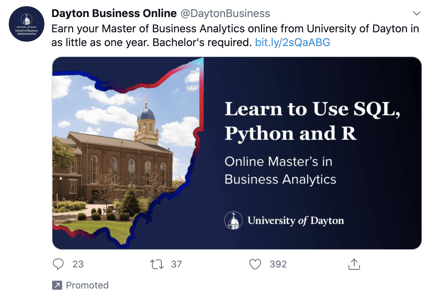 Source:Twitter

Promoted tweets appear on users' feeds alongside tweets posted by people they follow. The idea is to have the ad blend seamlessly with other content.

Promoted accounts
Promoted accounts appear as suggestions to users who don't follow you but may find your content interesting. These ads pop up on the news feed, in search results, and in the "who to follow" section.

Source: Twitter
This is a great option for brands that are primarily focused on increasing their number of followers.
Promoted trends
When it comes to Twitter trends, time is of the essence. With promoted trends, brands are able to promote a trend for a 24-hour-long period. The trend will appear in the "trends for you" and "explore" sections. This option allows you to capitalize on the news cycle or promote something entirely new.
Twitter Promote Mode
Twitter Promote Mode is an ad setting that automatically promotes your tweets for a flat rate of $99/month. You're still responsible for tweeting and running your account as normal, but Twitter will automatically promote your content for you. This "set it and forget it" option is desirable for brands that don't have the time or resources to dedicate to running a full-time Twitter advertising initiative.
How to advertise on Twitter
Launching a Twitter ad campaign is a great way for marketers to encourage website clicks, increase conversions, and accumulate more followers. If you're new to Twitter Ads Manager, rest assured that getting your campaign up and running is fairly easy to do.
Let's create an example Twitter ad campaign together.
1. Set up Twitter Ads account
From your homepage, click on "More" and then select "Twitter Ads" from the pop-up menu.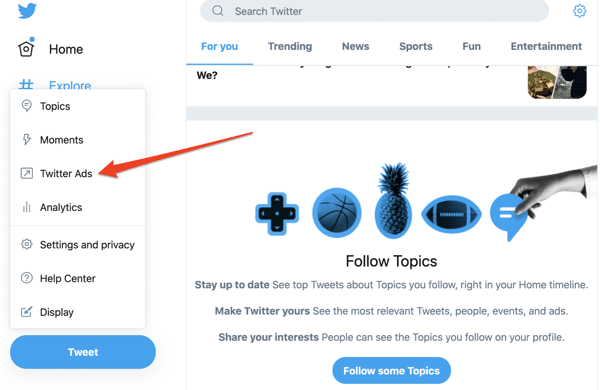 Source: Twitter
The next screen will take you to the Twitter Ads homepage. Front and center, you will see a button that reads "Create an ad." Click on it to move forward.

From here, you are prompted with two options: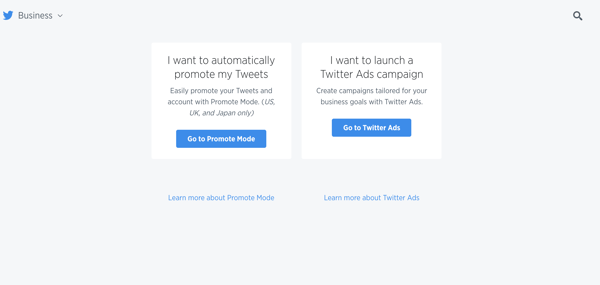 Source: Twitter
Based on the description, choose the one you feel best fits your needs. As mentioned previously, the Promote Mode option is for brands that want Twitter to do all of the heavy lifting and promote your content for you. For this walkthrough, we will choose "Twitter Ads" as an example.
2. Choose an objective
Next, you must choose an overarching objective to guide this specific campaign. These objectives are designed to help you reach a certain goal by zeroing in on exactly what you wish to accomplish.
To help further guide your decision, the objectives are grouped by the 3 phases of the marketing funnel: awareness, consideration, and conversion.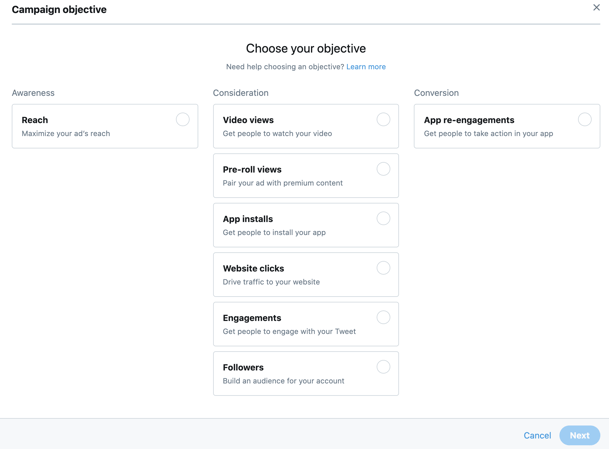 Source: Twitter
Here is the full list of possible objectives:
Reach: maximize your reach with promoted tweets
Followers: grow your audience on Twitter
Engagements: get your audience to interact with your content
Website clicks: funnel traffic from Twitter to your site
App install: encourage downloads by promoting your app
App re-engagements: get users to engage while using your app
Video views: increase the number of times videos are viewed
In-stream video views (pre-roll): include your video as pre-roll before relevant publisher content
For this example, we're going to select tweet engagements.
3. Fill out campaign information
On the next page, you are prompted to select a campaign name, duration, and budget. It can be helpful to set a naming convention for all your campaigns so it's easier to keep track of them.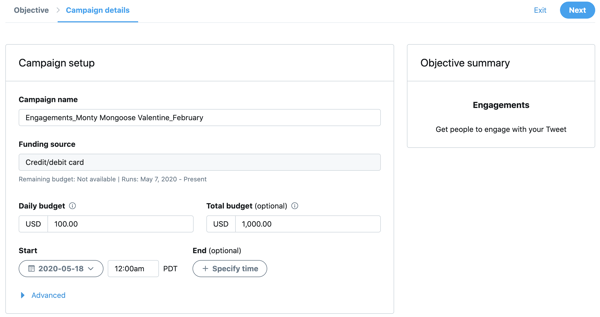 Source:Twitter
After naming the campaign, it's time to assign a budget. We'll discuss more about the ad bidding process later. For now, you must set a daily budget. This is the maximum dollar amount you are willing to spend for one day. Additionally, you can choose to set a total budget. This field is optional and indicates the maximum dollar amount you are willing to spend for the entire campaign.
Next, you must select the start date and time for your new campaign. You have the option to set an end date. If you want this campaign to run for an indefinite amount of time, leave this field blank. Click "Next" when you are ready to move on.
4. Create an ad group
Ad groups keep you organized, allowing you to run several ads to distinct audiences, even with different budgets, all within one overarching campaign.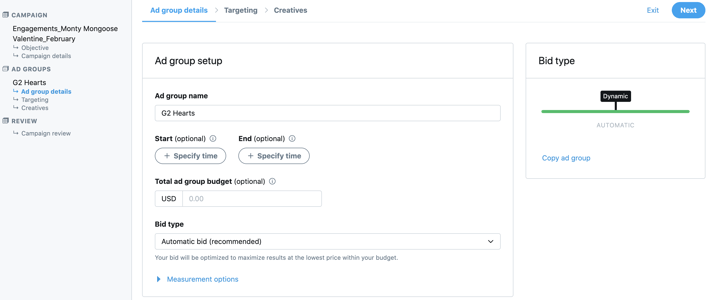 Source: Twitter
On this page, you'll build out your ad groups. If you plan to have multiple ad groups, give them names that will help to distinguish the difference. You can choose to set ad group budgets, but if you leave this section blank the system will refer back to the Twitter campaign budget you decided on previously. Notice that when you add ad groups, the tree on the left-hand side grows for easy navigation.
5. Select a bid type
Advertising on Twitter is auction based, meaning marketers bid against each other for placement. The system takes two equally important aspects of your ad into account — how much the advertiser is willing to pay, and the quality of the ad compared to others targeting similar interests. The quality score consists of three factors, including resonance, relevance, and recency.
The ad score is then calculated by multiplying the quality score and the bid. In order to win auctions, you must have a competitive bid as well as a high-quality ad.
There are three types of Twitter ad bids:
Automatic bid (recommended for new advertisers): ads run automatically by Twitter's algorithm and are optimized to reach maximum results at the lowest cost within the set budget.
Target bid (only available in follower and website click ads): ads run based on an automatically optimized daily average cost per bid that meets or beats your competitors
Maximum bid (helpful for experienced advertisers): ads run for maximum visibility based on how much you are willing to pay per action and will never overspend
Select your desired bid type from the dropdown menu on the ad group page. Note, you can have different bid types for each ad group, so make sure to check all of your ad groups before continuing on.
You'll notice additional options at the bottom of this page. You can add an audience measure tag only if you have an existing relationship with a 3rd party Audience Measurement solution. If you use DoubleClick Campaign Manager to track conversions, toggle on to integrate the tools. To learn more about this feature, click the blue question mark next to it.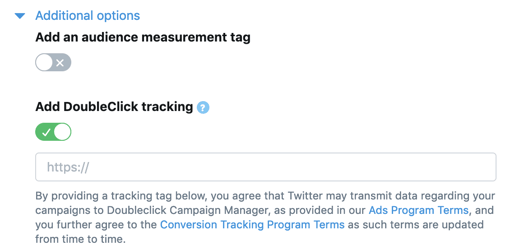 Source: Twitter
6. Define your target audience
Selecting an audience is perhaps the most important step in creating a Twitter ad campaign. You can target by a variety of different factors, including basic areas such as geography and demographic information, or more in-depth options, such as the followers of another account of interest and personal behaviors.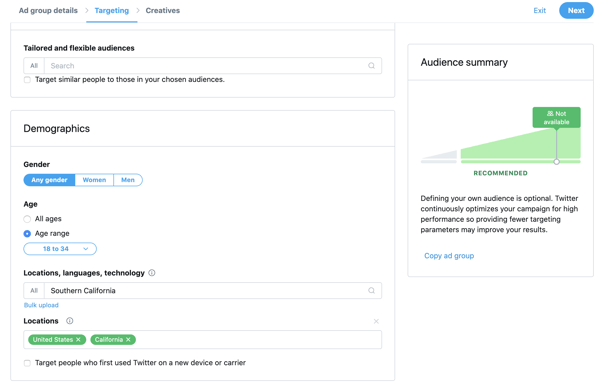 Source: Twitter
From the first dropdown, you can choose to include or exclude your saved audiences. If you want to target similar users to your target audience, check the box below the menu. Fill out your desired demographic information in the next section.
In the audience features section, you have the option to search features by keywords. This includes events, behaviors, interests, conversation topics, follower look-alikes, movies and tv shows that might pertain to your target audience. The audience summary callout on the right-hand side of the page will start to populate as you add these features. Twitter also offers recommendations for additional topics based on what's popular to people matching the demographics you chose.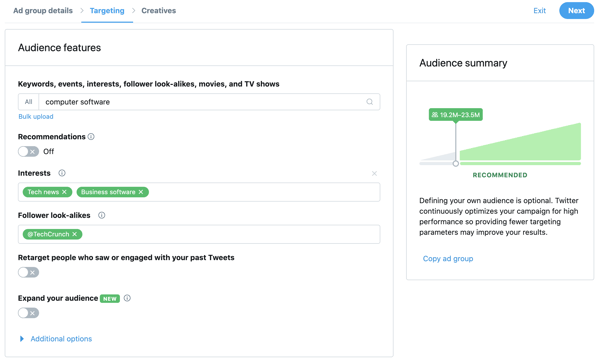 Source: Twitter
If you have multiple ad groups, it's important to note that you have to do this step for each ad group you've created.
7. Finalize the creative
Now that you have narrowed down an audience for your campaign, it's time to select your creative and determine the proper placement for the ad. Ask yourself, where does it make sense for your target audience to see this ad? Keep in mind, depending on your chosen campaign objective, certain ads can only be used in certain locations.
Tip: In Twitter-speak, the term "creative" refers to the tweet that you are going to feature in your ad.
All possible Twitter ad placements include: in searches, in users' feeds, on profiles and tweet detail pages, and the on Twitter Audience Platform. The Twitter Audience Platform is simply a network of mobile applications and websites that may not be owned by Twitter, similar to traditional display advertising.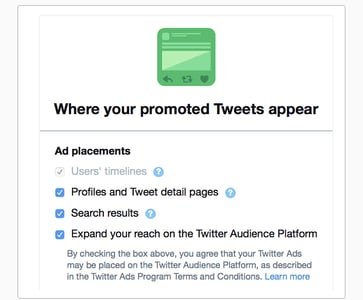 Source: Twitter
Select which tweets you want promote. You can filter by your organic tweets, scheduled tweets, and promoted-only tweets. Remember, you can have multiple creatives within one ad group. Choose your placements on the right.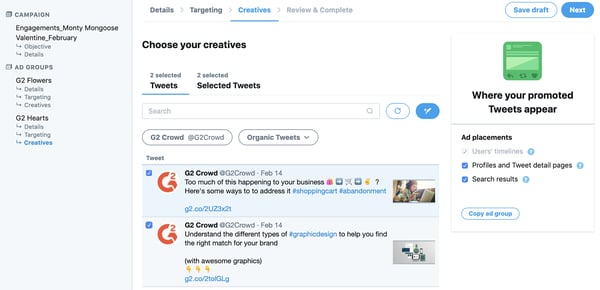 Source: Twitter
8. Launch campaign
It's go time! If your campaign looks ready for the world, go ahead and get it out there. Be sure to double-check your copy for typos and budgets for extra zeros. You can do this all in the review window.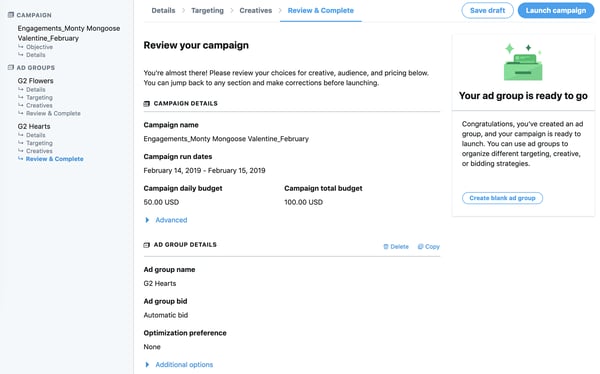 Source: Twitter
See all of the campaign and ad group details in the "review and complete" section. You can also save a draft anytime throughout the process and the system will pick back up where you left off.
9. Monitor campaign progress
For the most successful campaigns, you should check in and tweak the campaign as it rolls out. You can make adjustments to see what's working and what's not. Each target audience is different and sometimes it requires some testing to get it right. This feature is similar to Twitter Analytics, except that it's specific to your ad campaign.
In Twitter Ads Manager, you can see the status and stats of all of your campaigns. Don't worry, you can filter down the results to make it easier on the eyes. You can also see your promotion history. Click on the campaign actions button in the top-right corner to edit, copy, or delete your campaign.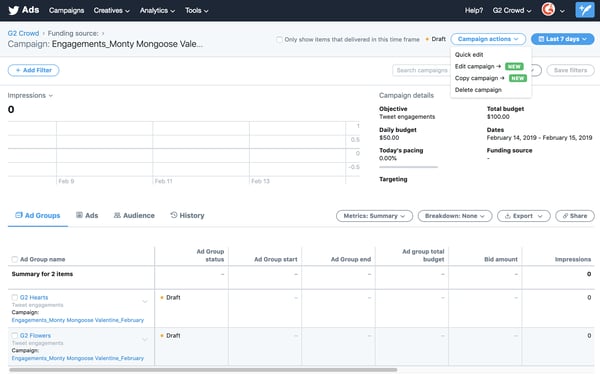 Source: Twitter
Congrats! You've successfully created a Twitter ad.
Twitter advertising best practices
When it comes to social media advertising, it's important to remember that works on one platform won't always be successful on others. Twitter is known for quick, digestible content - your strategy should follow suit.

To help guide your efforts, I've compiled a list of essential best practices for successful Twitter ads:
1. Keep your ad copy simple
With a limited amount of characters, and our similarly limited attention span, it's important to get to the point. At the same time, you want to stand out from the crowd. Users see hundreds of ads per day, so don't be afraid to get creative and aim for a message that is eye-catching and incites intrigue.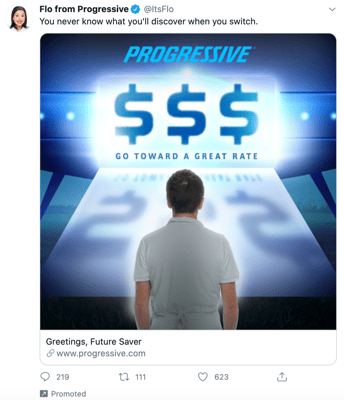 Source: Twitter
2. Feature educational and how-to content
We're all familiar with Tasty by Buzzfeed, the 15-second cooking videos. That's because we all stop and watch them as we scroll through our feeds. People are interested in learning, even subconsciously. If you can give a quick overview or demo, you'll grab attention and keep it.
3. Carefully review Twitter ad specs
This may seem obvious, but it needs to be said. Twitter ad size specifications vary depending on the type of ad. Make sure you have the correct dimensions for your creative visuals to ensure that nothing gets cut off.

Here's a quick overview:

For images

, Twitter recommends a minimum width of 600 pixels. There are no height specifications; however, if the height is greater than the width, it will automatically be cropped 1:1.

For GIFs, follow the same dimension rules that apply for images. The maximum file size is 5MB.
For videos, the recommended length is 15 seconds or less. Twitter will cut off any videos that go past two minutes and 20 seconds. The maximum file size is 1GB. The file types supported by the platform are MP4 or MOV.
4. Use hashtags sparingly
Hashtags can be distracting. On top of that, it could encourage people to click on the hashtag to see other mentions of the phrase. Now, here is where the "sparingly" rule comes in. If you're running a campaign with a specific hashtag, then it's OK because it will increase your engagement. In most other cases, try to stick to your message and keep people on task.
For example, Keurig uses a campaign-specific hashtag in the ad below. In this case, using a hashtag works because it's unique to this specific campaign and it incentivizes users to use the tag in exchange for a donation.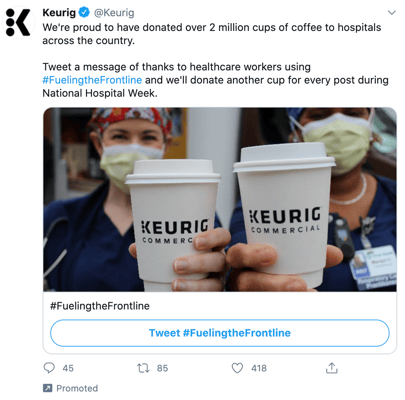 Source: Twitter
5. Offer something of value
This could be anything from a PDF download to cold, hard cash. Incentivizing people to engage with your ad is an easy way to win them over. Try to break down whatever barriers are stopping people from taking the next step.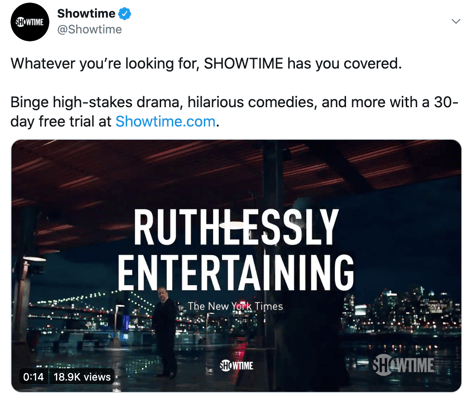 Source: Twitter
Twitter ad examples
If you're entirely new to Twitter advertising, it can be difficult to visualize what kind of ad will work best for your business. The type of creative you eventually decide on will have to be a direct reflection of your target audience and what they want to see.

In need of inspiration? Here's a list of Twitter ad examples that we thought stood out the most:
Wendy's
Wendy's Twitter account has become a fan favorite for many users over the years. The fast food restaurant may be known for its cheeseburgers and fries, but Twitter users follow the account for the tongue-in-cheek humor.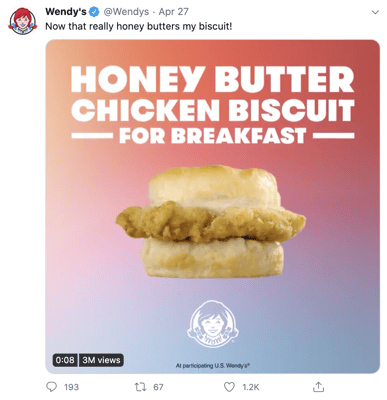 Source: Twitter
Why it works: This ad is effective because it's incredibly simple. There's very limited copy and the image shows exactly what product is being advertised. Humor has been a major part of Wendy's brand voice for a long time, so it's no surprise that it makes an appearance here.
Vizzy Hard Seltzer
For the 21 and up crowd, hard seltzers are all the rage nowadays. Vizzy is a newly-launched brand of hard seltzers created by Molson Coors.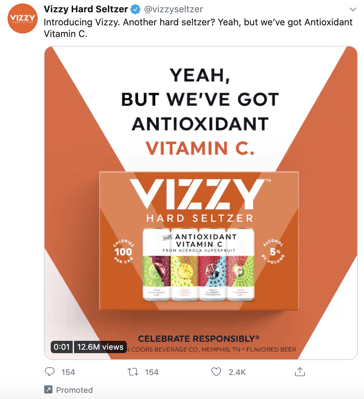 Source:Twitter

Why it works: The hard seltzer market is becoming increasingly saturated meaning it's getting more and more difficult for brands to stand out. Vizzy's competitive advantage is that their drinks include vitamin C. Everyone that sees this vibrant ad will know this right away. That's why it works.
Hootsuite
Twitter isn't just for business-to-consumer brands, the platform can be equally as effective for companies in the business-to-business space. Here's an example from social media management company, Hootsuite.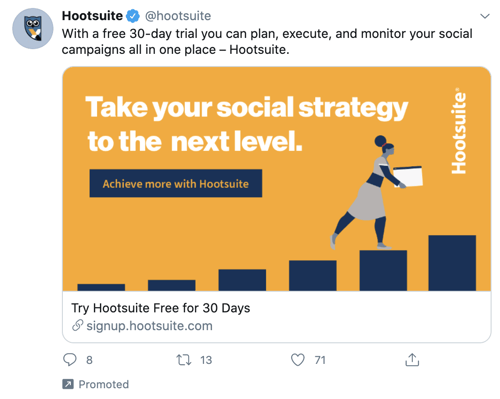 Source: Twitter
Why it works: Put simply, this advertisement highlights a promotion. If your business has a free trial or similar offering, Twitter is a great way to let people know about it. Users who see this ad know within seconds exactly what the offering is and how they can learn more about it.
Walmart and Chrissy Metz
Partnering with a celebrity or influencer is an effective strategy for reaching your audience in a more authentic and less intrusive way. In this example, Walmart partnered up with This Is Us star Chrissy Metz to promote the retail giant's fashion line.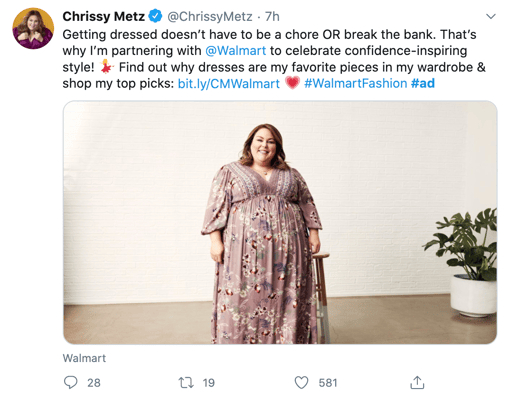 Source: Twitter
Why it works: Influencers offer a form of social proof that you can't replicate on your own. The best part is that you don't need a Walmart-sized budget in order to do this. Many small influencers are just as effective at reaching their audience, without the price tag of an A-list celebrity.
Be where your customers are
By now, many marketers agree that Twitter isn't going away any time soon. The platform has proven to be an effective marketing channel and if your audience is using it, your brand should be, too. We get it - taking the plunge to allocate budget to your Twitter marketing strategy can feel daunting. But with these tips in mind, you'll be on your way to growing your following and expanding your reach in no time.
Believe it or not, there's more you can do beyond paid advertising to leverage Twitter for your business. Discover how to host a Twitter chat and build further exposure for your brand.