Gaining and keeping competitive advantage for businesses has never been more challenging. At the same time, though, there have never been more opportunities to build and scale a company with global reach.
With the internet as the platform for innovation and the emergence of the information-fueled economy, technology is both a strategic requirement and a strategic advantage. You've probably read about, or even experienced, a big business disruption, and for that to survive you must go through a "digital transformation."
Emerging Business Trends for 2018
Frankly, digital transformation sounds ominous or even a little scary, and in general it is an overused buzz phrase. That doesn't mean that there's not something important for businesses in the underlying ideas that are the actual change drivers.
Read full digital transformation intro.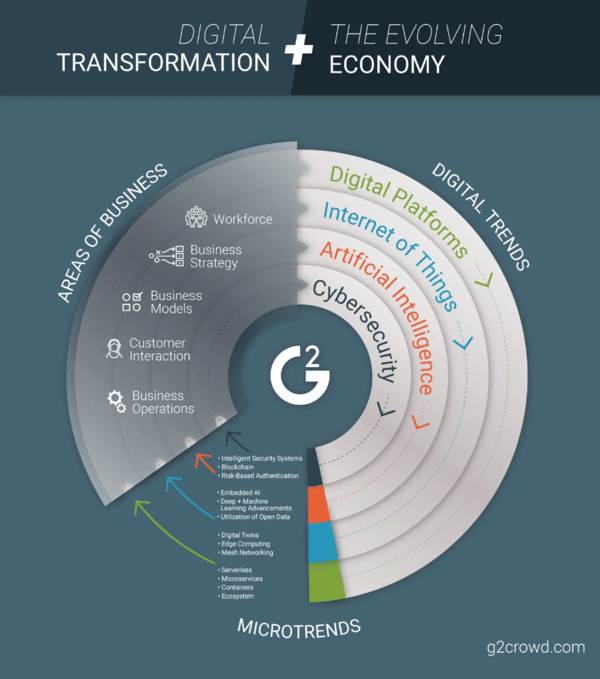 Digital platforms
Digital platforms have continued to evolve over the past several years, with 2017 paving the way for more decentralized networks, even further digitalization and third-party partnerships within the enterprise. Explore digital platform trends.
Artificial intelligence
Artificial intelligence (AI) continued to be a major driver of digital transformation in 2017, with the rapidly advancing technology affecting business strategy and operations, customer interactions and the workforce itself. Explore artificial intelligence trends.
Cybersecurity
New technologies continue to emerge to protect us from the onslaught of cyberattacks. Artificial intelligence, adaptive authentication and blockchain technologies are just a few things changing the information security landscape. Explore cybersecurity trends.
Internet of things
The internet of things (IoT) is helping digitally transform businesses where data needs to be collected from a number of devices that aren't easily accessible, or are difficult to continually monitor and repair. Explore internet of things trends.