Cluttered garages. Overflowing closets. The desire to move.
All eBay sellers have experienced one or all of those things. Getting rid of some old junk can bring a good feeling of starting fresh and relieve the weight of carrying everything you've owned since you were a child. Not to mention the cash.
Selling your things on eBay's online marketplace is a great way to rake in some extra dough, but there are some methods of selling that tend to be more profitable than others.
Tips for new eBay sellers
Getting rid of old things is sweet, but doing it while making money is even sweeter. We've compiled a list of the top ten best tips for selling your things on eBay.
Selling items on eBay
Understand seller limits
Price strategically
Sell the right items
Get the right supplies
Choose the right listing type
Create a unique and professional listing
Improve your feedback score
Learn to package and ship
Offer a return policy
Provide great customer service
1. Understand seller limits
eBay sets selling limits on each seller. The site can restrain sellers from listing certain items or place a cap on the amount of items sold. These limits are put into place to ensure that new sellers are able to conduct business while also offering killer customer service to their buyers. If you have a solid selling performance and good sales metrics, eBay will potentially increase your limits. Essentially, the better seller you are, the more you are able to sell.
2. Price strategically
Understanding the true value of the item you are about to sell on eBay is important, but not as important as knowing how to price it to see the highest potential profit. Often, new eBay sellers can make the mistake of offering a product at retail value.
Because of the nature of eBay, sellers will eventually learn that an item is only worth the amount that another user is willing to pay. To find the best price for your goods, take a look at completed listings and sales data based on the price at which an item was sold. Because those prices have worked for past sellers, it will be your best bet at pricing an item at a point where users are willing to buy.
3. Sell the right items
Some items are perfect for selling on eBay, while others can be more problematic. Certain people are on eBay to prey on new sellers and make them a victim of their scams. To avoid this, don't sell high-risk items online.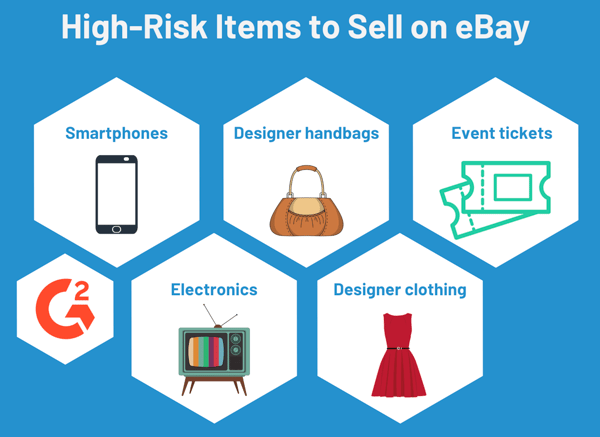 This is not to say you can never sell these items on eBay. However, to avoid being scammed, it is best to establish yourself as a seller before tackling high-risk items like these.
4. Get the right supplies
Selling on eBay doesn't take much. You might even have everything you need to make sales around the house. To showcase your items and get it to the buyer seamlessly, you will need the following:
Plain white poster board (set your items on these to take good photos without distractions in the background)
Scale (use this to weigh your items for listing and shipping purposes)
Shipping supplies
5. Choose the right listing type
There are two listing options on eBay: auction and fixed price. With auction pricing, potential buyers can engage in a bidding war up to a certain date. At that set date, the highest bidder wins. Or, you can do a fixed price listing, which is the same way you sell things on Amazon.
With auction pricing, you have an end date in sight, and the final buying price might be higher than you expected. On the other hand, fixed pricing will not guarantee a selling date, but if that date comes, you will get the amount you asked for.
6. Create a unique and professional listing
Unless you have a one of a kind item, chances are there is someone else online selling something similar.
Standing apart from the competition all lies in the listing. There is an SEO aspect to eBay searches, meaning you need to fill your listings with the right keywords for it to appear in buyer's search results. The more descriptive the listing is, the more likely it will show up to buyers. Make sure your description is as detailed and accurate as possible.
To craft your listing, see what is working for other people. Search for the item you are selling on eBay, notice what the top results were, and then make yours better and more searchable. You can also Google your term, see what comes up, and use those keywords to include in your listing.
Don't forget that your listing also includes photos. Make sure your images properly showcase the value of your product (preferably from all angles).
7. Improve your feedback score
Every eBay member has a feedback score. After each transaction, both buyers and sellers can leave feedback for each other, which consists of a rating and maybe even some comments. More specific to selling, in addition to the feedback score, buyers can leave more detailed seller ratings. The more feedback you have as a seller, the more trustworthy you appear to the community.
Seller ratings are based on accuracy of the item description, effectiveness of the seller's communication, how quickly the buyer received the item, and whether or not the postage and packaging prices were reasonable. Make sure you are being a generally agreeable buyer in all of these areas.
If you don't have much feedback, buy a few items on eBay and let the sellers rate you. This way, you can build a solid score before selling anything.
8. Learn to package and ship
Imagine if you found the perfect buy on eBay, made the purchase, but then when it came in the mail it was ruined from the wear and tear of shipping. Or it didn't come in the mail at all.
One of the most important skills for sellers to develop is packaging and shipping properly. Get the right supplies and offer the right amount of care for the product. If something happens in the shipping process that is out of your control, make sure you are communicating with the buyer so they have updated information on their purchase.
9. Offer a return policy
eBay wants their buyers to feel confident when buying on their site. And one insecurity almost all online shoppers have can be summed up in one question.
"What if I don't like it?"
All sellers on eBay are subject to the site's return policy. If the item doesn't come as described, gets lost in the mail, or is destroyed on the way, the buyer gets a refund.
If you offer a 30-day or longer return policy, eBay recognizes this and rewards you by boosting your position in buyer's search results. Also, buyers like the idea of being able to return their purchased items, making you more appealing than other sellers.
10. Provide great customer service
At the end of the day, buyers want a seamless buying process that results in them getting what they paid for. To offer this, providing solid customer service is important. Here are a couple key customer service tips to keep buyers coming back for more:
Be polite: Treat your customers with respect. Even if they are being rude, come back at them with kindness and professionalism.
Be flexible: Certain customers might have some pretty ridiculous requests. Do your best to accommodate them and give them the buying experience they are looking for. After all, this whole process is about the end result: money in your pocket.
Be responsive: Buyers might come at you with loads of questions about the product, status, and payment. Keep them in the loop on everything you would want to know as a customer.
Sell it on
One man's trash is another man's treasure, and eBay is the portal that transfers the ownership. Use these tips to make a profit while cleaning out your garage - it's a win-win. Also, the more you sell, the more you will learn.
Not a fan of selling on eBay? Check out these nine online auctions sites to find a place to still sell online.