Everyone who is now an expert in their field had to start somewhere. And that somewhere is the beginning.
Think about the skills you currently possess at a high-level and the moment you decided to learn that new skill. It doesn't have to be a professional skill. Think back to the first time you got behind the wheel of a car, went skiing, or played a musical instrument.
Chances are you couldn't parallel park, get off the ski lift unscathed, or play more than a few bars without messing up and changing key.
It's important to remember that people who are an expert were once a beginner and chances are they needed some help, or tips from someone else, along the way. If you are interested in learning how to code but could use some advice and tips from others, you've come to the right place.
Tips for coding websites
Before you dive into HTML, CSS, PHP, and JavaScript, check out these tips!
Tips for learning to code websites:
Choose the right language
Do one task at a time
Practice
Ask for help when you need it
Be agile
Choose the right language
In addition to the four coding languages listed above, there is also Java, Python, Swift, Ruby, Solidity, SQL, and more. Different types of programming require different types of skills, and perhaps a different coding language than what you're used to.
If you're interested in website building, HTML, CSS, and JavaScript are an absolute must and a great place to start. Are you doing front-end or back-end work? Building an app? Check out Java and Swift. These are the questions you should ask yourself before you dive in and start learning.
Choosing the right languages to learn, and learning them in the right order, will save you time and effort along the way. For instance, you shouldn't try and learn CSS before you learn HTML, since CSS builds on HTML.
Stick to one task at a time
As you learn to code, you may be tempted to go in many different directions and learn as much as you possibly can. This could end up hurting you in the long run.
Pick a task, or pick a language, and attack it with all you've got. For example, if you're writing front-end code for a website, do it to completion before moving on to anything that will require back-end code.
In addition, the one task you pick shouldn't be anything high-level right from the jump. Start small and work your way up. It's easy to fall into the trap where you start too far ahead on a project. Don't try and accomplish task five on your coding to-do list before items one through four are complete.
Going from coding heading tags in HTML to coding mouse movements in JavaScript won't happen overnight, but you'll get there with time.
Practice, practice, and more practice
No matter how good you get at something, you should never stop practicing.
In the 20 years that Kobe Bryant played in the NBA, he won five championships. During that time, he never sat back and thought "I'm the best, I don't need to practice". He woke up at 4 am to practice during the 2012 Summer Olympics. He counted all his shots during practice and didn't stop until he hit 400. He trained for four hours a day during the season, and even more during the offseason.
I'm not saying you should have the work ethic of Kobe Bryant, but just because you learn a skill, doesn't mean you should stop practicing and learning as it evolves.
If you need to brush up on some skills or take coding one step further, there is a long list of online coding courses and YouTube videos you can dig into to practice what you already know and learn additional skill sets along the way.
Ask for help
Even the most seasoned coders will need to ask for help at some point. If you work on a team of other programmers, make the most out of certain areas of code that they excel in, especially if you run into a problem or an error. Sometimes a place where you're stuck can be quickly solved by a fresh pair of eyes or a new perspective on the subject.
People tend to learn faster with mentors and peer feedback. Whether it's online or in-person, take advantage of others as a resource. And don't be afraid to provide help to others when they need it, once you feel comfortable of course.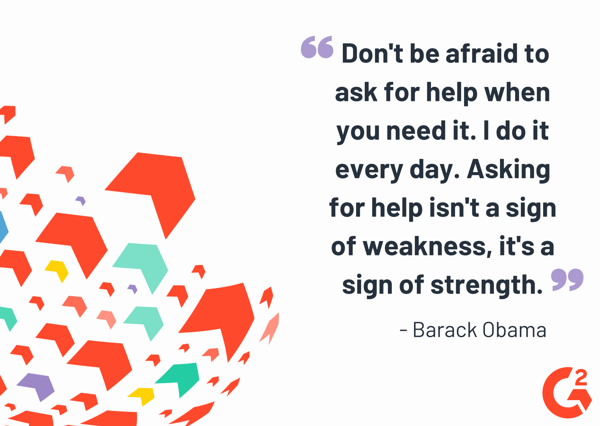 Be agile
If there's one thing we know for sure it's that technology is always changing. When it does, the language of technology changes with it.
This happens to all technology, no matter how good or bad. We once thought tapes were the best way to play music, VCRs were the best way to watch movies, and flip phones were easy to text on. Not anymore.
That being said, there will come a day where no one uses Ruby because something new and shiny has come along to replace it. Not only will some languages fall out of popularity, but new coding languages will also pick up steam and it'll be time to add it to your coding arsenal.
You'll never stop learning as a programmer, developer, or just someone who is interested in dabbling in the world of code. Whether it's new processes or codebases, if you want to keep up you need to be agile, be ready for new ideas, and grasp these changes by horns.
Don't be afraid to fail
Programmers fail and fail often. It's not uncommon to see a line of code that reads red, red, red, green.
If all of the programs ran smoothly without bugs and no websites ever needed to be updated, then learning to code wouldn't even be necessary. There are going to be times where the code you have written is slightly off, doesn't work, or is simply not what you thought it would be. And that's okay. Plus, how will you learn if you don't fail along the way?
Keep calm and code on
Learning to code is no easy task, but with these tips you'll be ready for everything that lies ahead. Like anything you learn for the first time, you'll make mistakes, you'll come to roadblocks, but in the end, you'll be glad you learned the ins and outs of coding.
Interested in further reading about coding languages? Find out more about Ruby on Rails and the difference between PHP and Python.