The problem: frustrated clients complaining about a lack of qualified applicants; job postings that remain unfilled for months at a time; an endless ocean of promising applicants that seem to go nowhere.
Does this sound like the nightmare you're currently dealing with? You're not alone. For the first time in decades, the current state of the American workforce favors the candidate rather than the employer.
Jobseekers have more options and that has left recruiters scrambling to find the right way to recruit and retain top talent. The best way to keep yourself from falling behind is to stay ahead – that's where talent acquisition comes into play.
What is talent acquisition?
As the name might suggest, talent acquisition is all about finding and hiring the right people for key roles at your company. On the surface that might sound exactly like the regular recruiting process, but it's actually a bit more sophisticated.
What's the difference between talent acquisition and recruiting?
Recruitment focuses on filling an immediate vacancy, whereas talent acquisition is a proactive recruiting strategy where a company focuses on finding and recruiting industry leaders and specialists for specific jobs that require specific skills.
Think of talent acquisition as a holistic approach to the recruitment process. In order for the right applicants to find your job and apply, they need to be aware of your business. This is the very top of the talent acquisition funnel known as the awareness phase. Recruitment marketing plays a huge role in this part of talent acquisition.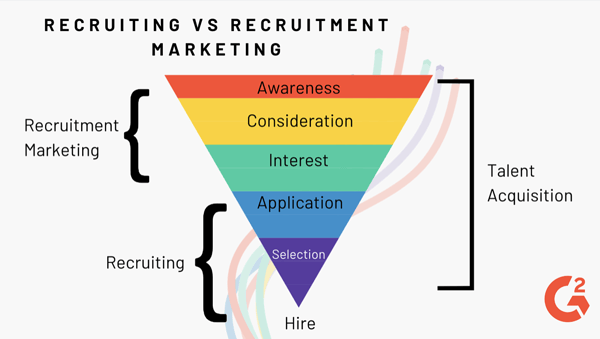 You want potential employees to be aware of your company and your team before they're even job hunting (or before you have a job open). This way when you do have the right position for those specialists or thought-leaders, you'll be top of mind if they're looking to make a career change.
How to create a talent acquisition strategy
Talent acquisition is a totally different beast than your regular recruiting strategy. It requires a different approach than you're probably used to. We've put together a simple five-step guide to help you kick-start your talent acquisition strategy.
1. Get organized
There's a misconception that only enterprise businesses that handle thousands of resumes a week should be using an applicant tracking system. The truth is that ATS systems do a lot more than just toss out the goose eggs among the resumes your team receives.
In addition to screening resumes for keywords, job skills, and experience, an ATS system allows your team to create custom workflows to review and manage applicants. It also allows your HR manager, hiring manager, and recruiter to all view applications and communicate about who you want to interview.
This part of the process is important because it's the first step your team takes in interviewing potential new hires. ATS software is the kind you can "set and forget" once you post a job, allowing your team to explore other recruiting opportunities.
Don't lose track of important job candidates due to poor tracking. Learn how an applicant tracking software can save you time and a headache!
2. Forecast job needs
Think about the most technical position at your company. This could be a role where only one person does it, or maybe it requires very specific skills. How badly would your team be affected if the person in that role put in their two-weeks notice today?
Many of these high priority roles take time to fill, some as long as six months. Talent acquisition is about planning for how you'll fill high-priority roles before they need to be filled. One key difference between recruiting and talent acquisition is the ability to plan ahead for jobs that don't need to be filled yet.
Example: Believe it or not, professional sports teams provide the perfect model for talent acquisition. If the manager of an NFL team knows their quarterback is a few years away from retirement, they might start searching for a replacement now to prevent a talent gap on the team.
This allows them to explore their options, recruit the right player, and have him train with their team before it's time for him to take over as a starter. This is a form of talent acquisition that most people are familiar with.
3. Recruit internally
Recruiting focuses on bringing outside talent into your organization, whereas talent acquisition puts an equal focus on nurturing internal talent. According to Hirevue, it takes an average of 42 days to fill a job. That number increases if you're hiring for a technical role.
Internal recruiting practices like succession planning allows you to identify key players in your organization that are ready for a career change. You can provide them with a mentor, train them on the job, and prepare them to step into these highly technical roles when they become available.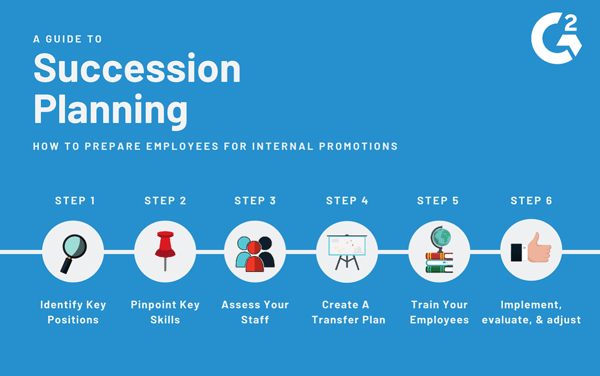 Succession planning also has the added benefit of creating solid career paths for your current employees. This improves employee retention and happiness, while allowing you to prevent talent gaps in your workforce. It's a win-win!
4. Use social media to tap passive interest candidates
The key to a successful talent acquisition program is using channels outside the traditional recruiting toolbox. Over the last few years, social recruiting has become a popular way of finding and connecting with new talent.
Definition: Social recruiting refers to the practice of recruiting job candidates through social media platforms such as LinkedIn and Twitter
What makes social recruiting great is that you can use your corporate social media to tap into candidates with passive interest. These people might be comfortable where they are in their career, but your message online could entice them into exploring new options.
5. Use your current employees
By now, your company probably already has an employee referral program: but are you using it to the best of your abilities?
Simply letting your employees know about open positions isn't enough to beat other talent acquisition experts. You need to strategically dictate which positions you're hiring for and let your team know about the gaps in talent you're trying to solve.
Here are a few ways you can use your current employees to find new talent:
Create a list of high-profile positions you're recruiting for every month
Host hiring happy hours and encourage employees to invite interested candidates
Offer a referral bonus to your employees
Tracking employee referrals can be a pain point for some HR managers, which is why in addition to using the tips we outlined above, you should employ the aid of an employee referral software. This type of software tracks which employees referred which candidates, allows you to list high-priority positions, and connects job postings to social media for easy sharing.
Empower your employees to become a part of your talent acquisition strategy by investing in an employee referral software today!
Acquiring talent takes, well, talent!
There's an art to stepping outside of the normal recruiting tactics to become a master of talent acquisition. It requires big-picture thinking, planning ahead, and the willingness to try something different. But with the right tools and tactics on your side, you can become the ultimate talent acquisition recruiter.