Indecisiveness is crippling and downright frustrating.
No one enjoys the dreaded "so what do you want for dinner" conversation. That same analysis paralysis seen so often in social interactions can also take root in the workplace over any number of decisions, slowing the progress of everyone underneath it.
Thankfully, there are plenty of planning techniques available to help organize and streamline the decision-making process. Among these is SWOT analysis, a strategic planning technique that helps identify objectives and organize considerations surrounding venture or project.
TIP:

For many, a SWOT analysis reveals a need for larger projects. Learn how teams can put their SWOT findings into action by using a project management software.
What Is SWOT Analysis?
SWOT is an acronym that represents the four types of considerations evaluated:
Strengths

Weaknesses

Opportunities

Threats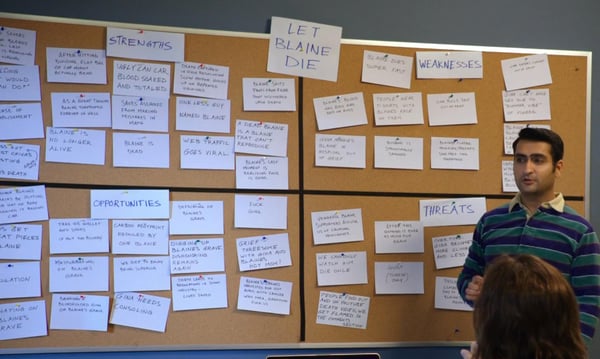 SWOT analysis being utilized in an episode of Silicon Valley.
These considerations can actually populate a 2x2 matrix divided based on if a factor is helpful or harmful and if the factor is internally influenced or externally influenced.
The decision-maker will identify the factors that could influence a plan or project, then evaluate where they belong on the matrix.
SWOT Analysis Template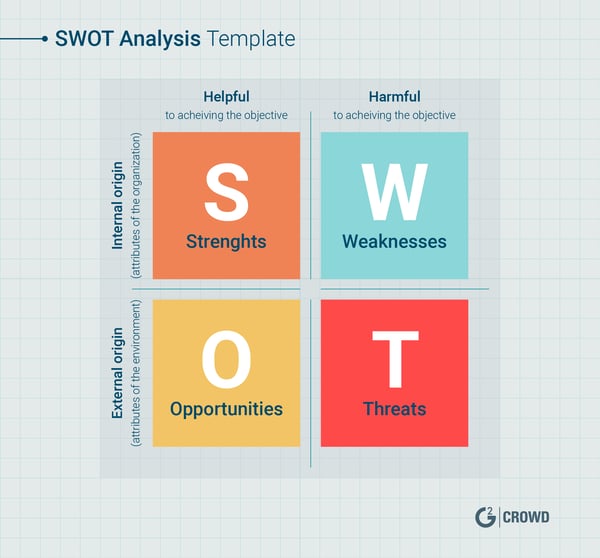 For example, as seen above, a strength is a factor that is helpful and internally influenced while threats are harmful and externally influenced.
This process allows decision-makers to look for relationships between favorable and unfavorable conditions that could indicate the chance of success should they go forward. It also forces them to look at a decision holistically and can help confront biases toward the decision from both sides.
The SWOT matrix functions similarly to a pros and cons list, but offers more delineation between external and internal factors. While that doesn't sound like a massive difference on paper, differentiating between factors within a company's control and those in the environment offers a more realistic framework for success.
However, SWOT analysis isn't without its faults. It doesn't ask the decision-maker to prioritize factors so they all appear to have the same weight when viewed uncritically. The key to an effective SWOT analysis is to consider that some factors may be more relevant or critical to the decision than others and hitting your project milestone.
SWOT analysis can be used when evaluating most decisions if not all of them. Businesses use SWOT analysis when going forward on a number of decisions, including new ventures or projects, rebranding, and merging.
Determining SWOT Factors
Identifying factors and placing them on a SWOT matrix might sound easy, but it can be a tricky process. The best way to ensure a successful SWOT analysis is to begin by carefully researching factors and categorizing them correctly.
Begin by determining if a factor is internally or externally influenced.
Internal factors are resources available to the decision-maker or company. These resources are not necessarily physical resources and also include things like processes, expertise, experience and manpower.
External factors are forces that influence the decision directly or indirectly. These can be difficult to identify if a decision-maker isn't aware of them. Individuals and teams should always do additional research to identify external factors that may affect the decision. External factors can include trends, regulations, policies, relationships and demographics.
Once internal and external factors have been identified, decide if they are beneficial or detrimental for the given decision.
Don't let this part fool you. While it may seem like strengths and weaknesses may be obvious, context can affect which one a factor might be in a given situation.
For example, if a small company is deciding whether it wants to take on a solo project, its low employee count could be a weakness if the project requires a lot of manpower. However, if the project is more reliant on flexibility, a small workforce could actually be a strength since it can more easily change direction.
There are questions decision-makers can ask themselves to identify and properly categorize factors as they fill their SWOT matrix. These leading questions can facilitate brainstorming sessions and help pick out factors that may not have been considered previously. They can also assist in helping frame factors and how they will interact with a given decision.
Examples of SWOT Factors
Listed below are questions decision-makers can ask themselves when brainstorming factors surrounding their decision.
Strengths
What are your company's competitive advantages? What does your company bring to the table that your competition doesn't?

What expertise or experience does your company and your team have that is relevant to this situation?

Do you have any additional information surrounding the situation that is helpful?

Does your company have physical assets like money, physical spaces, equipment or patents that apply here?
Weaknesses
In what areas are your company or your product less competitive? What kind of improvements need to be made to make them more competitive? Are they small or significant changes?

Are you employing outdated or inefficient business processes that will hinder your progress?

What assets are you missing? Do you lack human or financial capital? How difficult will it be for you to obtain these things?

Is there information that you don't have? How important is this information to making a decision? How difficult would it be to find this information?
Opportunities
Are there market, product or social trends in your company's favor? Would it be easy to add functionality or brand differently to take advantage of certain trends?

Are regulations changing in a way that makes it easier for your company to operate?

Is there an event or conference coming up that your company could attend for visibility? Would it be possible for your company to speak or otherwise make itself a main figure at the event?

Are there new emerging SaaS technologies that your product or company could take advantage of in the future? Would turning this into a more permanent asset (a strength) be an easy feat?
Threats
Are your competitors currently doing something that make it more difficult to operate or be noticed? How much capital would need to be expended to overcome that obstacle?

Is consumer behavior changing in a way that doesn't favor you? How difficult will it be to pivot in a direction that is more favorable?

Are there political policies or regulations that will make operating more expensive or add difficulty to a project? Are quality standards or certifications being modified that you have to account for in the future?

Is there an environmental obstacle in the way? Is weather or climate not favorable for project or product?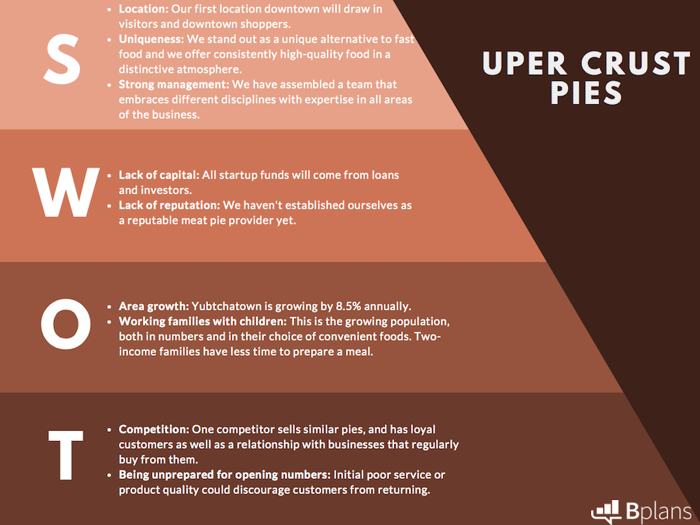 Above is an example of a SWOT matrix from bPlans.
Using a SWOT Matrix
Once the SWOT matrix has been filled out, the decision-maker can begin the process of creating a strategy.
There isn't always going to be a clear-cut decision after the SWOT matrix has been filled. The key here is to find relationships between the factors and establish if any of the strengths and opportunities can counteract the weaknesses and threats.
It's also important to remember that not all factors have equal weight in a scenario, and factors don't only interact with one another on a one-to-one basis. Decision-makers should think of all the ways their factors interact and impact one another.
If a decision-maker finds that there aren't enough strengths and opportunities to adequately address the harmful factors, then they should proceed with caution. If the opposite is true, then the decision-maker can move forward with confidence.
How the Balanced Scorecard Helps
The Balanced Scorecard is a helpful framework for creating and managing a strategic plan based on the results of your SWOT analysis.
By sorting strategic objectives into four Balanced Scorecard perspectives (Finance, Customer, Internal Processes, and Learning & Growth), the Balanced Scorecard framework helps you understand what areas of your business are affected by your strengths and weaknesses.
The opportunities and threats you discovered in your SWOT analysis can then inform the strategic initiatives you undertake to achieve your goals.
---
Still need resources to help make a strategic vision for your project or company? Check out the best strategic planning software in 2019 aimed at organizing your business' long-term road map.